19 Jun

State of China's Auto Market – June 2023
Lackluster May sales paid for with a price war
Record PHEV sales solidifies market leadership of BYD and Li Auto
Comments from Bill Russo, Founder & CEO of Automobility Ltd.
Let's begin by repeating our statement from our previous newsletters: year-over-year comparisons are irrelevant in the second quarter because 2022 was dramatically and negatively impacted by zero-COVID lockdowns in China. This bears repeating as I have seen a large number of reports from so-called "industry experts" who have forgotten the nightmare we experienced last year and its material impact on the auto market. As such, relevant indicators of market direction must come from a deeper analysis, which we will provide you here.
10.6 million vehicles were sold in China through May, including 9 million passenger vehicles and 1.6 million commercial vehicles. While sales volume increased when compared with the 2022 lockdown year, this increase is weak considering that it was bought and paid for with aggressive "price war" discounts. Over this period, New Energy Vehicle (NEV) sales have increased 46.1%, while ICE sales increased just 2.8% – clearly indicating that momentum remains on the NEV side.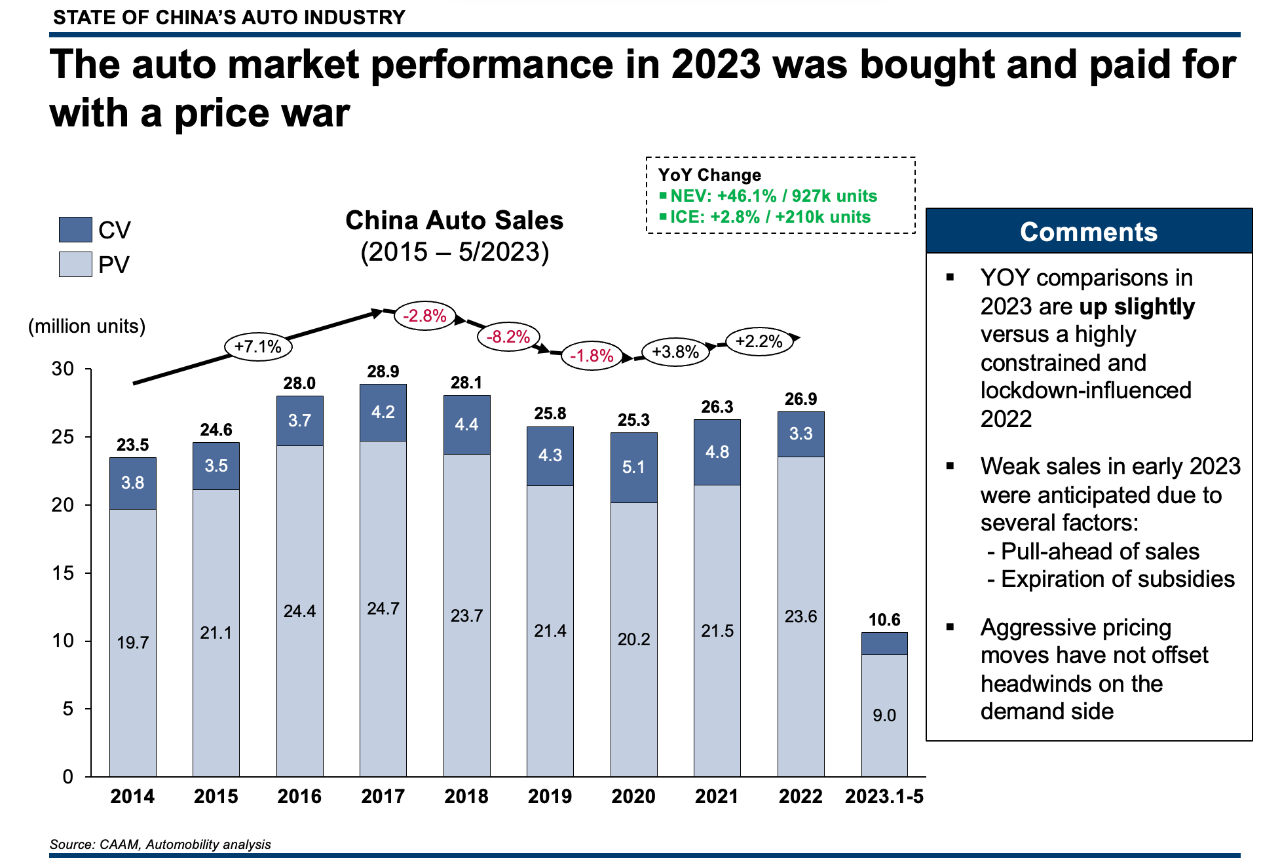 Weak May sales signal a waning impact of price discounts
May sales of 2.38 million units included 2.05 million passenger vehicles and 0.33 million commercial vehicles. It is noteworthy that in spite of aggressive discounting, monthly sales totals in 2023 have yet to match the selling rates that existed in the stimulus-fueled second half of 2022.
We are experiencing a "hangover effect" from the post-lockdown tax stimulus from last year which weighs negatively on sales in 2023: those who purchased a car prior to the expiration of tax incentives are simply not in the market this year.
Barring a fresh round of stimulus, the market will struggle to match the selling rates of the second half of 2022 and will likely not match the overall 26.9 million vehicle sales achieved last year.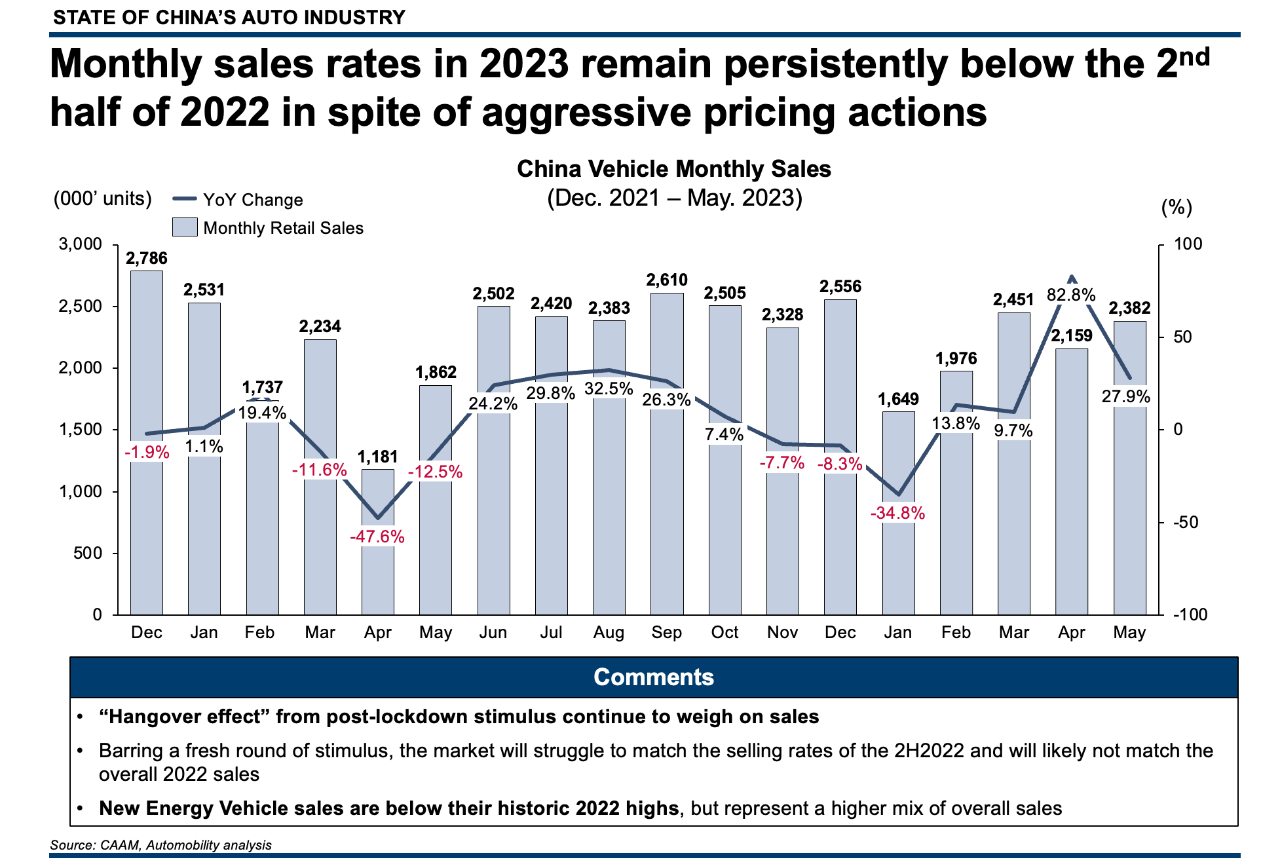 Passenger vehicle sales increased from April while monthly commercial vehicle sales have slipped by 104,000 units from its peak performance in March. The weak performance is prompting calls for reinstatement of stimulus measures that were eliminated at the end of last year.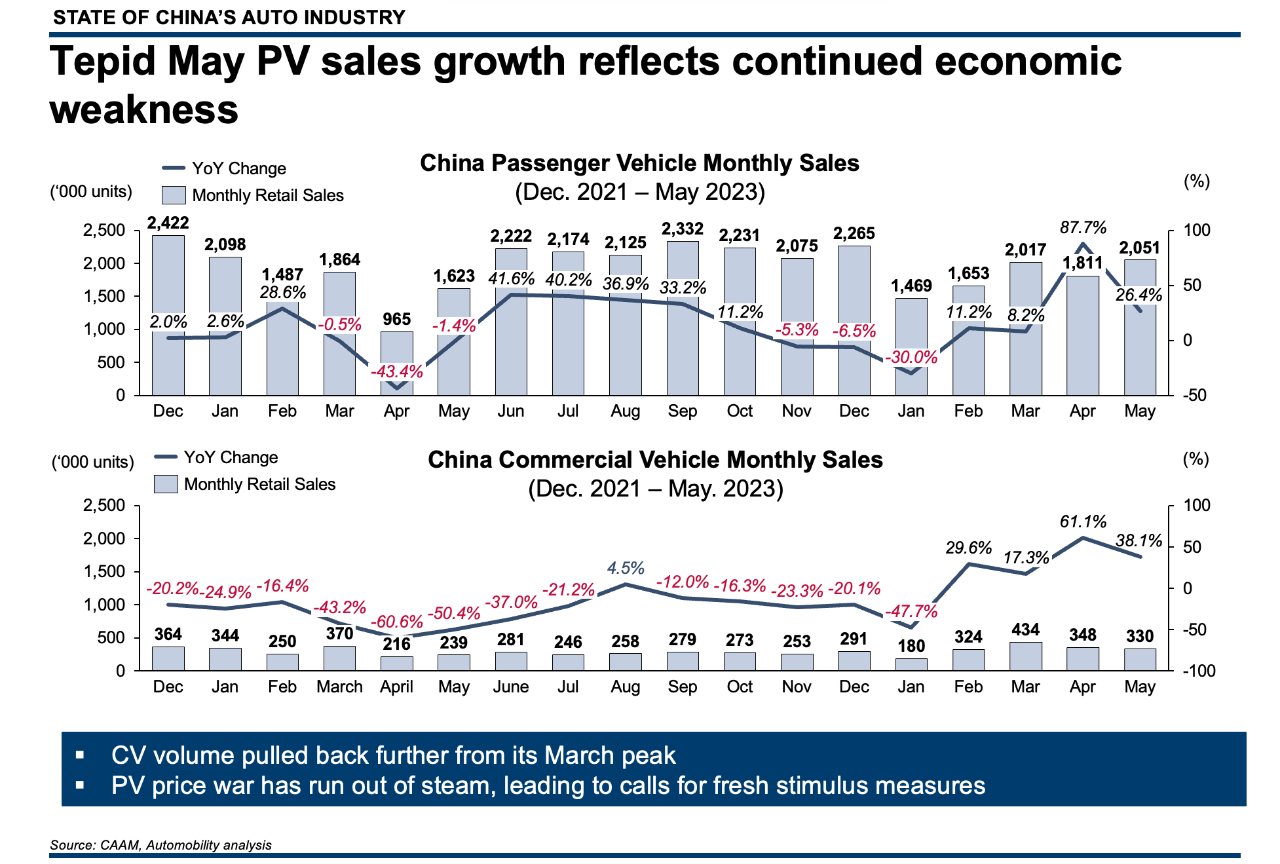 A rebound in Used Car sales
Used car sales are another bellwether indicator of the state of health of the economy. Interestingly, used car sales have outpaced new car sales in 2023, signaling that consumers are shopping for value in a period of economic weakness.
Used car sales have been trending upwards, and sales in May were at their highest level in 17 months. Used car sales are on pace to set a new record in 2023, and represent 41% of vehicle sales transactions in China. While the used-new transaction ratio is increasing, it remains far below that of mature markets like the USA and Europe, where used car transactions are triple that of new car sales.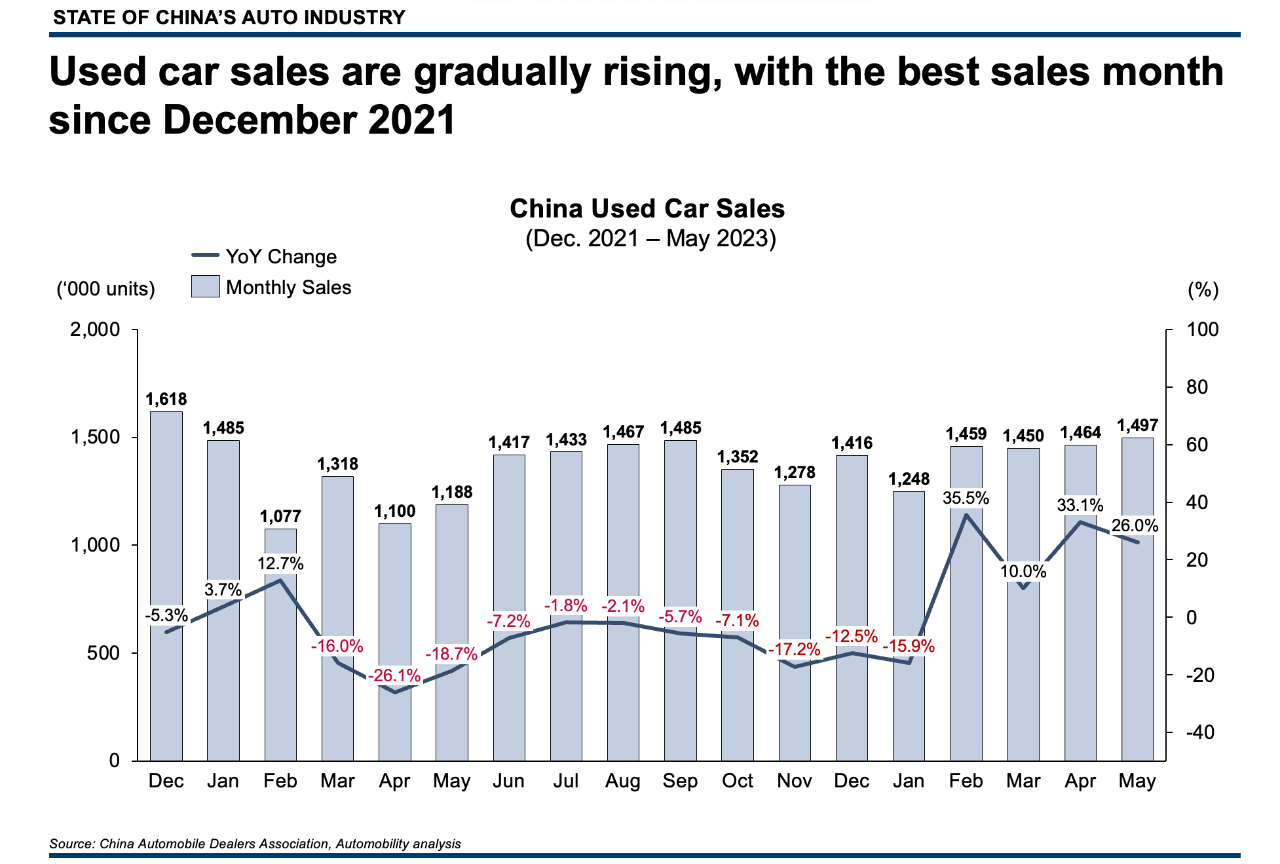 New Energy Vehicles Grow in Share and PHEVs Remain Popular
New Energy Vehicle (NEV) sales in May were the 3rd best month on record, which is a remarkable performance considering the elimination of purchase subsidies at the end of 2022. We believe the price war has substituted for the NEV purchase subsidies eliminated at the end of last year, which also accelerates the cannibalization of ICE sales as NEVs are more price competitive versus ICE vehicles.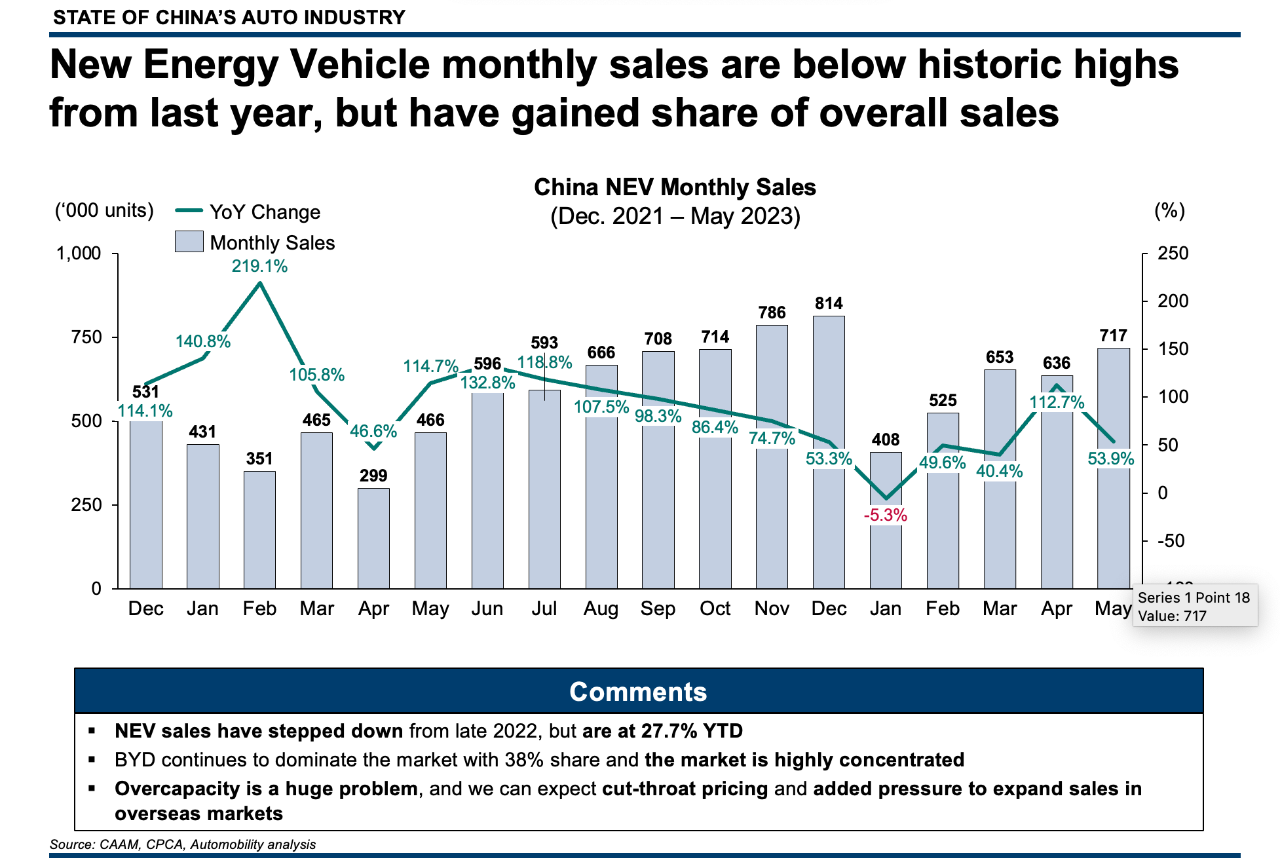 Remarkably, Plug-in Hybrid Electric Vehicles (PHEV) sales set an all-time record of 194,000 units in May, now taking 27% of the NEV pie.  BYD (64%) and Li Auto (13%) completely dominate in this category, giving them a huge advantage in what is proving to be a less crowded and popular segment.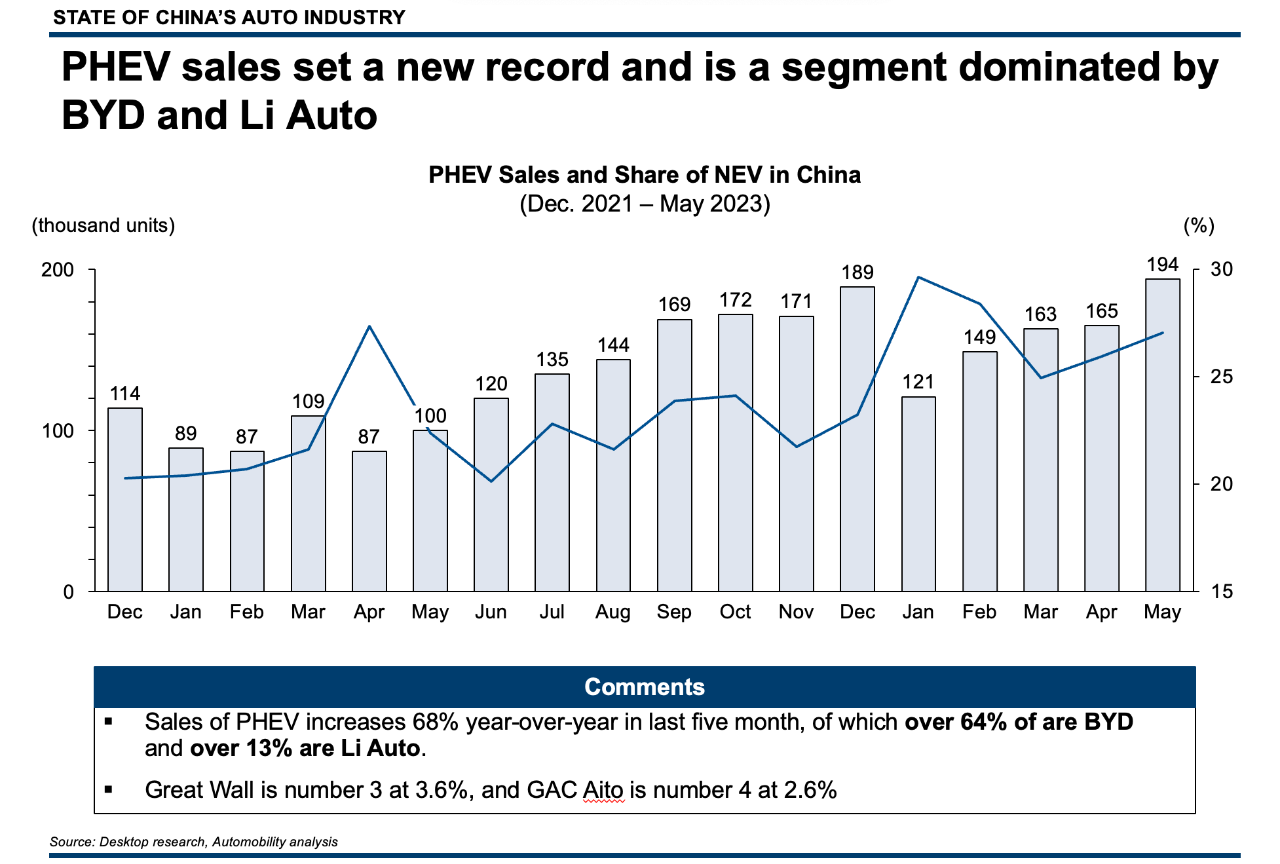 Interestingly, the 3rd ranked company in the PHEV category is Great Wall Motors, with just 3.6% share of the PHEV segment. Not happy with being so far behind the market leader, Great Wall issued a May 25 public statement accusing BYD of failing to meet emissions standards, noting that BYD's PHEV models are equipped with non-pressurized fuel tanks. In response, BYD denied the accusation and expressed its willingness to open the patents for its oil-steam management system.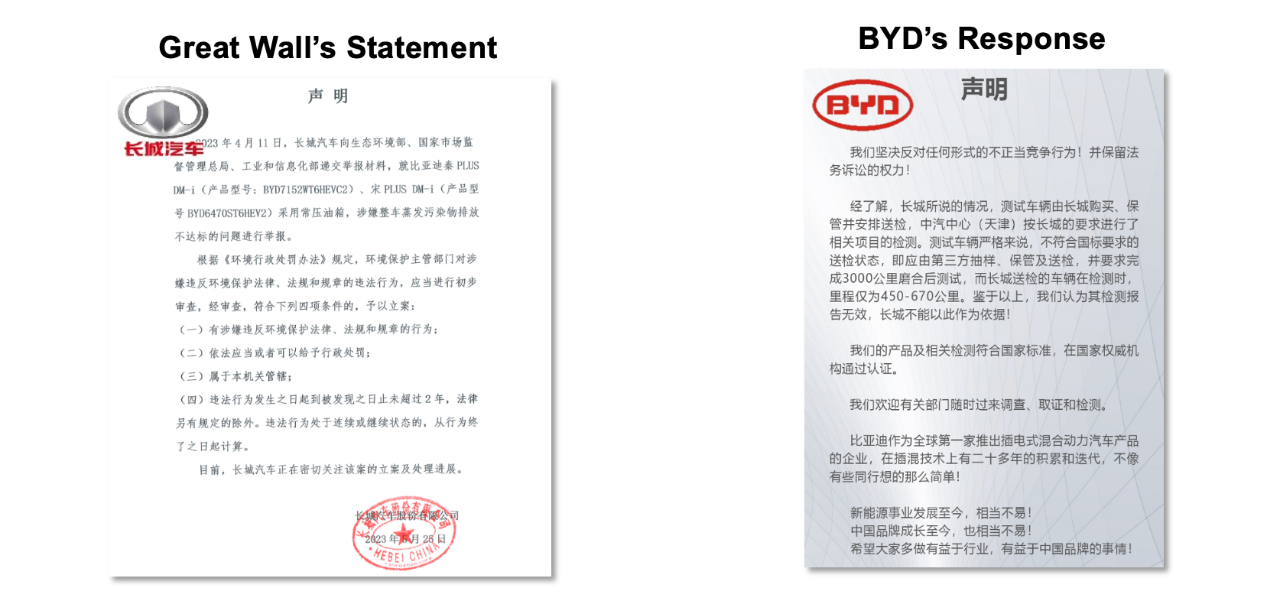 We expect more challenges in the future from other carmakers that are struggling to keep up in this unexpectedly hot segment of the NEV market.
May NEV Sales Leaderboard
What is striking when looking at the top 10 nameplate leaders is that the list is exactly the same last month with only minor movements up/down. It includes exactly the same list of 10 products, including five products from BYD – four from the Dynasty series (Qin, Song, Yuan and Han), and one from the Ocean Series (Dolphin).
It should be noted that Model Y was very negatively impacted in 2022 because of the Shanghai lockdown which explains the very positive movement.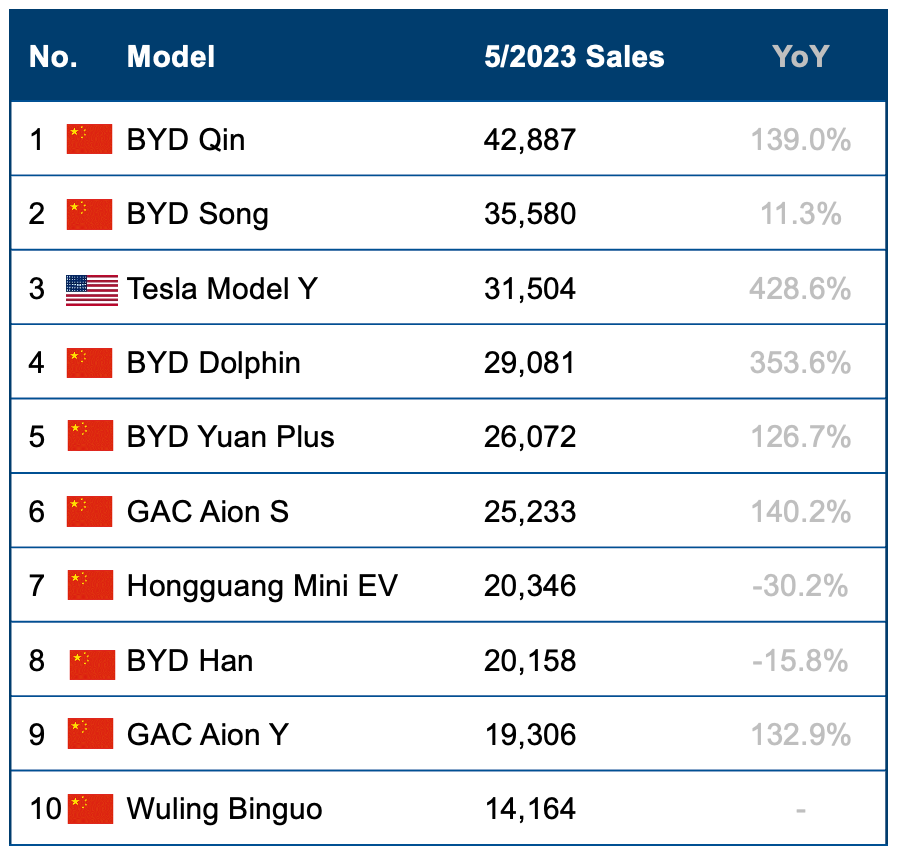 Sales of the just-launched BYD Seagull were 8,427 units in May. Priced starting from RMB 78,800, we expect to see the BYD Seagull move up rapidly on this list in the coming months.
Wuling's Honguang Mini EV sales have declined for several months, principally owing to showroom cannibalization from the recent entry of the Wuling Binguo, priced from 59,800-84,800.
The launch of the well-equipped BYD Seagull has already negatively impacted sales of the recently launched Wuling Bingguo, which are surprisingly down from 15,011 units in April to the 14,164 units sold in May.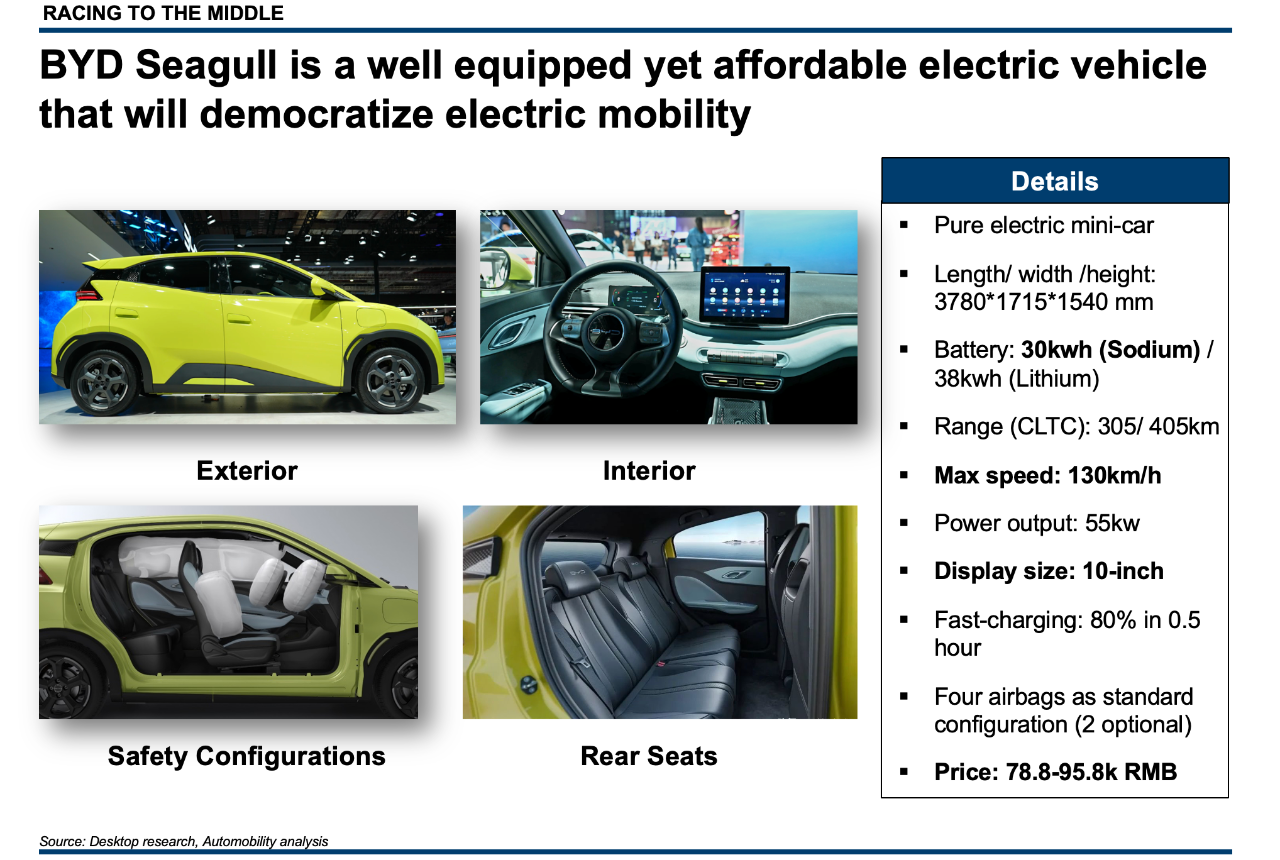 Another clear breakaway leadership story in 2023 belongs to Li Auto, selling 28,277 units of their extended range SUVs, and posting a profit for the first time. They are clearly distancing themselves from their Smart SUV peers NIO and Xpeng.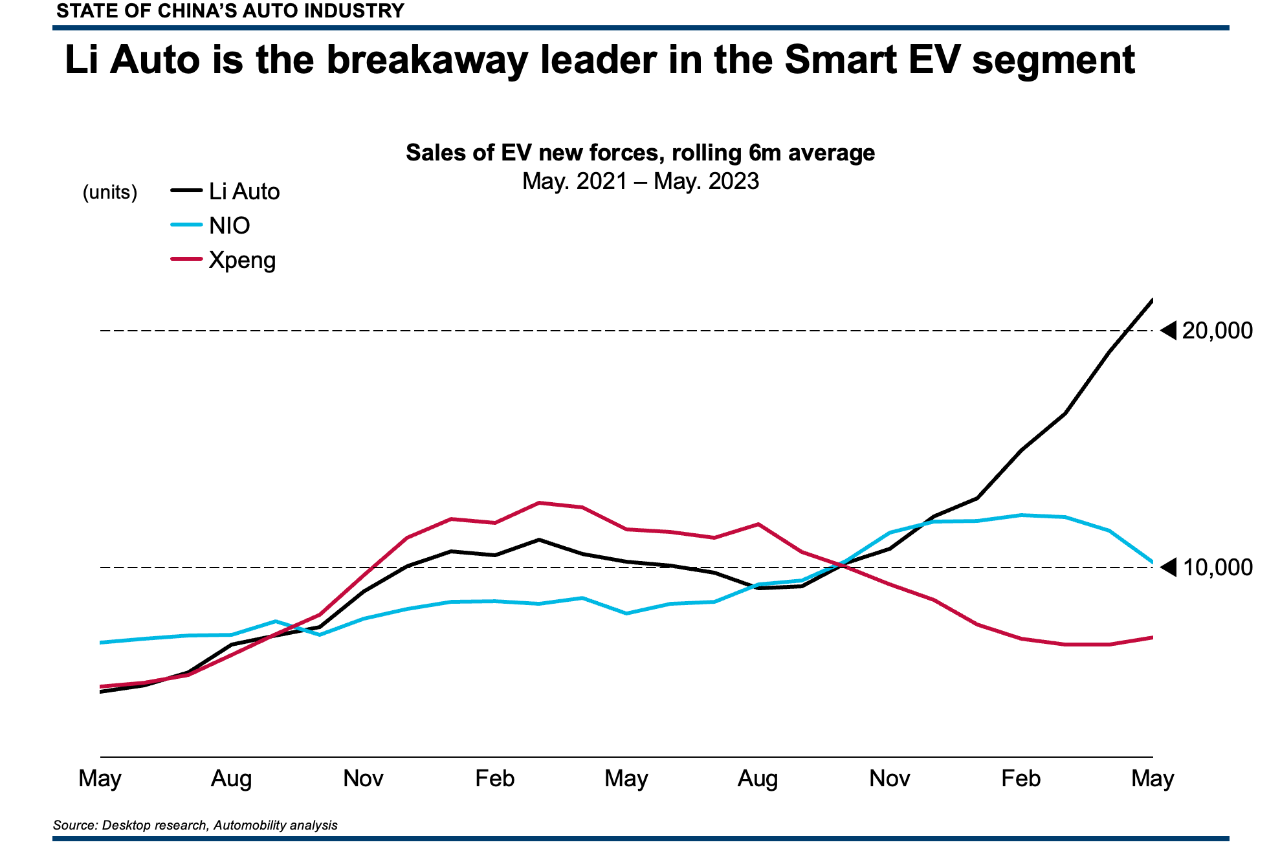 Overall 2023 NEV Sales Analysis
The China NEV share of the overall market is 27.7% this year, with BYD selling 923,000 out of a total of 2.94 million units). BYD's lead over the number 2 brand Tesla in China is over 703,000 units. While Tesla started the price war, they are clearly not winning it.
More about this can be seen in my comments on CNBC on May 31st: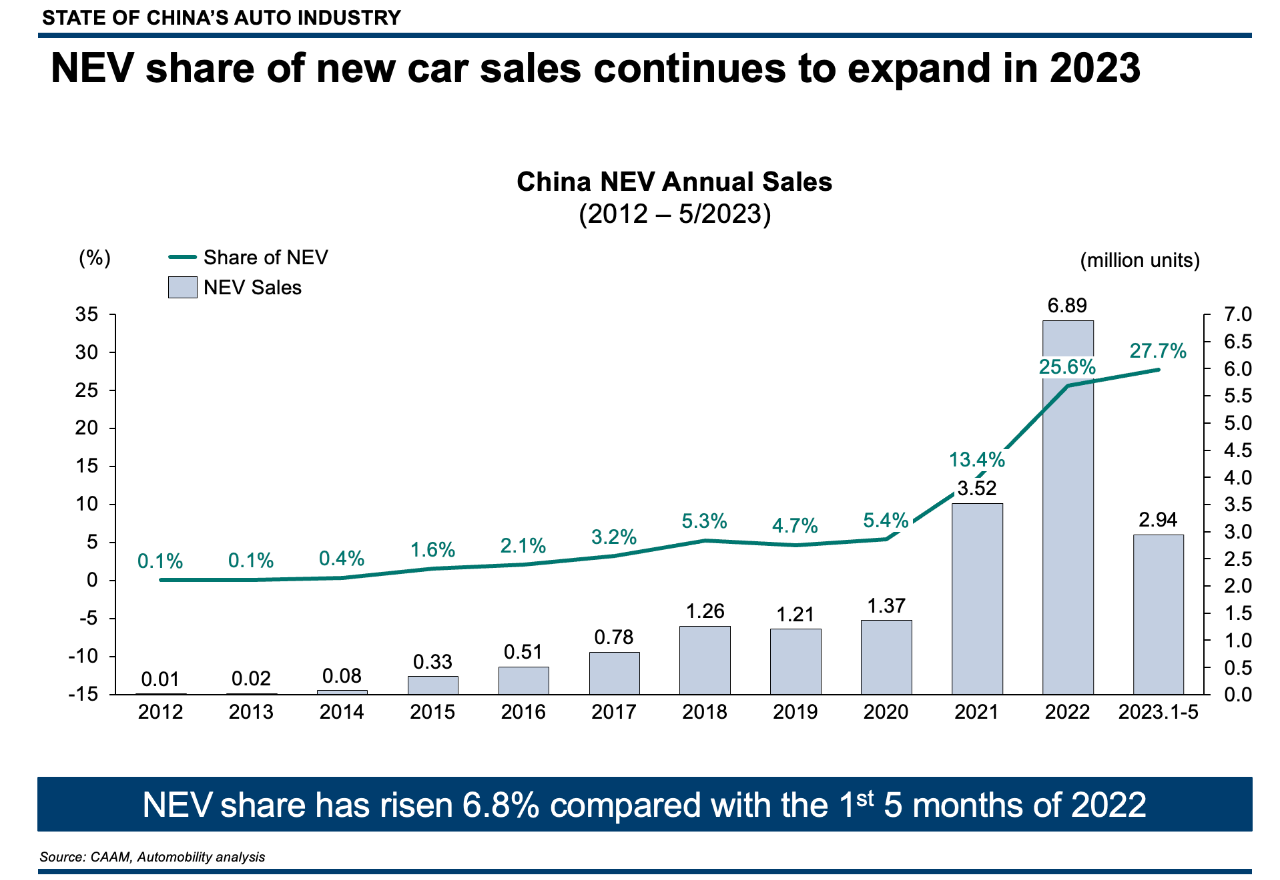 BYD's lead over the entire NEV field has in fact widened in 2023,  now holding 38.1% share of the NEV market, with about half of their sales comprised of PHEV models – a weapon that BYD has that Tesla will never have.

In the time since launching the price war, Tesla's market share in China has risen from 7.9% (full year 2022) to 9.1%. BYD's market share in the same period has risen from 31.7% to 38.1%.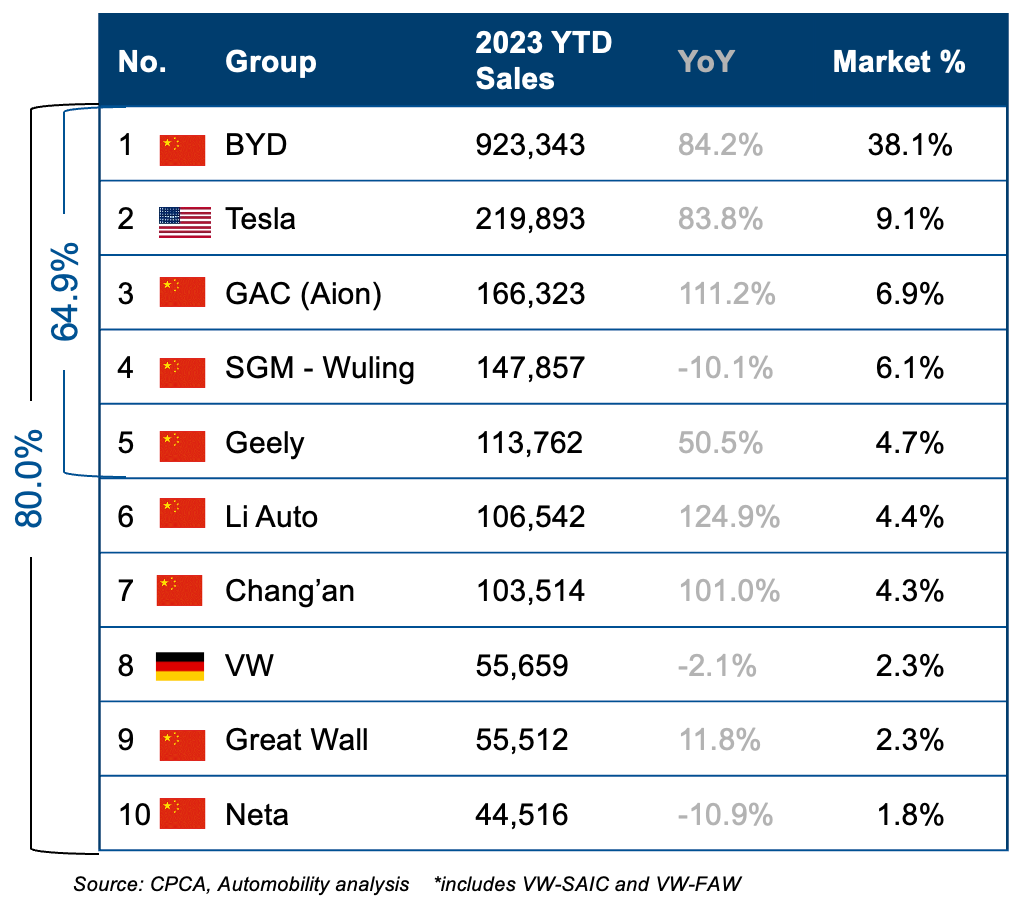 The YTD top 10 leaderboard illustrates a widening gap among the market leaders in China, with an 880k gap between number 1 and number 10 (21X).  Almost two-thirds of the market goes to the top 5 companies, and 80% to the top 10 companies.
The market is clearly ripe for consolidation – but how and when will it happen?
In a "normal" market it would be survival of the fittest: the market ultimately decides who wins – and it seems very clear from the leaderboard who the winners are. However, China is hardly a normal market. While purchase subsidies expired in 2022, both dual credit and purchase tax exemptions are likely to be either revised or extended in order to ensure that companies with skin in the NEV game remain viable. The tricky part is that extending for NEV will further accelerate the precipitous decline in ICE sales.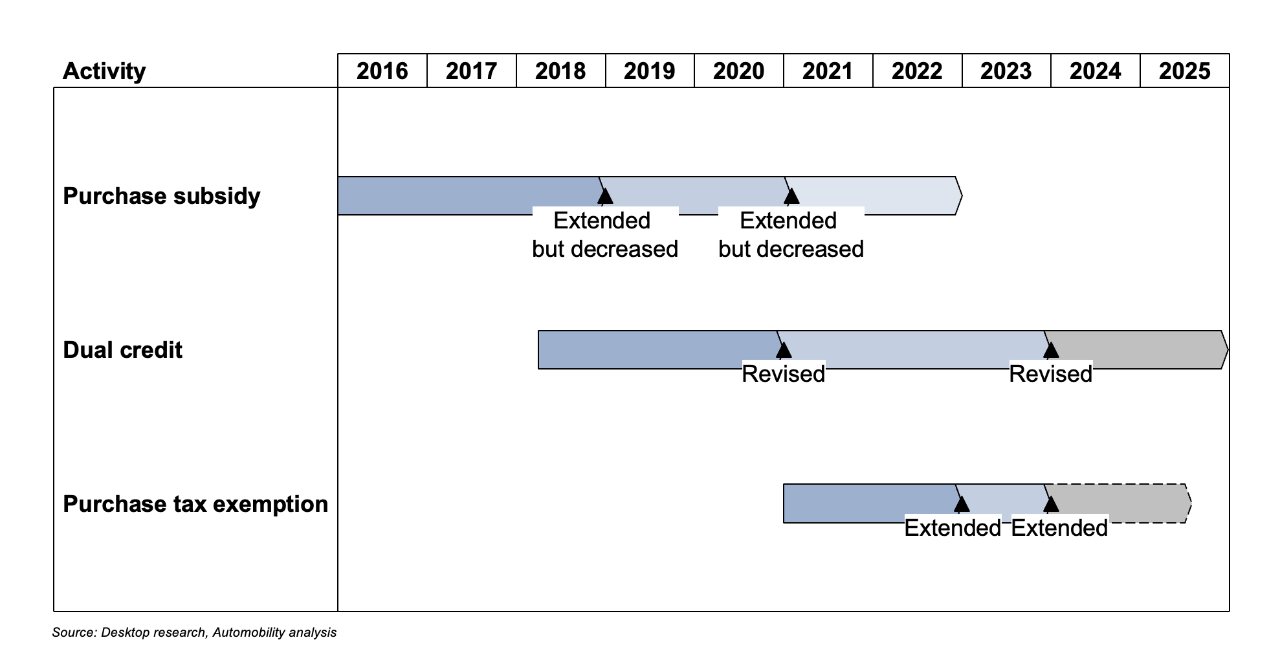 ONE MORE THING
On 23rd April 2023, Dr. Edward Tse of Gao Feng Advisory Company spoke with me to discuss what the Shanghai Auto Show and its implications to the global auto industry.
Several questions to consider:
How and when will the China NEV market consolidate?  Who will be the likely survivors?
Can foreign automakers recover and regain leadership in the NEV era?
Which Chinese brands are most qualified to be global carmakers?
When will stimulus measures be re-introduced and in what form?
What will be the long-term impact of incentives and what will be the unintended consequences?
Will NIO and Xpeng be able to recover grow or has Li Auto the winner in the Smart EV segment?
Will China remove policy support for PHEV and how will that impact the NEV segment?
---
In his role as AmCham Shanghai's Automotive Committee chairman, Bill Russo will host the monthly State of China's Auto Market online webinar on Tuesday, June 20, at 9am in China.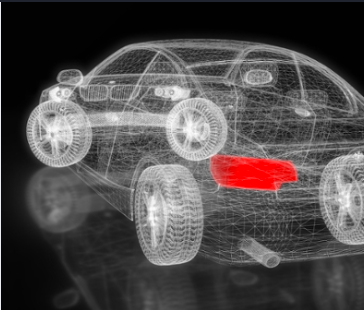 If you wish to join this event, you can register here:
Webinar | State of China Auto Market Monthly Briefing (June)
---
About Bill Russo
Bill Russo

 

is the Founder and CEO of Automobility Limited, and is currently serving as the Chairman of the Automotive Committee at the American Chamber of Commerce in Shanghai. His 40 years of experience includes 15 years as an automotive executive with Chrysler, including 19 years of experience in China and Asia. He has also worked nearly 12 years in the electronics and information technology industries with IBM and Harman. He has worked as an advisor and consultant for numerous multinational and local Chinese firms in the formulation and implementation of their global market and product strategies.
Bill is a contributing author to the book Selling to China: Stories of Success, Failure, and Constant Change (2023), where he describes how China has become the most commercially innovative place to do business in the world's auto industry – and why those hoping to compete globally must continue to be in the market.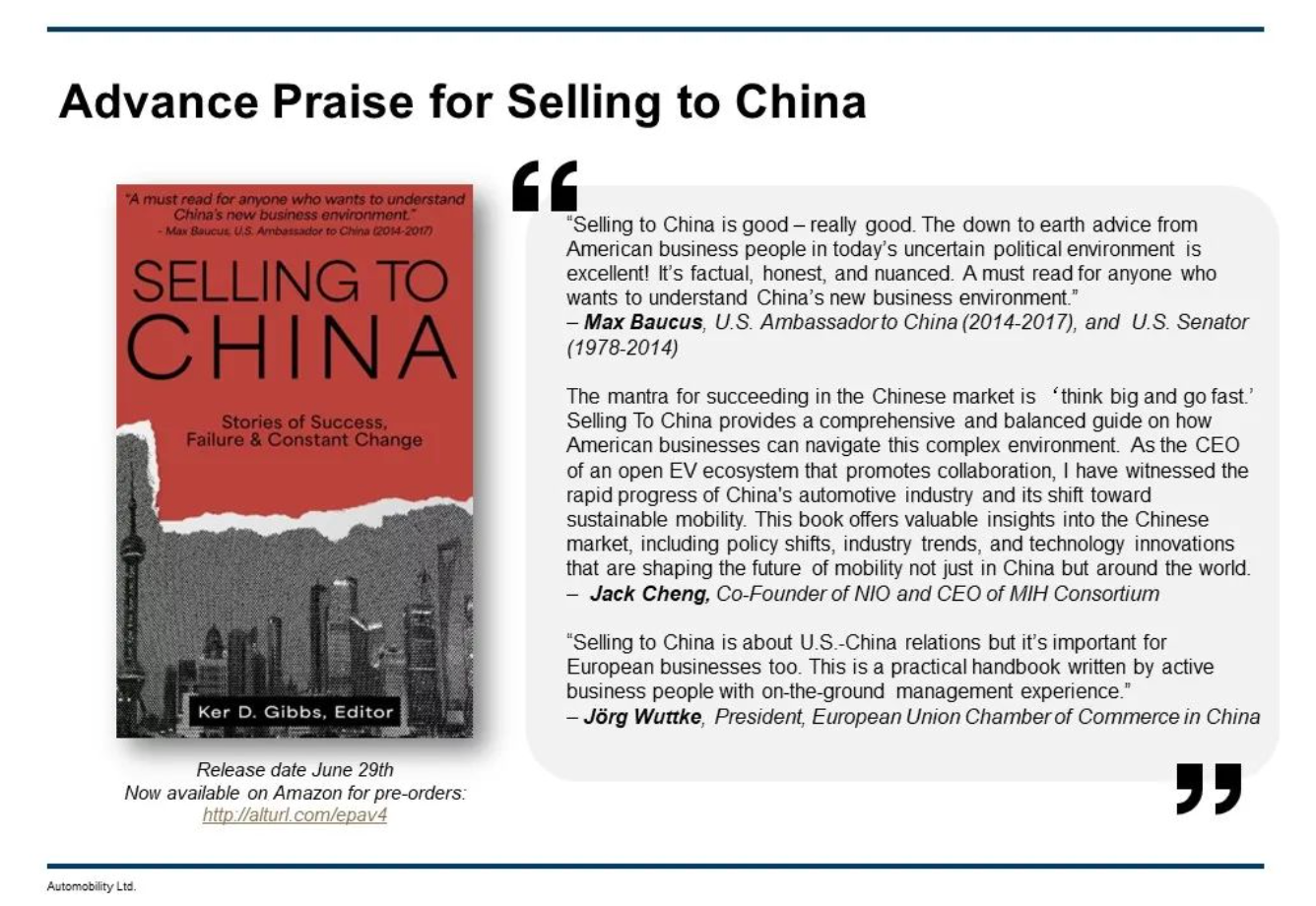 Release date June 29th – Now available for pre-orders:

Copy and paste the link to your browser: http://alturl.com/epav4
"Selling in China" and the China Crossroads Book Promotion Event
I am very proud to be a contributing author to the book Selling to China: Stories of Success, Failure, and Constant Change (2023), where I describe how China has become the most commercially innovative place to do business in the world's auto industry – and why those hoping to compete globally must continue to be in the market.
This talk on Selling to China will focus o on the opportunities and challenges facing foreign companies operating in China, The U.S. and China seem locked in conflict, but many American businesses have been doing well in what is the largest growth market in the world for many products.
The book on which this talk is based, Selling to China, is a collection of essays written by C-suite executives managing foreign companies in China. Each brings a unique perspective and explains the issues in a different industry.
Ker Gibbs is the editor of Selling to China (2023) and immediate past president of AmCham Shanghai, where he focused on US-China relations and business issues facing American companies operating in China. He has lived in Asia for more than 20 years, working for the Boston Consulting Group in Shanghai in the early 1990s and also as a banker with HSBC. He was a founding investor in the Crystal.Orange Hotel Group, helping grow the company to 130 properties and 1,500 employees before selling the business to China Lodgings. He also led successful investments in e-commerce, real estate, and medical technology companies.
Bill Russo is the Shanghai-based Founder and CEO of Automobility Limited, astrategy and investment advisory firm helping its clients to create the future of mobility. His 40 years of experience includes 15 years as automotive executivewith Chrysler, where he was Regional Head for North Asia, and 19 years in China and Asia. He has also worked nearly 12 years in the electronics and information technology industries with IBM and Harman. He currently serves as Chair of the Automotive Committee at the American Chamber of Commerce in Shanghai.
Jean Liu is the Executive Vice President and Chief Corporate Affairs Officer at EF Education First, the world's largest privately held education company. She lead corporate affairs functions, which include government relations, public relations internal communications, and corporate social responsibility. Prior to EF, she led the Cloud marketing team for lBM's Growth Market Unit with a worldwide team under her leadership. She later went on to lead IBM China's marketing team forCloud and for the technology services business. She holds a BA in Economics andPolitical Science from Wellesley and an MBA from the University of ChicagoChina Crossroads hosts talks on all topics related to China, including business, foreign policy, and other areas as they relate to China, the idea being that China is both already a "crossroads" of the world and itself at a "crossroads" in terms of its future global influence.
For more information, contact Frank Tsai at [email protected]
On June 29, please join me along with the book editor Ker Gibbs and co-author Jean Liu at the China Crossroads Event on Thursday June 29th, 2023, 9:30-21:00 at White Space, where we will discuss the book.  Scan the QR code to RSVP or email [email protected] to register.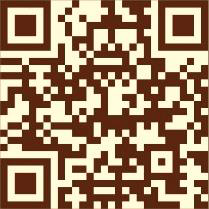 ---
About Automobility
Automobility Limited is global Strategy & Investment Advisory firm based in Shanghai that is focused on helping its clients to Build and Profit from the Future of Mobility.  We help our clients address and solve their toughest business and management issues that arise in midst of fast changing, complicated and ambiguous operating environment.  We commit to helping our clients to not only "design" the solutions but also raise or deploy capital and we can assist in implementation, often together with our clients.  We put our clients' interest first and foremost.  We are objective and don't view our client engagements as "projects"; rather as long-term relationships.
Our partners are former senior executives at large corporations and/or senior consultants at leading management consulting firms. We believe clients would benefit the most from a combination of consultants with substantive experience in consulting and in line management.
Therefore, we organize ourselves into a core team augmented by an extensive "extended team members" with a large variety of skills and expertise.
Contact us by email at [email protected]