22 May

State of China's Auto Market – May 2023
Market Weakness Prevails in the Aftermath of Price War
The ICE Age is ending in China – will foreign brands survive the transition?
Comments from Bill Russo, Founder & CEO of Automobility Ltd.
The 20th Shanghai International Automobile Industry Exhibition was held from April 18 to 27, 2023. This was the first time since 2019 that executives from foreign automakers visited an auto show in China and were greeted with a dramatically different reality than existed just a few short years ago.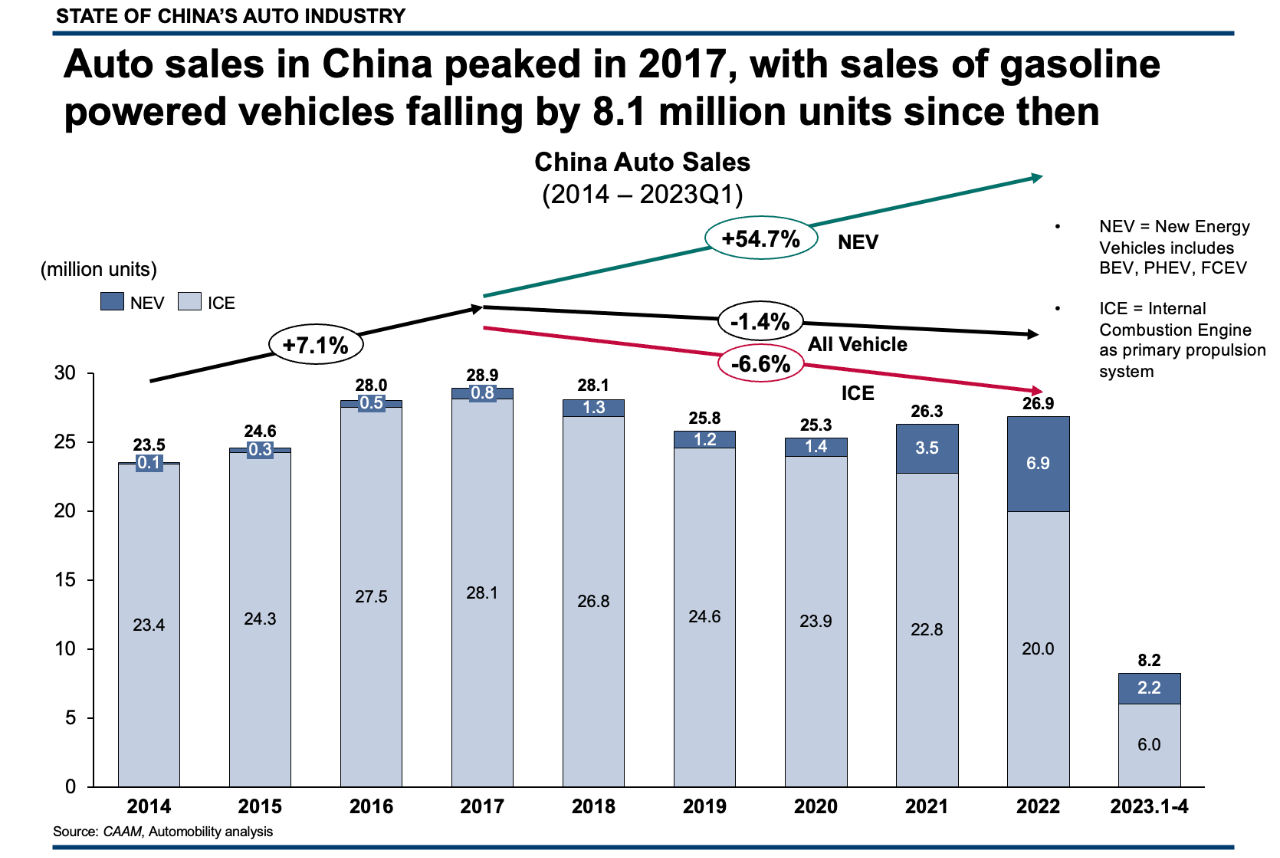 Sales of gasoline powered cars have fallen by 8.1 million units from 2017 through 2022. Sales of New Energy Vehicles (BEV + PHEV + FCEV) grew by 6.1 million units over the same period, with a huge inflection point in 2020 coinciding with the opening of Tesla's Shanghai Gigafactory, which sparked retail consumer interest in electric vehicles.
Given that product cycles are 5+ years in the automotive industry, it is not surprising that legacy ICE carmakers were not prepared for such an abrupt secular shift in consumer preference. And they certainly were not ready for the likes of the emerging local competitors in China that now command over 80% share of NEV sales, with BYD commanding over one-third of the market.
The net result of this is that Chinese brands now sell 53% of passenger vehicles in China in 2023, a gain of 17% since 2020.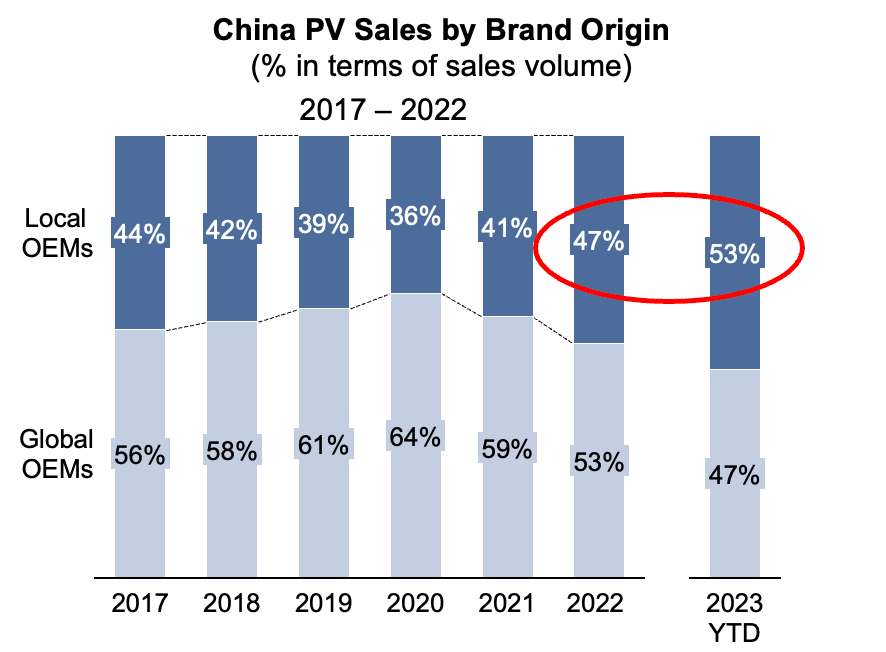 For a deeper analysis of our takeaways from the Shanghai Auto Show, please see the following Automobility Ltd original article and an interview I conducted with Dr. Edward Tse from Gao Feng Advisory Company:
Seven Takeaways from the 2023 Shanghai Auto Show [Automobility article]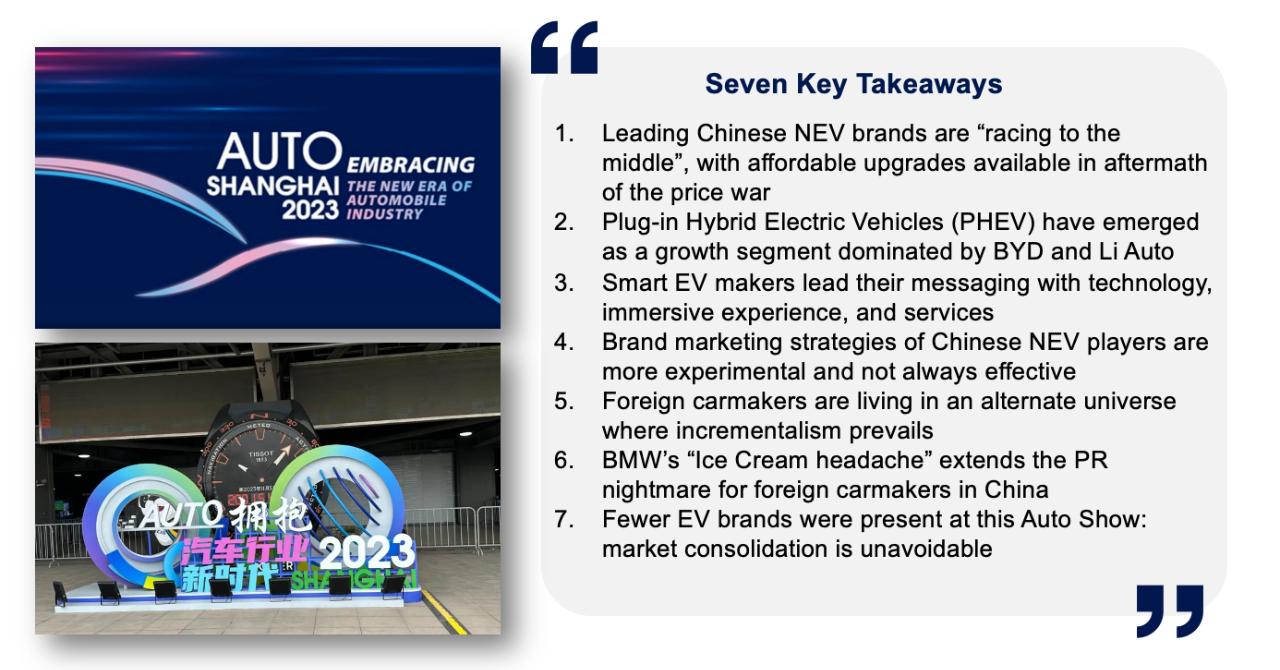 What Shanghai Auto Show Means for Us [Bill Russo interview]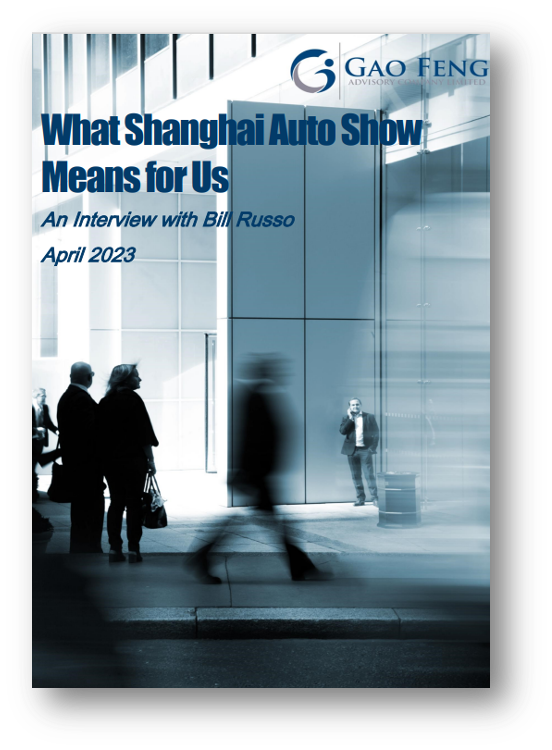 April Car Sales Down from Prior Month
Let's first make a strong point so we are not repeating this as we look at the April and YTD sales figures:  for this Month and the next several months, it is meaningless to focus on year-over-year sales due to the anomalous impact of zero-COVID on sales in 2022. The sales pattern in 2022 was not normal at all, with weak sales in the 2nd quarter, and a stimulus-fueled recovery in the second half.  Instead, we should focus on month-to-month movements – and by this measure, April 2023 sales can only be characterized as poor.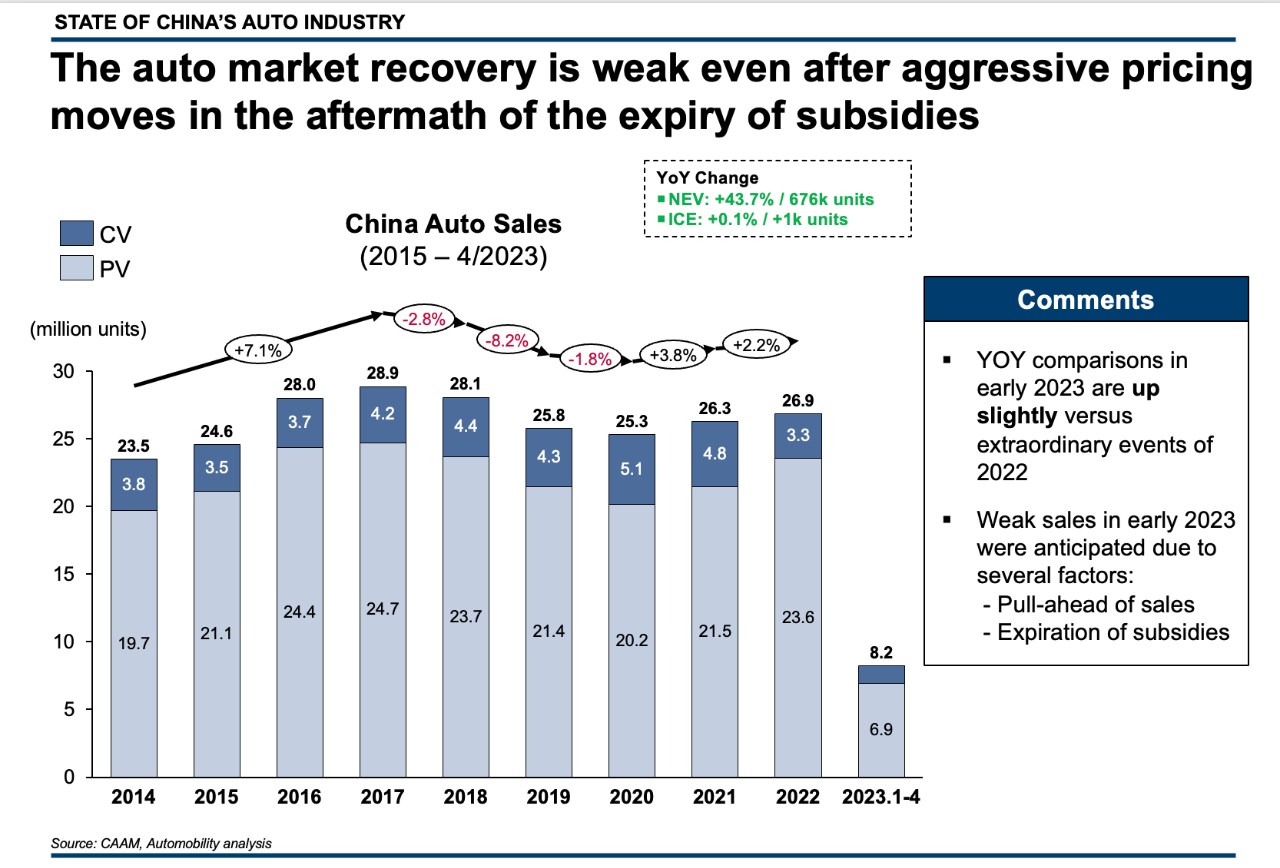 2.2 million cars were sold in April, and 8.2 million cars and trucks were sold from January to April 2023. Since the expiration of ICE tax stimulus and certain NEV purchase subsidies, a price war and heavy discounting has occurred. However, monthly selling rates have not matched those of the second half of 2022. This clearly indicates demand-side market weakness that is not offset with heavy price discounts. We see this as a "hangover effect" from post-lockdown stimulus measures taken in 2022, which is having a disproportionately negative impact ICE sales.  As NEVs become cheaper, the ICE price advantage is eroded.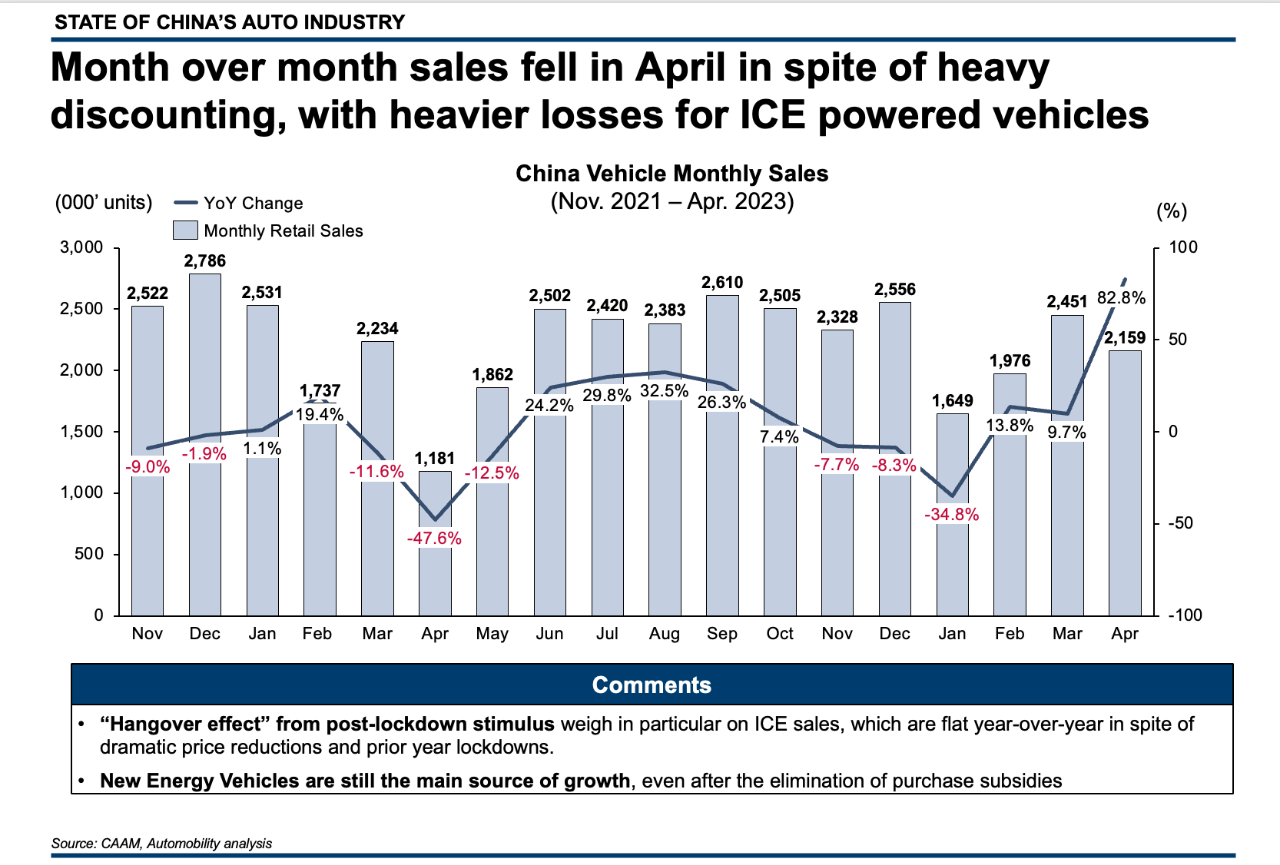 New Energy Vehicles Grow in Share and PHEVs Remain Popular
New Energy Vehicles (NEV) are still the main source of growth even after the elimination of purchase subsidies, although there has been a clear pullback since the expiration of purchase subsidies. NEV sales grew by 676,000 units over the first four months versus last year, rising to 27% share of the total market.
While the NEV story remains the bright spot, there are some underlying trends worth noting. It is now quite clear that Plug-in Hybrid Electric Vehicles (PHEV) are a popular and growing segment of the NEV market, now taking more than a quarter of the NEV pie. This is a segment dominated by BYD (64%) and Li Auto (13%). This is proving to be a popular and less competitive segment, giving BYD and Li Auto an opportunity to enjoy higher volumes and better margins.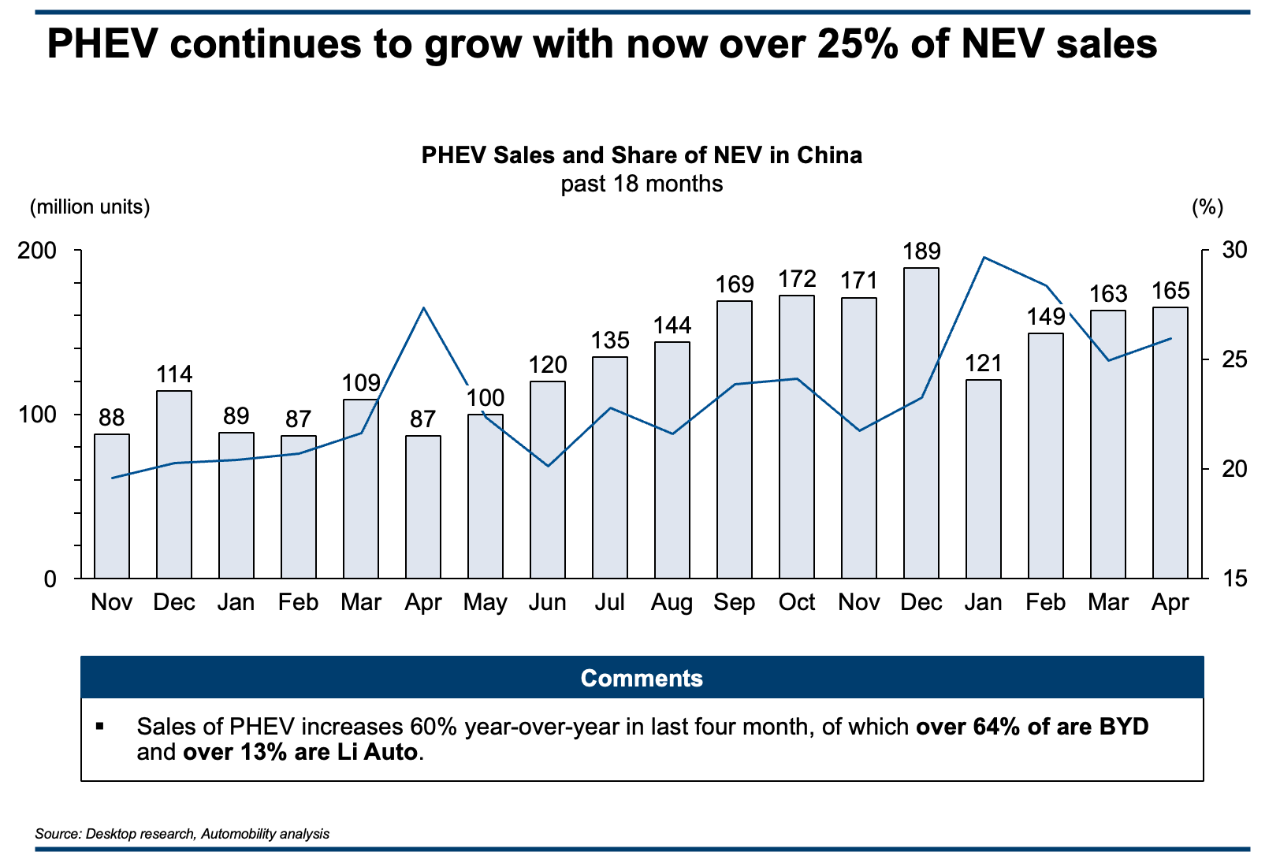 NEV Sales Leaderboard
The April leaderboard indicates how consolidated the China market has become, as it includes the products of just 4 carmakers.
Five products from BYD include four from the Dynasty series (Qin, Song, Yuan and Han), and one from the Ocean Series (Dolphin).  Once launched, we expect the very affordable BEV BYD Seagull to rocket to the top of the list.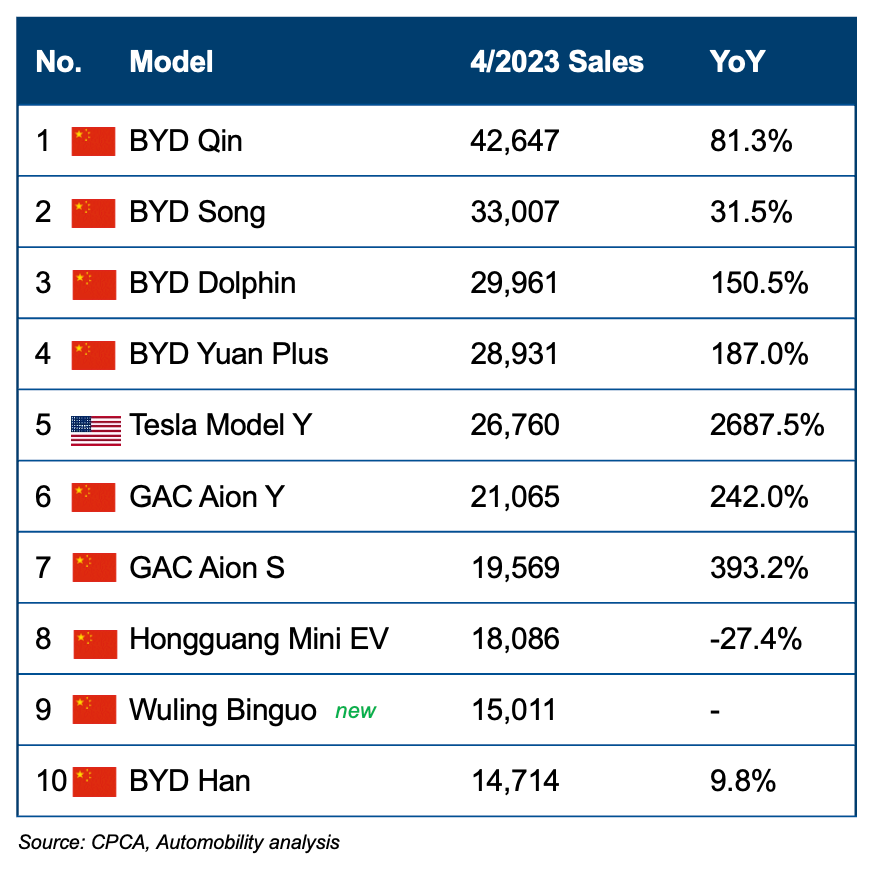 Other leaderboard entries include Tesla's Model Y, where very few sales happened last April due to the lockdown at Giga Shanghai. Also included are the Aion Y and Aion S from Guangzhou Auto Company (GAC) and Wuling's very inexpensive Honguang Mini EV and their newly launched Binguo.  It appears that the Honguang Mini EV sales are in decline, in no small part owing to showroom cannibalization from the entry of the Binguo.
April NEV Leaderboard
The top 10 models sold to date in 2023 includes products from the same four companies and gives further credence to the importance of competitive price positioning the market.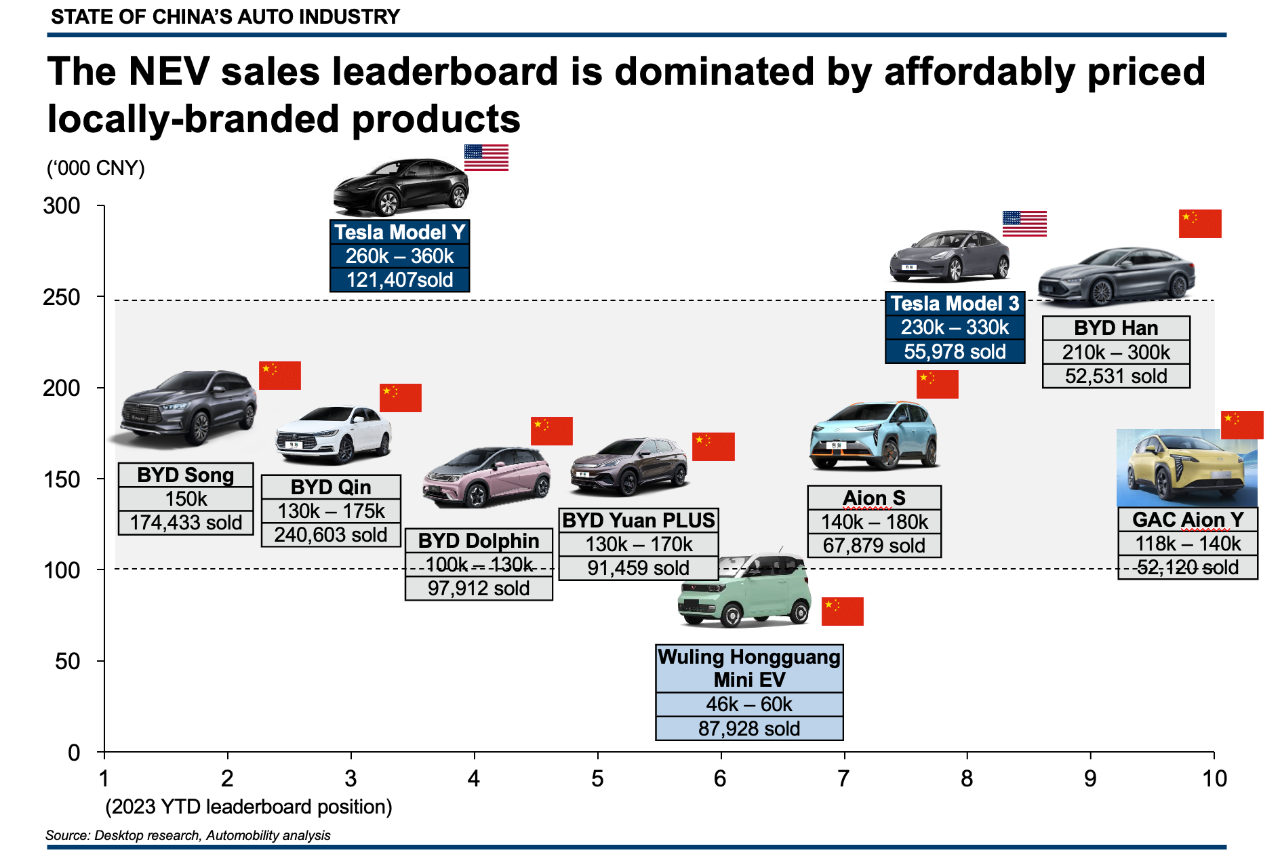 When viewed in this way, it is clear why Tesla launched a price war in China (and subsequently around the world):  they felt it was necessary to close the price gap in order to regain market share versus the more aggressively priced Chinese products. We believe this was a move to challenge BYD's dominance, as well as a move to bully other weaker players away from the market. It was also a signal to the industry that Tesla has the margins to do so, and that if you challenge us, we can kill your business case.Are these tactics working for Tesla? Yes and No.In the time since launching the price war, Tesla's market share in China has risen from 7.9% (full year 2022) to 9.6%. BYD's market share in the same period has risen from 31.7% to 38.1%. The winner in the price war is usually the one who is lower priced, and that is BYD. If Tesla's intent was to weaken BYD, it has not worked. However, the tactic may be working to bully others off the table by weakening their business case. However, it is also weakening Tesla's unit margins. It seems to be a partial pyrrhic victory, at best.The YTD top 10 companies also illustrates a widening gap among the market leaders in China. Almost two-thirds of the market share goes to the top 5 companies, and over 80% to the top 10 companies. This had been consistently true for several months as there are very few substitutions happening among this list of companies. If the China market consolidates, you are already getting an indication of who the likely winners will be.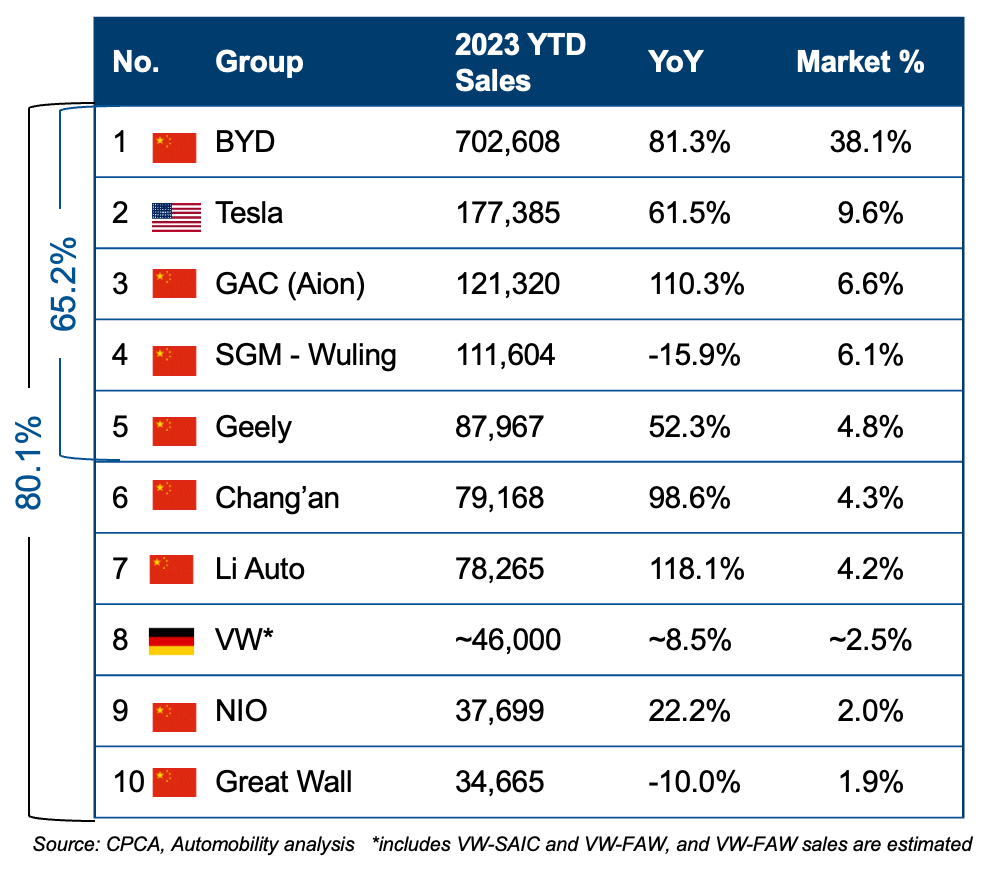 China "Kicks the Can" on China VIBowing to the collective pressure from ICE carmakers who are facing a perfect storm of headwinds from the shift to NEV as well as a price war, the China government effectively delayed the enforcement of the China VI emission standard on vehicles that are already in inventory. Such cars can be certified and sold until December 31, however, after July 1st, vehicles that do not meet the new standard neither be produced nor imported to China.

This provides some relief for manufacturers as they attempt to sell-down their pipeline of finished vehicles that do not meet the emission standard.

China Surpasses Japan as Top Car Export Nation
As a final note, and sure to capture headlines, China surpassed Japan in car exports in the first quarter of 2023. China exported 1.07 million cars in the 1st quarter, well ahead of the 950,000 cars exported from Japan, with 23.2 percent being of the electric variety.
While surely this will be spun as a positive story of the rise of China as an automotive powerhouse, it should also be noted that the top destination for these exports was Russia, which prior to the Ukraine war was previously being served primarily by European brands. We also believe that the weakening demand outlook in China is forcing Chinese manufacturers to prioritize overseas sales as a "safety valve" to relieve overcapacity pressure.
Chinese car exports will surely continue to rise as the NEV mix increases, as there is demand from other international markets for affordable electric vehicles.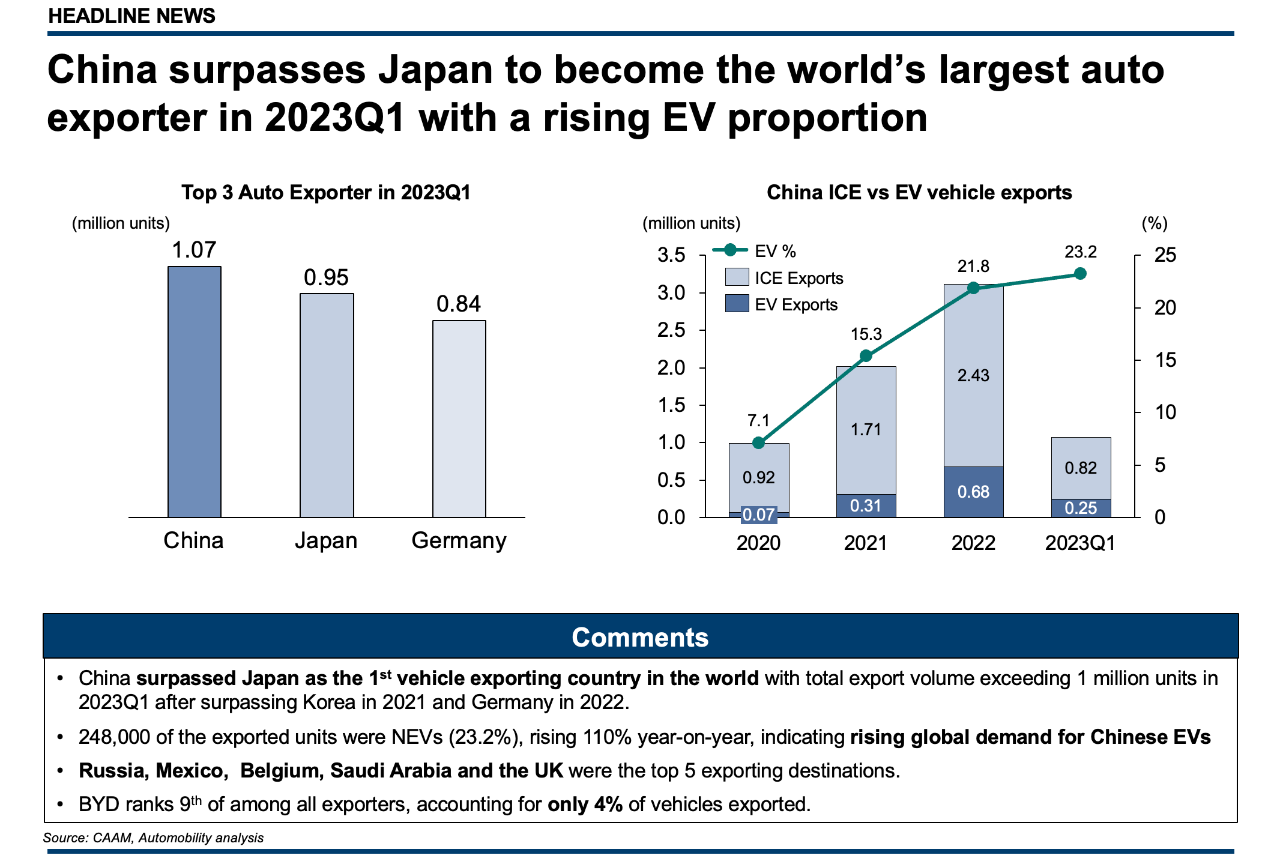 ---
Several questions to consider:
–  How and when will the China NEV market consolidate?  Who will be the likely survivors?
–  Which foreign carmakers are likely the next to exit China?
– What will the supply chain look like in the aftermath of the transition?  Will the global Tier-1 and Tier-2 companies remain relevant in the new Smart EV game?
– Which Chinese brands are most qualified to be global carmakers?
– Is China sending their best companies to the global markets, or are they the ones that are weakest in China?
---
In his role as AmCham Shanghai's Automotive Committee chairman, Bill Russo will host the monthly State of China's Auto Market online webinar on Tuesday, May 23, at 9am in China.

If you wish to join this event, you can register here:
---
About Bill Russo
Bill Russo

 

is the Founder and CEO of Automobility Limited, and is currently serving as the Chairman of the Automotive Committee at the American Chamber of Commerce in Shanghai. His 40 years of experience includes 15 years as an automotive executive with Chrysler, including 19 years of experience in China and Asia. He has also worked nearly 12 years in the electronics and information technology industries with IBM and Harman. He has worked as an advisor and consultant for numerous multinational and local Chinese firms in the formulation and implementation of their global market and product strategies.
Bill is a contributing author to the book Selling to China: Stories of Success, Failure, and Constant Change (2023), where he describes how China has become the most commercially innovative place to do business in the world's auto industry – and why those hoping to compete globally must continue to be in the market.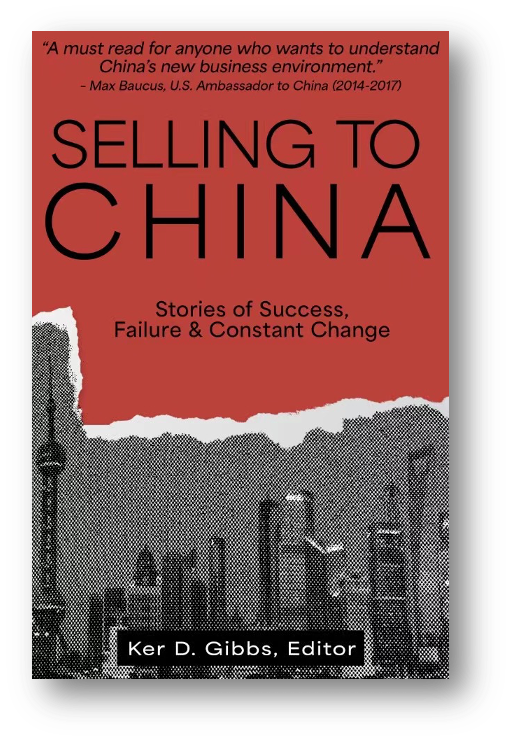 Release date June 29th – Now available for pre-orders.
Please copy and paste the link to your browser: http://alturl.com/epav4
---
About Automobility
Automobility Limited is global Strategy & Investment Advisory firm based in Shanghai that is focused on helping its clients to Build and Profit from the Future of Mobility.  We help our clients address and solve their toughest business and management issues that arise in midst of fast changing, complicated and ambiguous operating environment.  We commit to helping our clients to not only "design" the solutions but also raise or deploy capital and we can assist in implementation, often together with our clients.  We put our clients' interest first and foremost.  We are objective and don't view our client engagements as "projects"; rather as long-term relationships.
Our partners are former senior executives at large corporations and/or senior consultants at leading management consulting firms. We believe clients would benefit the most from a combination of consultants with substantive experience in consulting and in line management.
Therefore, we organize ourselves into a core team augmented by an extensive "extended team members" with a large variety of skills and expertise.
Contact us by email at [email protected]