16 Dec

State of China's Auto Market – December 2022
Local brands now sell the majority of vehicles in China
Market consolidation looms as the NEV market remains concentrated and is dominated by BYD
Comments from Bill Russo, Founder & CEO of Automobility Ltd.
Total vehicle retail sales declined 7.7% versus the previous November, and are down 10.8% from this year's peak in September. This is a clear indication that the effectiveness of post-lockdown tax incentives on ICE purchases has dissipated. The 2.3 million vehicles sold in November represent the weakest sales performance in the China market since the Shanghai lockdown period.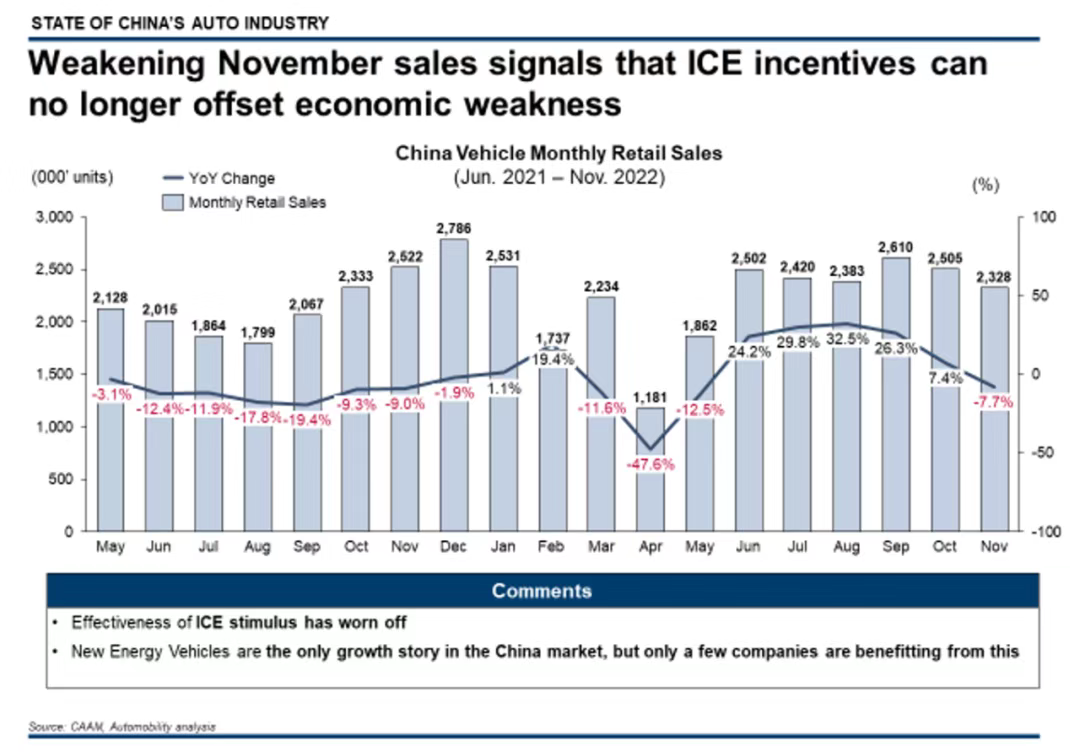 Despite the recent pullback, the overall market this year is up 3.3%, mainly driven by stimulus measures implemented after the April-May lockdown period. NEV sales have more than doubled compared with last year, an increase of 3.1 million units, while sales of gasoline powered vehicles are down 2.2 million units over the first eleven months. Sales of Commercial Vehicles are down 32.1%, and are on track for their worst sales performance in a decade.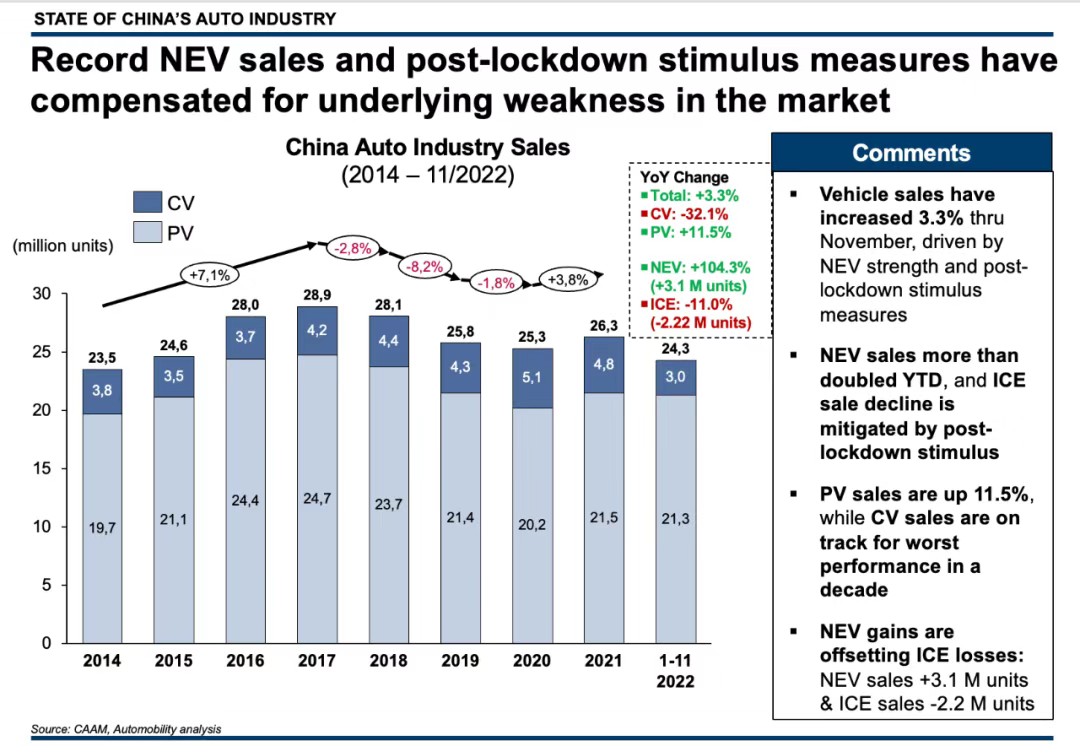 25% of vehicles sold so far this year are new energy vehicles, a massive increase from last year, indicating a seismic market shift.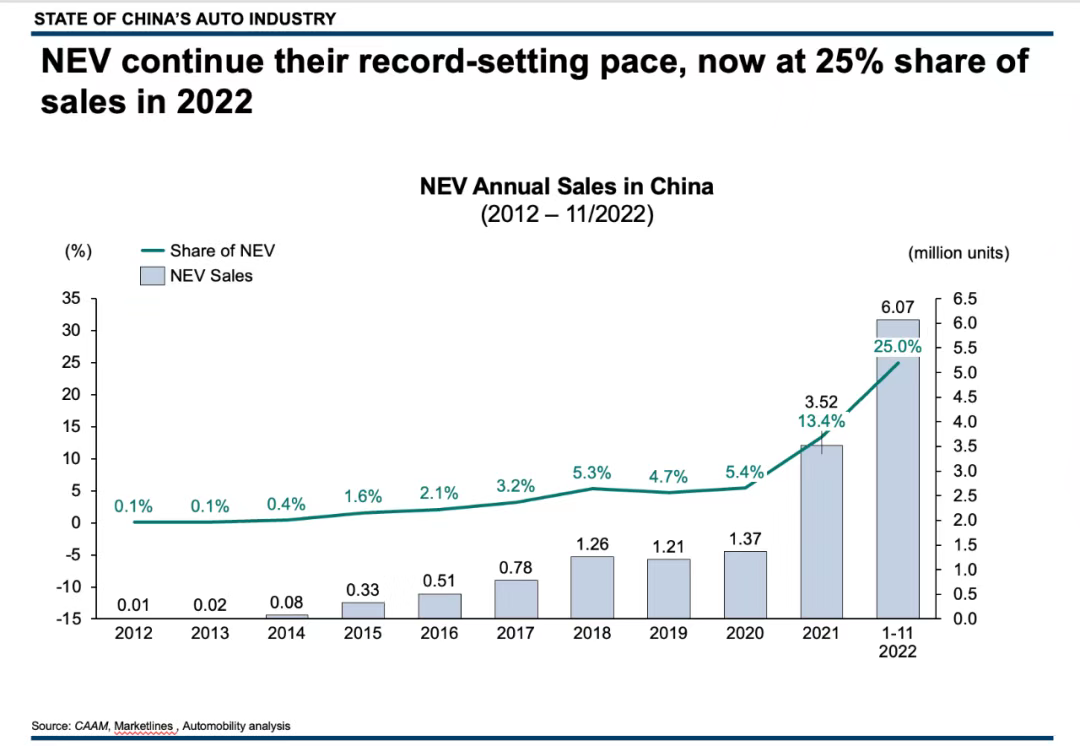 For the 4th consecutive month, NEV sales set a new monthly sales record in November with 786,000 units sold. Of these, 615,000 were BEV (a record) and 171,00 were plug-in hybrid vehicles.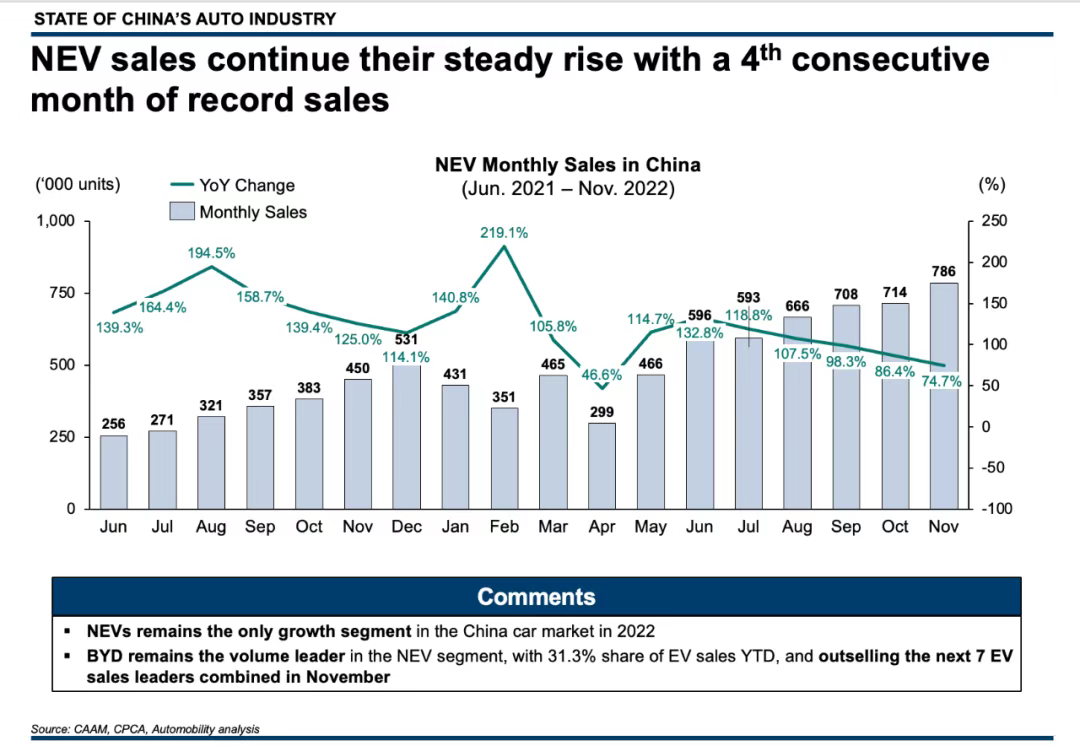 However, a very small number of players are winning the race to electrification, which raises many questions on the sustainability of the EV market in China. Segment leader BYD continues to widen its lead over the competition, with more than 31% share of the NEV market. BYD outsells the next 8 companies on the leaderboard and owns 7 of the top 10 selling nameplates.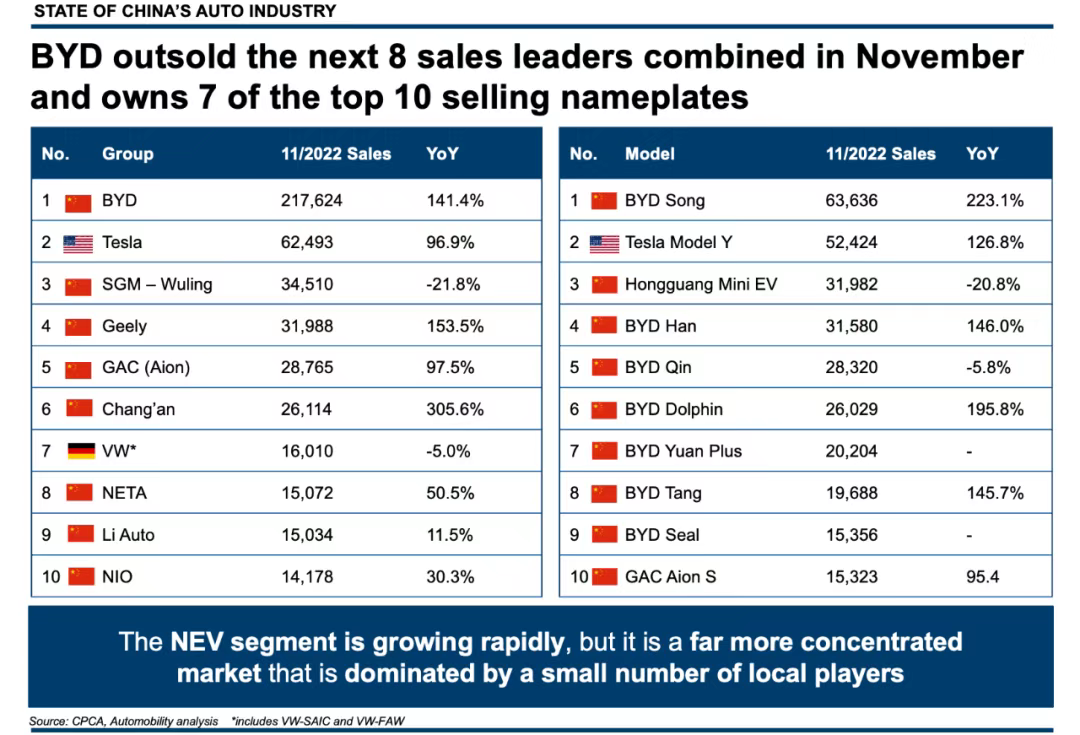 Owing mainly to the dominance of local brands in the NEV segment, Chinese brands have outsold foreign brands over the last 2 months. In a highly concentrated market with rapidly rising EV sales, both foreign and domestic OEMs must re-assess their manufacturing footprint in China. While a small number of local players are ahead in the race to electrification, further market consolidation is unavoidable in both the NEV segment and the overall market.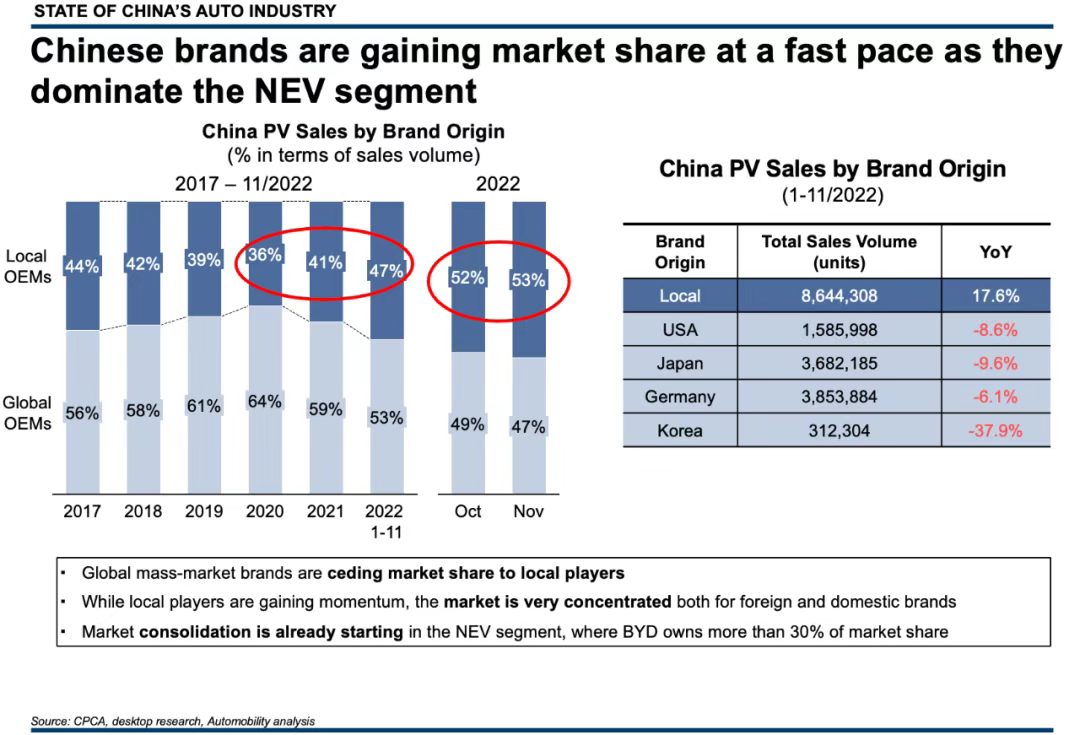 In the NEV segment, BYD has grown its share of a rapidly expanding market from 16.4% to 31.3% since 2020, while most other Top 10 brands are getting a smaller share of a much bigger pie. What is evident from this analysis is that the NEV game is principally a local game dominated by the home team.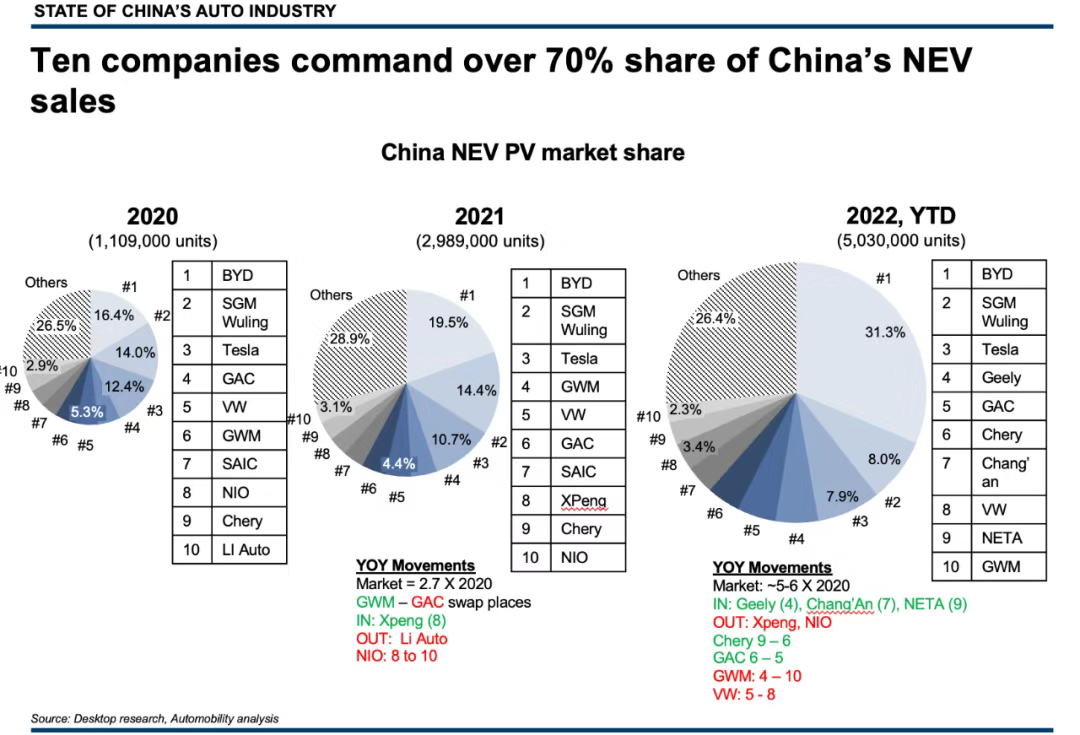 Several questions to consider:
– Stimulus incentives are having less impact – what happens to the market when stimulus expires?
– Volkswagen EV sales declined in November in an up market. What can foreign brands do the get in the EV game?
– There are over 100 companies that want to make an EV, but just 10 of them sell about 75% of the electric cars. What will happen to all the others?
– When can we expect a recovery in commercial vehicle sales?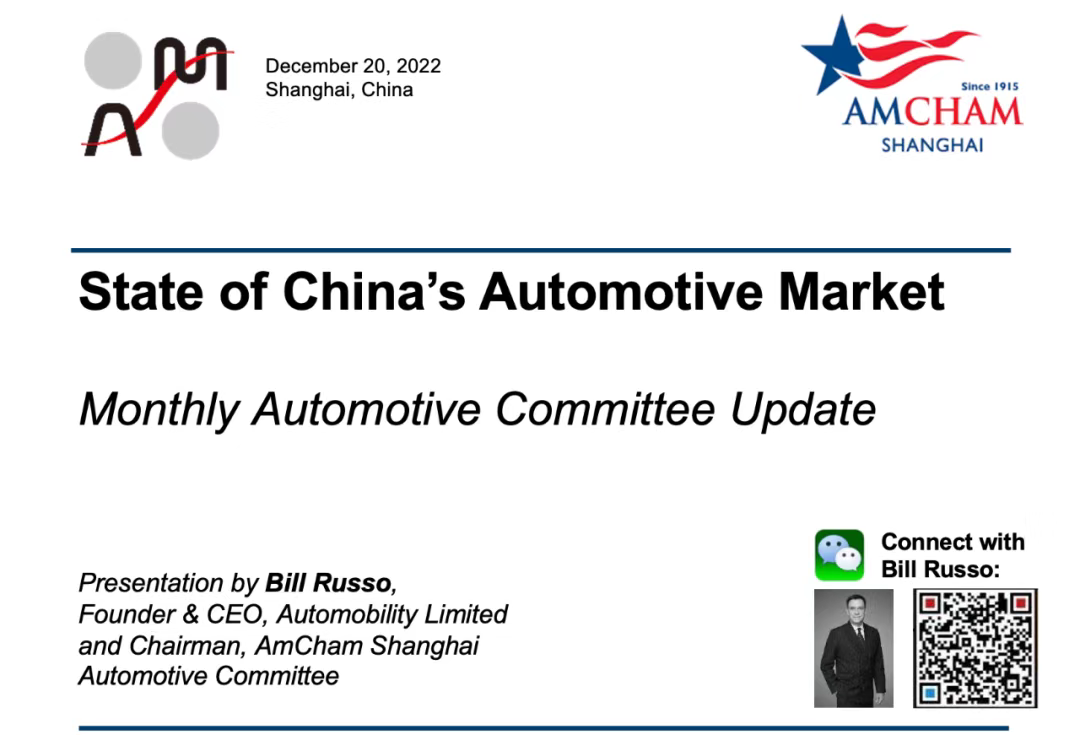 If you wish to join the next monthly AmCham Automotive Committee webinar on the State of China's Auto Industry, you can register here:
December 20, 2022 Tuesday
9:00 AM – 9:45 AM (GMT+8)
About Bill Russo
Bill Russo

 

is the Founder and CEO of Automobility Limited, and is currently serving as the Chairman of the Automotive Committee at the American Chamber of Commerce in Shanghai. His 40 years of experience includes 15 years as an automotive executive with Chrysler, including 18 years of experience in China and Asia. He has also worked nearly 12 years in the electronics and information technology industries with IBM and Harman. He has worked as an advisor and consultant for numerous multinational and local Chinese firms in the formulation and implementation of their global market and product strategies.
---
About Automobility
Automobility Limited is global Strategy & Investment Advisory firm based in Shanghai that is focused on helping its clients to Build and Profit from the Future of Mobility.  We help our clients address and solve their toughest business and management issues that arise in midst of fast changing, complicated and ambiguous operating environment.  We commit to helping our clients to not only "design" the solutions but also raise or deploy capital and we can assist in implementation, often together with our clients.  We put our clients' interest first and foremost.  We are objective and don't view our client engagements as "projects"; rather as long-term relationships.
Our partners are former senior executives at large corporations and/or senior consultants at leading management consulting firms. We believe clients would benefit the most from a combination of consultants with substantive experience in consulting and in line management.
Therefore, we organize ourselves into a core team augmented by an extensive "extended team members" with a large variety of skills and expertise.
Contact us by email at [email protected]