01 Nov

AmCham SH Auto Conference 2022: Navigating the Perfect Storm

AmCham Shanghai hosted the 2022 Automotive Conference on October 20th, focusing on how the automotive industry in China can cope with multiple challenges in the current volatile geopolitical environment. Business leaders and experts from the auto sector spoke about the state of China's auto industry and how the industry is navigating disruptive changes across the entire value chain. Over 80 auto professionals were in attendance.

Eric Zheng, President of AmCham Shanghai, opened the conference, stressing that two important factors are impacting the industry – China's zero-Covid policies and the US's "invest, align, compete" approach to contain China.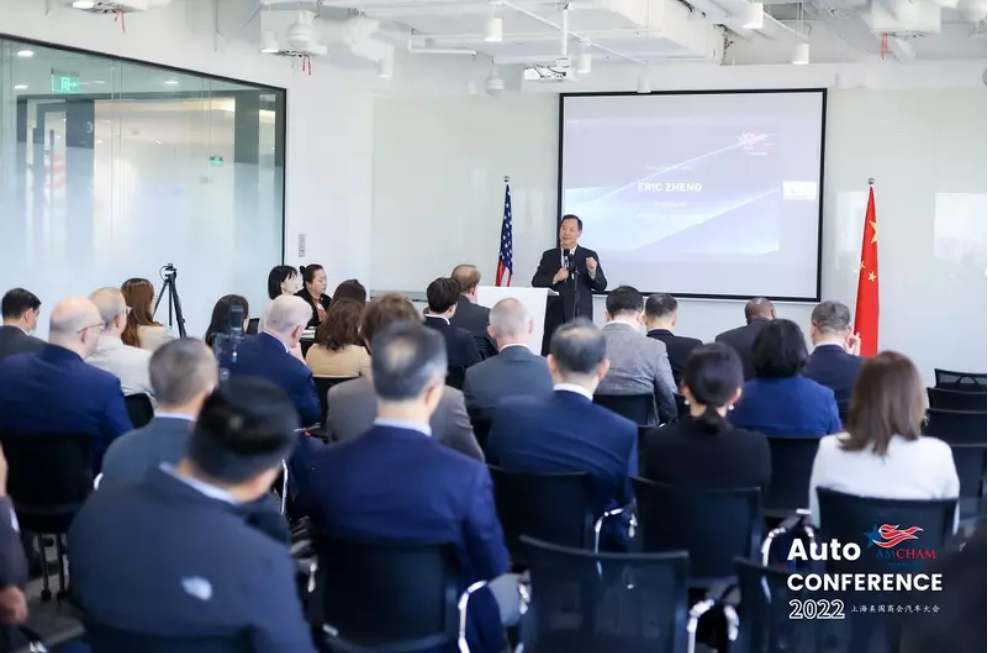 Against this backdrop, Bill Russo, Founder & CEO of Automobility Limited and AmCham Shanghai Automotive Committee Chair, highlighted a few key challenges within the automotive industry value chain. The challenges include supply chain disruptions in the upstream, a shift to smart electronic vehicles or intelligent connected vehicles in the midstream, and the future of automotive retail in the downstream.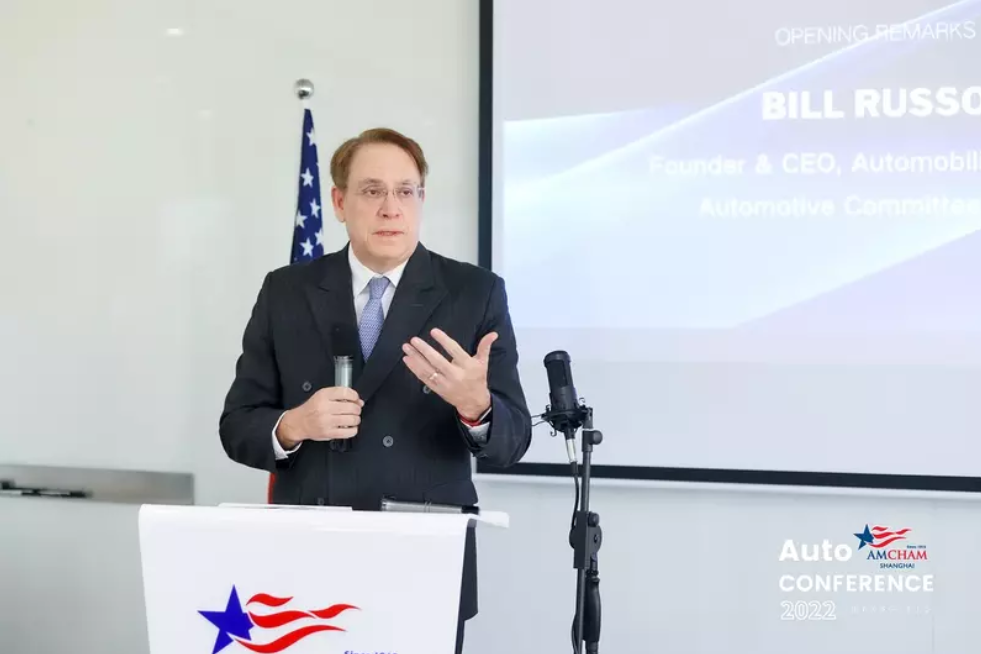 Following Bill's opening remarks, Jack Cheng, Chief Executive Officer of MIH Consortium, gave a keynote speech on the transition to new energy vehicles (NEVs). Jack, the co-founder of NIO and a recognized pioneer in the automotive industry, is now building MIH Open EV Alliance, an open ecosystem that enables brands to participate in the mobility industry with a lower barrier of entry while providing alliance members an opportunity to grow their business and accelerate innovation. According to Jack, the automotive industry has evolved from traditional car brands to EV brands that have no dealerships and have instead primarily adopted digital technology. The industry will continue to evolve as EV brands turn more user-centric. Eventually, Jack said, open platforms, standardization, and modularization will mark the direction of the auto industry. Bringing the right partners together in an ecosystem will be vital to driving the next phase of smart and electric autonomous vehicles.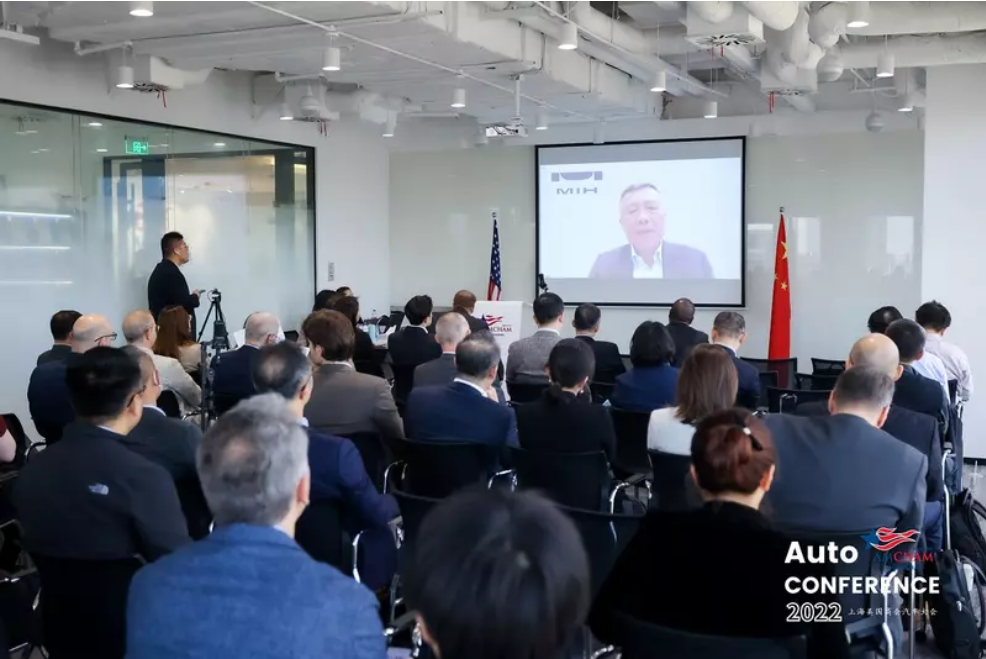 Bill Russo then provided an update on China's auto industry for Q3 2022. Bill highlighted the underlying weakness despite the impressive numbers – China's auto industry sales are up 4.4% versus the same period in 2021. Gasoline-powered vehicle sales are down 10% this year although post-lockdown stimulus measures have targeted these types of vehicles. On the other hand, NEV sales are up 113.6% from last year and set another record in September, surpassing 700,000 units sold for the first time. Notably, Chinese brands are gaining market share at a fast pace as they dominate the NEV segment. While the NEV segment is growing rapidly, it is a far more concentrated market that is dominated by a small number of players. The NEV sales leaderboard is currently dominated by affordably priced, locally branded products.
Bill also elaborated on the global expansion of China's NEV industry. China is now the top EV exporter worldwide with total exports of nearly 500,000 units in 2021 and is in the top three in terms of export value. In H1 2022, BYD accounted for 15.4% of the global EV market and is continuing its global growth. As far as EV battery production is concerned, China produced 558 GWh of lithium-ion batteries in 2021, leading the global market. In comparison, the US is ten times smaller in manufacturing volume. This leading position provides China with a significant cost and supply chain scale advantage.
Continuing on the topic of battery supply chains, Jay Hwang, Senior Analyst at S&P Global Mobility for the North American battery domain, spoke about the Inflation Reduction Act that was recently enacted in the US and its significant implications for the global battery supply chain. The Inflation Reduction Act is intended to build the US battery supply chain and will have multiple implications. In the OEM industry, US automakers will enjoy benefits for some time while some foreign vehicles assembled overseas have been immediately excluded from EV tax credits as soon as the bill was passed in mid-August; the Big Three and Tesla have been and will be the most active in signing contracts with North America upstream suppliers. European automakers will need to shift from exporting battery components for North American vehicles to 100% local production, although overall, EU OEMs have been preparing well for US localization. There is not yet a significant impact on Chinese OEMs due to their limited presence in the US market. In terms of the battery supply chain, global battery makers will shift their components sourcing from China to North America as there will be more incentives to build battery gigafactories in the US.
Attendees then heard from a panel of senior auto supplier executives about navigating supply chain disruptions. The panel was moderated by Jarrod Ward, Chief Business Development Officer for East Asia at Yusen Logistics and AmCham Shanghai Supply Chain Committee Chair, and joined by Sng Yih, President, China of Autoliv; Simon Yang, President of APTIV Asia Pacific; and Tom Tan, Vice President of BorgWarner Inc. and President of BorgWarner China. The panelists shared different perspectives on how to deal with the critical supply chain disruptions arising from trade disputes, Covid-related labor shortages, and the new US policies about semiconductor development. The panelists also shared their future strategies as emerging new players, who are boosted by electrification, artificial intelligence, and the internet of mobility challenge original business models. As part of the automotive value chain, traditional auto players ought to adjust their business strategies to stay competitive in the ever-changing environment.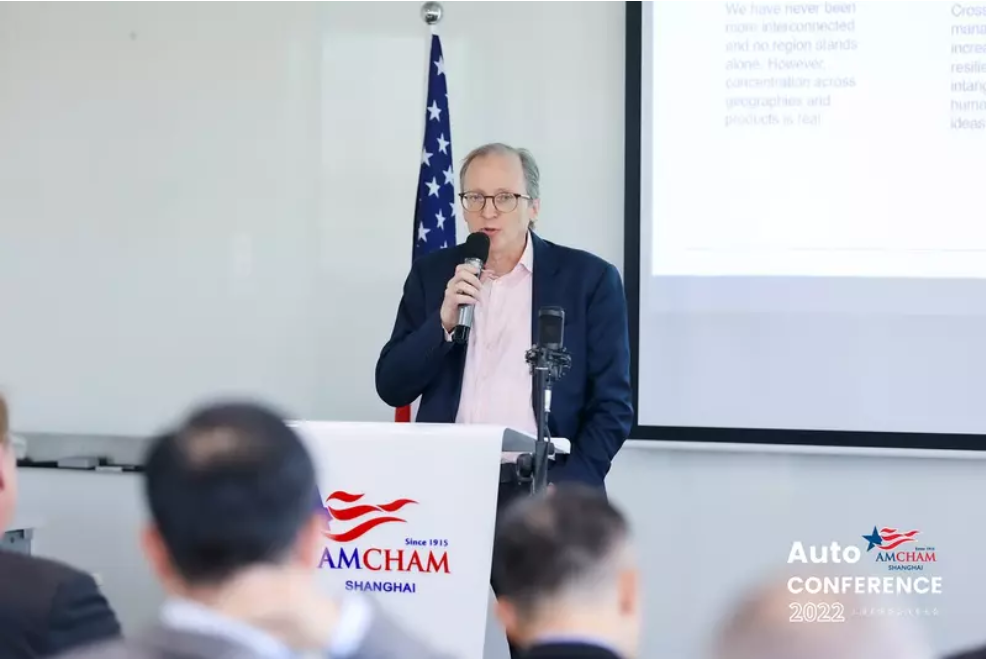 Bill Russo provided closing remarks, emphasizing that current disruptions are not only in the upstream supply but across the entire value chain. Echoing Jonathan's remarks on concentration, Bill indicated that China is already dominating the global battery market. Chinese EV and battery players are expanding their reach to markets around the world, with MENA, Eastern Europe and Southeast Asia as their areas of focus.
Source: https://www.amcham-shanghai.org/article/amcham-shanghai-auto-conference-2022-navigating-perfect-storm