18 Oct

China's carmakers face threats at home, abroad

Automotive News, October 2018

by Hans Greimel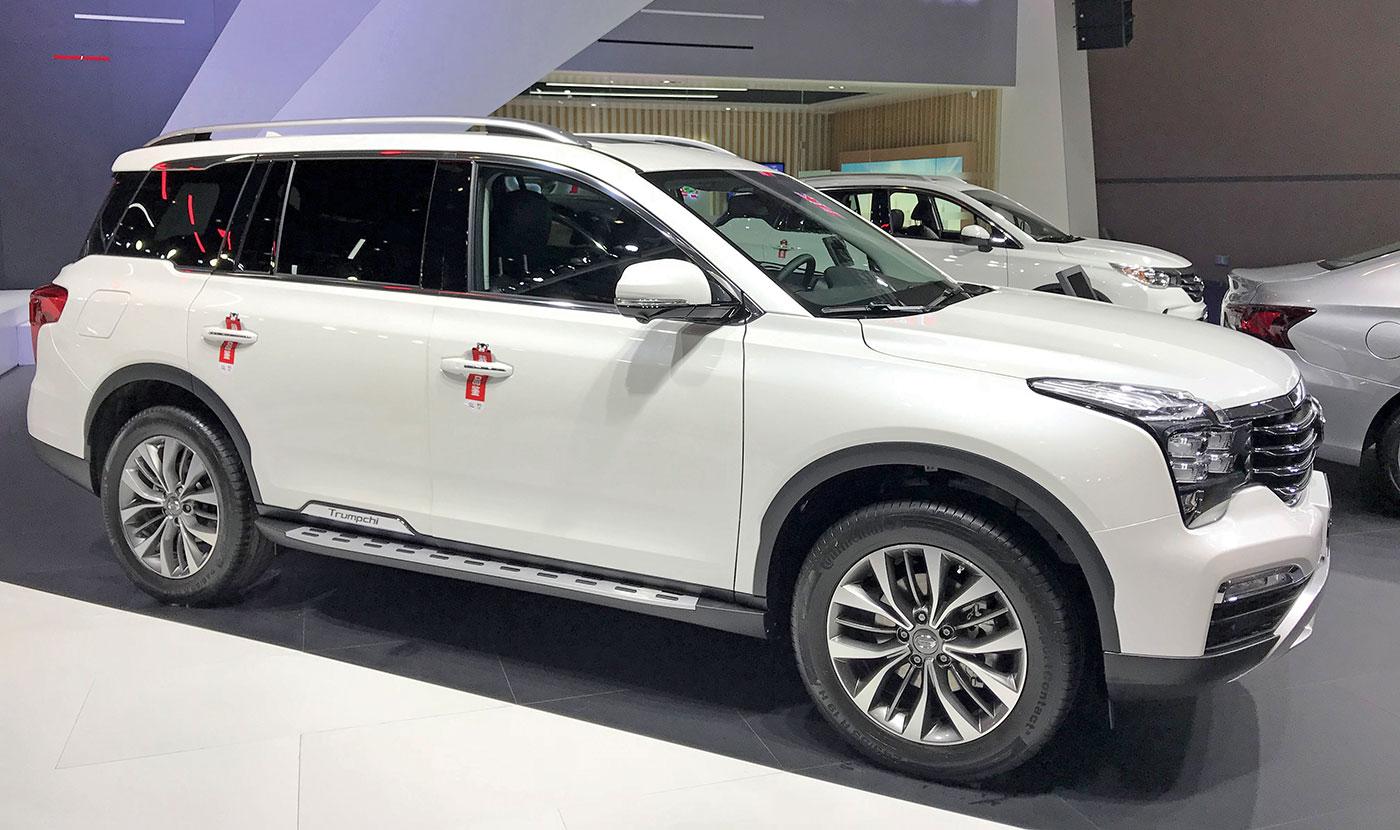 Seven-seat GS8 crossover: Modern, luxurious — and made in China Photo credit: HANS GREIMEL
CHONGQING, China — At first blush, the GS8 seems like a crossover made for Americans.
The hulking China-built seven-seater is luxurious and modern.
What's more, the styling isn't cluttered with the overwrought baubles that blight many Chinese designs. The GS8 looks at once handsome and rugged, even to American eyes.
Its manufacturer, GAC Motor, hopes so. GAC seeks to be the first homegrown automaker to export light vehicles to the U.S., starting as early as late next year. The GS8 is positioned as its leadoff product, and GAC has begun recruiting stateside dealers.
"When GAC was established, internationalization was one of our goals," Li Shao, deputy general manager of parent company Guangzhou Automobile Group Co., said at an industry event here this year. "Chinese brands going global will be a common trend in the future."
Just as Japanese automakers, and then Koreans, tapped into America with wild success, a growing roster of Chinese hopefuls — from bus makers to electric vehicle upstarts — say it is their turn to take a crack at the lucrative U.S.
But now comes some whiplash. A spiraling trade war between China and the U.S. casts new doubt on such overseas ambitions. And landmark policy changes at home mean China's domestic market is no longer the sheltered incubator it once was.
Suddenly, China's would-be world conquerers are playing defense at home and facing a tougher fight overseas. How the battle shakes out could reshape the industry's landscape, not just for China-born challengers but for the international legacy brands they target as rivals.
"In the coming five years, China's auto sector will be fully open. This is a very big challenge. Various barriers and thresholds will vanish. Changes in the Chinese automotive industry will influence the global industry."
Li Shufu, chairman of Zhejiang Geely Holding Group
"In the coming five years, China's auto sector will be fully open," Li Shufu, chairman of Zhejiang Geely Holding Group, one of China's top automakers, warned at the Global Automotive Forum here in June. "This is a very big challenge. Various barriers and thresholds will vanish. Changes in the Chinese automotive industry will influence the global industry."
The upheaval could profoundly shape the way China evolves into the next big automotive rival. The country's industry is ripe for massive consolidation, and many contenders are bound for extinction. But the Chinese brands that survive could emerge even stronger to compete abroad and make China a global player.
"If they can't fortify their position at home, they can't have a true global strategy," said Yale Zhang, managing director of Automotive Foresight, a consultancy in Shanghai.
Playing offense
Few Chinese upstarts have been as aggressive on the global stage as Geely.
Its surge began in 2010, when Li Shufu acquired Swedish brand Volvo from a troubled Ford Motor Co. that was racing to raise cash during the financial crisis. Geely now has stakes in the British maker of London's black cabs, the Malaysian automaker Proton and the British sports car brand Lotus.
Last year, Geely even bought a Massachusetts company called Terrafugia that is developing flying cars. And, in the clearest sign of the times, Li splurged in early 2018 on a 9.7 percent stake valued at some $9 billion in Mercedes-Benz parent Daimler, the grande dame of German luxury.
Li also decided to launch a global brand, Lynk & CO. It wants to shake up the traditional retail and ownership model with a subscription plan, no-haggle pricing, online shopping and software-based car-sharing. Geely also reportedly is in talks to partner with Toyota Motor Corp. on hybrid technology.
It is a snowballing empire for Li, a man from a farming region of Zhejiang province who began his vocational life as a photographer before moving on to engineering and entrepreneurship.
Also angling for an international profile are GAC and a host of other legacy Chinese automakers, including Great Wall, Shanghai Automotive and BYD. New to the fray are dozens of EV startups with names such as Xpeng, Nio and Byton, all seeking to be the next Tesla.
China's biggest international successes to date have come in emerging markets: Africa, Eastern Europe, Southeast Asia and Latin America. Shanghai Automotive Industry Corp., for instance, has taken control of South Korean automaker SsangYong Motor and MG Rover assets.
SAIC has deftly used those acquisitions to grow in countries such as Thailand, New Zealand and Australia. SAIC says it plans to enter India next year.
In seven short years, Chinese light-vehicle exports more than doubled, from 282,900 vehicles in 2010 to 639,000 last year, according to the China Association of Automobile Manufacturers. Exports are up 45 percent this year through August. Domestic brands account for about 85 percent of the passenger vehicle shipments, according to LMC Automotive.
But the real prize remains the U.S.
BYD, the electric car maker partly owned by American billionaire Warren Buffett, already has a toehold. BYD runs an assembly plant in Lancaster, Calif., that mainly builds electric buses and trucks. In fact, BYD has delivered more than 700 battery-powered buses across the U.S.
But Chinese passenger vehicles still face many roadblocks — starting with a perception of questionable quality.
More than a third of American consumers say they won't consider buying a Chinese brand vehicle, according to a poll published in July by Autolist.com.
"Chinese brands have long coveted the lucrative U.S., and several have made promises in the past only to have their plans evaporate due to low brand awareness, poor build quality and failure to meet U.S. safety standards," Autolist said. "Their best chance for grabbing consumers' attention — and sales — will be to compete on price."
GAC thinks its GS8 is up to snuff. The vehicle boasts such near-luxury trappings as multifunction leather seats, three-zone climate control, a panoramic sunroof and a negative-ion air purifier, not to mention seamless mobile-phone connectivity and wireless gadget charging.
Under the hood is an engine with a turbocharger from BorgWarner and a six-speed automatic transmission from Aisin Seiki, all encased in a high-tensile steel body. Of course, it offers four-wheel drive, replete with six driving modes to handle various types of terrain, and a comprehensive airbag system.
Government-backed GAC counts giants Toyota, Honda, Fiat and Mitsubishi among its joint-venture teammates. But GAC's Li says his company has grown beyond being the junior partner.
"Increasingly, GAC can export our own technologies to the joint venture," Li said. "We are prepared to enter the North American market."
Tariff troubles
Yet selling stateside just got a lot harder, thanks to new tariffs on China-made automobiles. President Donald Trump's decision to levy the duties, as part of an escalating trade row with Beijing, is seen as a kind of pre-emptive strike to stop Chinese vehicle imports before they begin.
At the Paris auto show, GAC President Yu Jun conceded to reporters that the U.S.-China trade dispute "might delay the launch of GAC's first car in the U.S. to the first half of 2020."
Yet even without the tariffs, Chinese hopefuls would face an uphill climb.
First come the sky-high costs of shipping vehicles to the U.S., building a dealer network from scratch and distributing product nationwide. Then, the Chinese must splurge on pricey advertising campaigns to win over a skeptical public leery of anything with an unfamiliar badge.
"It can take decades to build a brand," said John Zeng, a China analyst for LMC Automotive. "U.S. consumers need at least one or two generations for a product to prove itself."
Big talk of making it in America is often rooted more in domestic marketing than reality, said Bill Russo, CEO of Shanghai consultancy Automobility and a former China executive at Chrysler.
"Most of these efforts are about telling Chinese customers back home these cars are good enough to be sold in the U.S. or Europe," he said. "The costs and other hurdles aren't trivial."
But Chinese players adamant about America already are strategizing tariff workarounds.
Like the Japanese and Koreans before them, they will duck duties by making vehicles and auto parts in the U.S., said Michael Dunne, CEO of ZoZo Go, an investment advisory firm focused on China's autonomous and electrified vehicle markets. Chinese EV startup Faraday Future, for example, plans to build its first car at a refurbished tire factory in California.
"How many Americans know that there are already more than 100 Chinese automotive suppliers and tech companies operating in the United States?" Dunne said. "If the Chinese were a one-trick pony — export from China or bust — then the tariffs would be a show stopper. But Chinese companies are already eyeing North American production."
Hustling at home
Back home, the fight isn't any easier for Chinese brands.
Homegrown auto companies have steadily clawed market share away from international rivals over the years. They won the confidence of Chinese consumers by dramatically improving the quality of their products and quickly capitalizing on the market's shift to crossovers.
In 2010, domestic brands accounted for about 30 percent of Chinese passenger vehicle sales, according to LMC Automotive. By last year, they had locked up 41 percent.
"Chinese brands are already taking share from middle-market global brands like Ford, Hyundai and Peugeot," Dunne said. "Middle-market global brands must move up or be forced out."
The latest casualty was Suzuki Motor Corp. The Japanese small-car specialist said in September that it would quit the world's biggest auto market after struggling to sell cars in China for 25 years. The Suzuki brand will survive there in name only, under a production licensing agreement with its former JV partner Chongqing Changan Automobile Co.
But all automakers, Chinese and foreign, are suddenly being buffeted by softening demand.
Domestic light-vehicle sales in China fell in August for the second straight month, taking the shine off what used to be one of the world's fastest-growing markets.
Analysts say Chinese brands would suffer the most in a slowdown. Indeed, domestic brand light-vehicle sales climbed just 0.8 percent this year through August, while international sales advanced a healthy 4.1 percent, according to the China Association of Automobile Manufacturers.
American duties on Chinese imports are denting China's macroeconomy and sapping consumer confidence. At the same time, the Chinese government is cracking down on peer-to-peer lending platforms, which were a potent source of loans for cash-poor consumers looking to buy cars.
"This deterioration puts more pressure on local players," said Zhang, of Automotive Foresight. "International brands have the advantage, with brand recognition and quality. In a difficult market, they will show their true colors."
Playing defense
Meanwhile, major policy changes are making it easier for international brands to compete in China. China's government reduced the country's 25 percent tariff on imported cars to 15 percent on July 1. It also promised to wipe out foreign ownership limits on local manufacturing by 2022.
China's decision to roll back tariffs was a windfall for foreign competitors from almost everywhere except the U.S. (Beijing quickly reimposed duties on U.S. imports in retaliation for the Trump administration's tariffs on a multitude of Chinese products.) But automakers from Germany, Japan and South Korea suddenly were able to slash sticker prices. In August, after the tariff cut, domestic brand sales fell 11 percent while foreign sales held steady, despite overall shrinking demand.
The policy ending restrictions on foreign ownership of local automakers begins phasing in this year with the removal of limits on companies making EVs and plug-in hybrids. It applies to commercial vehicles in 2020 and then all passenger vehicles in 2022.
Before, foreign automakers were limited to a 50 percent stake in any local venture under a policy introduced in 1994 to give local brands a leg up on international competitors.
U.S. EV star Tesla was one of the first foreign players to take advantage of the change. In the summer, Tesla signed a preliminary agreement to build an assembly plant in Shanghai, a factory envisioned as having the capacity to churn out 500,000 vehicles a year.
BMW also sees an opportunity to improve its positioning under the new guidelines. The German luxury automaker is reportedly exploring the possibility of raising its stake in the Shenyang JV it has with China's Brilliance Automotive Group Holdings.
Other automakers have been mostly mum on their intentions. Negotiating new shareholder structures with Chinese partners could bog them down for a long time. Plus, foreign brands rightly see big benefits in pairing with a local operation that can help them navigate thorny government relations, opaque supply lines, a delicate Chinese dealer network and mercurial customer tastes.
But the opening gives international players more flexibility to run their own operations, protect their intellectual property and pocket a bigger chunk of the profits.
It also will free them to manufacture more in China for export to other markets.
"In the longer term," Zhang said, "that policy change will really change the industry."
The reckoning
Chinese automakers know times have changed and are laser-focused on upping their game.
The head of one of China's biggest automakers warned that the majority of domestic brands in China's overcrowded auto sector won't be able to weather the storm. Zhu Huarong, president of Chinese auto giant Changan Automobile Co., the JV partner of Ford, Mazda and PSA Group, said China is flush with about 180 automobile companies, but about a third of them have virtually no sales.
"The competition in this market is already cutthroat, so I believe in the next three to five years, the consolidation in this auto industry will by no means be news," Zhu said. "I believe a majority of Chinese brands will be eliminated."
Executives at GAC and Geely pledge that their companies won't be among them.
"This policy shift means a grave challenge for us," GAC's Li conceded. "GAC Group still needs to enhance our capabilities very quickly." But, he quickly added, GAC also intends to "become a top 100 enterprise in the world by 2027, the 30th anniversary of the company."
Despite the new challenges at home, Geely is flourishing. This year, it became China's second-biggest car brand. Sales surged 33 percent to 828,355 vehicles through July, topping Toyota, Buick, Honda, Hyundai and every other marque except Volkswagen, according to LMC Automotive.
The company's net income was up a robust 54 percent in the first half of the year.
"Geely will sell almost twice as many vehicles in China this year as Ford and FCA combined, an unthinkable feat just a few years ago," ZoZo Go's Dunne said. "The clock is ticking."
But Geely's Li, the closest thing to a Chinese Henry Ford, is in no rush. And the billionaire deal broker isn't shy about waxing messianic about his grand vision for Geely — and for China.
"We must try every effort to improve the global competitive edge of Chinese auto companies so that more Chinese automobiles will compete instead of being dominated by the foreign brands," Li said. "You have to be persistent. You shouldn't just chase money. If you want a real business, you can't get profit that quickly. You need to wait and be patient."
Yang Jian and Andrea Malan contributed to this report.