11 Mar

In Beijing, You Have to Win a License Lottery to Buy a New Car

Bloomberg Business Week, February 27, 2019
A strict cap on permits keeps pollution, and auto sales, down in some of China's biggest cities.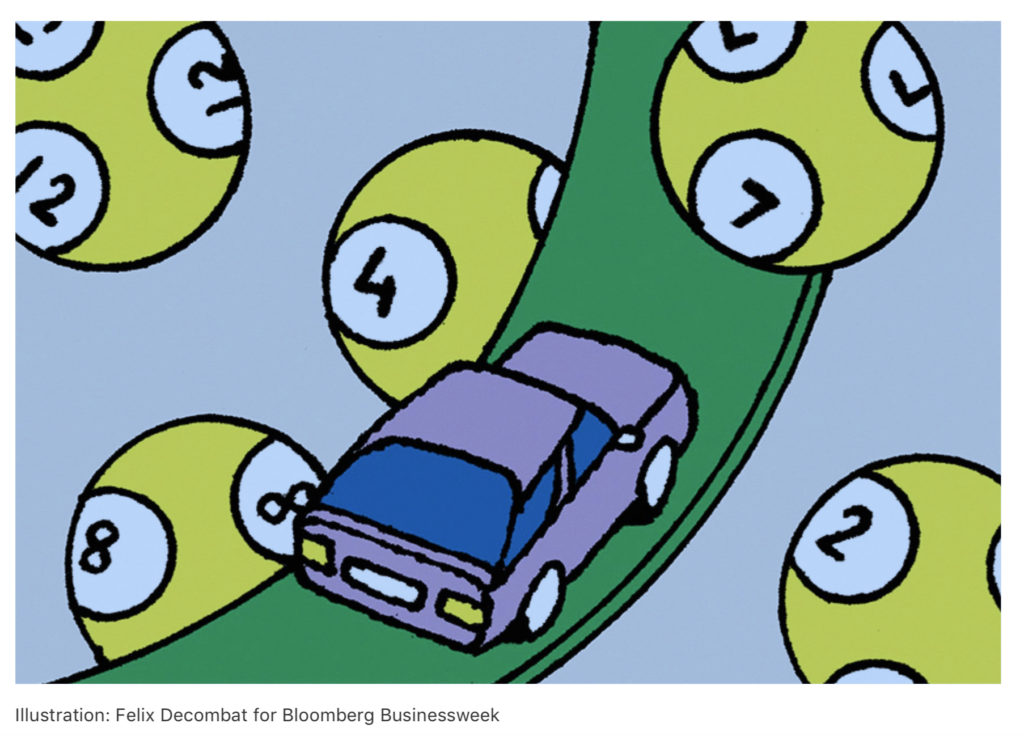 It's not the half-million-yuan price tag keeping Beijing resident Sandra Zhao from buying her dream car, a BMW X4 SUV. It's the license plate she needs to have a conventional gasoline car. She's been in a lottery pool for five years, competing with more than 3 million fellow residents for one of the plates. The complicated bimonthly drawing awards about one plate for every 2,000 applications. Meanwhile, her husband has been on line since the end of 2017 with 420,000 others for a license to own a supposedly easier-to-acquire electric vehicle. He's hopeful he'll get it in another two years—those at the back of the line may have to wait eight. "Owning a car is extremely difficult in Beijing," says Zhao, who desperately wants one to ferry her 10-month-old daughter around. "If it wasn't for the baby, I'd rather give up the idea and use ride-hailing apps."

Traffic congestion and air pollution are such headaches in the capital that the government since 2011 has used a lottery to restrict the number of cars registered each year. The annual new vehicle quota, which was 240,000 in 2013, fell to 100,000 in 2018. The municipal government will issue 38,000 of those plates to individual buyers of gasoline-powered cars and 54,000 for EVs. It aims to cap the number of locally registered vehicles at below 6.3 million by the end of 2020—in a city of 22 million people.
What's more, Beijing requires each licensed gasoline-fueled car to be idle one day a week. (The day is determined by its license-plate number.) Many residents used to simply register their car outside the city to avoid the yearslong waits, but officials are closing that loophole. Starting in November 2019, cars without a local license will be allowed only 12 permits to drive within the city per year, with each permit valid for just seven days.
Companies also have to compete for an even more limited number of plates for commercial operating vehicles. Beijing is giving out 400 licenses for new gasoline vehicles and 3,000 plates for new-energy vehicles for commercial operations this year.
The ownership restrictions have severely hindered the growth of car sales in China, says Cui Dongshu, secretary general of the China Passenger Car Association. The government "should moderately relax such restriction policies to satisfy people's demand for new cars," he says.
China's national government has identified the automotive sector as one of the strategic industries it needs to help develop its economy, so it still wants people to buy more cars, especially electric vehicles. But that's not the case in the most populous cities. Besides Beijing, seven other cities including Shanghai and Shenzhen have adopted similar policies restricting car ownership, according to energy researcher BloombergNEF.

Those restrictions are a big reason car-sharing and ride-hailing companies such as Didi Chuxing and Shouqi Limousine & Chauffeur have gained millions of customers in recent years, with Beijing leading in the number of active users.
"China's car ownership restriction has made people consider other alternatives," says Bill Russo, chief executive officer of Automobility Ltd., a Shanghai-based consultant. "It's changing the attitude of the consumers from necessarily owning a car to booking a car on demand." —Yan Zhang