26 Aug

State of China's Auto Market – August 2023

Comments from Bill Russo, Founder & CEO of Automobility Ltd.

Year-over-Year Shipments Changes from January to July:  
NEV +41.7% 
ICE -1.6%
Please Note:
NEV = New Energy Vehicles (including Battery, Plug-in Hybrid and Fuel Cell Electric Vehicles)
ICE = Pure Internal Combustion Engine Vehicles
"Peak Car" was in 2017 – Globally and in China
While there has been much focus on the electrification wave that has risen in China since 2020, it would be easy to overlook the inconvenient truth: China has ceased to be the growth engine of the 21st century global automotive industry. Starting from a market of about 2 million units in size in 2001, China automotive shipments peaked in 2017 at 28.9 million units. At the peak, this represented a staggering contribution of 27 million vehicles of new volume for the global automotive industry.
From 2017 to 2022, deliveries of pure ICE vehicles have slipped by 8.1 million units, while NEV gained 6.1 million units – a net loss of 2 million vehicles.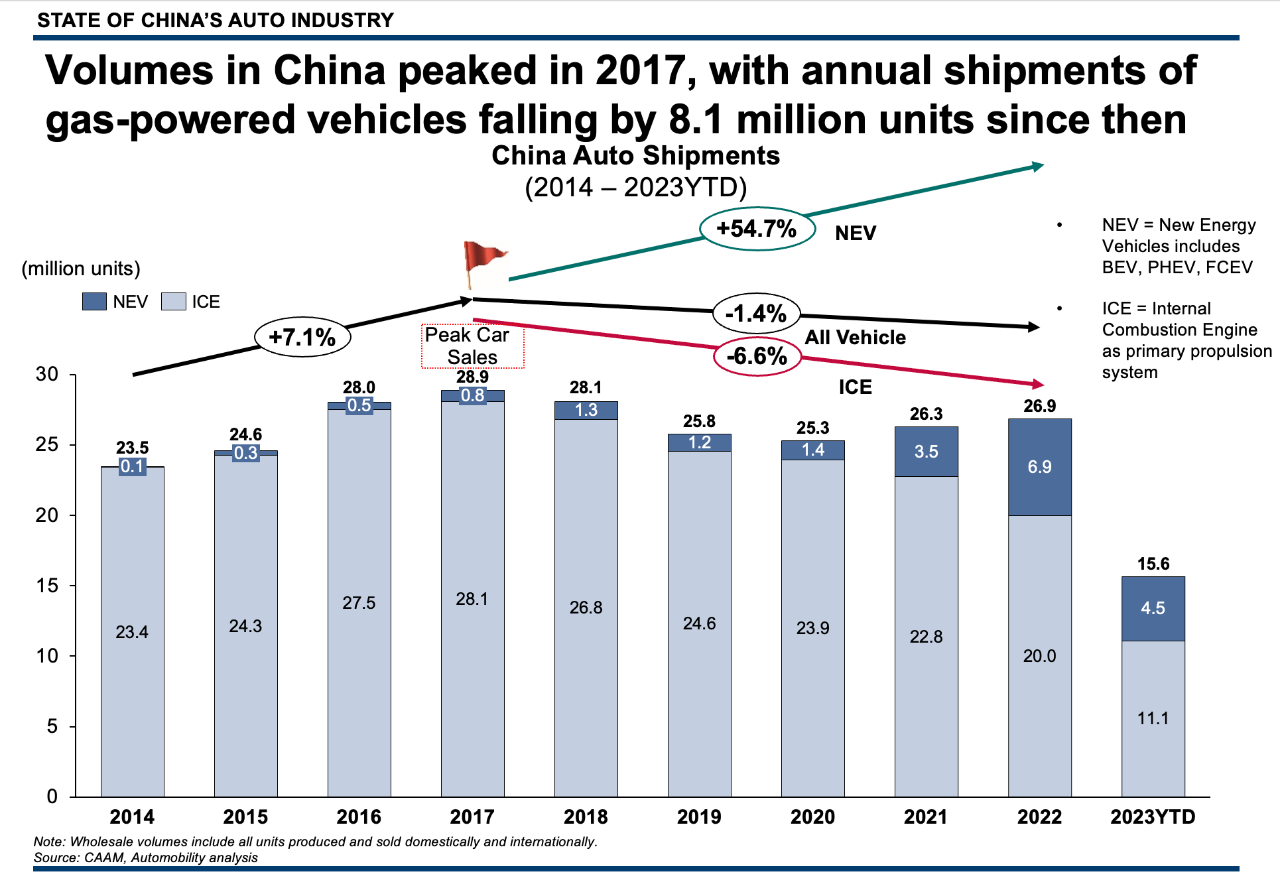 2017 was also the peak year for global vehicle sales, when 96.1 million units were sold around the world. Global sales fell to 79.1 million in 2022 – a loss of 17 million units from the peak. While this is not all attributable to softening demand in China, it is clear that China is no longer the haven for growth in the global auto industry.
And, as we will highlight later, the brands most exposed to the weakening markets (globally and in China) are the legacy ICE manufacturers.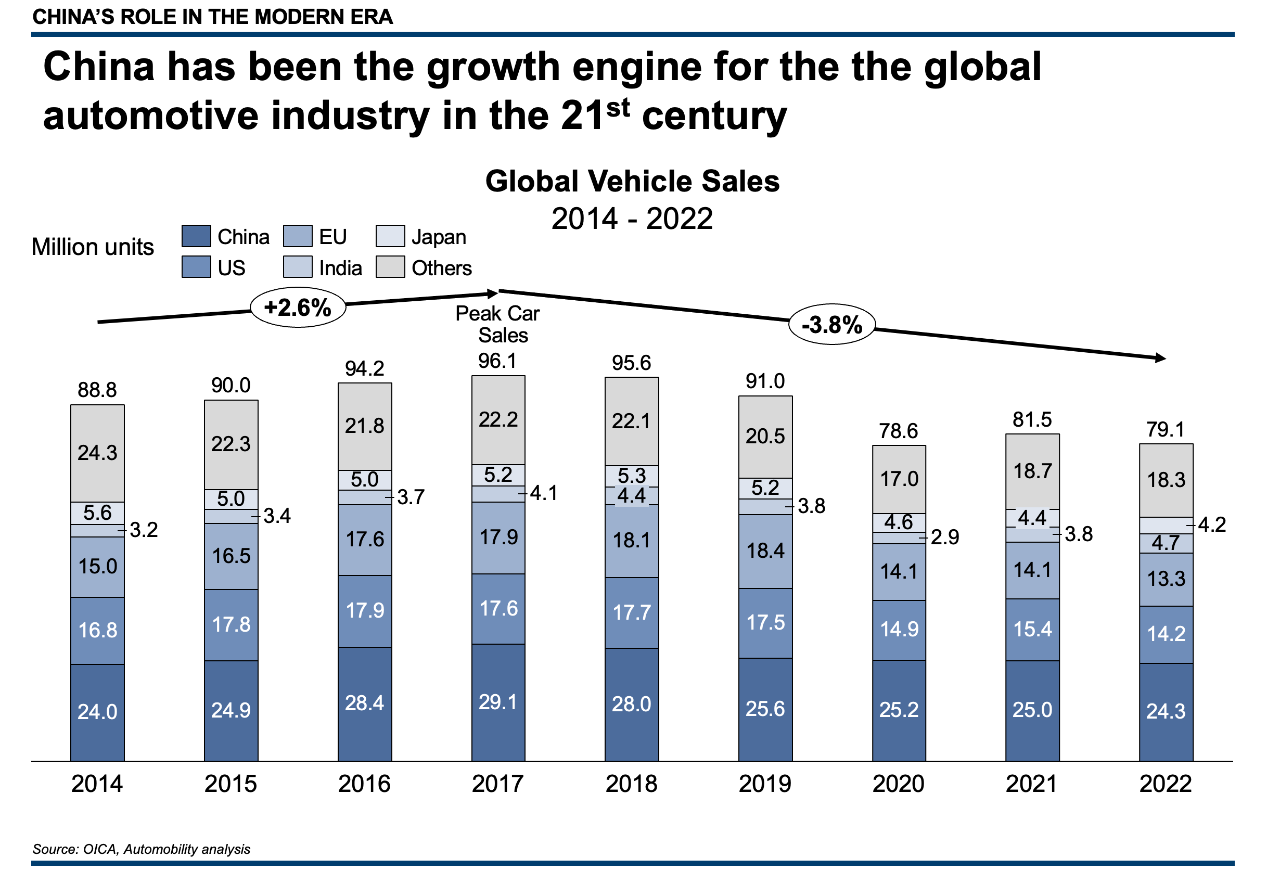 Domestic Weakness Fuels China Car Exports
The only growth opportunity in China since 2017 has been in the New Energy Vehicle segment, which rose by over six million units through 2022.  This NEV momentum continues into 2023, where shipments are up 41.7% compared to last year (a gain of 1.3 million NEVs). Over the same period, ICE sales declined by 1.6% (a loss of 183k units).  What makes the weaker ICE performance even more shocking is that 2022 was a rocked by zero-COVID lockdowns and supply constraints of key materials.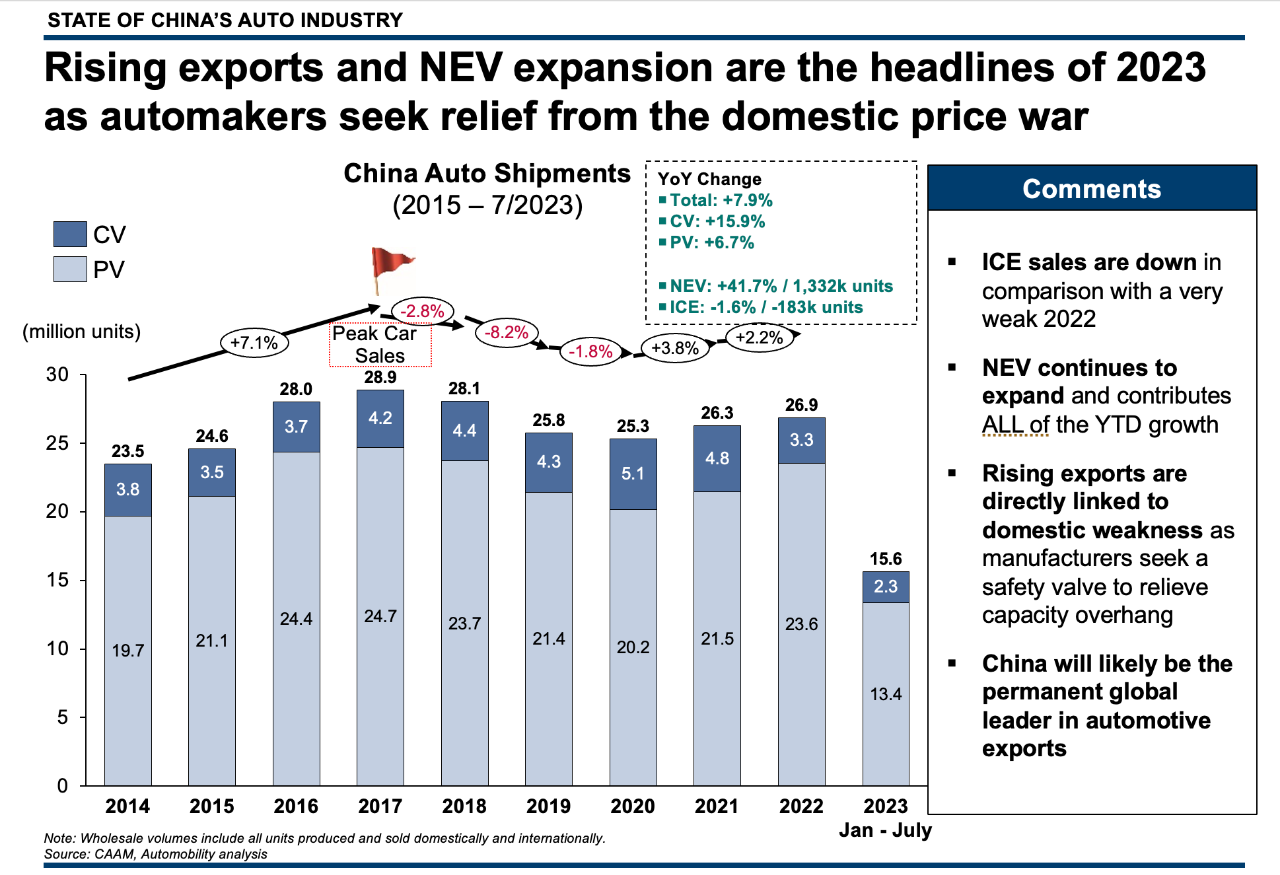 As a result, manufacturers who missed the pivot to NEV are saddled with significant overcapacity, and local brands have prioritized exports as a way to drive up the utilization of their factories. Export volumes through July are up 68% from last year, with China having now surpassed Japan as the leading global automobile export nation.
However, it is important to note that 75% of these exports are ICE powered vehicles and 6 out of the top 10 producers are state-owned enterprises with a tremendous amount of excess ICE capacity. Tesla is also a leading made-in-China exporter, ranking 3rd on the list and selling 34% of the NEV exports from China. Tesla and BYD comprise nearly half of all the NEVs exported from China – and BYD is just getting started.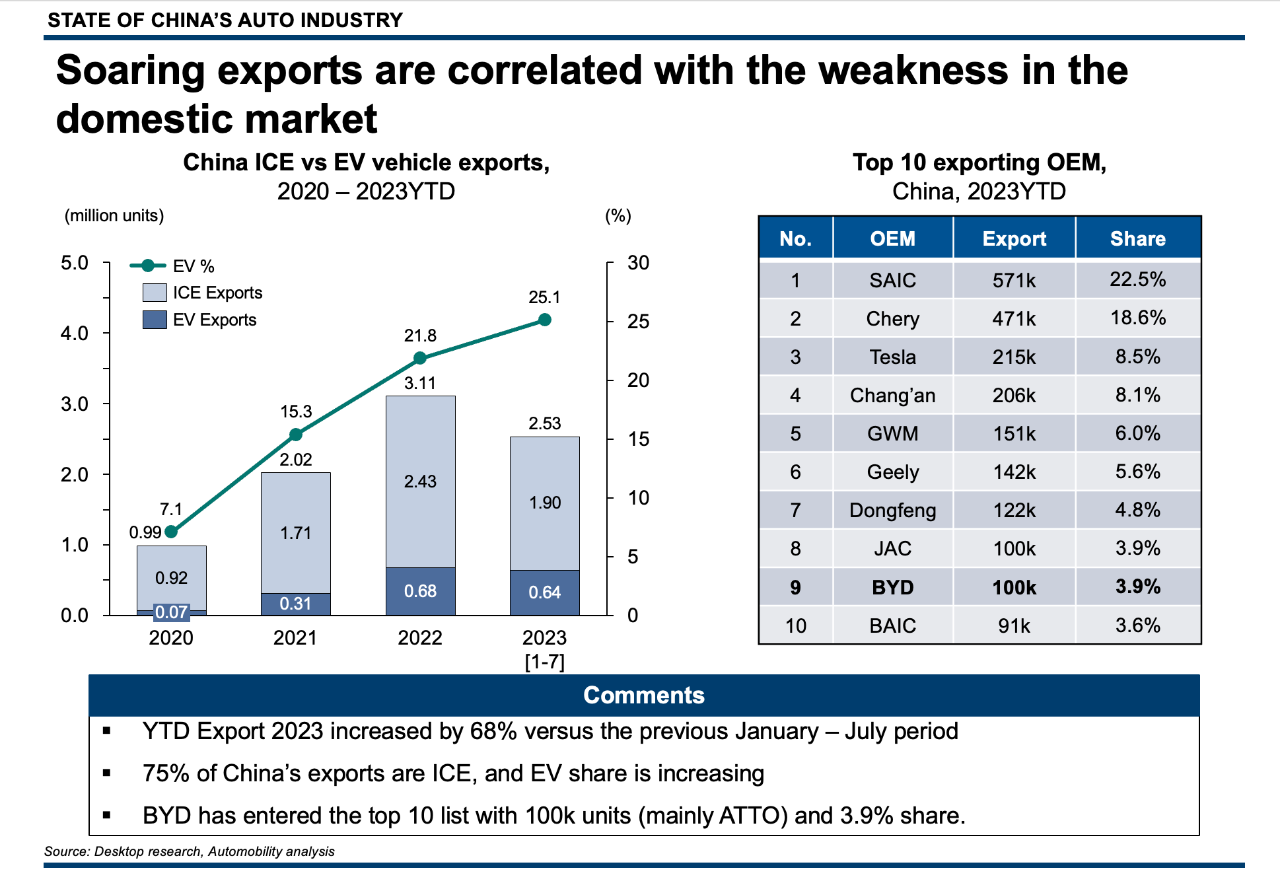 A Weak Start in the Second Half of 2023
Overall vehicle shipments for July were down 1.4%, and ICE shipments were down 221,000 units from last July. Given the tax stimulus and pricing reductions made in the past year, there is risk that demand has been pulled ahead, weakening the outlook for the market going forward.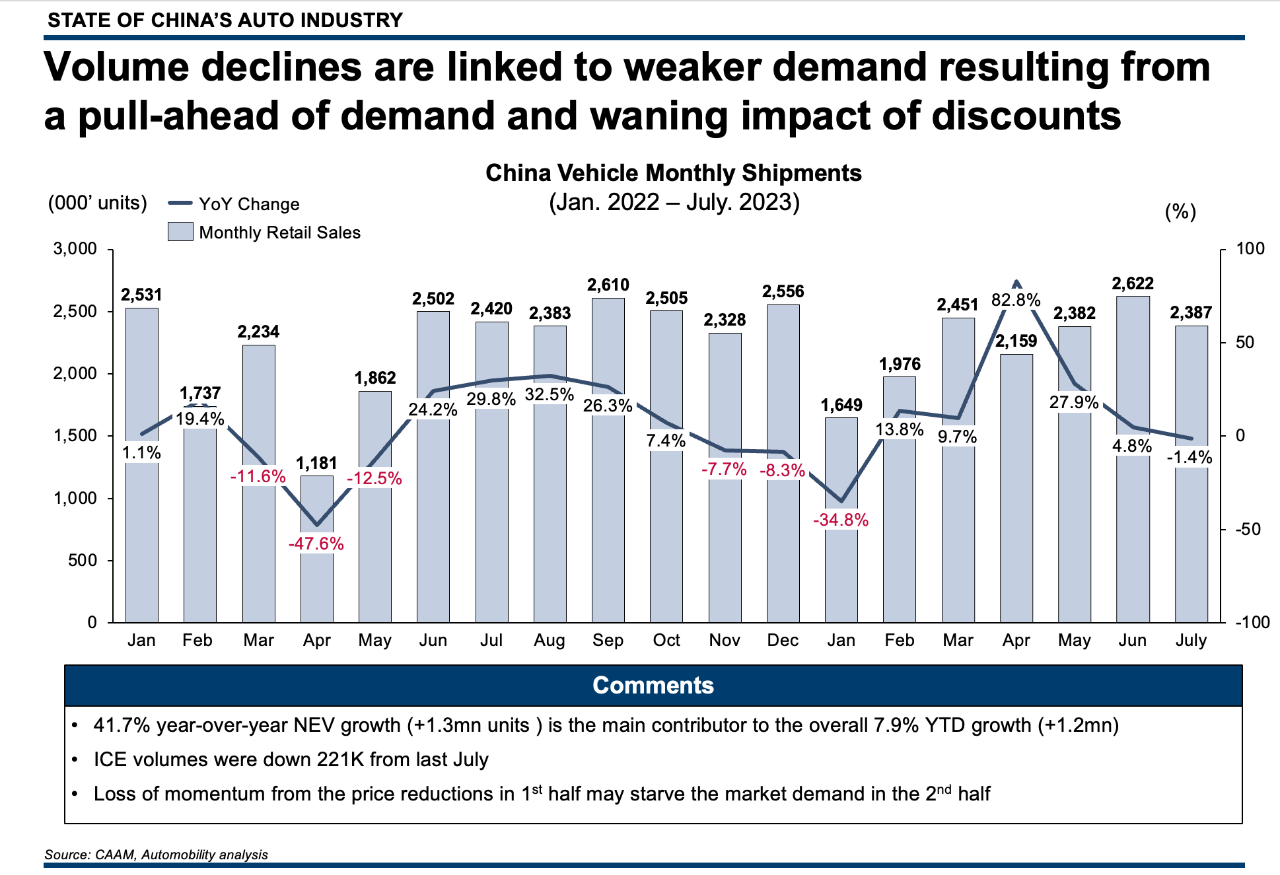 Export shipments have soared 68% through July 2023, masking domestic demand weakness. July's export share stood at 16.4% of total shipments reported by the Chinese Association of Automobile Manufacturers (CAAM).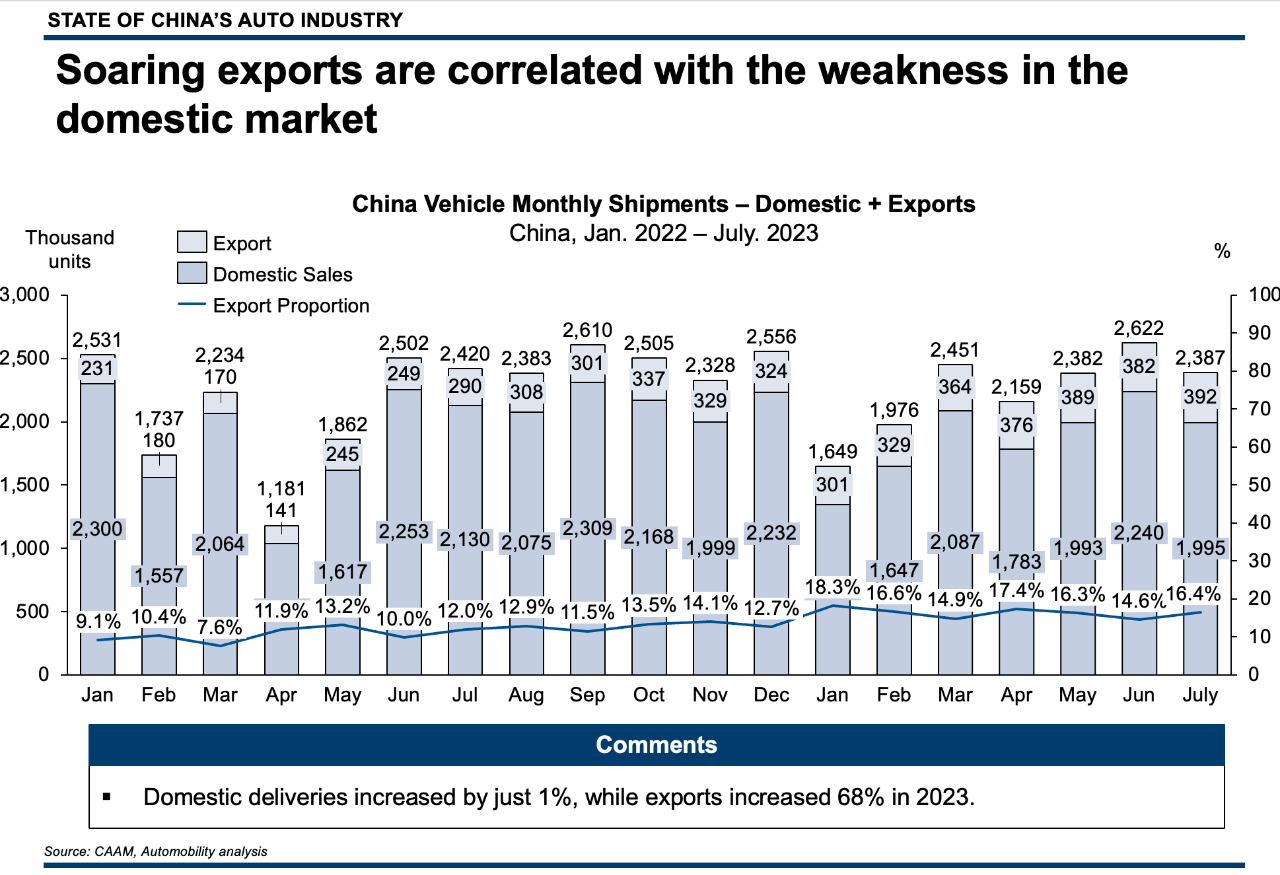 Weakness is apparent across both Passenger Vehicle and Commercial Vehicle segments in July, with PV sales down 7% and CV sales falling 19% from the prior month. Clearly, the pivot to export is not fully offsetting the decline in domestic sales.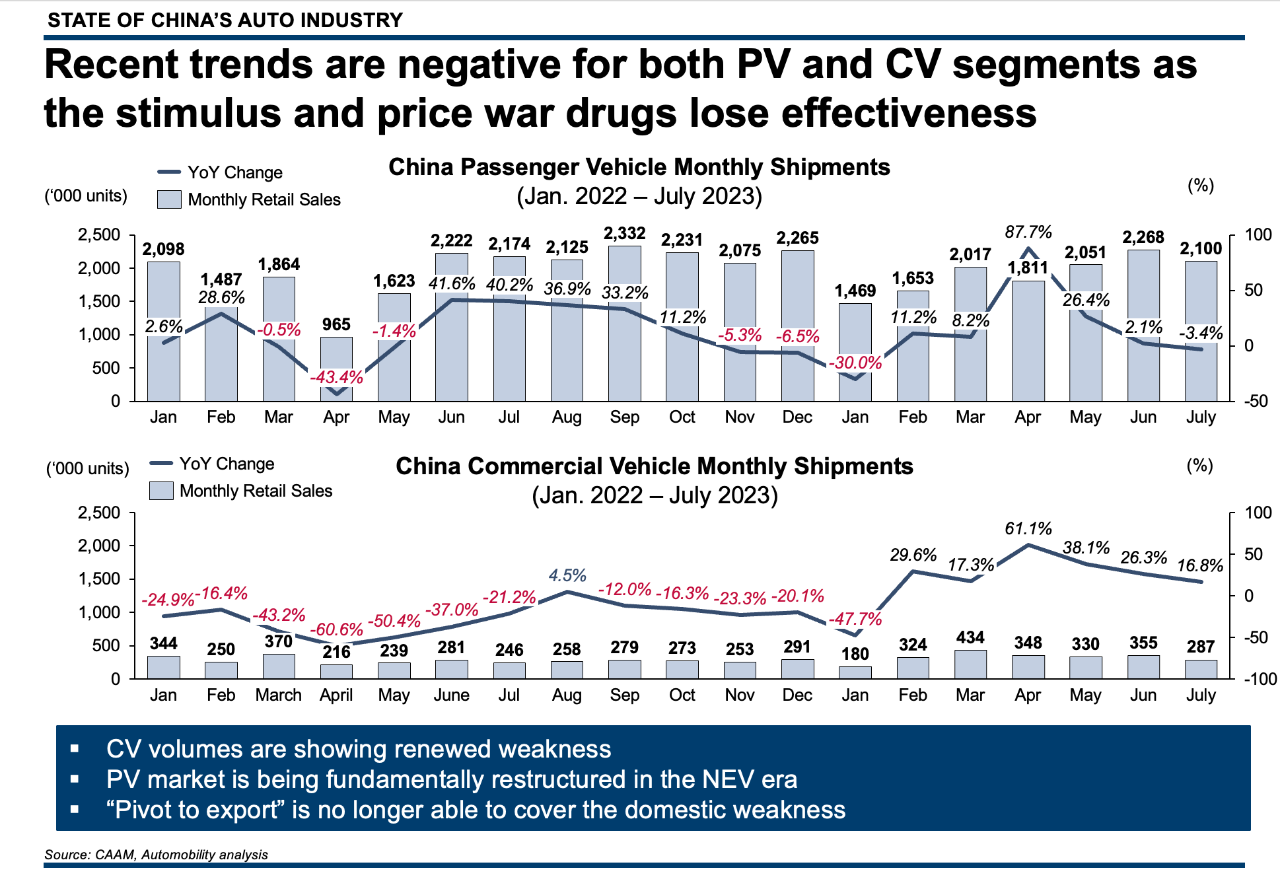 New Energy Vehicle sales fell 3.2% from June, but grew 31.6% versus July 2022. While this growth stands in contrast to the much weaker overall picture on the ICE side, it should be noted that the NEV market is highly concentrated and dominated by just a small number of players. A much larger number of NEV companies are finding it very difficult to compete with the likes of BYD and its vertically integrated supply chain and cost structure.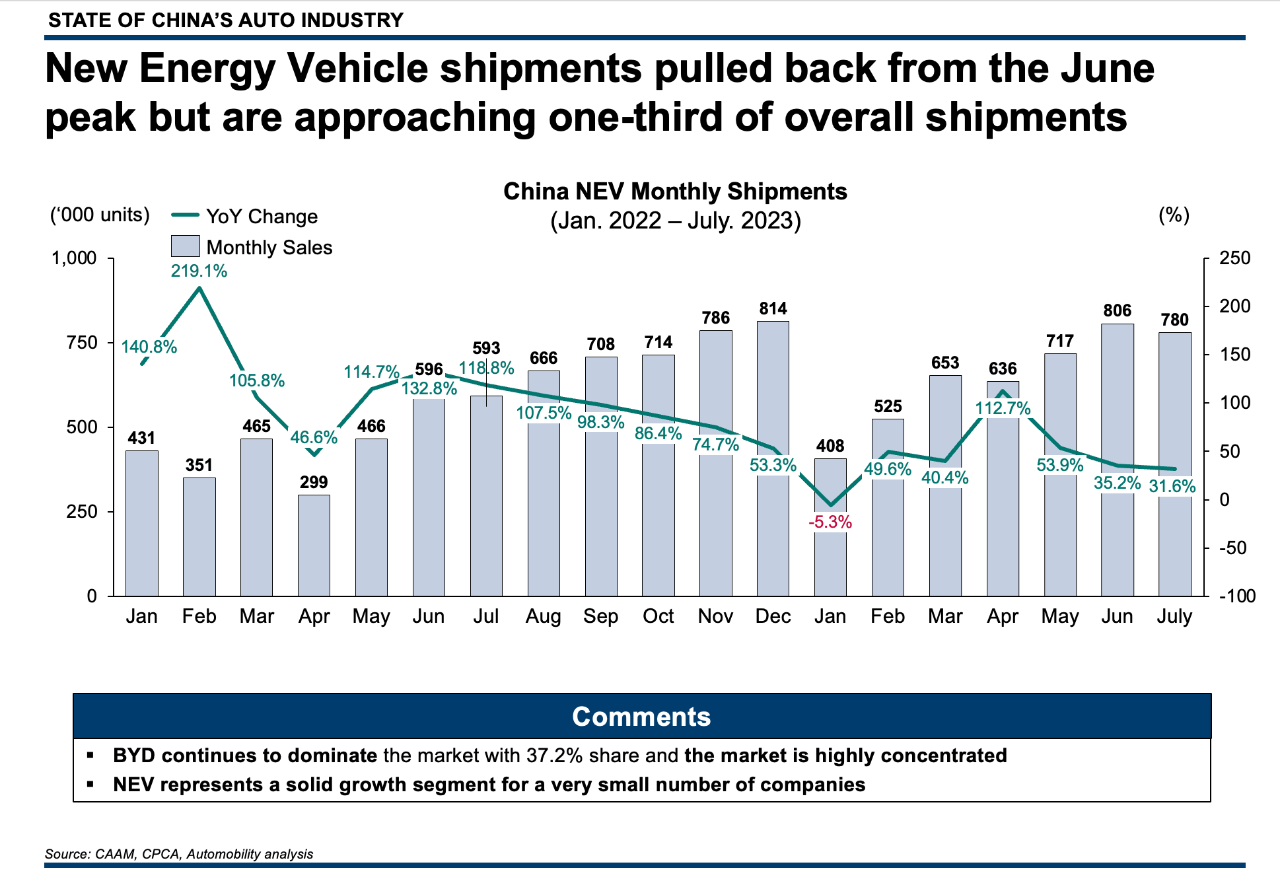 New Energy Vehicle sales fell 3.2% from June, but grew 31.6% versus July 2022. While this growth stands in contrast to the much weaker overall picture on the ICE side, it should be noted that the NEV market is highly concentrated and dominated by just a small number of players. A much larger number of NEV companies are finding it very difficult to compete with the likes of BYD and its vertically integrated supply chain and cost structure.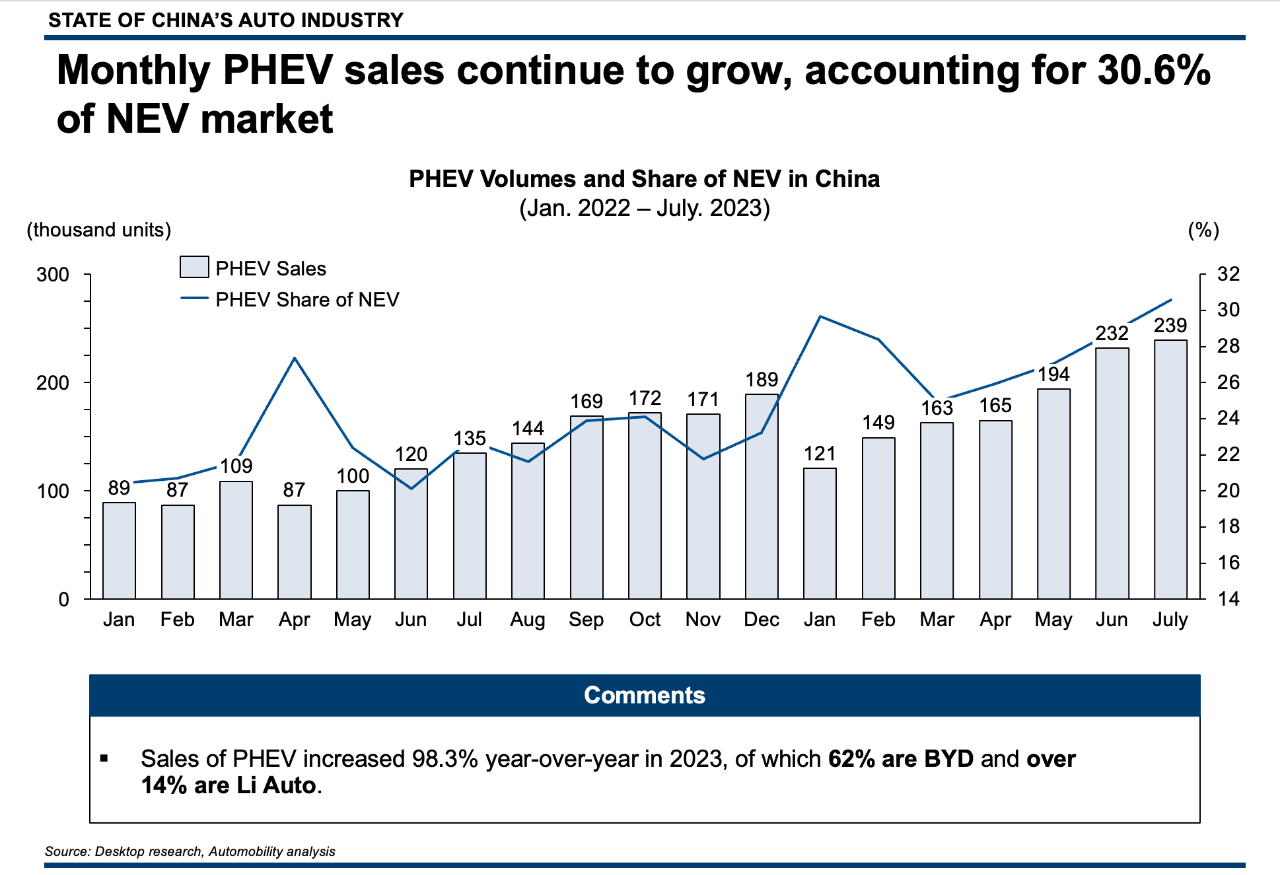 July NEV Sales Leaderboard
Several changes are noteworthy in the July NEV Models sales leaderboard. Tesla Model Y fell from the top to the number 5 position, and 4 BYD models occupy the top positions.  The newly-launched Seagull has risen from 10th to 4th position as BYD continues to ramp up production and fill their distribution channel. It's also apparent that the lower-priced Seagull (which starts at RMB 78,800) is cannibalizing the sales of the BYD Dolphin, which fell from 4th to 8th on the leaderboard.
Top 10 NEV Models 
July Retail Sales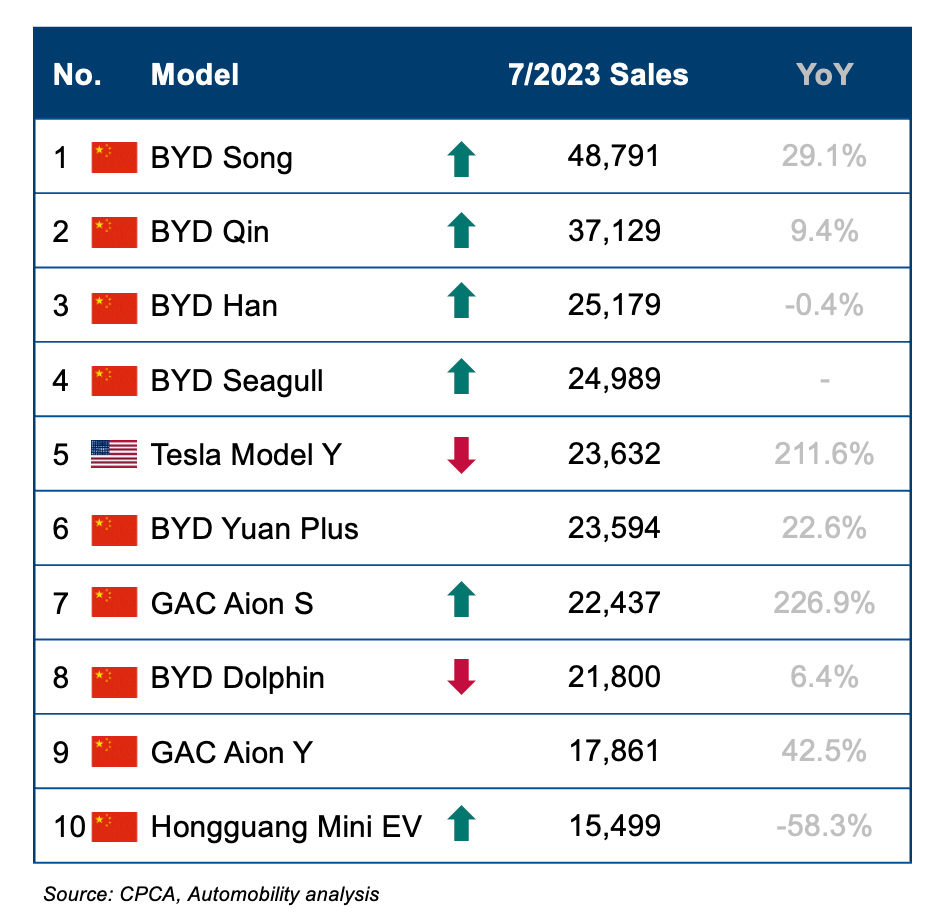 Top 10 NEV Group sales also includes a few interesting positional movements, with Tesla falling from 2nd to 7th position, posting their second weakest sales month of the year, as they ramp down production of Model 3 ahead of a much-needed refresh. Li Auto put up its 2nd consecutive month with sales over 30,000 units to rank 6th and NIO surpassed 20,000 units for the first time to finish 8th. Volkswagen continues to struggle, with group NEV sales falling 18.2% to finish 10th overall.
Top 10 NEV Corporate Group
July Retail Sales
Are We Flattening the NEV Curve?
While NEVs are the only bright spot in terms of year-over-year growth, there is some evidence that we may be reaching the top of this initial growth spurt. Year-to-Date NEV growth remains solid at 41.7%, and market share through July is 29%. However, the performance was boosted by a price war which is losing steam.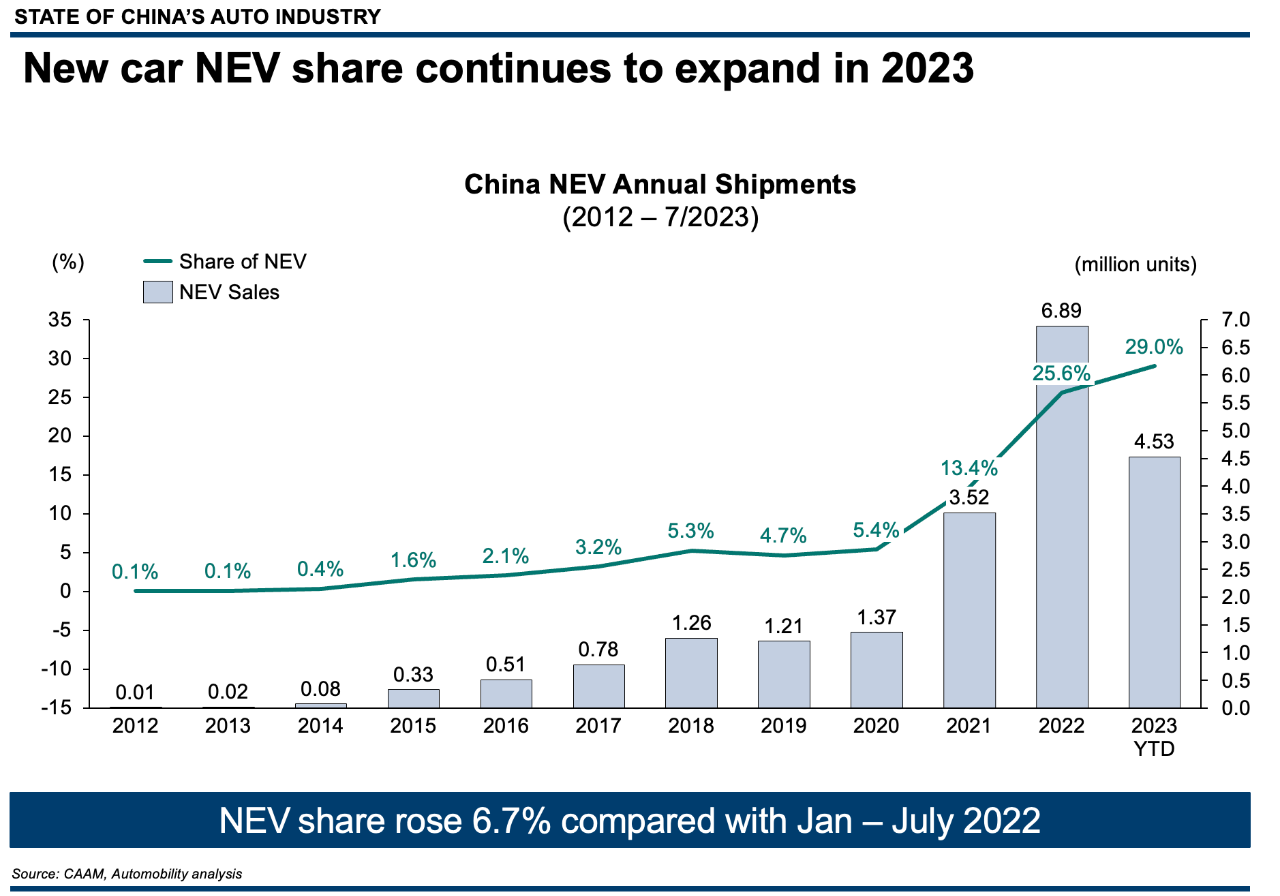 While BYD continues to put up astounding sales volumes and takes 37% of NEV sales, BYD actually sold 348 fewer cars in July than in June. While this is just a small number compared with the total, its the first time BYD has experienced a month-to-month sales decline in several years.
Not withstanding this, BYD still completely dominates the overall NEV sales leaderboard in 2023 through July. There was very little positional movement when compared with last month's leaderboard, with the only changes being that Great Wall and VW traded places and NIO replaced Hozon (Neta) as the 10th ranked company.
A few points to note:
#1 BYD outsells #2 Tesla by over 1 million units, and #10 NIO by over 1.3 million units
Tesla market share fell from 9.5 to 8.7% from June to July. They ended last year at 7.8%.  The price war bought Tesla 0.9% share gain in 2023.
The top 5 companies command 63.5% of the NEV market
The top 10 command 80.3% of the market
Over 100 other companies are dividing 19.7% of the market. We hope that many of them soon rest in peace or find a deep-pocketed investor as they are not sustainable businesses on their own.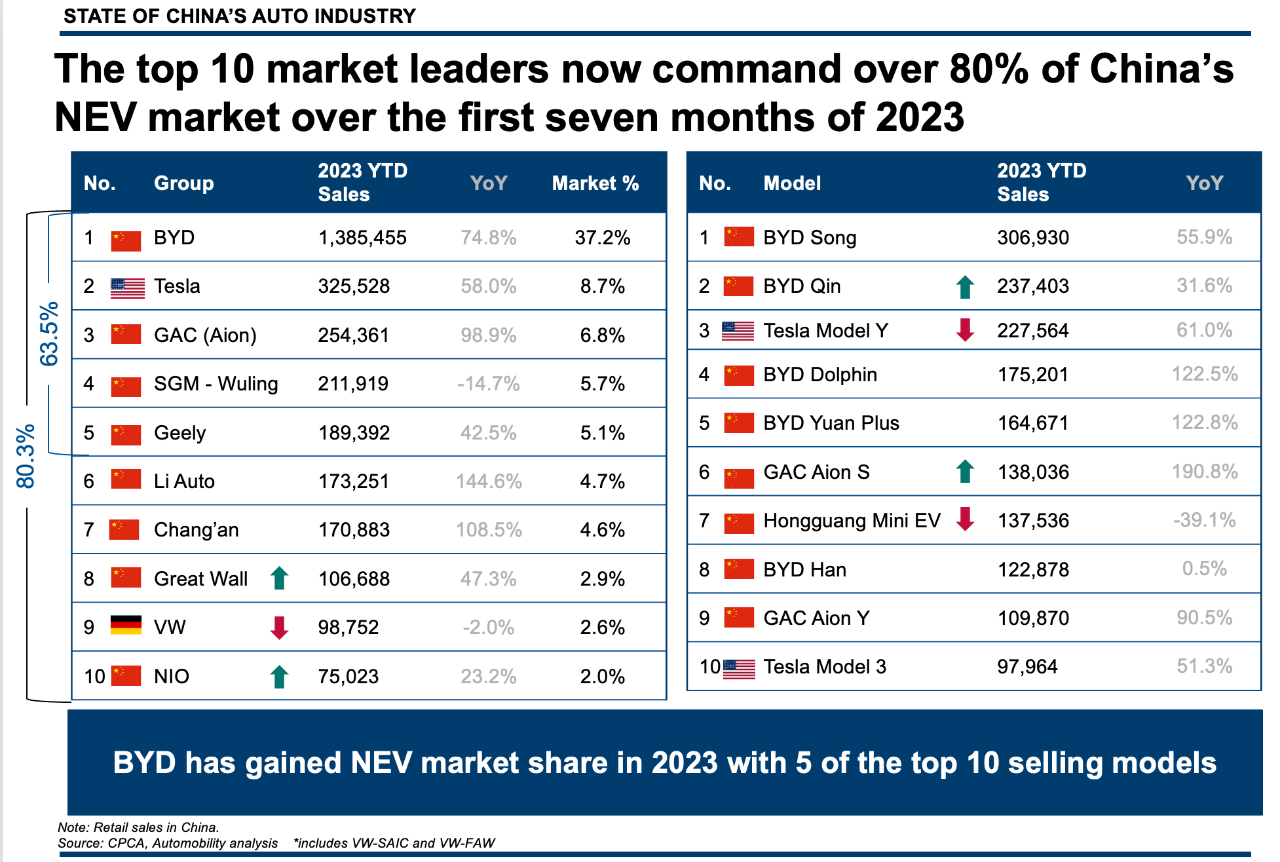 he New Game and Competitive Landscape
We are witnessing a sudden and dramatic restructuring of the center of gravity of brand dominance in the electric vehicle era. Historically dominant foreign players were slow to reposition themselves as NEV players, and those that have attempted to do so have found that the Chinese consumers do not consider them as leaders in the NEV game.
Top 10 ICE and NEV Corporate Groups in the ICE and NEV segments
1st Half 2023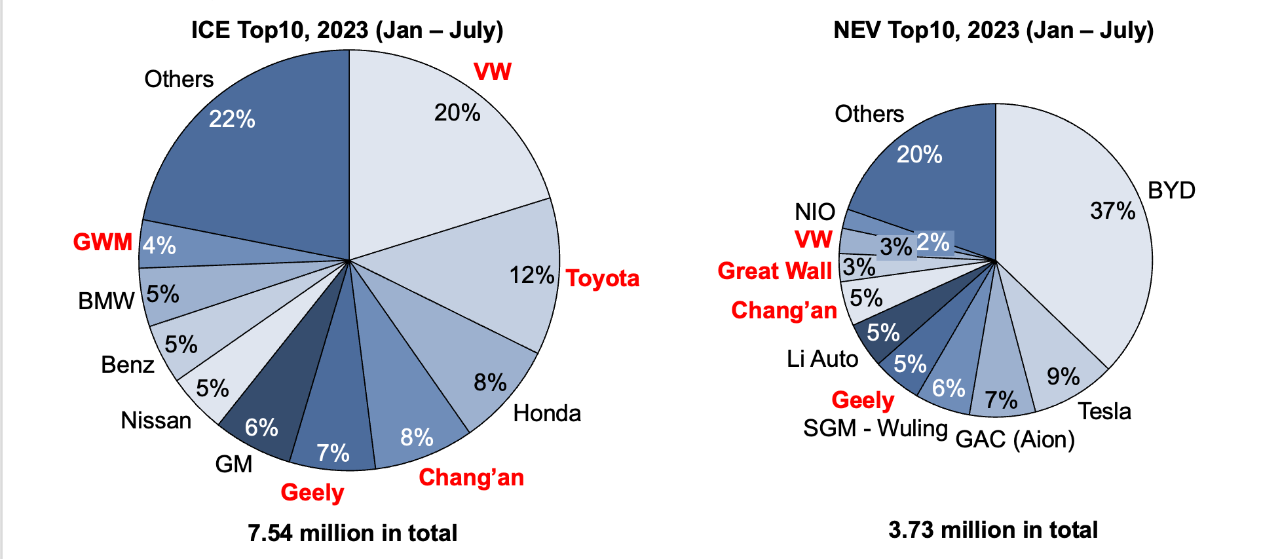 Several takeaways to note here:
~2/3 of ICEs sold are foreign branded while >4/5 NEVs sold are locally branded

Just 4/10 legacy companies are in both lanes, and they have considerably lower market share if and when they pivot to NEV
What is clear is that foreign brands are facing an existential threat. As a result, local brands are now outselling foreign brands in China with 54% share of vehicles sold in 2023.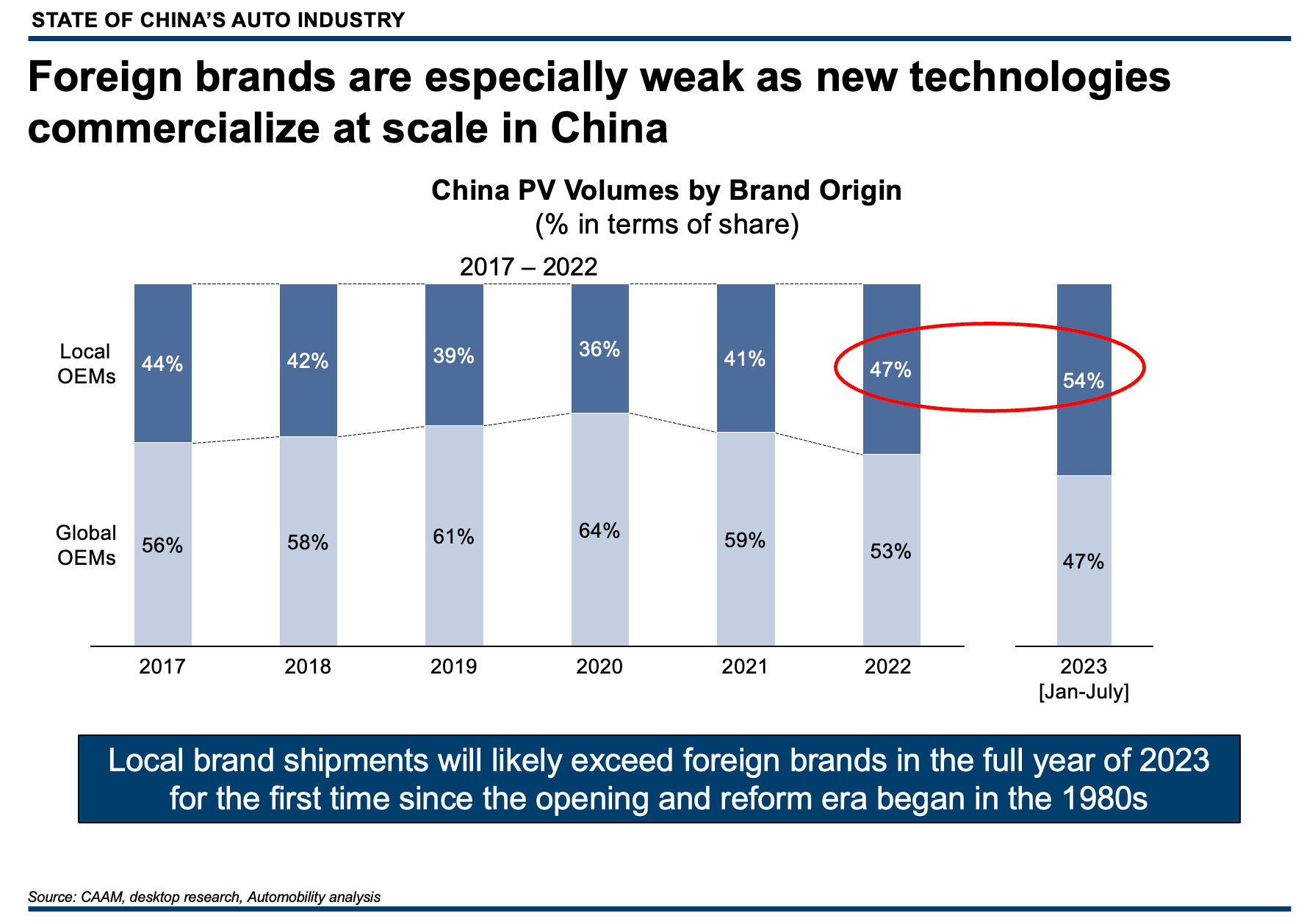 Faced with the sudden decline in sales of their legacy brands, leading players are beginning to reconsider their approach to the market. in particular, Volkswagen Group made bold moves recently to use leverage technologies and platforms from SAIC's IM brand and from XPENG for their core Audi and Volkswagen branded vehicles sold in China.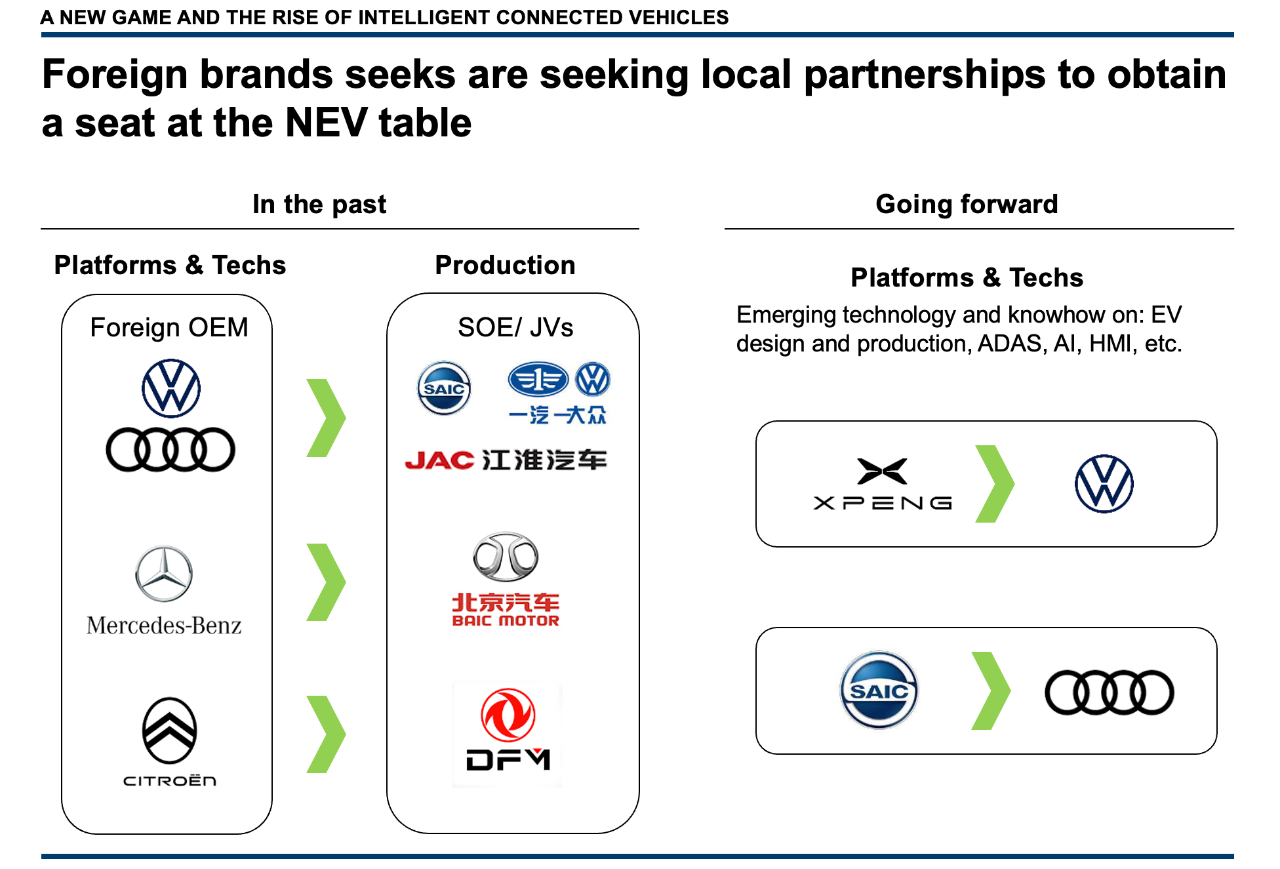 Several questions to consider:
– Is the growing export story evidence of strength or weakness for Chinese companies?
– Will foreign brands (other than Tesla) jump on the export ship to resolve their capacity overhang?
– Which companies will survive the transition, and who will be next to restructure or exit their China business?
– Will other companies follow Volkswagen's move to partner with local players to build relevancy in the new game?
---
A FEW MORE THINGS
Since last month's update, we published an article that summarized our key takeaways from the China Automotive Chongqing Summit 2023 [CACS 2023], which was held from June 8-9 alongside the Chongqing regional automobile show. As in prior years, this event brought together an impressive gathering of leaders among the Chinese local automakers.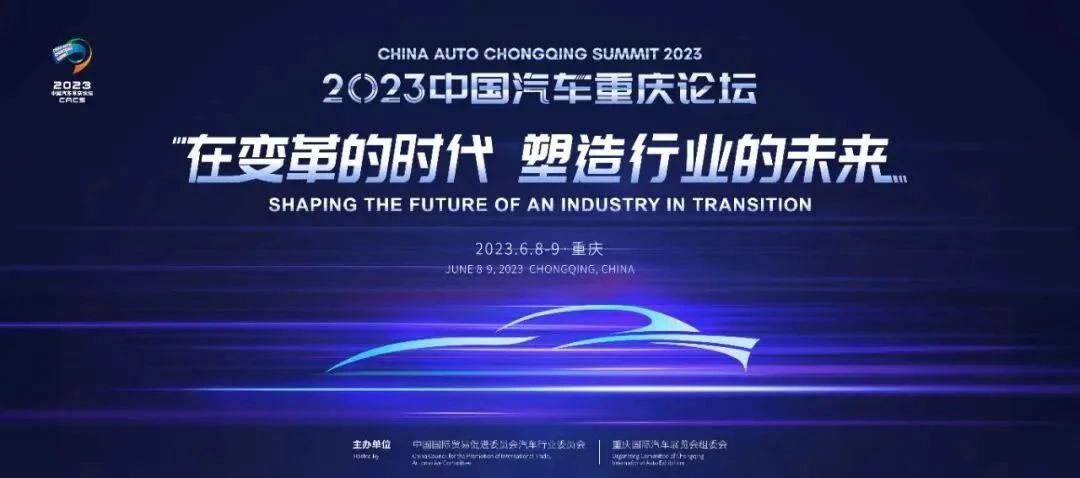 As a "foreign expert" in the auto sector, I am a regular attendee and have spoken at this event for more than a decade, including when it was previously called the Global Automotive Forum. This year, I spoke on a panel where the topic was "The Resilience of the Supply Chain and Reshaping of the Industrial Ecology".
You can access the article here:
Shaping The Future of the Auto Industry [CACS 2023]
I was also Interviewed by Ron Hesse from GlobalAutoIndustry.com regarding my chapter of the book Selling to China, which was titled "China's Auto Industry: The Race to a Sustainable Future".  You can listen to this interview here.
Selling to China: Automotive Industry [AUDIO INTERVIEW]
---
In his role as AmCham Shanghai's Automotive Committee chairman, Bill Russo will host the monthly State of China's Auto Market online webinar on Tuesday, August 22, at 9am in China.
If you wish to join, please register here by scanning the QR code: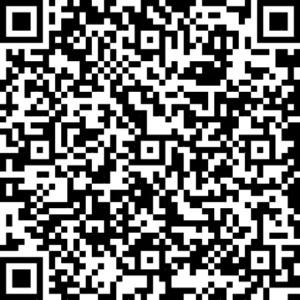 Webinar | State of China Auto Market Monthly Briefing (August)
---
About Bill Russo
Bill Russo is the Founder and CEO of Automobility Limited, and is currently serving as the Chairman of the Automotive Committee at the American Chamber of Commerce in Shanghai. His over 40 years of experience includes 15 years as an automotive executive with Chrysler, including 19 years of experience in China and Asia. He has also worked nearly 12 years in the electronics and information technology industries with IBM and Harman. He has worked as an advisor and consultant for numerous multinational and local Chinese firms in the formulation and implementation of their global market and product strategies.
Bill is a contributing author to the book Selling to China: Stories of Success, Failure, and Constant Change (2023), where he describes how China has become the most commercially innovative place to do business in the world's auto industry – and why those hoping to compete globally must continue to be in the market.
Bill's chapter is titled "China's Auto Industry: The Race to a Sustainable Future".  You can order using the QR code: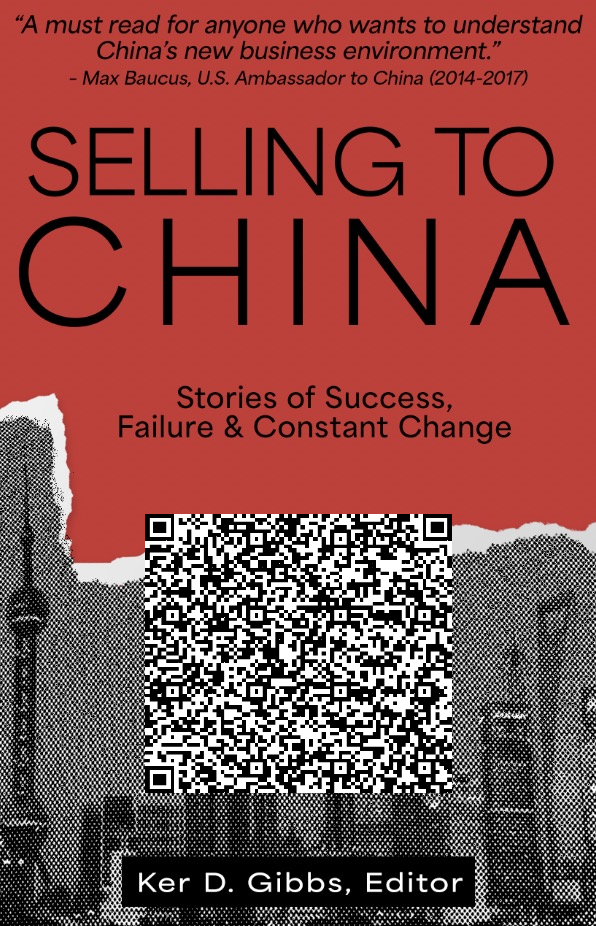 About Automobility
Automobility Limited is global Strategy & Investment Advisory firm based in Shanghai that is focused on helping its clients to Build and Profit from the Future of Mobility.  We help our clients address and solve their toughest business and management issues that arise in midst of fast changing, complicated and ambiguous operating environment.  We commit to helping our clients to not only "design" the solutions but also raise or deploy capital and assist in implementation, often together with our clients.  
Contact us by email at [email protected]