09 Aug

Shaping The Future of the Auto Industry [CACS 2023]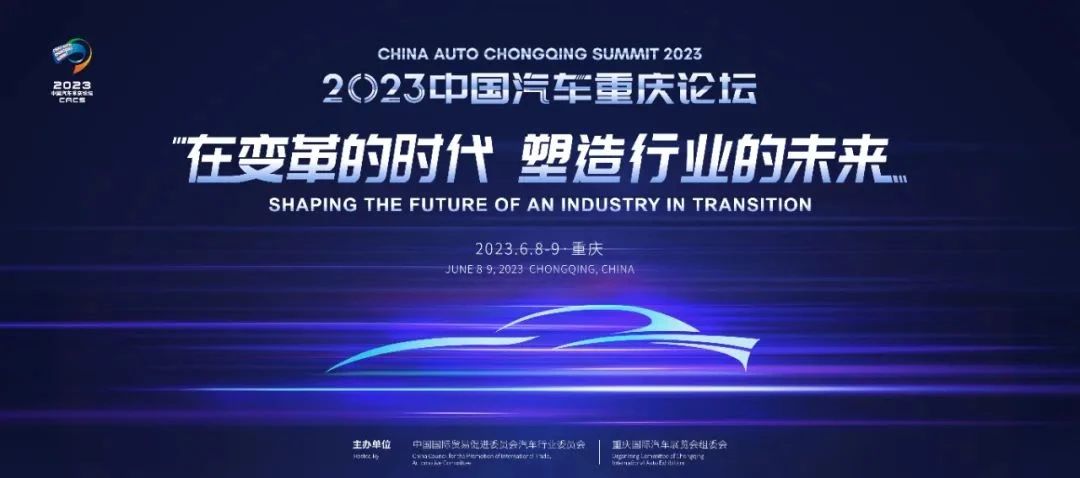 Five Takeaways from the China Auto Chongqing Summit 2023:
1. The End of the ICE Age: Rise of the Chinese NEV
2. Control of the Upper End of the Supply Chain is Vital
3. Chinese Brands are Going Global
4. A Shift from "Big" to "Powerful"
5. A Massive Reckoning is Coming in the Intelligent Connected Vehicle Era
The China Automotive Chongqing Summit 2023 [CACS 2023] was held from June 8-9 alongside the Chongqing regional automobile show. As in prior years, this event brought together an impressive gathering of leaders among the Chinese local automakers.
As a "foreign expert" in the auto sector, I am a regular attendee and have spoken at this event for more than a decade, including when it was previously called the Global Automotive Forum. This year, I spoke on a panel where the topic was "The Resilience of the Supply Chain and Reshaping of the Industrial Ecology".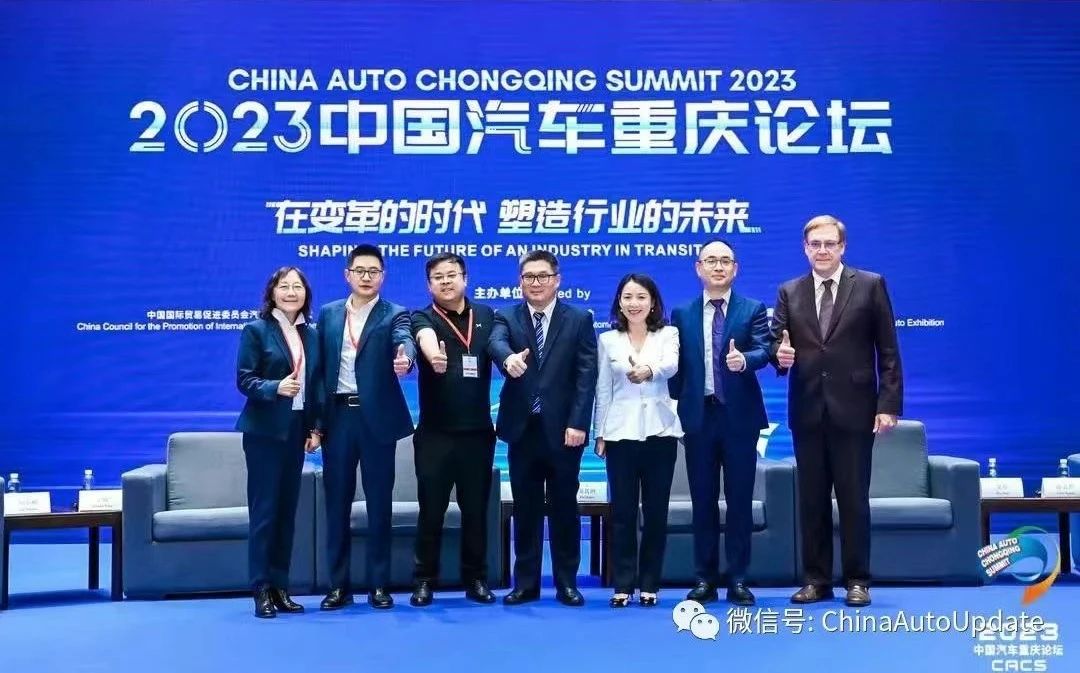 One of the noteworthy differences in this year's event compared with prior years is how few 外国人 (foreigners) were in attendance.  Out of the hundreds of participants, there were roughly 5 foreign participants, which reflects the massive attrition of foreign automotive talent in China.
In this article, I will share my main takeaways from CACS 2023, an event that reflects how China views its current status in the global automotive industry, and signals its ambitions in the future of mobility.
Shaping the future of an industry in transition
The overall theme of the event was titled "Shaping the Future of an Industry in Transition", focused on the ongoing transformation that is pulling the automotive center-of-gravity towards China (for connected and electric mobility), and away from China (with shifting supply chains and expansion to international markets).
Topics covered over the two days event were focused on restructuring of the auto industry supply chain, the growing strength of Chinese brands (in both share of the Chinese market and in export volumes), and China's role in leading the transformation of the industry's value chain and business model.
China's domestic car companies have achieved remarkable progress, having recently surpassed foreign brand sales in the first half of 2023. As recently as 2020, foreign brands sold 64% of all vehicles sold in China. In the 1st half of 2023, Chinese brands have jumped to 53% of the market, largely driven by their dominance of the New Energy Vehicle (NEV) segment. Chinese brands, led by BYD sell more than 4 out of every 5 NEVs, which have been the only source of growth in the market since 2020.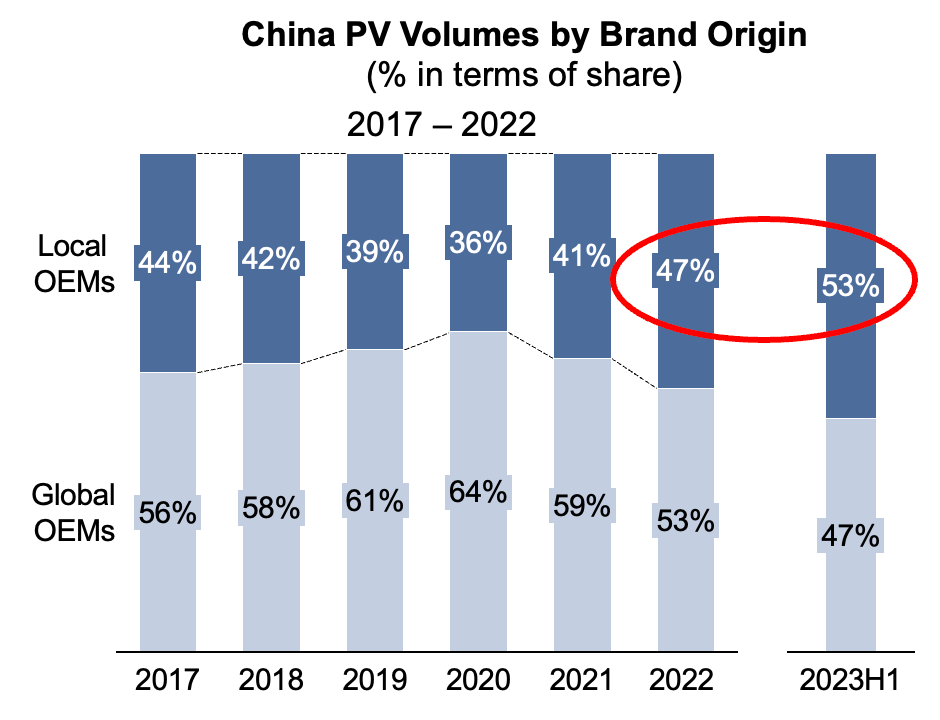 For more than 2 decades, China has aligned targets among government and industry to converge interests across the auto, energy and internet sector to build the foundation for leading its domestic market. The result is a dominant position in the battery supply chain, a well developed charging infrastructure, and a subsidy and incentive scheme that has encouraged companies to build and customers to buy new energy vehicles.
For a more detailed history of this development, please refer to China's Auto Industry: The Race to a Sustainable Future, which is my chapter of the recently published book Selling to China: Stories of Success, Failure & Constant Change.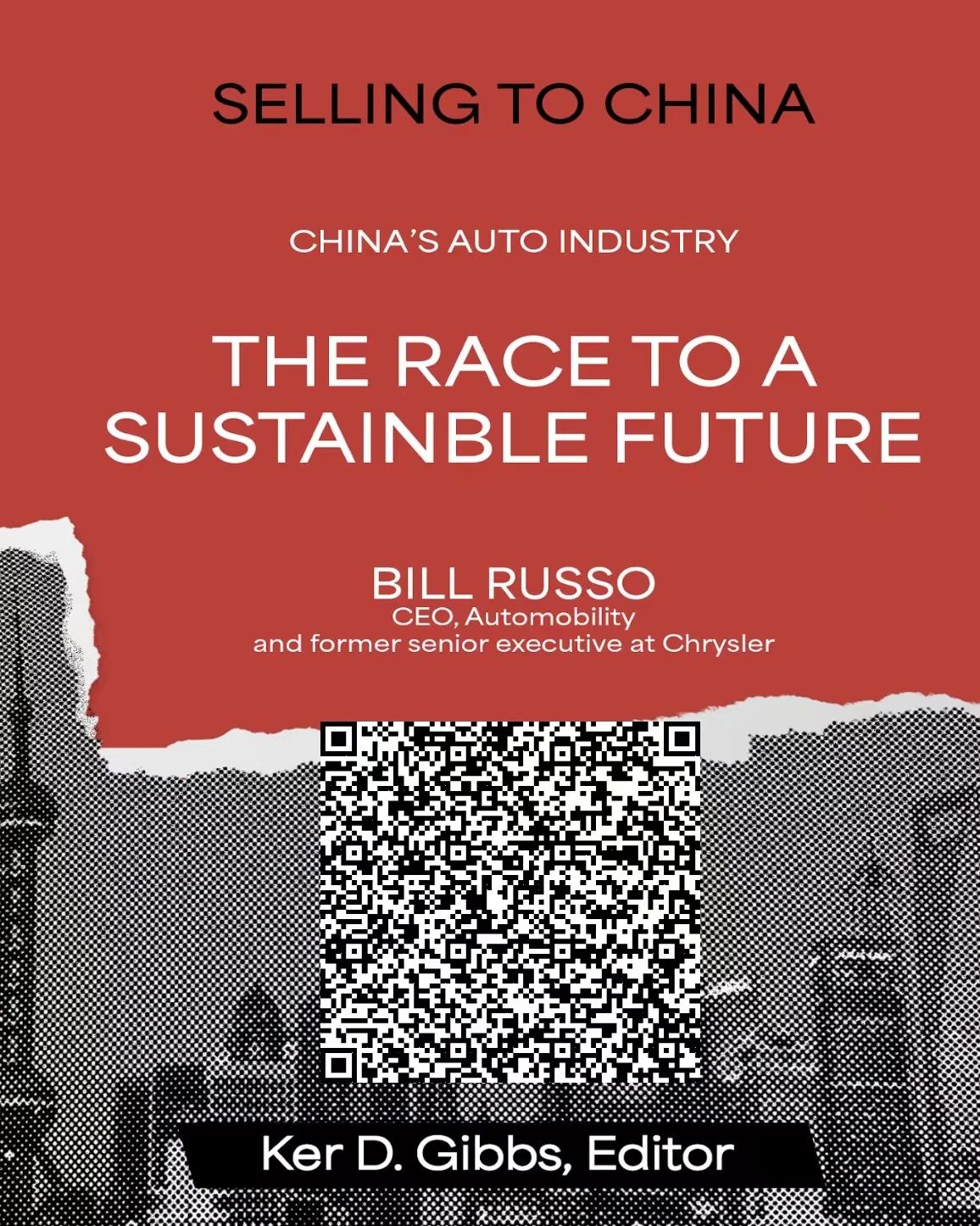 In this chapter, I describe China's 4-stage journey from auto industry follower to mobility innovation leader. To sustain this leadership, industry leaders must decide where to go from here.
This was the focus of CACS 2023.
Aspirational Voices from China
Before sharing our take-aways from CACS 2023, it is interesting to look through the lens of the aspirational statements made by industry leaders in attendance.  Here is a compilation of statements that came through during the CACS 2023. Keep in mind that these are aspirational statements, and not necessarily ones that are 100% true today.
The Chinese automotive industry has successfully transitioned from a focus on quantity to a phase of high-quality development. This transformation goes beyond being an internal matter for the automotive sector; it becomes a vital national affair contributing to the overall progress of society.

Market demand and technological innovation intertwine as the twin pillars drive the reshaping of the entire automotive landscape globally. In this era, no single company can claim dominance in intelligent, connected, and electric technologies alone. The true potential of economies of scale can only be unlocked through open collaboration and deep integration.

The first half of the industry's journey merely represents the group stage, where companies with strength and financial resources could secure a place. The real competition unfolds in the second half – the knockout stage, which China's automotive industry has now entered. To thrive in this fierce stage, comprehensive consideration of the entire automotive value chain becomes essential, alongside addressing key core technologies and component weaknesses. The second half is highlighted by three key factors: the transformation of the energy landscape, the application of intelligent technologies, and the growing international presence of Chinese brands.

As the industry value chain transforms, and Chinese brands continue to rise, the global automotive industry is poised for a profound restructuring.
Five Takeaways from CACS 2023
1. The ICE Age is Ending: Rise of the Chinese NEV
As I described in my recent interview for AmCham Shanghai's INSIGHT magazine (click here to listen to the interview), the shift from internal combustion engine (ICE) vehicles to New Energy Vehicles (NEVs) has been transformative for China's automotive industry. In 2019, NEVs accounted for a mere 5% share of the market, but by the first half of 2023, they surged to over 28%. Chinese brands have taken the lead, with the top 5 companies occupying two-thirds of the NEV market and the top 10 holding 80%.
In an effort to counter China's growing dominance, Tesla launched a price war in early 2023, which has effectively made Chinese NEVs even more attractive to consumers shopping for value, bringing us even closer to the end of the ICE age.
2. Control of the Upper End of the Supply Chain is Vital
The rapid growth of NEVs comes with challenges but it also represents a commercial opportunity for the entire automotive value chain, particularly regarding control over the upper end of the value chain. Key to China's NEV dominance has been the focus on controlling the supply chain of the key materials used in the EV battery. Batteries and advanced chip technologies have become the core technology vectors and cost drivers for modern vehicles. Vertical integration of the supply chain and decoupling of the US and China markets will be key competitive challenges going forward.
As of 2022, China has over 60% global market share of EV batteries (CATL and BYD accounting for almost half of global EV battery market share). In the EV battery supply chain, China has achieved a dominant position similar to what was achieved in other sectors such as wind turbines, solar panels, energy storage and electric transmission equipment. While key minerals are mined outside of China, China has effectively consolidated its influence across the entire supply chain through vertical integration, from raw materials to finished products, making it a pivotal player in the energy transition.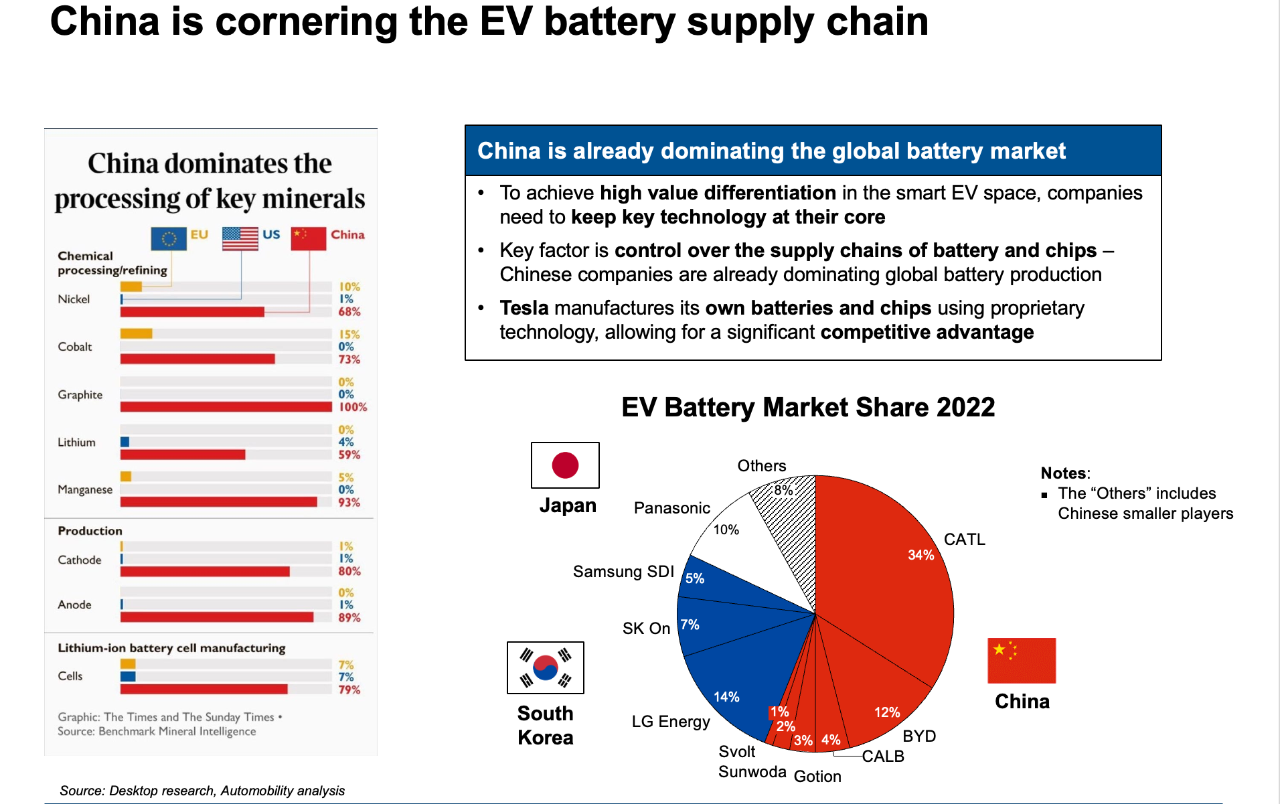 Recognizing the geopolitical implications of China's growing influence and the potential risks of over-reliance on the Chinese supply chain, the U.S. and its allies are increasingly pursuing strategies to secure long-term supply of processed minerals in order to reduce dependency. In addition, the U.S. has implemented new export control rules that effectively ban the export of high-end chips, tools, and components that are crucial in chipmaking to China. In response, China imposed its own ban on the export of critical minerals vital for computer chip manufacturing such as Gallium and Germanium. These measures highlight the intensifying competition and geopolitical significance of controlling key technologies and resources in the energy and technology sectors which will shape the dynamics of the energy transition and have far-reaching geopolitical implications.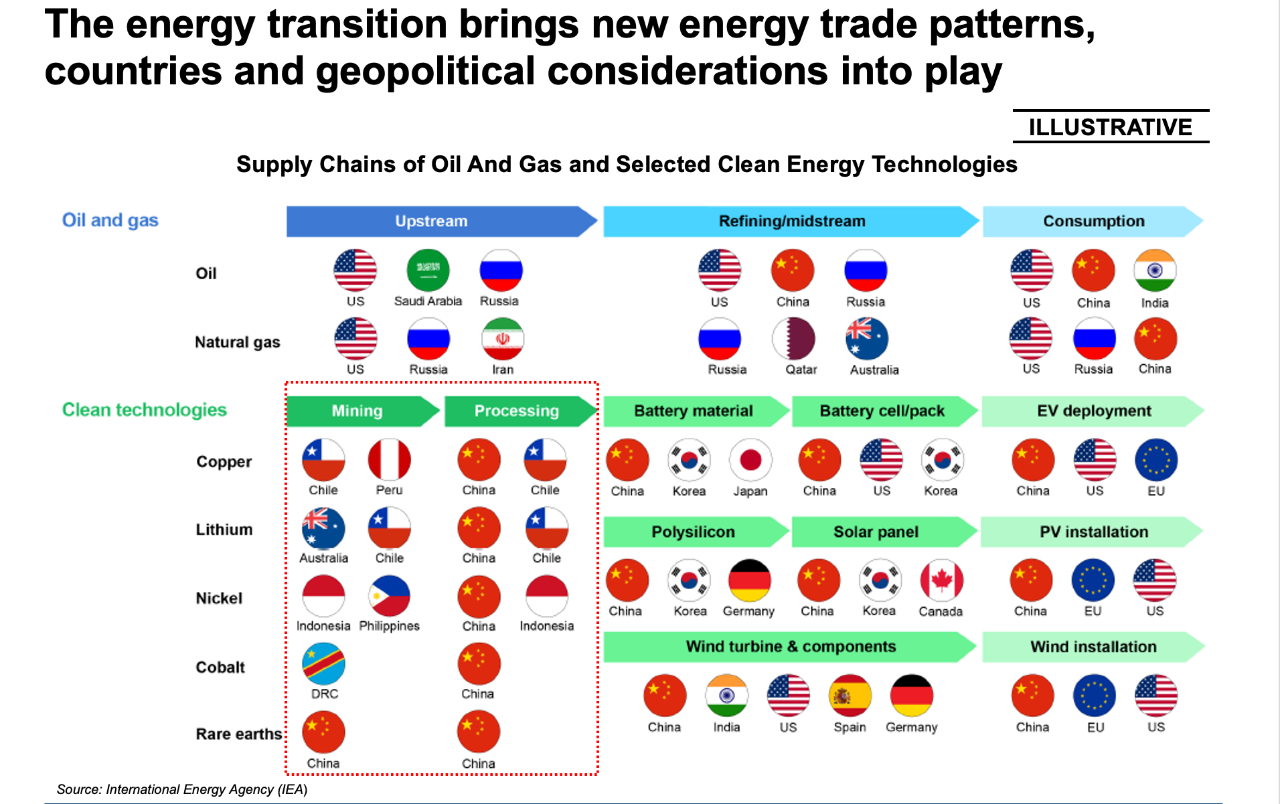 3. Chinese Brands are Going Global
In a domestic market that is struggling to grow, the rapid shift to NEV has exposed a glaring structural weakness in China: carmakers face a growing overcapacity problem, which has fueled an exponential rise of exports. Facing a weaker domestic demand and overcapacity, Chinese carmakers are increasingly exporting their vehicles to other markets. This year, China has overtaken Japan to become the world's leading automotive export nation. Chinese companies are using exports as a safety valve to resolve the overcapacity problem in China.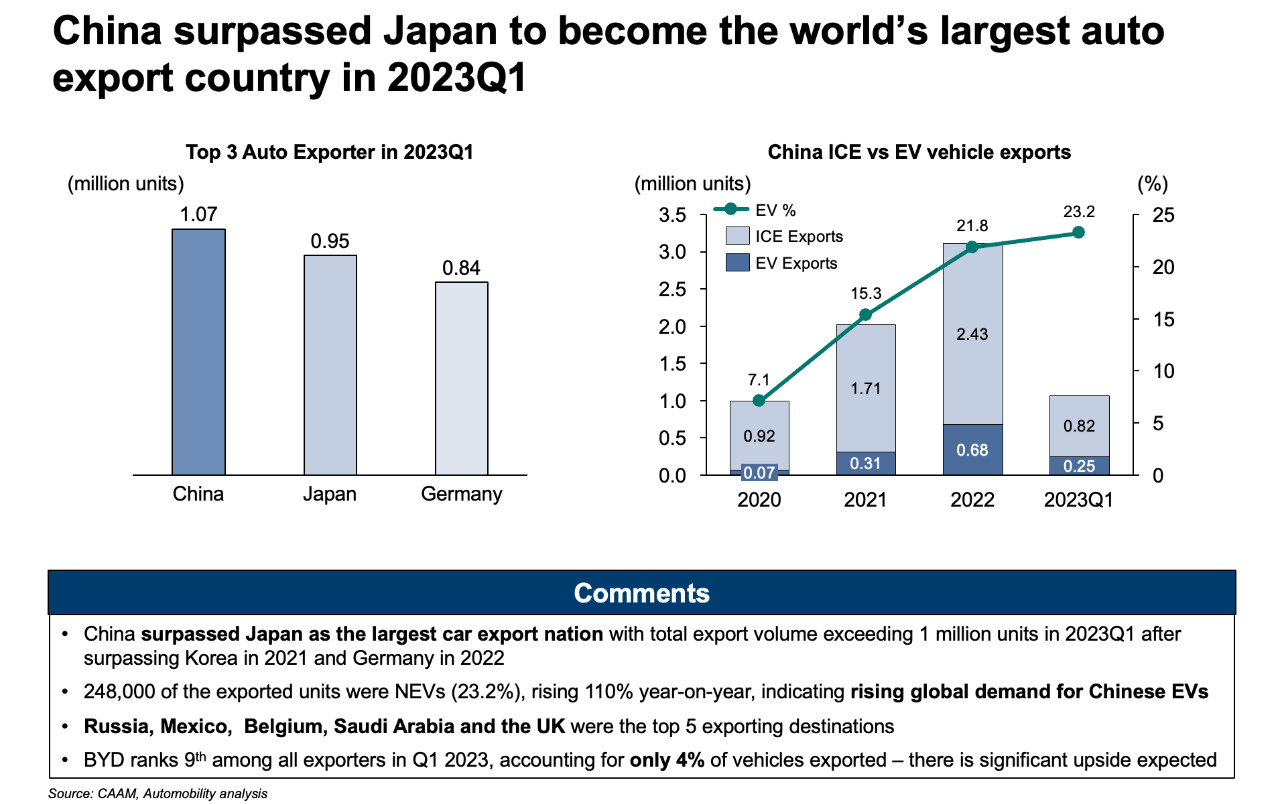 Foreign brands in the automotive industry are facing more than just an existential threat to their competitiveness within the China market. Foreign brands now find themselves competing with Chinese brands that are aggressively targeting the global markets. Among the overseas destinations for expansion, Europe has become a primary target for China's export push. Europe presents a promising growth opportunity for affordably-priced Chinese electric vehicles.
Having achieved the significant milestone of outselling foreign brands for the first time since the country opened up to foreign investment, several Chinese brands are planning their strategic entry into overseas markets, with Europe as a top priority. Several are bringing a multi-brand strategy, forming partnerships, and utilizing direct-to-consumer channels. Notably, Geely serves as clear example of this internationalization effort. Over the years, Geely has amassed numerous production facilities, acquired renowned brands like Volvo and Lotus, introduced new brands including Lynk & Co, Polestar and Geometry and formed crucial partnerships with major players such as Daimler, Renault, and Aston Martin. The establishment of a comprehensive international automotive network has enabled Geely to expedite its global expansion.
The internationalization of Chinese vehicle brands signifies a significant shift in the automotive landscape. With the potential for Chinese carmakers to leverage their competitive pricing and technological advancements, Chinese carmakers have emerged as strong competitors for market share both within China and on the global stage. However, to maintain their strong position, there are uncertainties resulting from geopolitical decoupling and the global supply chain that must be navigated.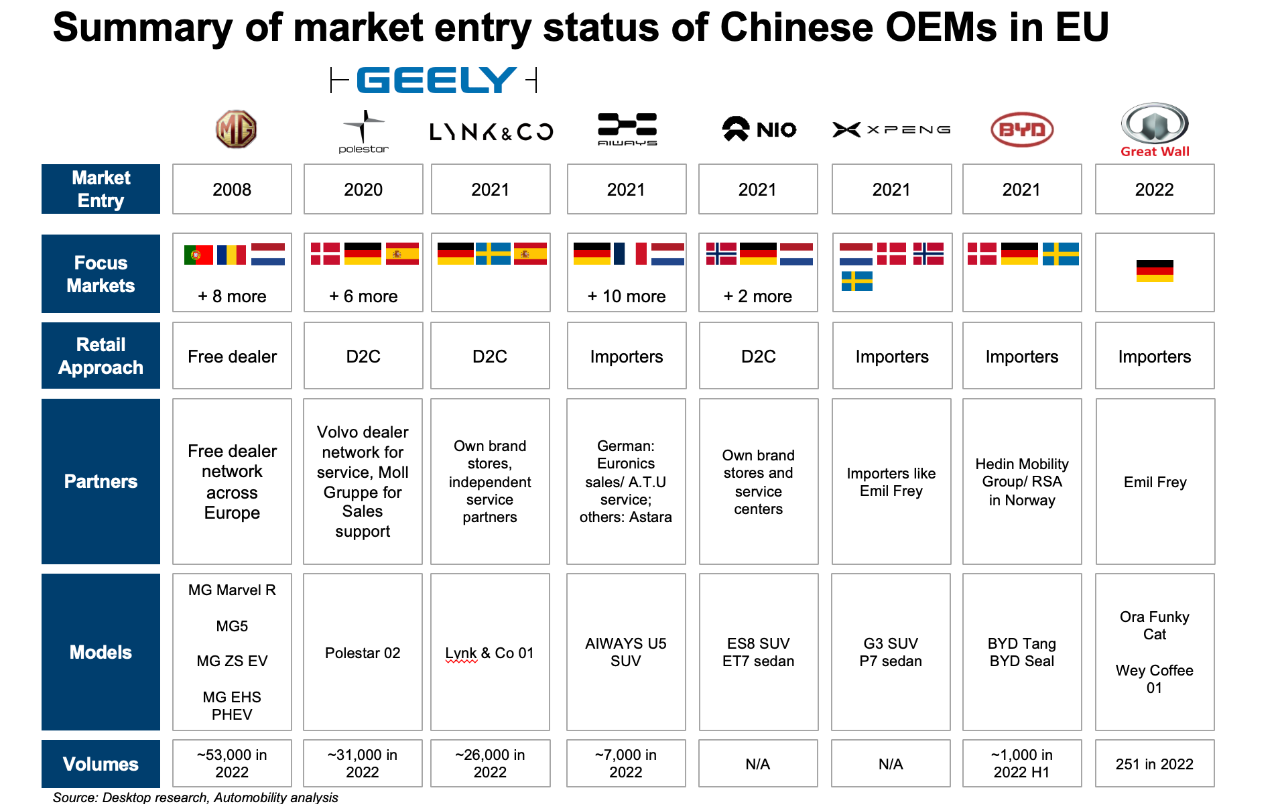 4. A Shift From "Big" to "Powerful"
In an era where growth (in unit sales of hardware) is limited, manufacturers are pivoting from pursuing "Big" (growth in units) to becoming "Powerful" (adding intelligent technology to unlock new ways of monetizing the vehicle as a smart device).
In the mobile internet era, various industries are seeking ways to diversify and add new revenue streams by building a digitally-oriented ecosystem of app-based services tailored for the smart device user. The automotive industry is no different, and this is especially true in China: the world's largest digital economy.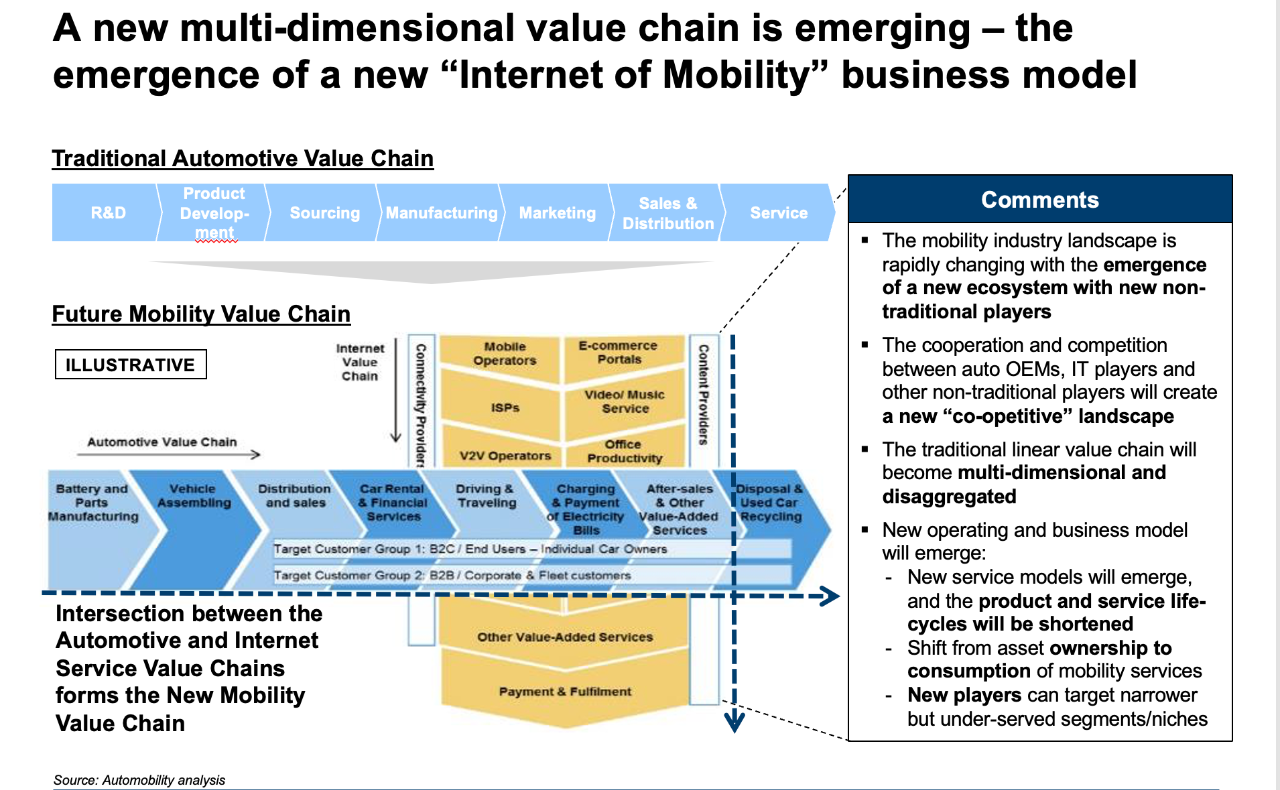 Vehicle intelligence and user-centric innovation have emerged as key strategic tools for Chinese carmakers to surpass foreign brands. While traditional carmakers are exploring how to carry over legacy platforms, the local players are pioneering new ways of delivering value to the market, by creating a "smart device on wheels".
Chinese carmakers have undergone a significant transformation in recent years. While traditional foreign carmakers initially criticized Tesla and Chinese brands for their large displays and perceived lack of vehicle safety functions, an increasing number of Chinese models now boast advanced hardware, computing chips, multiple cameras, and sensors. These advancements enable the integration of new services, such as Advanced Driver Assistance Systems (ADAS), driver monitoring, and proactive recommendations, setting them apart as key differentiators compared to traditional carmakers.
Chinese EVs have been quick to embrace the software revolution in the automotive industry. Constant iterations of features like voice interaction, automated parking, and in-vehicle apps have been made possible by incorporating powerful AI technology, enhancing the overall in-vehicle user experience. Additionally, Level 2 Autonomous Driving functions have become commonplace among newer Chinese brands, even in lower-end vehicles, offering customers a seamless digital experience.
The emergence of the seamless digital services and intelligent cabin concept has given rise to new players in the automotive supply chain, which we describe as "Smart Tier 0.5″. For example, in the intelligent cabin concept, the vehicle functions as a dynamic living space for both passengers and drivers, analyzing and adapting to the specific driving and entertainment preferences of occupants. These Smart Tier 0.5 digital integrators (which include companies such as Huawei, Banma, and ECarX) collaborate with downstream hardware and software providers to create a personalized and immersive experience, seamlessly integrating smart solutions across multiple domains within, around, and beyond the vehicle.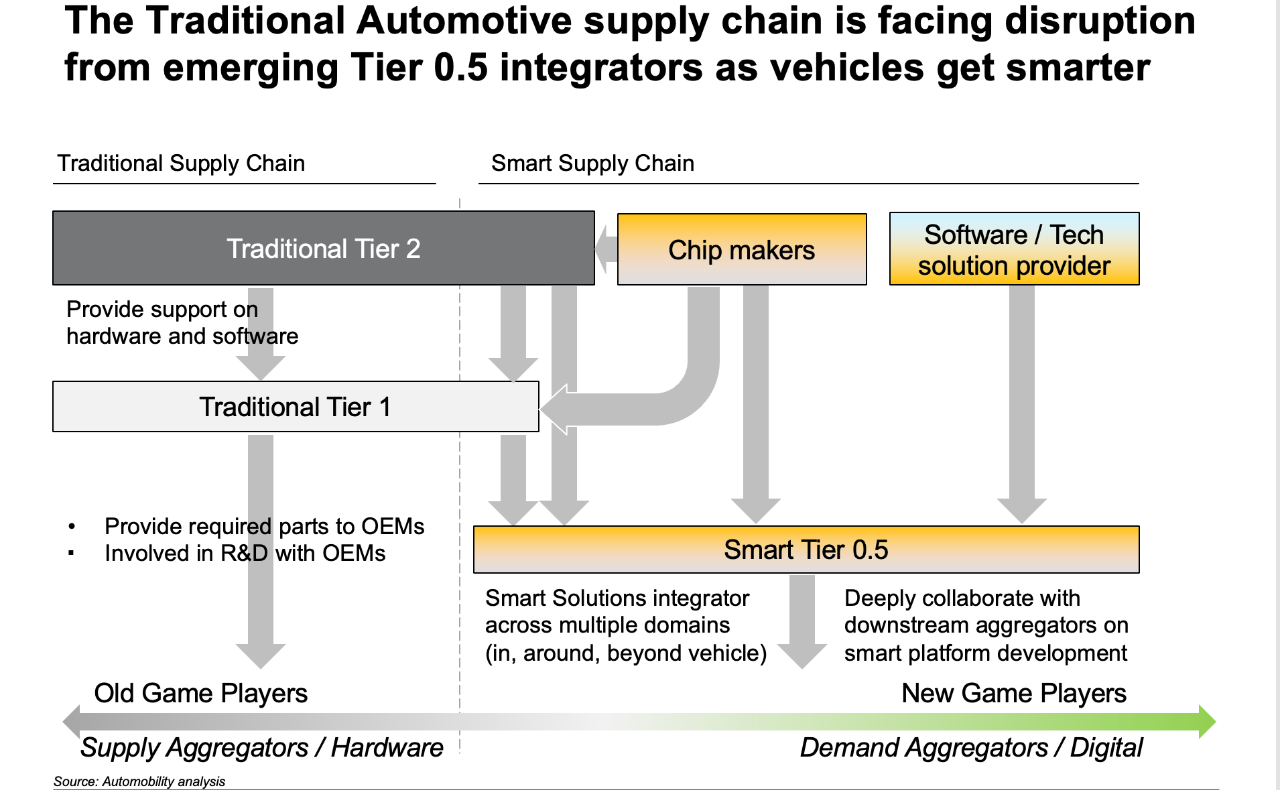 The emergence of this "Smart Tier 0.5″ in China's automotive industry marks a significant shift towards prioritizing intelligence and connectivity as fundamental aspects of the overall driving experience. Since the 1980s, there has been a steady rise in the sophistication and cost of software, which now accounts for 35% of the total vehicle cost. This software trend has significantly contributed to the growing dominance of Chinese carmakers in the market, and is the reason you see a dramatic emphasis on HMI in the Chinese in-cabin experience.
5. A Massive Reckoning is Coming in the Intelligent Connected Vehicle Era
The 1973 oil embargo marked a pivotal moment that reshaped perceptions of cars and brought about the expansion of the East Asian carmakers into the what was then the largest car market in the world – the United States. In the aftermath, a large percentage of Americans embraced the more fuel-efficient Japanese cars. This transformation represented the first tectonic shift in the globalization of the automotive industry.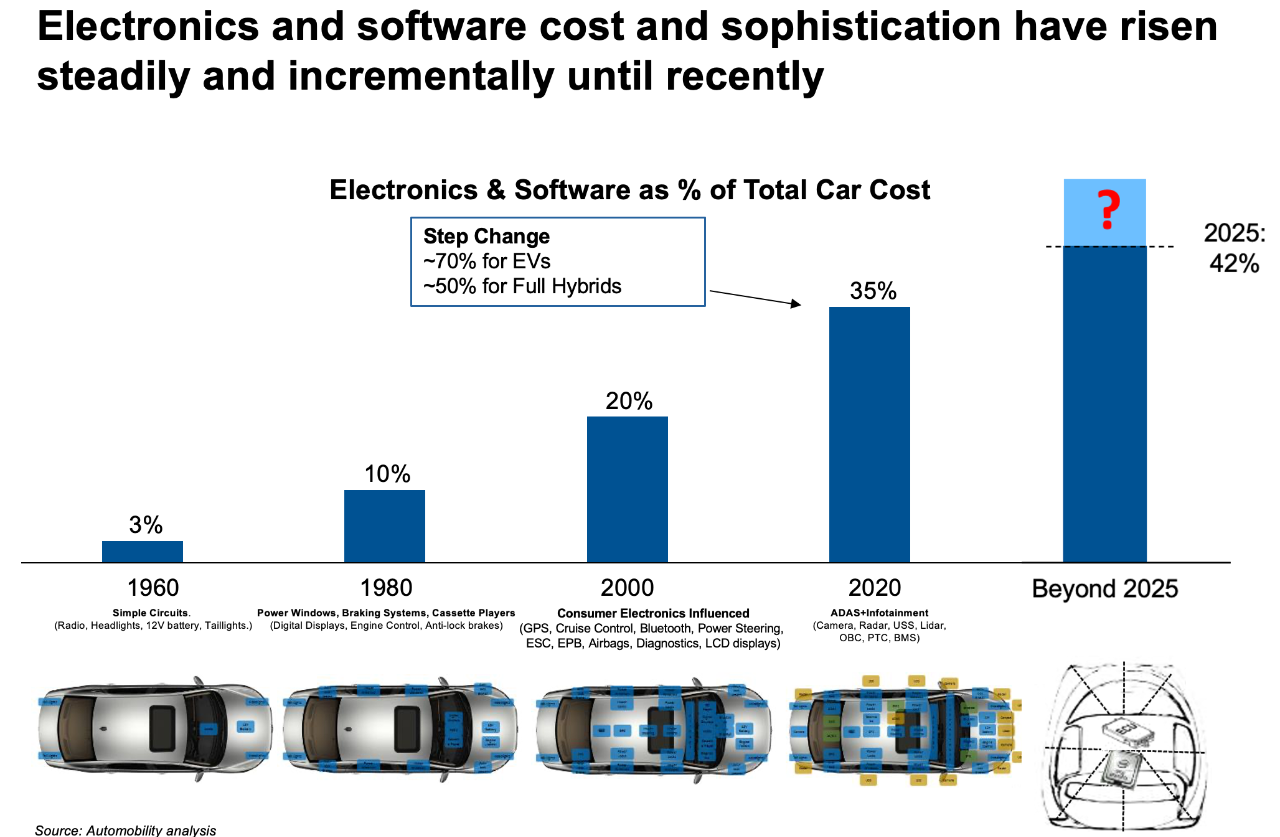 Today, we find ourselves amidst an arguably far larger tectonic shift in the automotive sector, driven by the rapid pace of technological advancements in connectivity, electric propulsion and autonomous driving. The massive size and commercial aggressiveness of China's digital economy towards investing in the automotive and mobility sector makes the specification of the Intelligent Connected Vehicle (ICV) a key arena for competition.
China's digital economy is setting the pace for an entirely new services-centric business model where "new game" commercial opportunities are created. This "new game" is highly embedded in the digital ecosystem and will change the car from a device monetized primarily when sold to a device monetized in multiple ways over its productive life cycle. New Game players often emerge from digital ecosystems, have experience monetizing other software-defined smart devices, and are highly efficient aggregators of services that are accessed through smart devices.
Chinese carmakers have moved beyond the traditional realm of manufacturing and product engineering dominated by traditional carmakers. A new "Internet of Mobility" era is emerging, where China and its digital ecosystems and expanding from a driver-centric towards a user-centric business model by introducing a range of cutting-edge intelligent connectivity features, such as AI, seamless interaction, and cross-domain connectivity, disrupting the sector by delivering a "smartphone on wheels" – with far more HMI and data aggregation capability than any other smart device we interact with today.
This shift reflects a fundamental transformation the automotive industry competitive landscape and supply chain, where intelligent connectivity and user experience take center stage, revolutionizing the way people interact with and perceive vehicles.
The aftermath of China's ICV revolution will be a industry restructuring greater than the tectonic shift of the Japanese carmakers entry into the US, and far greater than when Tesla commercialized the electric vehicle.
Lorenzo Song and Tony Lai contributed to this article.
---
About Automobility
Automobility Limited is global Strategy & Investment Advisory firm based in Shanghai that is focused on helping its clients to Build and Profit from the Future of Mobility.  We help our clients address and solve their toughest business and management issues that arise in midst of fast changing, complicated and ambiguous operating environment.  We commit to helping our clients to not only "design" the solutions but also raise or deploy capital as well as assist in implementation. We are objective and don't view our client engagements as "projects"; rather as long-term relationships.
Our partners are former senior executives at large corporations and/or senior consultants at leading management consulting firms. We believe clients would benefit the most from a combination of consultants with substantive experience in consulting and in line management.
Therefore, we organize ourselves into a core team augmented by an extensive "extended team members" with a large variety of skills and expertise.
Contact us by email at [email protected]
---
About the Author
Bill Russo is the Founder and CEO of Automobility Ltd. His over 40 years of experience includes 15 years as an automotive executive with DaimlerChrysler, including 19 years of experience in China and Asia. He has also worked nearly 12 years in the electronics and information technology industries with IBM and HARMAN International. He has worked as an advisor and consultant for numerous multinational and local Chinese firms in the formulation and implementation of their global market and product strategies. Bill is also currently serving as the Chair of the Automotive Committee at the The American Chamber of Commerce in Shanghai (AmCham Shanghai).
Contact Bill by email at [email protected]