20 Jul

State of China's Auto Market – July 2023

Halftime Score:

NEV +44.1%

ICE +0.4%
Rise of NEV benefits few, threatens many while adding fuel to the ICE export tank
Comments from Bill Russo, Founder & CEO of Automobility Ltd.
Let's begin by highlighting the cover story that came from an interview I did for the Summer 2023 edition of INSIGHTS magazine, titled "The End of the ICE Age: Rise of the Chinese NEV".
In this article, I describe the existential crisis that is now faced by legacy carmakers, both foreign and domestic, as the market continues to shift to New Energy Vehicles. I also share my thoughts on why, in spite of the difficulties, it is essential for global companies to remain vigilant in their efforts to succeed in the market because "If you lose China, you lose your competitive edge, and not just in China; you can derive from China the economy of scale that allows you to be more competitive in your global business."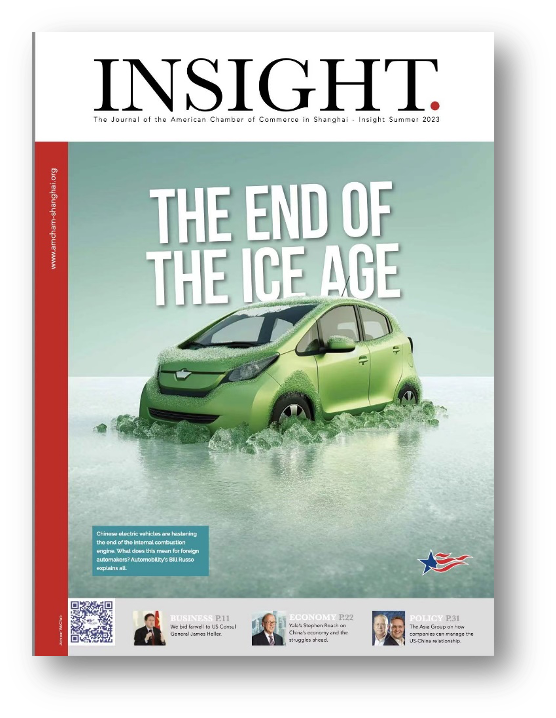 Please Note:
NEV = New Energy Vehicles (including Battery, Plug-in Hybrid and Fuel Cell Electric Vehicles)
ICE = Pure Internal Combustion Engine Vehicles
You can access the article here:
Insight Magazine | The End of the ICE Age: Rise of the Chinese NEV
And watch the video recording here:
Demand Weakness Exposed in 2023
The industry cannot blame supply-side constraints for weaker volumes in 2023. Last year, lingering chip and battery supply constraints plus zero COVID related disruptions were legitimate factors that impacted wholesale volumes. Without constraints, 13.2 million vehicles were shipped in the 1st half of 2023, including 11.2 million passenger vehicles and 2.0 million commercial vehicles. This was an increase of 9.8% over the very weak 1st half of 2022.
However, the shift in mix toward NEV was clearly evident, with NEV volumes increasing by 44.1% (an increase of +1.15 million units), and ICE increasing by just 37,000 units over last year.
Fueled by an aggressive price war that was led by Tesla in early 2023, NEV volumes continued to expand and further cannibalized sales of gasoline-powered cars. A growing overcapacity problem, especially for manufacturers of ICE powered vehicles, has propelled the rise of exports from China – which has now overtaken Japan as the world's leading automotive export nation. We will come back to the export topic later.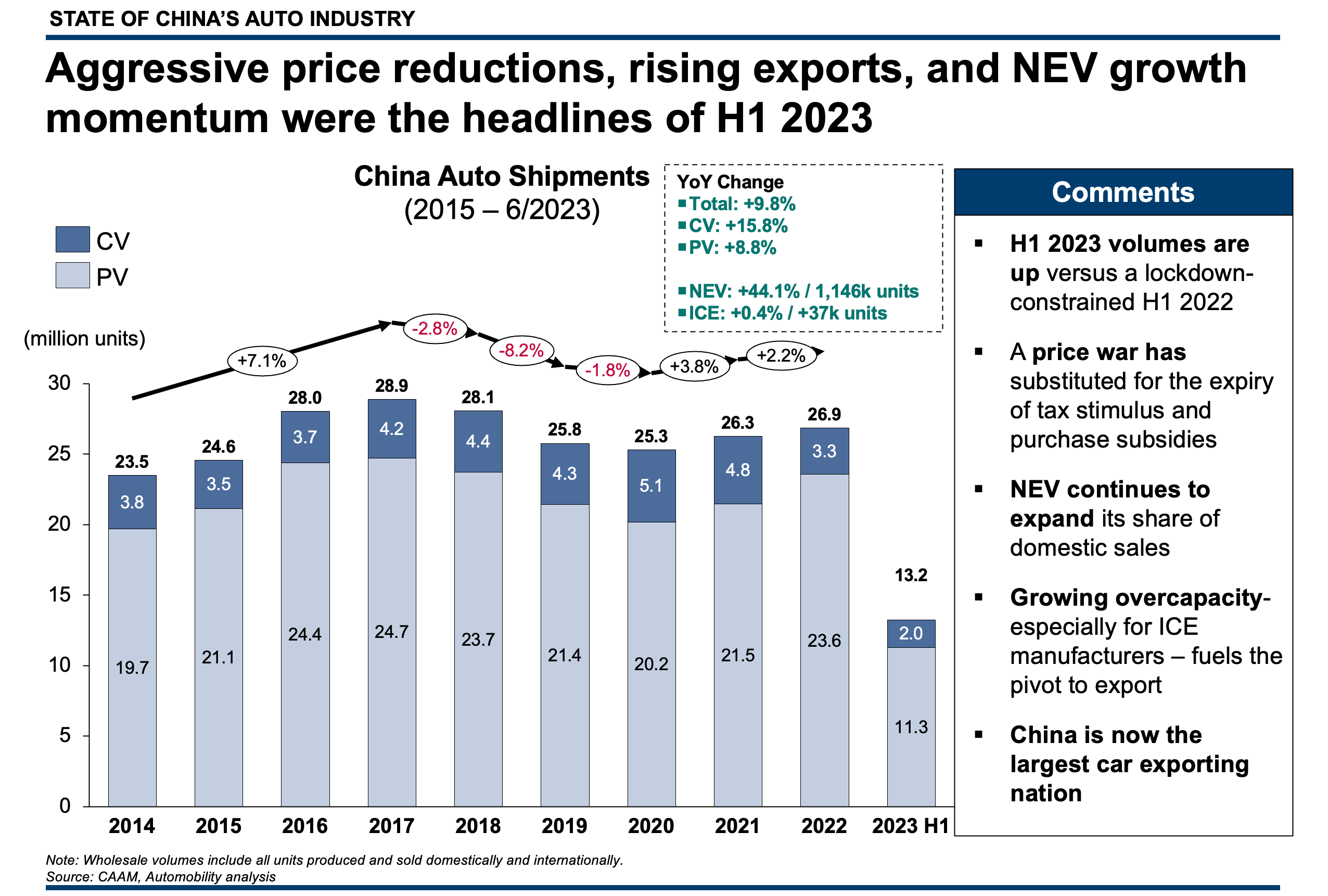 June Growth Driven by Hot NEV Segment
Overall vehicle shipments for June were up 4.8% and volumes were at their highest level since December 2021. All June growth is attributable to NEV, which expanded by 210,000 units, while ICE sales were down 90,000 units year-over-year.
While aggressive pricing moves have squeezed unit margins, we can only imagine how much worse wholesale volumes would have been without them.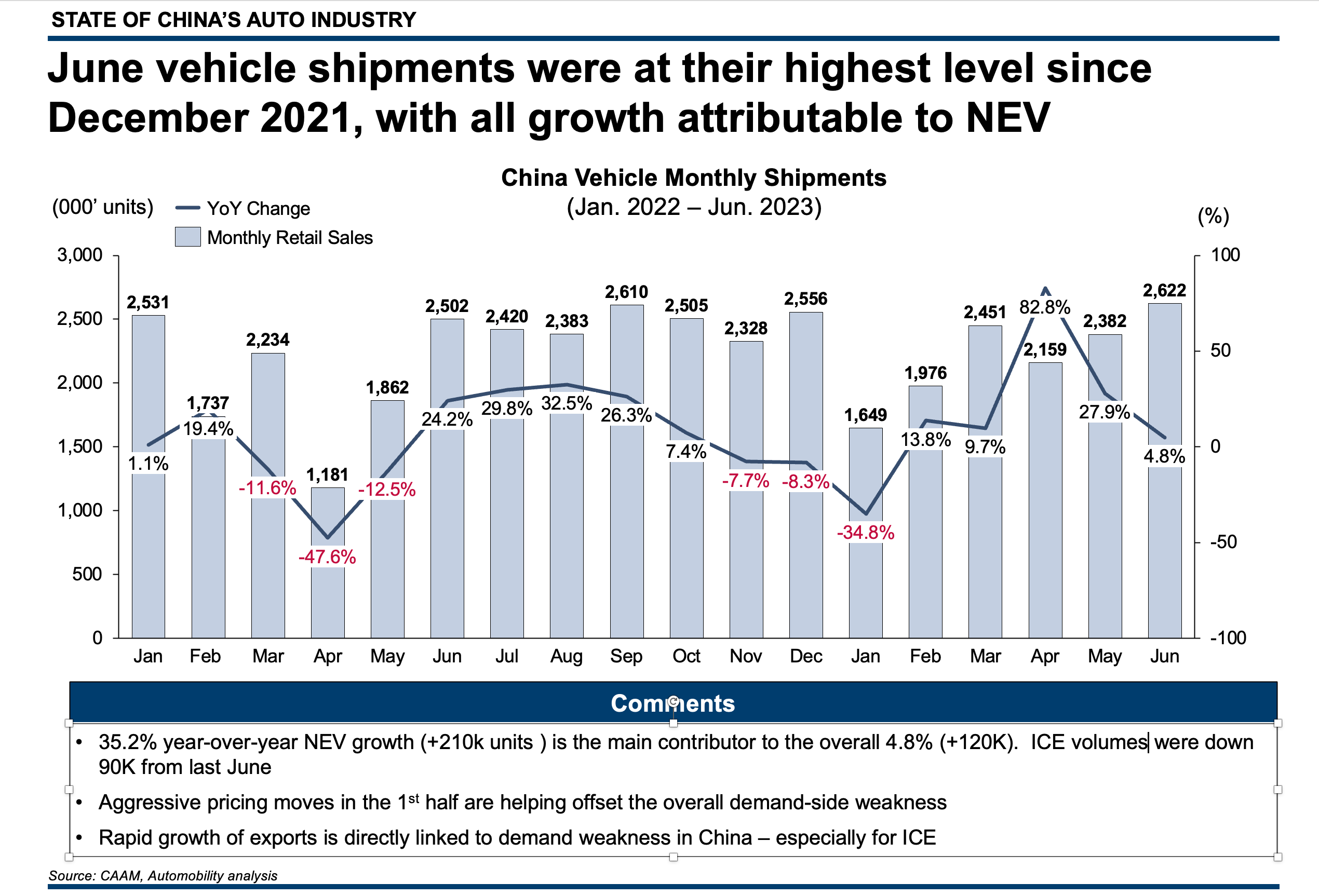 Analyzing at the volume trend by segment, we note that Commercial Vehicle sales are stabilizing and are up from their historically weak performance from last year. While up from a weak first half of last year, the Passenger Vehicle market is undergoing a fundamental restructuring in favor of companies in the NEV segment.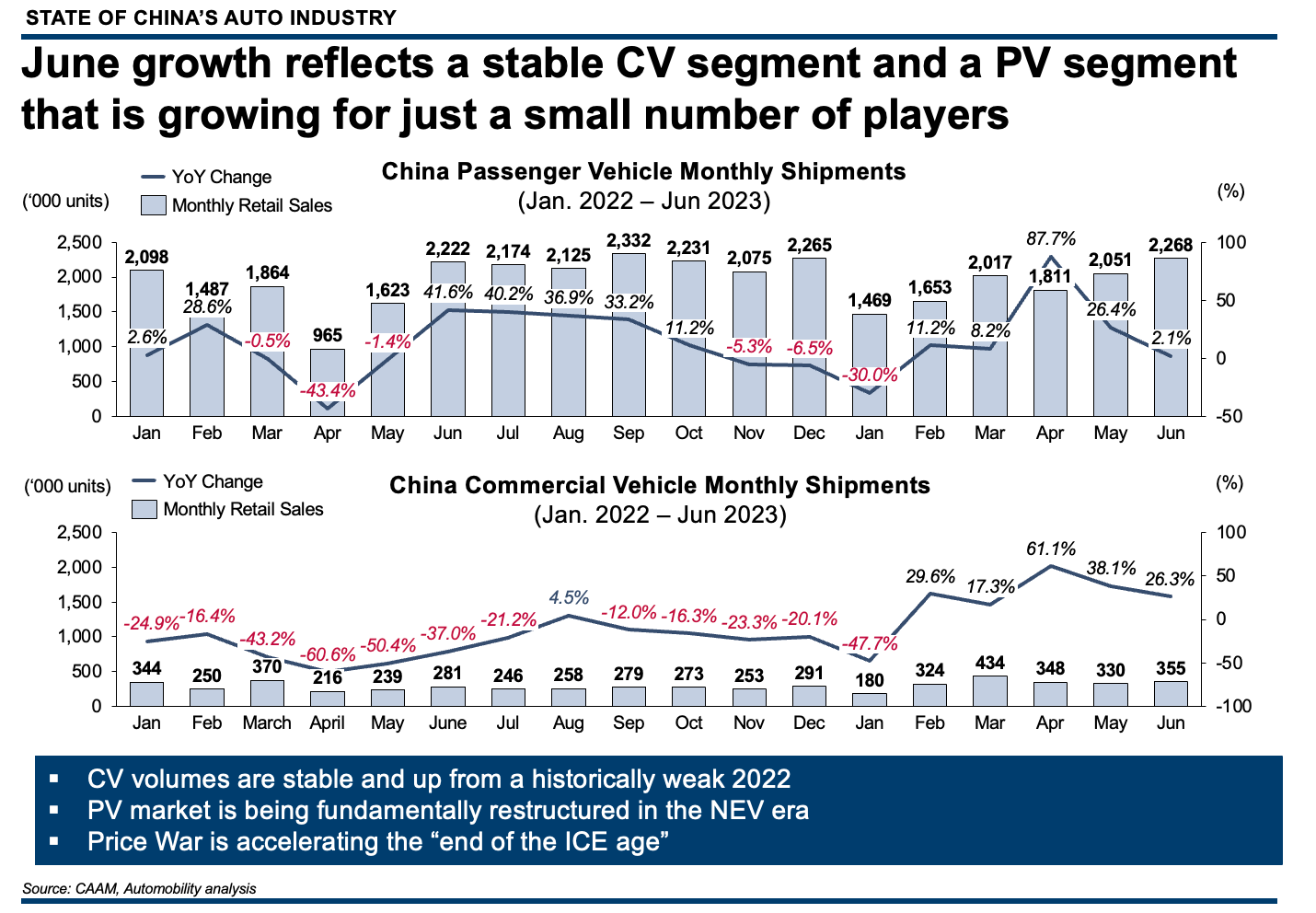 New Energy Vehicle sales were 806,000 units, the second highest monthly sales performance on record. BYD dominates with a 37.4% share of this highly concentrated segment. The Tesla-led price war has made NEVs more attractive on price, further cannibalizing ICE sales and weakening mix and profitability across the board.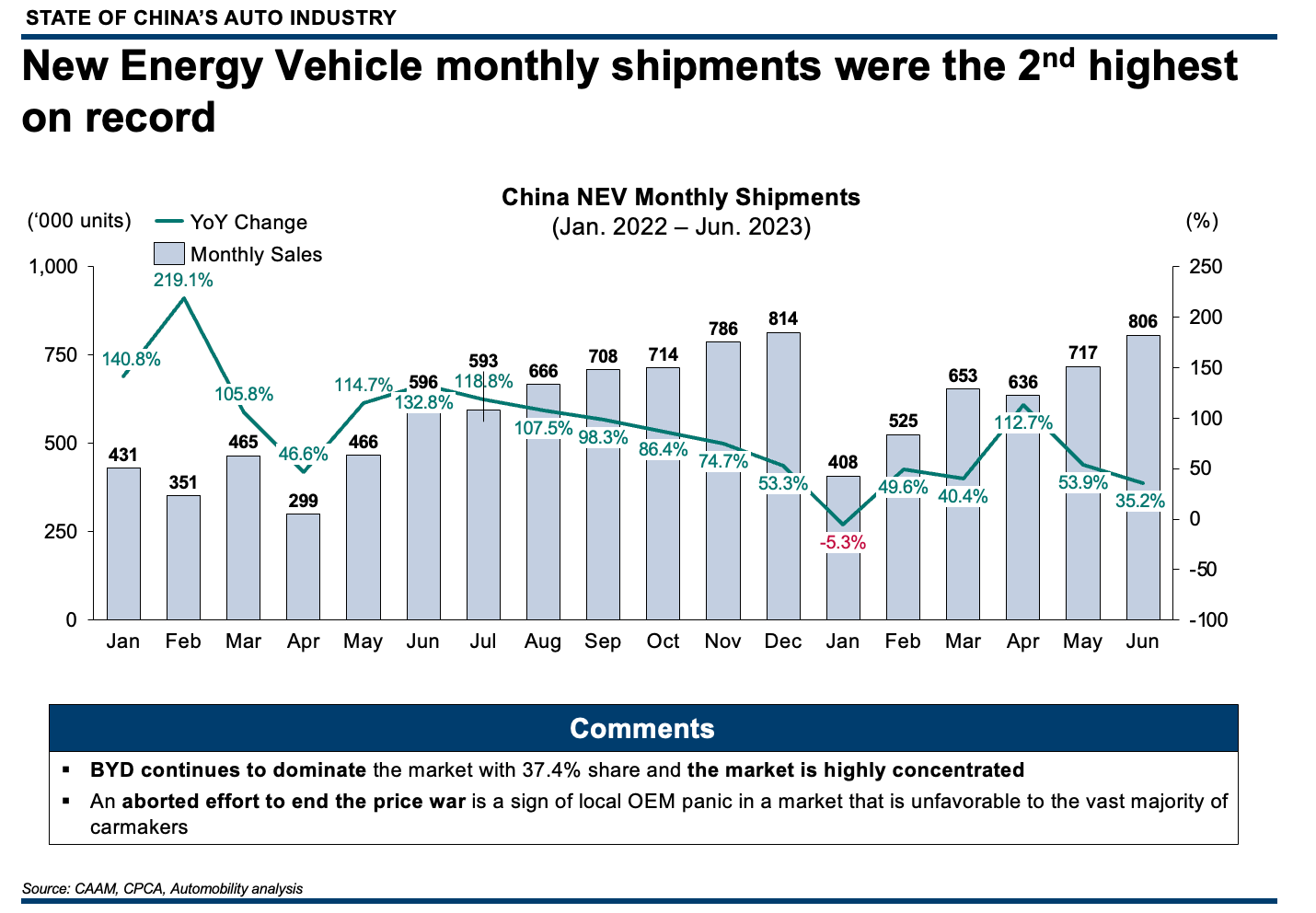 Plug-in Hybrid Electric Vehicles (PHEV) sales set an all-time record of 232,000 units in June, now taking 29% of the NEV pie.  BYD (over 60%) and Li Auto (14%) are the runaway leaders in this remarkably uncrowded yet hugely popular segment.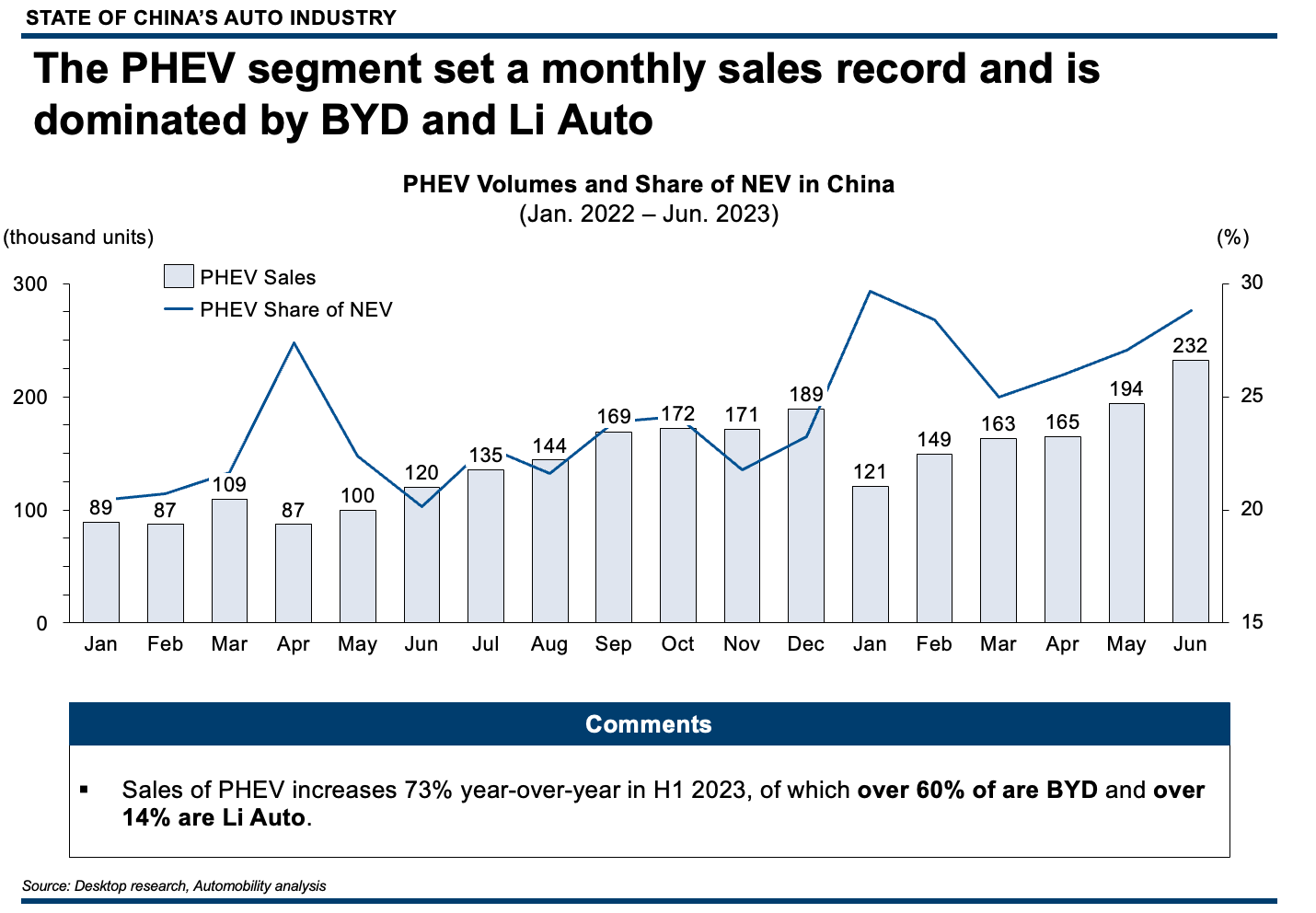 War and Peace…NOT!
In what can only be interpreted as a panic move to end the price war and the damage if has inflicted on industry profit margins, a collective effort was made by a group of OEMs to call a truce. This was orchestrated by the Chinese Association of Automobile Manufacturers (CAAM).
While an agreement was reached among the parties to lay down their weapons, concerns were subsequently raised over this collective move to control market pricing and the agreement was abruptly cancelled within days.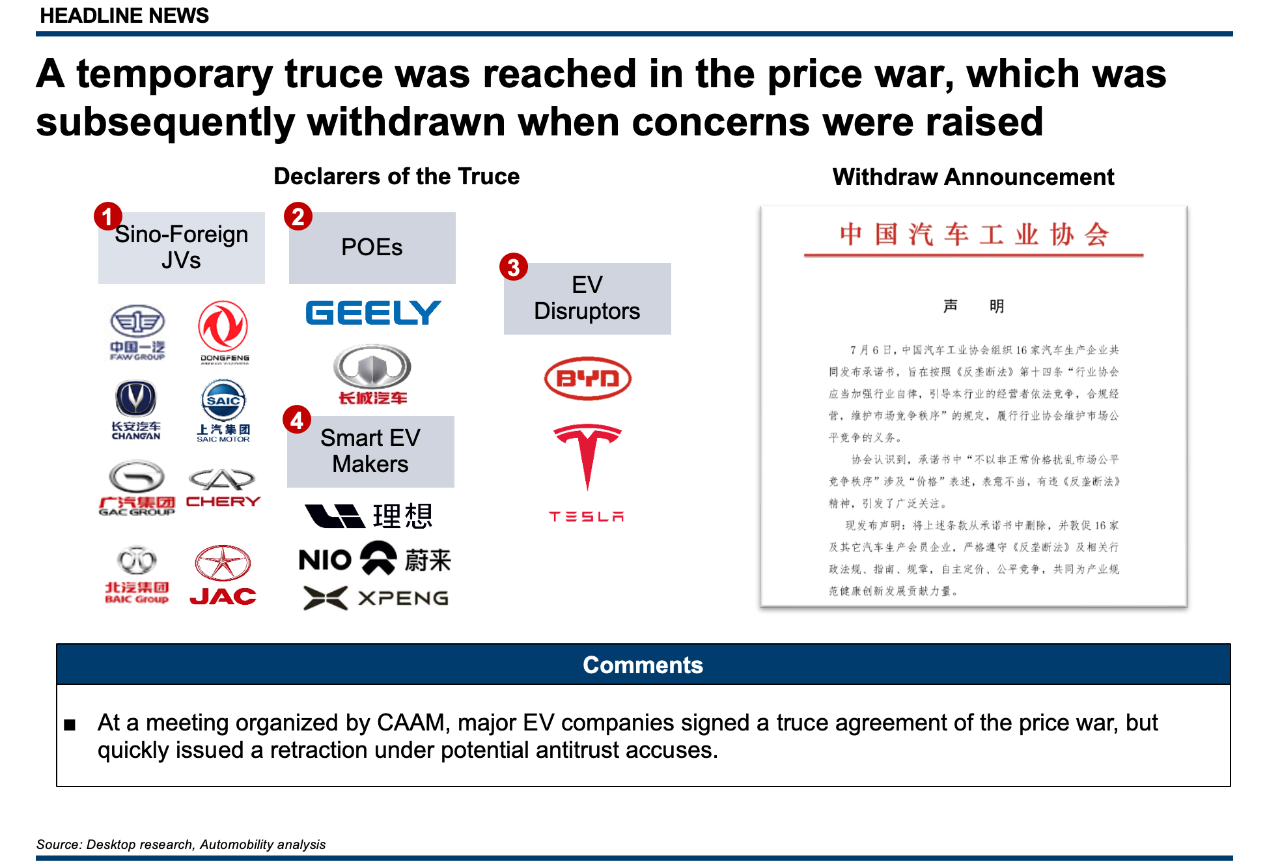 June NEV Sales Leaderboard
Significant changes are noteworthy in the June sales leaderboard. Tesla Model Y jumped over BYD Qin and Song into the top position as Tesla typically puts up their largest China sales figures in the final month of each quarter. Notably absent from the leaderboard are the two models from Wuling, the Hongguang MiniEV and Binguo. As prices have come down across the board, customers are attracted to affordably priced upgrades from the "cheap EV" value proposition offered by Wuling.
One of these newly launched affordable upgrades is the BYD Seagull, which was revealed in April at the Shanghai Auto Show and is priced starting from RMB 78,800. The Seagull is BYD's 6th entry on the top 10 list.
Top 10 NEV Models
June Retail Sales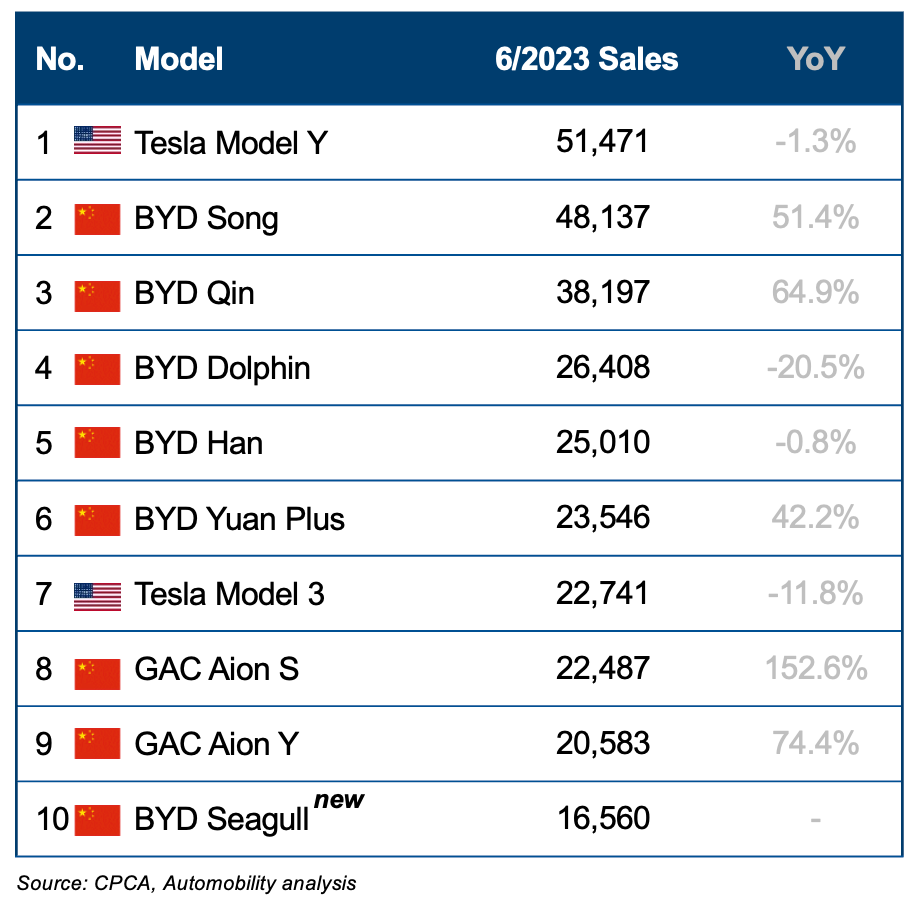 Aggregated Top 10 NEV sales for overall corporate groups also reveals some noteworthy movements, with LI Auto moving into the Top 5, posting their first month of sales above 30,000 units. The weak performance of both Wuling (down 32.7%) and Volkswagen (down ~30%) in an otherwise strong NEV market is also noteworthy.
Top 10 NEV Corporate Group
With their popular lineup of family-oriented PHEVs, Li Auto has clearly become the breakaway performer among Chinese Smart EV startups.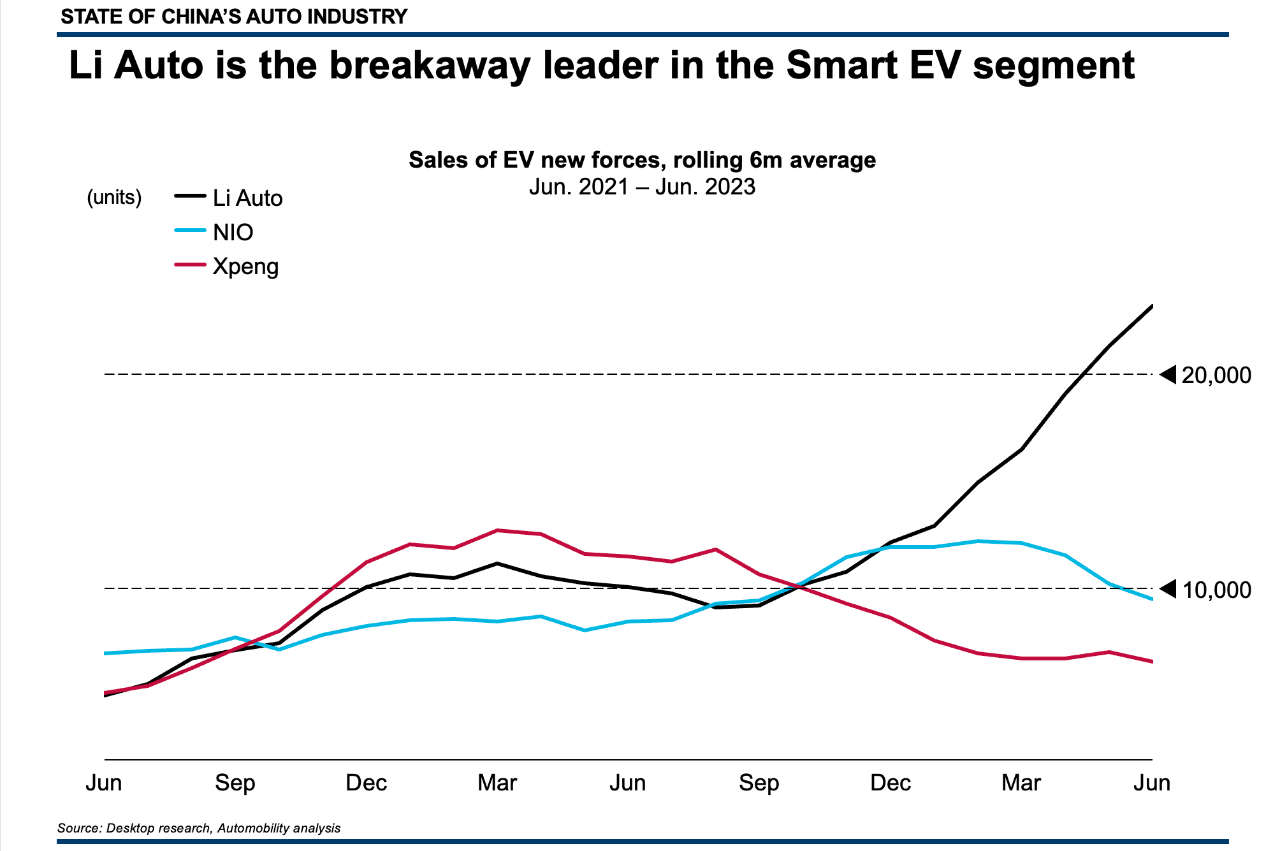 The Halftime Report
NEV share of the China market is 28.3% this year, an increase of 4.3% versus the 1st half of 2022. Wholesale NEV volumes were 3.75 million units, with BYD domestic retail sales of 1.15 million units. As momentum continues to build, NEV share will likely approach one-third of all retail sales in the second half of 2023.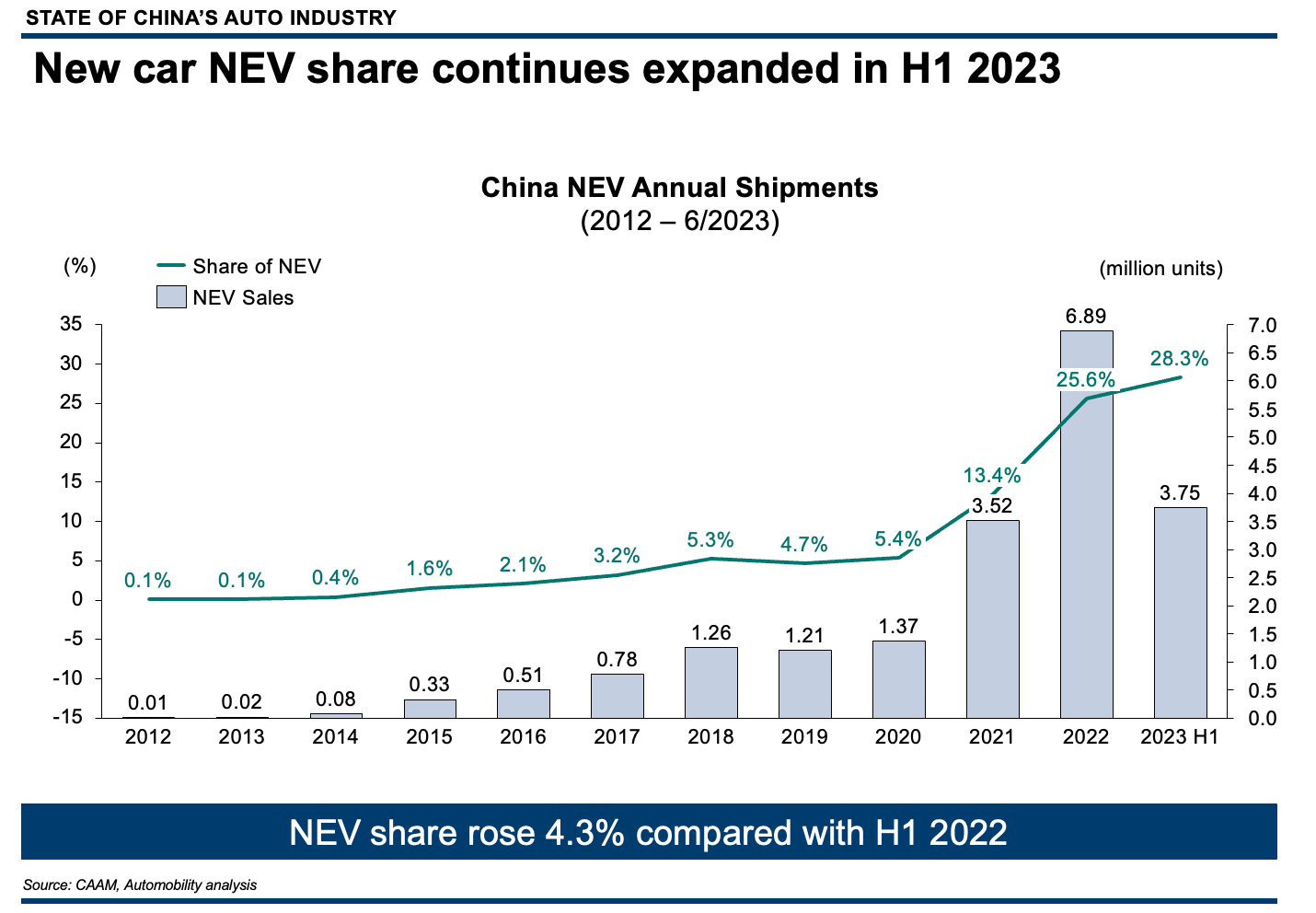 At the half-year mark, the top 10 list appears remarkably consistent over time. While the top 10 models move up and down with new launches, lifecycles and pricing actions – the top 10 company list has been as steady as a rock:
BYD dominates with over one-third of the market, and utter domination of PHEV
Tesla is a solid second with just under 10%
The top 5 companies command two-thirds of the NEV market
The top 10 command four-fifths of the market

Chinese brands have over 80% share of the NEV market
The End of the ICE Age: Rise of the Chinese NEV
Yes, this is a repeat of the title of the AmCham Shanghai INSIGHTS interview, and we have the data to back up the claim. This secular shift of retail demand towards New Energy Vehicle brings with it a dramatic restructuring of the automotive industry's competitive landscape.
Top 10 ICE and NEV Corporate Groups in the ICE and NEV segments1st Half 2023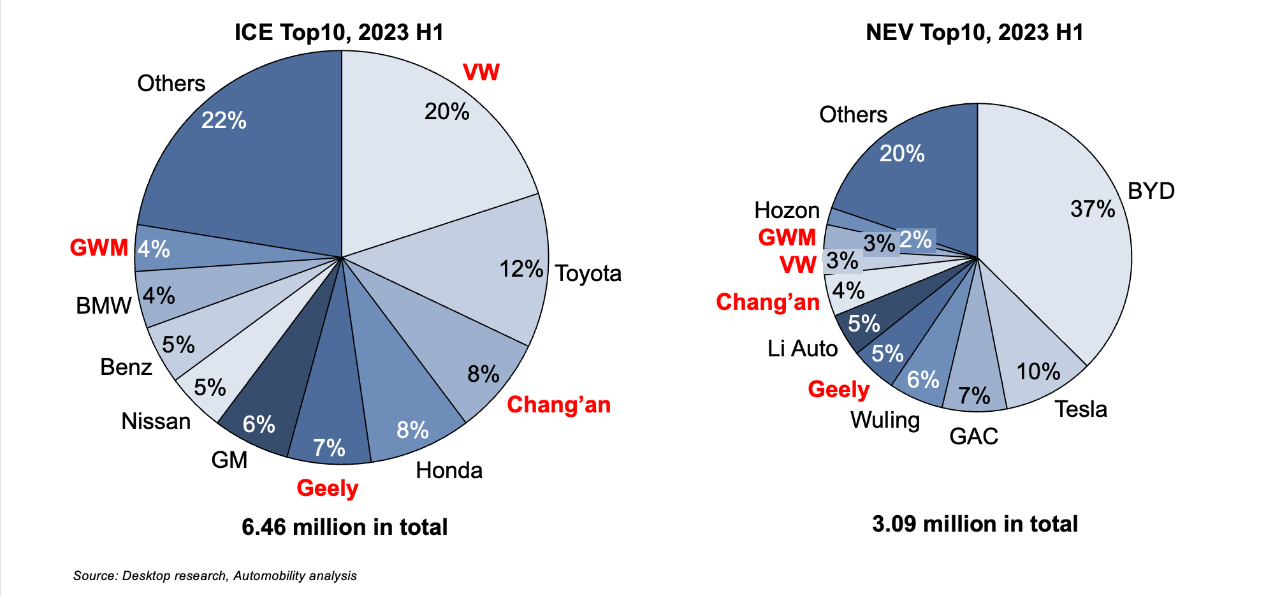 Several takeaways to note here:
~2/3 of ICEs sold are foreign branded while >4/5 NEVs sold are locally branded
Just 4/10 legacy companies are in both lanes (in red)

Brand equity in the ICE lane does not cross over into the NEV lane
The implication of this development is that a dramatic market restructuring is underway and consolidation in some form is inevitable as the market shifts to NEV.
What is clear is that foreign brands are facing an existential threat. For the first time since China opened up to foreign investment, local brands are now outselling foreign brands in China.
However, the benefits are being realized by a very small number of players, many of which are private (not state-owned) enterprises such as BYD, Geely and Li Auto. State-owned enterprises (SOEs) are doubly impacted by this, as they have relied on their sino-foreign JVs for their profitability, and with few exceptions (such as Guangzhou Auto, SAIC Wuling and Chang'An) they are not strong players in the NEV market. Many have focused on fleet sales and are producing NEVs to gather tax credits.
A painful structural consolidation is coming. We just don't know when or how it will play out.
The Dark Side of China's Export Story
The structural overcapacity in China's ICE, and among the weaker NEV players is driving a massive push for sales to overseas markets. Exports from China have tripled from 2020-2022 and will likely explode to over 4 million units in 2023. Six of the top 10 exporters are state-owned enterprises several of which have performed poorly in the domestic market. From January through May, over 25% of China's exports this year went to Russia – to fill the void left behind when global brands exited the market. 75% of the vehicles being exported from China are ICEs.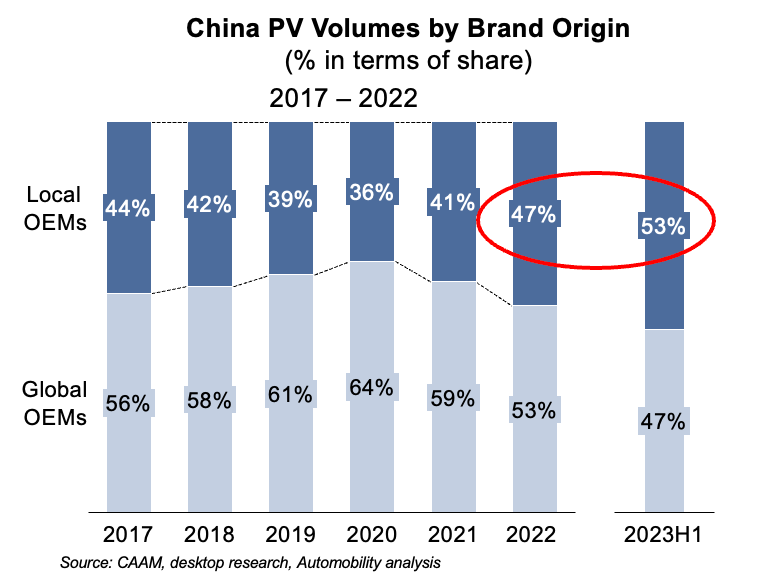 Thus far, Chinese companies are using exports as a safety valve to resolve the overcapacity problem of the growing number of weak domestic players.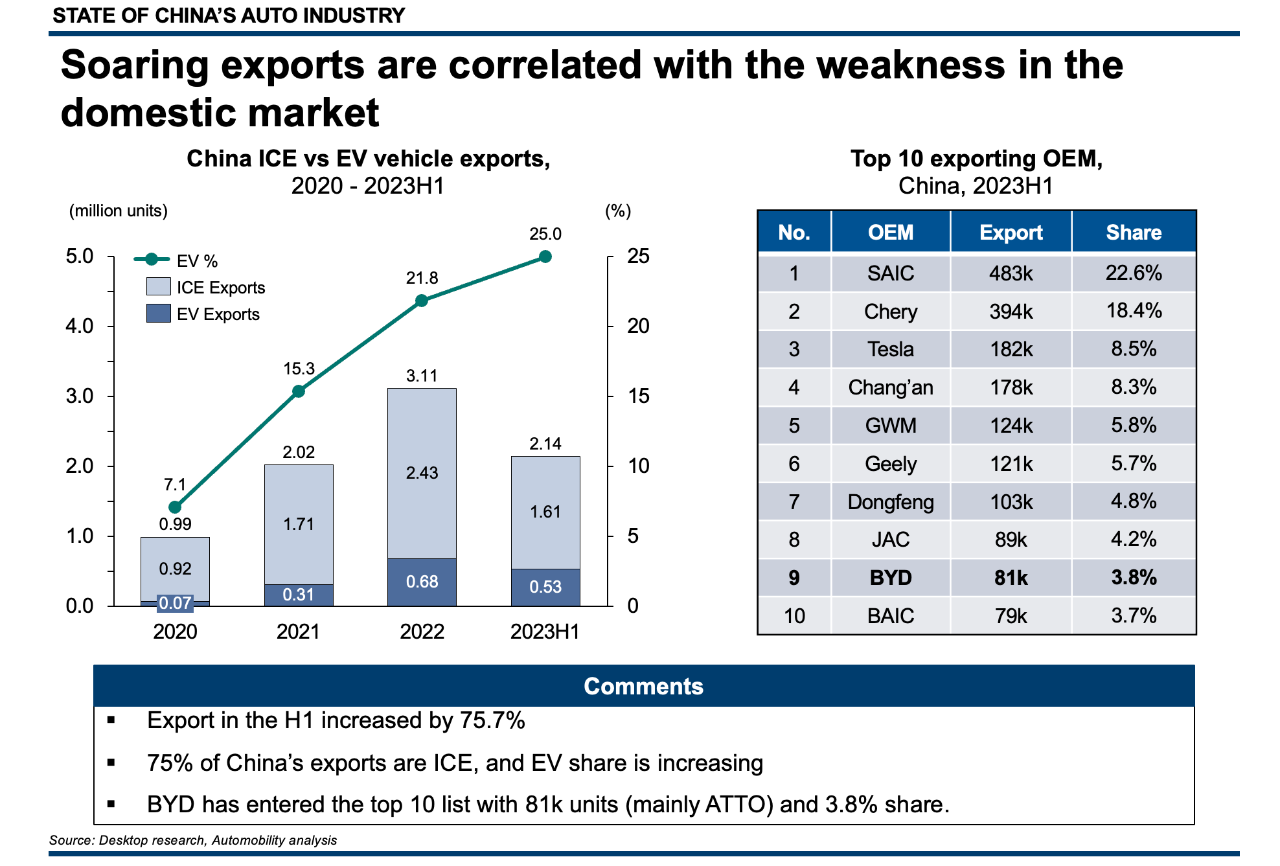 A FEW MORE THINGS
On 5th July 2023, I was a guest on BBC's Asia Business Report to discuss Chinese Auto Exports:
I also joined CGTN Dialogue for a panel discussion on the Outlook for China's New Energy Vehicle Market:
I spoke to Juliet Mann on CGTN Europe's The Agenda program to discuss The Future of Electric Vehicles:
---
Several questions to consider:
– In which areas of an automobile — design, engineering, software — are Chinese auto companies leading over their global counterparts?
– Within China, is it too late for foreign automakers that were focused on internal combustion engines to make the leap to electric?
– Have Chinese EV companies benefitted from not being encumbered by a long history of ICE or has their progress in EVs stemmed from internal vigor or innovative mindsets at the companies?
In his role as AmCham Shanghai's Automotive Committee chairman, Bill Russo will host the monthly State of China's Auto Market online webinar on Tuesday, July 18, at 9am in China.
If you wish to join, please register here by scanning the QR code: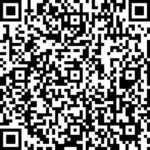 Webinar | State of China Auto Market Monthly Briefing (July)
---
About Bill Russo
Bill Russo is the Founder and CEO of Automobility Limited, and is currently serving as the Chairman of the Automotive Committee at the American Chamber of Commerce in Shanghai. His over 40 years of experience includes 15 years as an automotive executive with Chrysler, including 19 years of experience in China and Asia. He has also worked nearly 12 years in the electronics and information technology industries with IBM and Harman. He has worked as an advisor and consultant for numerous multinational and local Chinese firms in the formulation and implementation of their global market and product strategies.
Bill is a contributing author to the book Selling to China: Stories of Success, Failure, and Constant Change (2023), where he describes how China has become the most commercially innovative place to do business in the world's auto industry – and why those hoping to compete globally must continue to be in the market.
Bill's chapter is titled "China's Auto Industry: The Race to a Sustainable Future".  You can order using the QR code: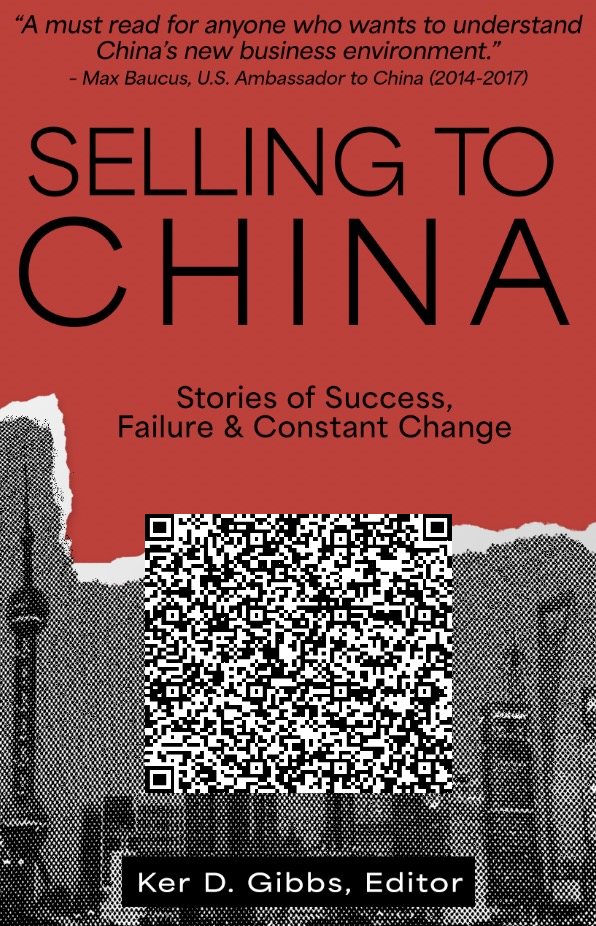 About Automobility
Automobility Limited is global Strategy & Investment Advisory firm based in Shanghai that is focused on helping its clients to Build and Profit from the Future of Mobility.  We help our clients address and solve their toughest business and management issues that arise in midst of fast changing, complicated and ambiguous operating environment.  We commit to helping our clients to not only "design" the solutions but also raise or deploy capital and we can assist in implementation, often together with our clients.  We put our clients' interest first and foremost.  We are objective and don't view our client engagements as "projects"; rather as long-term relationships.
Our partners are former senior executives at large corporations and/or senior consultants at leading management consulting firms. We believe clients would benefit the most from a combination of consultants with substantive experience in consulting and in line management.
Therefore, we organize ourselves into a core team augmented by an extensive "extended team members" with a large variety of skills and expertise.
Contact us by email at [email protected]