03 Jul

China's Auto Industry: The Race to a Sustainable Future

We are very proud to announce that the book Selling to China: Stories of Success, Failure & Constant Change is now available to order!

Automobility's Founder and CEO Bill Russo wrote the chapter titled China's Auto Industry: The Race to a Sustainable Future, which can also be purchased in PDF format via the following link: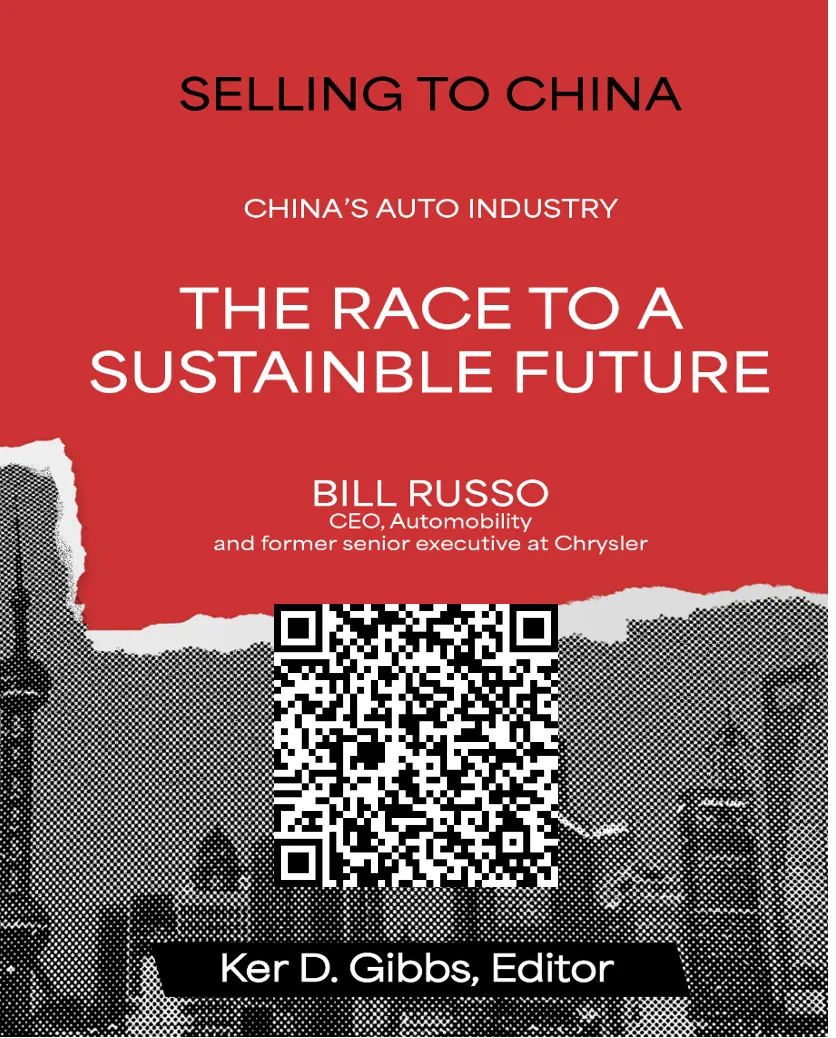 If you would like to schedule a briefing with Bill Russo for your organization, please see this announcement:
Abstract
The automotive industry has historically been a major driver of innovation and economic development. We are currently facing a shift in the center of gravity for the industry, as new trends and technologies have commercialized at scale faster in China. Policymakers and industry leaders need to pay attention to this if we in the West intend to sustain leadership in mobility innovation, which has historically been a key driver of economic growth and job creation.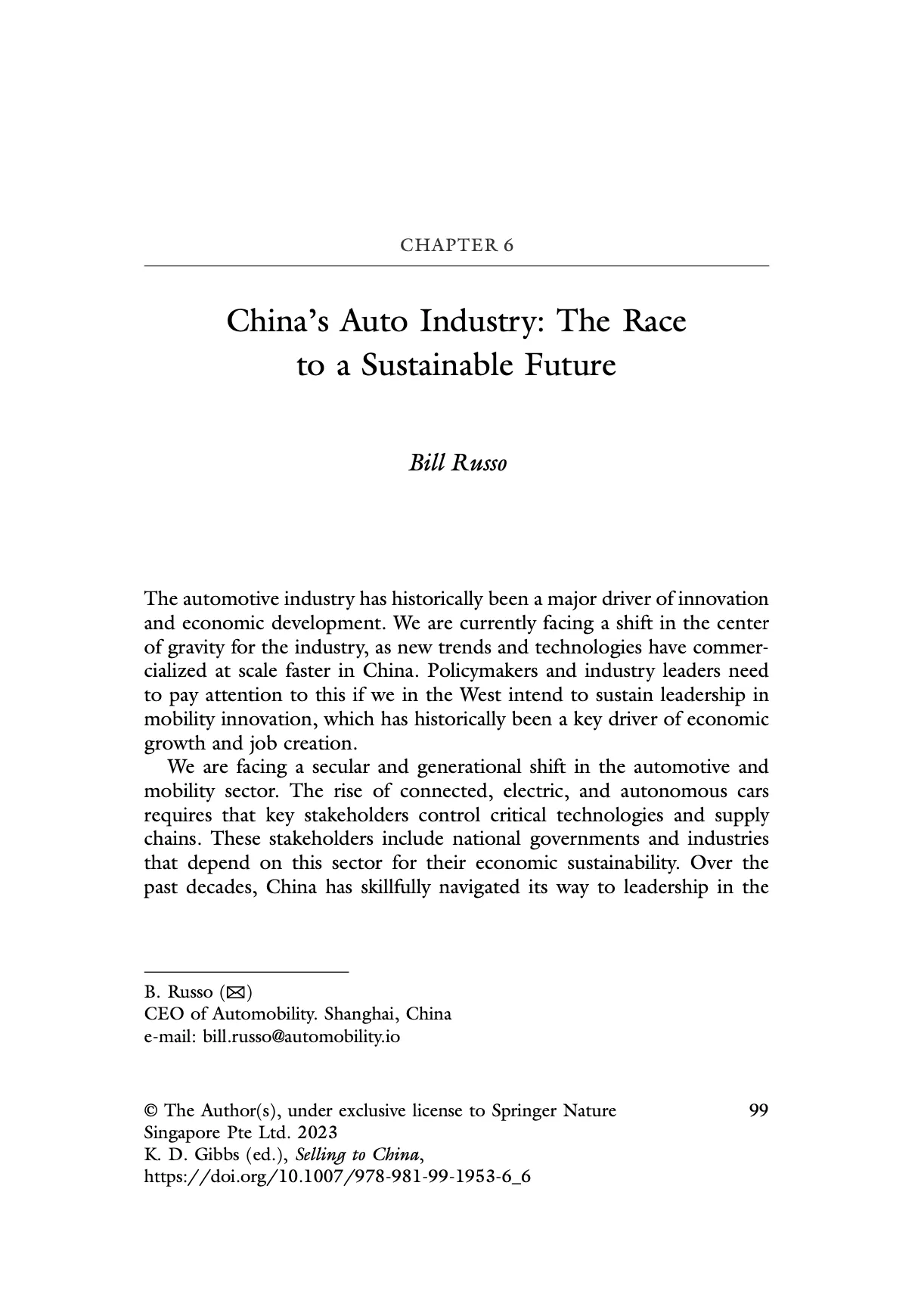 You can order the full book using the following QR codes: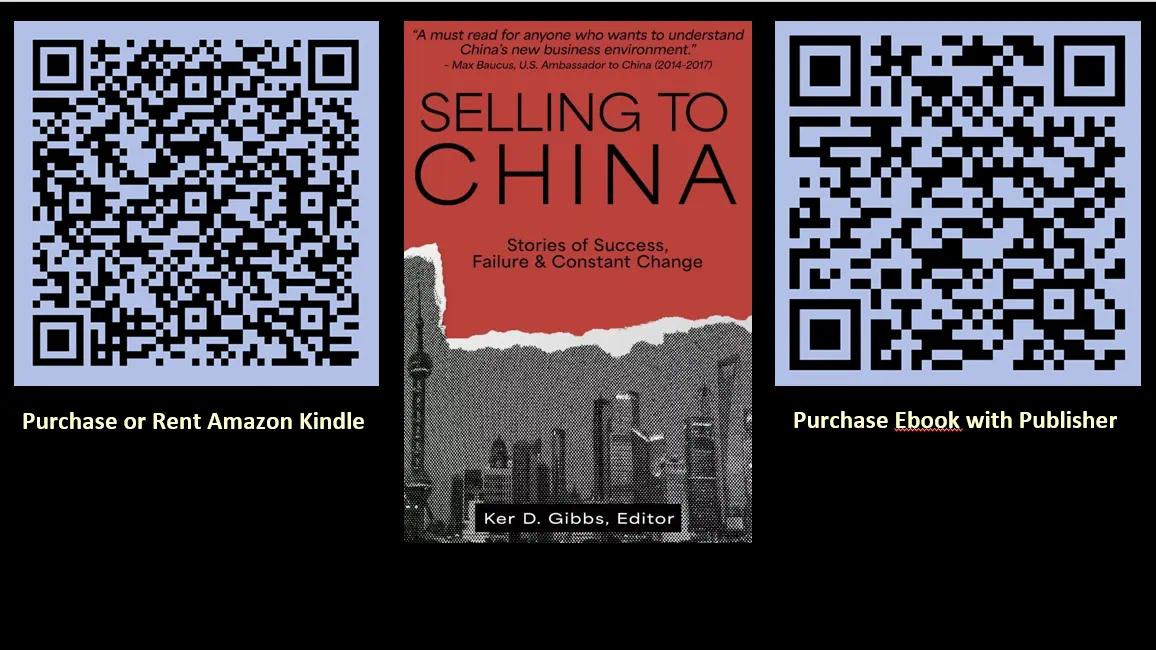 Praise for Selling to China:
"Selling to China is good – really good. The down to earth advice from American business people in today's uncertain political environment is excellent! It's factual, honest, and nuanced. A must read for anyone who wants to understand China's new business environment."
– Max Baucus, U.S. Ambassador to China (2014-2017), and  U.S. Senator (1978-2014)
"Selling to China is about U.S.-China relations but it's important for European businesses too. This is a practical handbook written by active business people with on-the-ground management experience."
– Jörg Wuttke, President, European Union Chamber of Commerce in China
"These business executives share their experiences in an attempt to inform the public and the policy-making community about a complicated but ultimately mutually beneficial relationship. There is no more important read than this book at this time."
– Professor Scott Rozelle, Stanford University
"This book provides insightful and nuanced observations of China and U.S. – China economic ties. For U.S. – China policy to be effective and constructive, it is extremely important for policymakers in Washington to listen to the voices of practitioners who are managing businesses and working on the ground in China."
– Professor Wu Xinbo, Director of the Center for American Studies and Dean of the Institute of International Studies, Fudan University
"As a market, China promises great rewards but succeeding there is not easy. Selling to China will give you valuable insights, learned over many years, to help you navigate China's complex business ecosystem."
– Mark Read, CEO, WPP
"The mantra for succeeding in the Chinese market is 'think big and go fast.' Selling To China provides a comprehensive and balanced guide on how American businesses can navigate this complex environment. As the CEO of an open EV ecosystem that promotes collaboration, I have witnessed the rapid progress of China's automotive industry and its shift toward sustainable mobility. This book offers valuable insights into the Chinese market, including policy shifts, industry trends, and technology innovations that are shaping the future of mobility not just in China but around the world."
– Jack Cheng, Co-Founder of NIO and CEO of MIH Consortium
"Selling to China is a timely compendium, authored by some of the top international business leaders active in China today.  Each chapter is informative, balanced and insightful.  Each contributor shares a compelling backstory and offers unique, practical insights.  Anyone actively doing business in China would do well to absorb the lessons of Selling to China."
– Ambassador Craig Allen, President of the US-China Business Council
"China will be a central factor in global affairs, and this book contributes to, as Gibbs writes, 'finding a path forward that both the U.S. and China can comfortably live with.'"
– Bob Ching, Founding Partner (retired) of The Boston Consulting Group in China.
"Deciding on the right strategy for China has never been more challenging. This book includes deep insight from experienced China executives with different perspectives. A must read for senior leaders with business in China."
– Advisory Partner, Bain & Company Southeast Asia
Selling To China is a thoughtful, balanced guide to the opportunities and challenges of doing business in America's third-largest export market.  More importantly, it makes a nuanced case for the value of continued engagement between the world's two largest economies.  A great read for anyone concerned about the trajectory of US-China relations.
– Andy Rothman, Investment Strategist, Matthews Asia
"Business between the United States and China is one of the best ways to ensure our two countries continue building bridges.  By continuing a dialogue with both sides, we better understand each other as people. Ker Gibbs' compilation of viewpoints is a good read for those of us who have been engaged, should be engaged, and for all of us who benefit from ongoing global understanding."
– Dennis Wu, Founding Partner (retired) of Deloitte U.S.-China Services Group; Past Chair of The Commonwealth Club; Member of the Committee of 100
"The economies of the U.S. and China are intertwined in complex ways, due in great part to American business investment in China over the past quarter century. This book is a must read for executives and policymakers assessing how to manage the risks of doing business with today's China."
– Alan Beebe, Former President of AmCham China
AmCham leaders play an important engagement role. As president of AmCham Shanghai during a challenging period in U.S. – China relations, Ker Gibbs exemplified the role the business community plays in US foreign relations.
– Steve Okun, Chairman, AmChams of Asia Pacific