09 Jan

An Interview with Skyroads' Corvin Huber [PODCAST]
Background on this Doon Insights Podcast
Automobility's EXCELerate portfolio company Skyroads AG recently spoke at the Auto |Mobility Tech 8 Workshop at Bonny Doon on October 26, 2022.
Howard Chao and Gur Kimchi interviewed Corvin Huber of Skyroads prior to this event.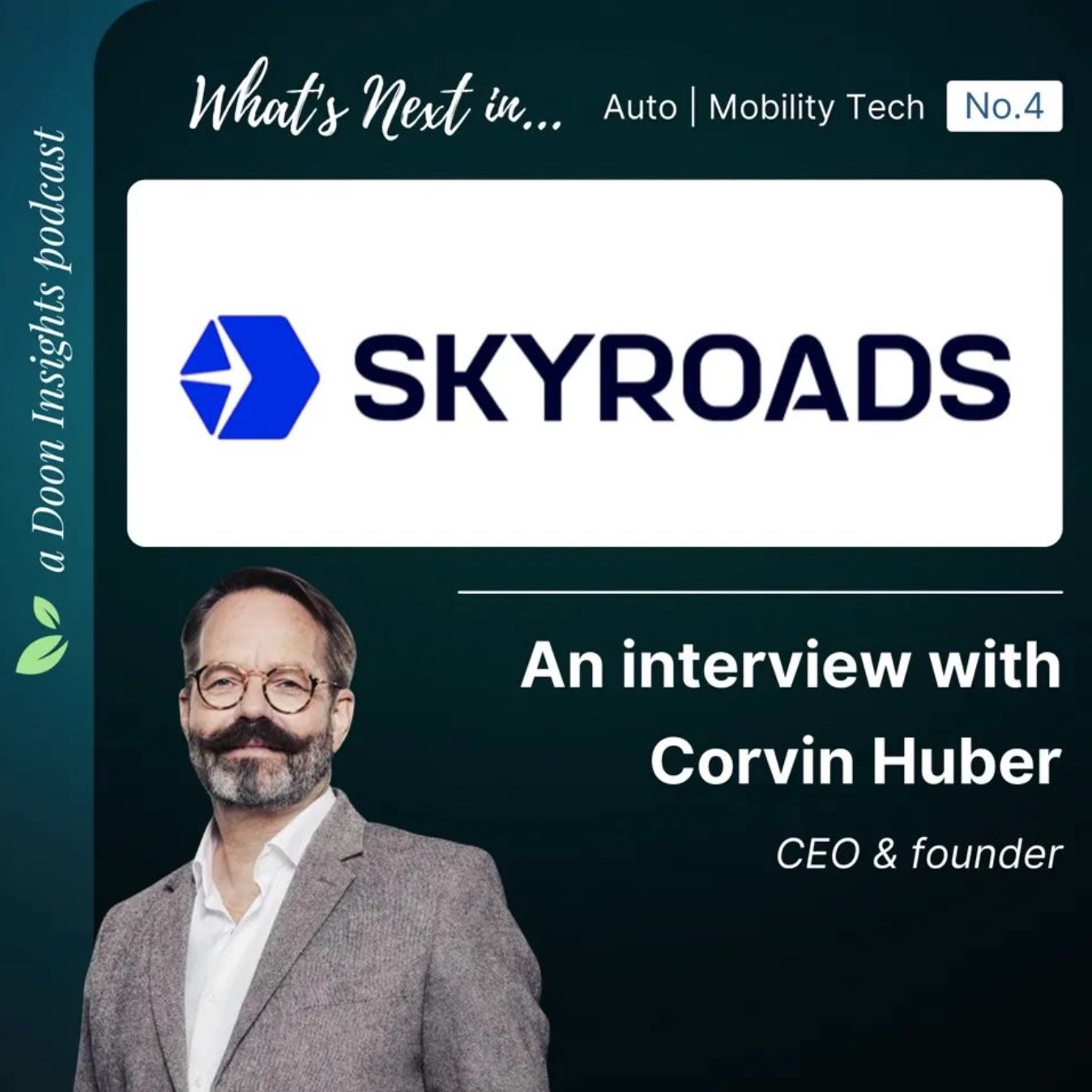 About Skyroads
Skyroads AG, based in Munich, Germany, was founded in 2019 by CEO Corvin Huber and a pioneering team of entrepreneurs, engineers and industry experts who are united by one goal: Make flying accessible for everyone.
Skyroads allows Advanced and Urban Air Mobility to scale by providing automation leading towards autonomous flight. Enabling flight without humans in the control loop creates the unit economics required to make this new transport mode a sustainable success.
Skyroads' Automated Airspace Management and Vehicle Guidance System (AAVS) manages passenger and cargo drones in the demanding environment over densely populated metropolitan areas.
Skyroads is currently establishing a low-threshold flight test area over a populated area in Southern Germany with noted industry partners, leading the quest for efficient and flexible integration of eVTOLs and Drones into existing air and ground traffic. A commercial duplication in the US is currently under negotiation.
Stay connected with Doon Insights: 
Please copy and paste the link to your browser: https://www.dooninsights.com
Please also see our previous posts about Skyroads:
About Automobility
Automobility is a global strategy consulting and investment advisory firm that helps its clients create and profit from new mobility business models. The firm is is led by industry veterans who commit to help their clients throughout the implementation process.
For more information, please copy and paste the link to your browser to visit: www.automobility.io
For Further Queries, Email: [email protected]