15 Jan

2021 China Auto Year-in-Review

Comments from Bill Russo, Founder & CEO of Automobility Ltd.

General Observations

In 2021, China passed the inflection point of a secular and generational shift with a corresponding exponential rise of Smart EV technology.
Automakers are now reallocating capital plans and investing in electric mobility platforms & technology.
The pandemic has bifurcated the Eastern and Western markets, with China pulling ahead in the electrification race.
Investors have assigned huge market valuation to Tesla, and a new class of Smart EV OEMs (NIO, XPENG, Li Auto) are rising rapidly with "digital DNA".
Smart device makers (Xiaomi, Huawei, Apple) are new entrants to the Smart EV game, who see the car as a platform for digital services and high-frequency user engagement.
A new class of Smart EV and Smart Device players are restructuring the traditional automotive value chain as vehicles become smart devices.
2021 China Auto Sales Summary
Overall automotive industry sales through 2021 were up 3.8% in China when compared with 2020, with passenger vehicles up 6.5% and commercial vehicle down 6.6%.
In 2021, 3.52 million New Energy Vehicles were sold, which is 2.6 times as many as in 2020.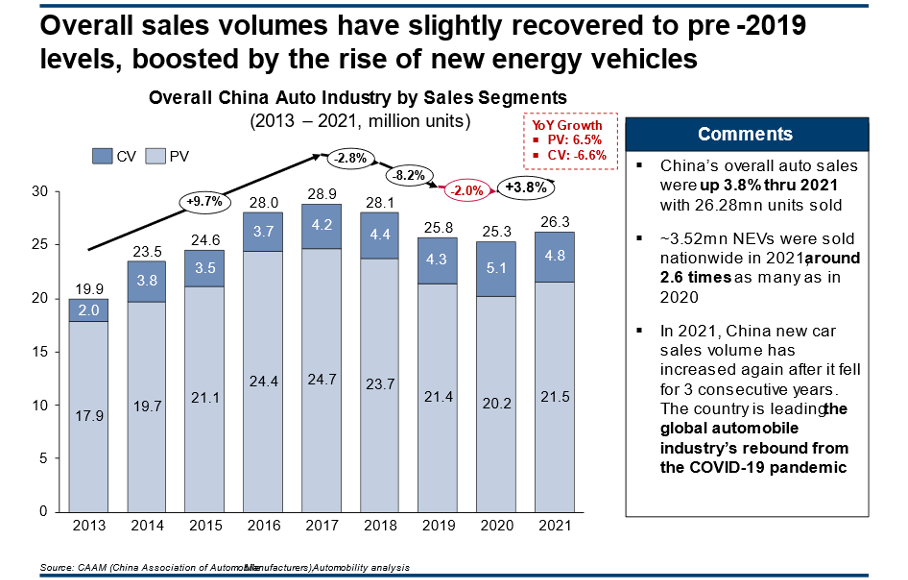 2.79 million vehicles were sold in December 2021, a decrease of 1.6 percent when compared with December 2020.  The industry has experienced a decline in year-over-year sales in each month for eight consecutive months, largely resulting from supply chain issues linked to chip supply constraints, and a softening of demand coming after the post-COVID surge in demand that occurred after April of 2020.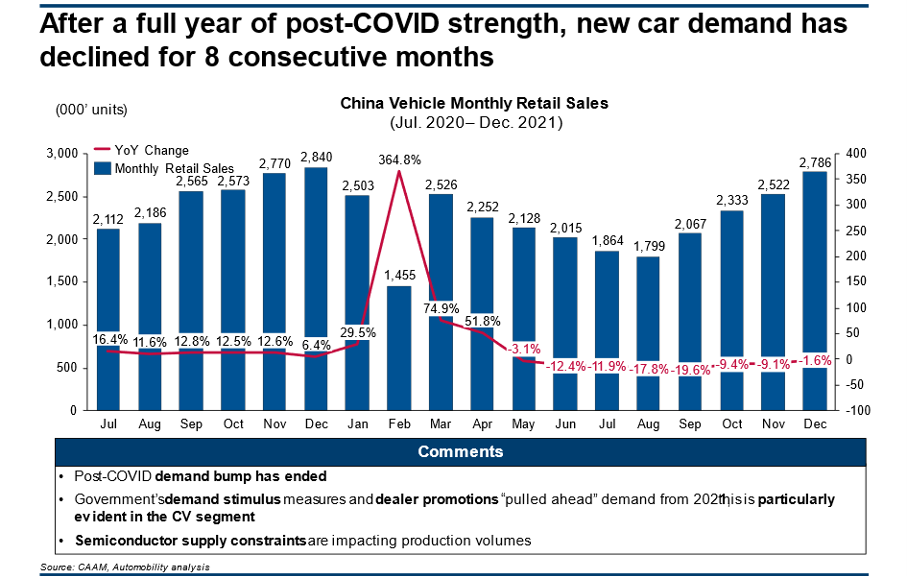 Passenger vehicle sales saw its first month of positive year-over-year increase since April, with a 2% gainversus December 2020, which was largely a result of surging demand for new energy vehicles. Commercial vehicle sales have experienced double-digit negative performance since June.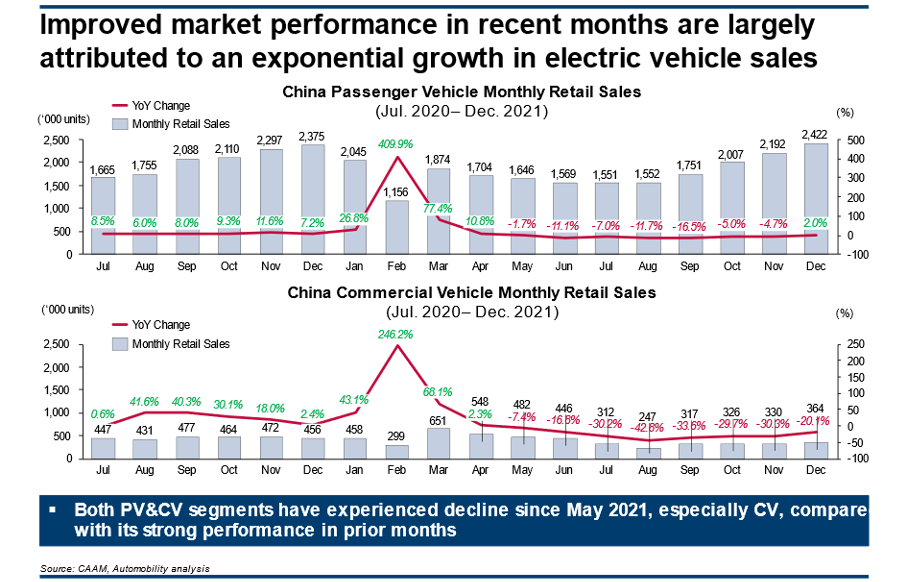 New Energy Vehicles sales continue their exponential rise, recording another record month of 531,000 units sold. This clearly represents a secular shift in market preference, recording an annual share of 13.4%.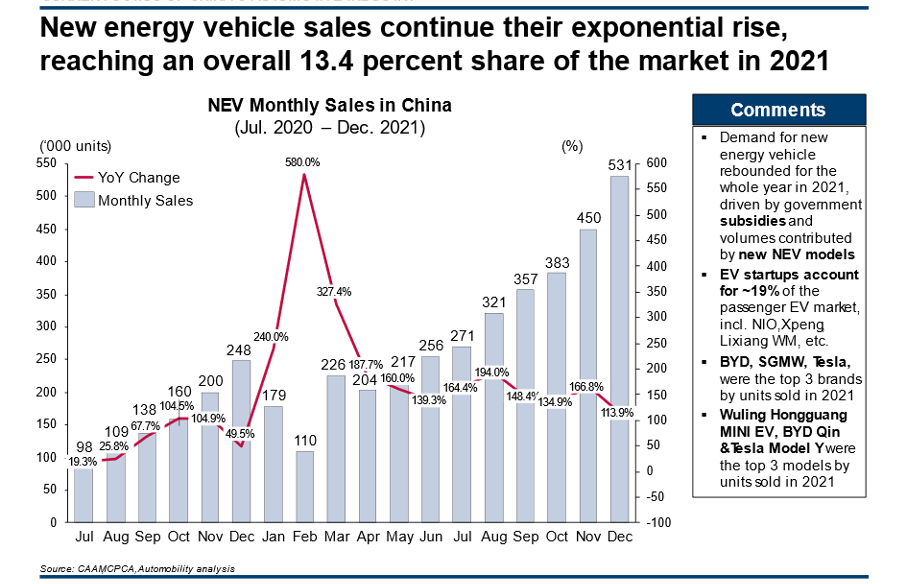 The top 10 list of brands and nameplates continues to indicate that China's local EV makers have seized the early mover advantage in the electrification race.  Tesla is the only multi-national car brand in the list of top 10 electric car brands. Tesla placed 2 nameplates (Model Y and Model 3 at numbers 3 and 4, respectively) on the top 10 list of models.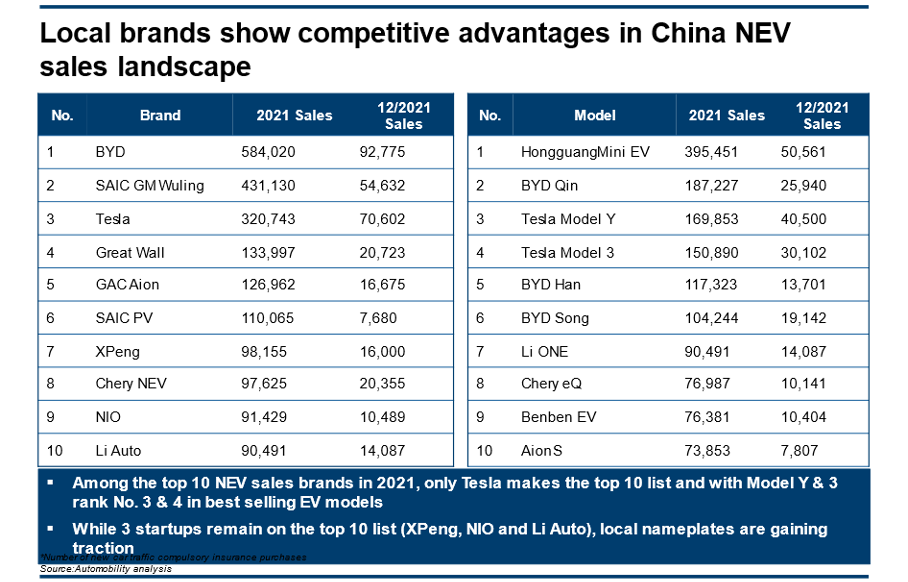 Local Chinese Smart EV brands Lixiang (14,087) and XPENG (16,000) set new monthly salles records, while Tesla put up a record month of sales.
For the full year, XPENG (98,115 units), Lixiang (90,491) and NIO (91,429) as well as Tesla (320,743) all set new annual sales records.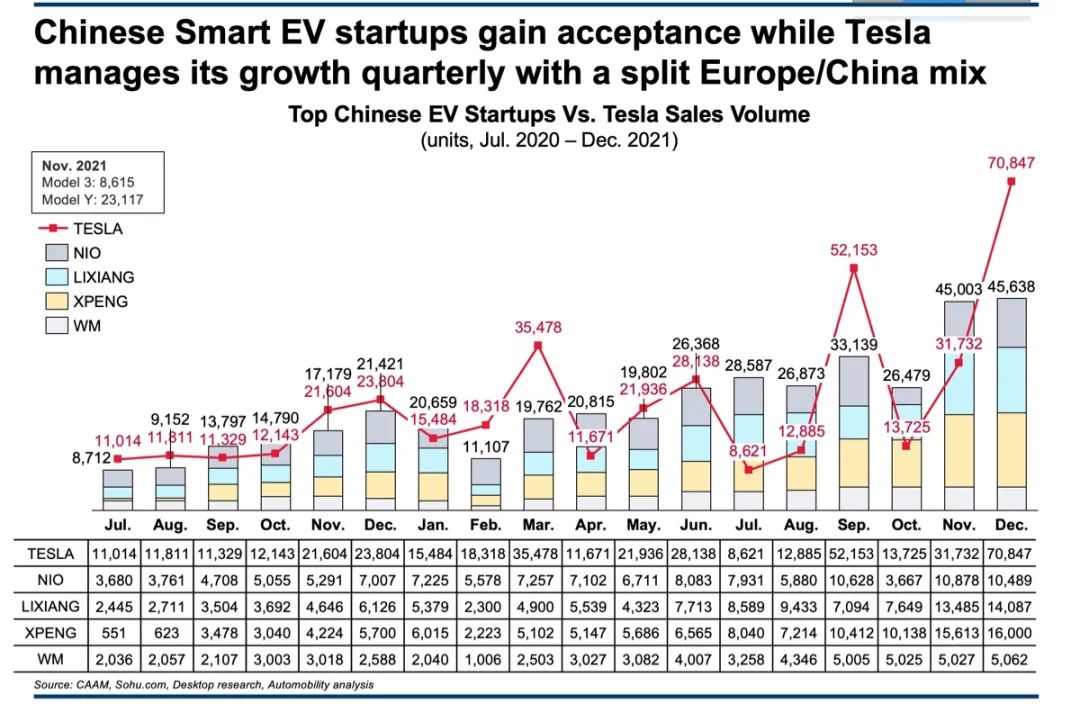 For the full calendar year, Chinese local brands rode their dominance of and exponential rise of the EV market to a 5% gain in share of passenger vehicle sales.

Foreign brands, who have historicallyclearly  dominated the auto sector in China are experiencing a challenge.  When looking at the list of the top multi-national carmakers, it becomes clear that the mass-market brands of Volkswagen, General Motors, Ford, and Hyundai have considerably weakened market performance in 2021.  While chip supply constraints is a common issue faced by all automakers last year, these declines are in no small way related to a secular shift in market preference, which has not been favorable to these companies.
In spite of the challenges, the combined performance of the Japanese 3 (Toyota, Nissan and Honda), as well as the European premium brands (BMW, Daimler, Volvo) have performed well.  These brands have clear and discernible value proposition that remain relevant as the secular and generational shift to EV is happening.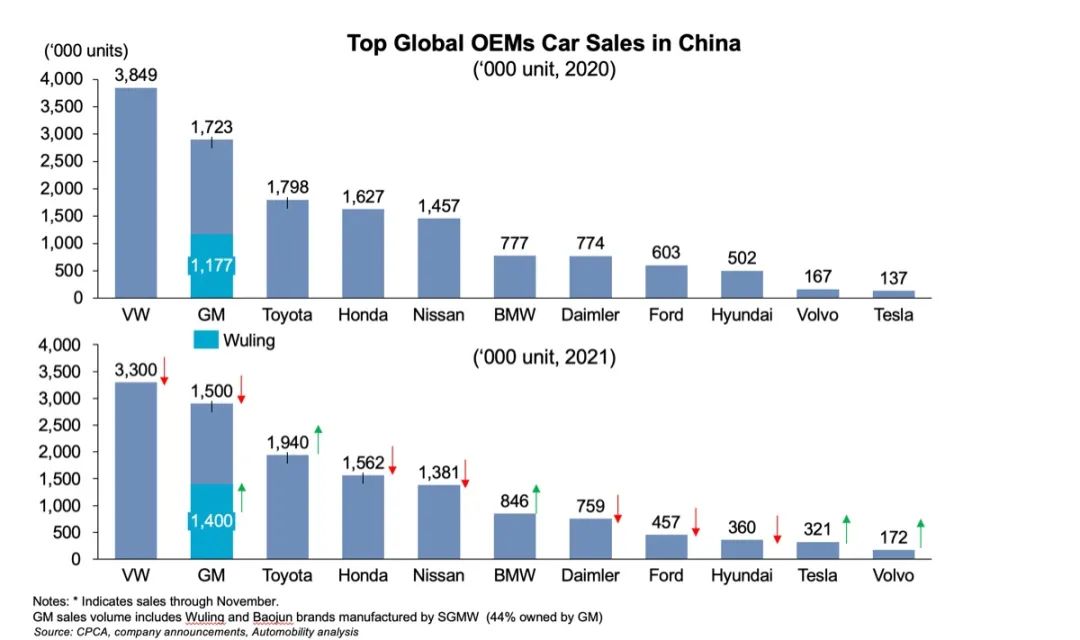 Finally, it is also clear that premium brands from Germany are performing well.  These brands, derive most of their sales from China.  While China is now Tesla's #2 market behind the US, China is the market that produces more than half of the vehicles sold by Tesla in 2021:  out of 936,000 units sold, Tesla built 473,000 cars in China, representing 51% of their volume.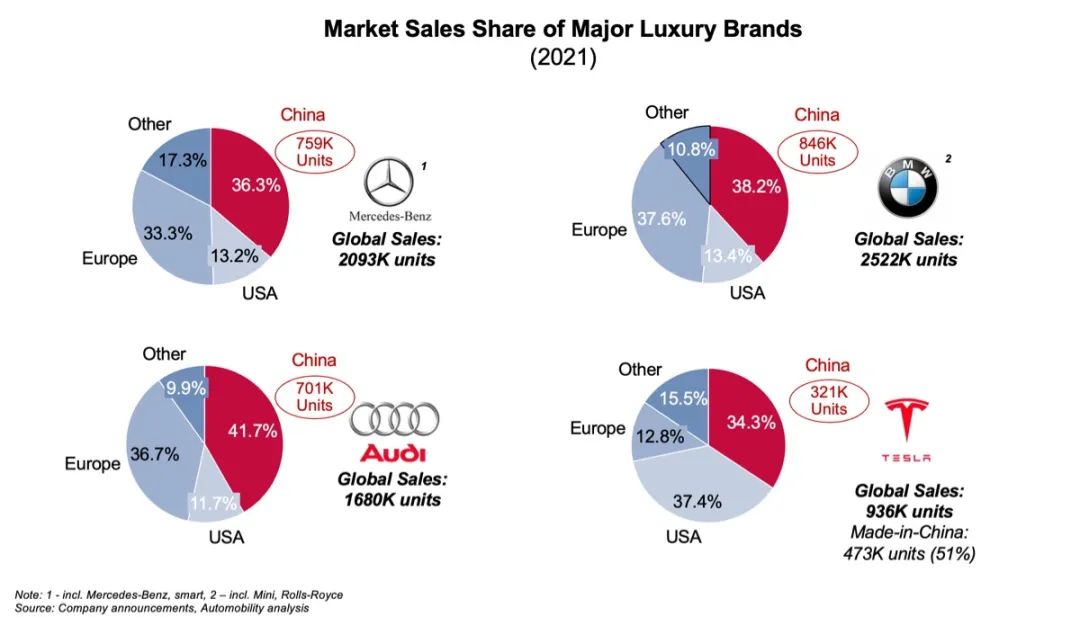 Tesla was the spark that accelerated retail consumer acceptance of EV in China, and Tesla also opened the door for "premium" to associated with "Smart EV" technology in China.
KEY QUESTIONS for 2022 AND BEYOND
Can Chinese electric carmakers position themselves as premium brands for Chinese consumers in the smart EV era?  If so, what does this mean for the global carmakers?
Can Chinese brands hold their gains as multi-national carmakers enter the EV game in China?
Should multi-nationals restructure their businesses in China in the EV era, now that they can own more shares?  Does this even make sense as the market preference shifts to digital and user-centric services?
Can Chinese carmakers translate their EV relevance and value propositions to become globally successful brands in other markets, especially in Europe and the US?