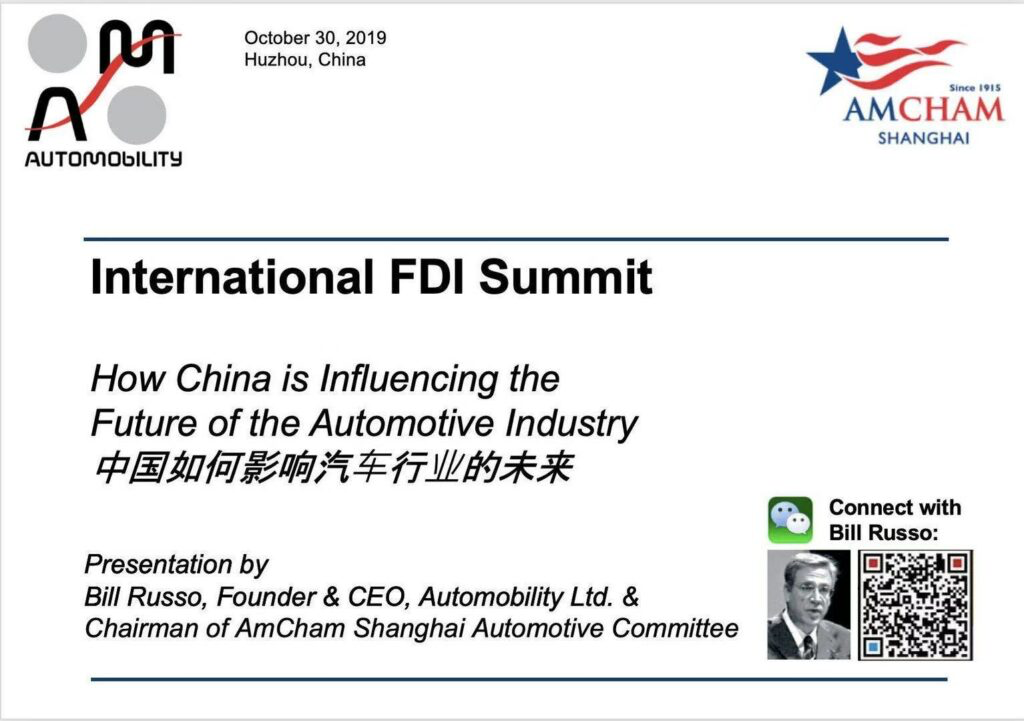 03 Nov

Bill Russo Delivers Keynote at International FDI Summit

Huzhou, China, October 30, 2019
Topic: The Future of Automotive
Introduction to the event
The International FDI Summit (IFS) is a 2.5 day conference tackling the topics and industries affecting corporate direct investment into and out of China. What happens when labor is no longer a cost factor? (Automation & Robotics). How can investment decisions make your company more resilient to external disruptions like trade wars, natural disasters, and changing supply chain landscape? (Sustainable Development) What happens to one of the world's most stable industries when the entire paradigm of consumer-product changes? (Future of Automotive). The IFS brings together industry leaders who are facing these challenges and actively addressing them along with government organizations from all over the world who are actively facilitating investment into their regions.
Introduction to the panel
Core question: How to recapture profitable growth in the auto/mobility industry?
Mobility needs in China are now served with a more diverse stream of solutions made possible with technology and business model innovations. The BAT ecosystems are actively investing and shaping the future of mobility in order to expand the user base of their digital platforms.  For the first time in decades, China's automotive market has taken a dip in 2018. At the same time, mobility services have exploded in China, providing affordable and convenient transportation solutions to address the needs of an increasingly urbanized society. 
Frank Ye, VP of Investment at HASCO
Python Zhou, Director of the Department of Industry Research & Information at NIO
Tong Zhiyuan, VP at Geely Holdings Group
Moderated by:
Mr. Bill Russo, Founder & CEO, Automobility Ltd.