20 Mar

State of China's Auto Market – March 2023
EV Price War Engulfs the Entire Auto Industry
Discounts are not offsetting weakened consumer demand
Comments from Bill Russo, Founder & CEO of Automobility Ltd.
Early Weakness Expected in 2023
Monthly year-over-year comparisons are less relevant for January and February due to the variation in the timing of the Lunar New Year holiday. The holiday period began on January 21 this year, 10 days earlier than last year. Thus there were more days available this year than last for sales, giving an artificial bump to the sales results in February. A more meaningful analysis compares the sales performance of the combined January-February period, shown below for the years 2019-2023: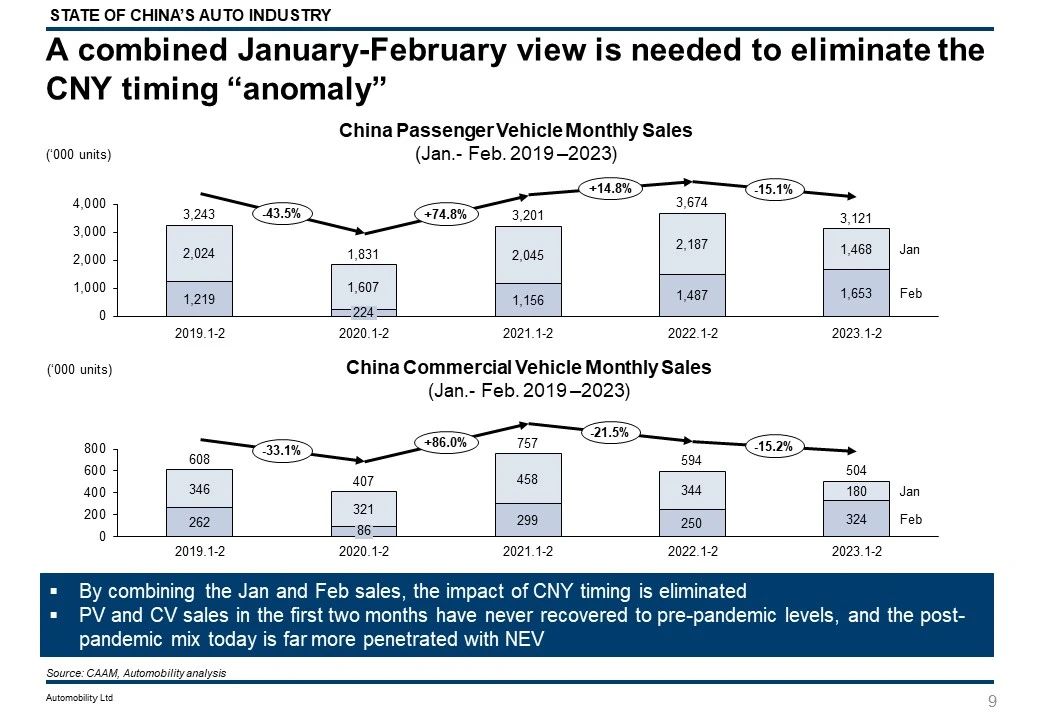 From this analysis, we clearly can see that despite the current price war, new vehicle sales are down ~15% for both passenger and commercial vehicle segments for the January-February interval, and remain far below their previous calendar year highs. As expected, the expiration of tax incentives have caused a pull-ahead of demand into 2022, and the consequence of this is that the manufacturers are engaging in a price war in order to sell down their growing finished vehicles inventory and jump start the market. While down-pricing has a negative impact on unit margins, sales performance would have fallen off a cliff without these discounts.Price War Engulfs the Entire Auto IndustryThe deterioration in performance is far worse for the traditional automakers selling Internal Combustion Engine (ICE) powered vehicles:  New Energy Vehicle (NEV) sales were up 19.3% while ICE sales were down 21.2% compared with the first two months of 2022.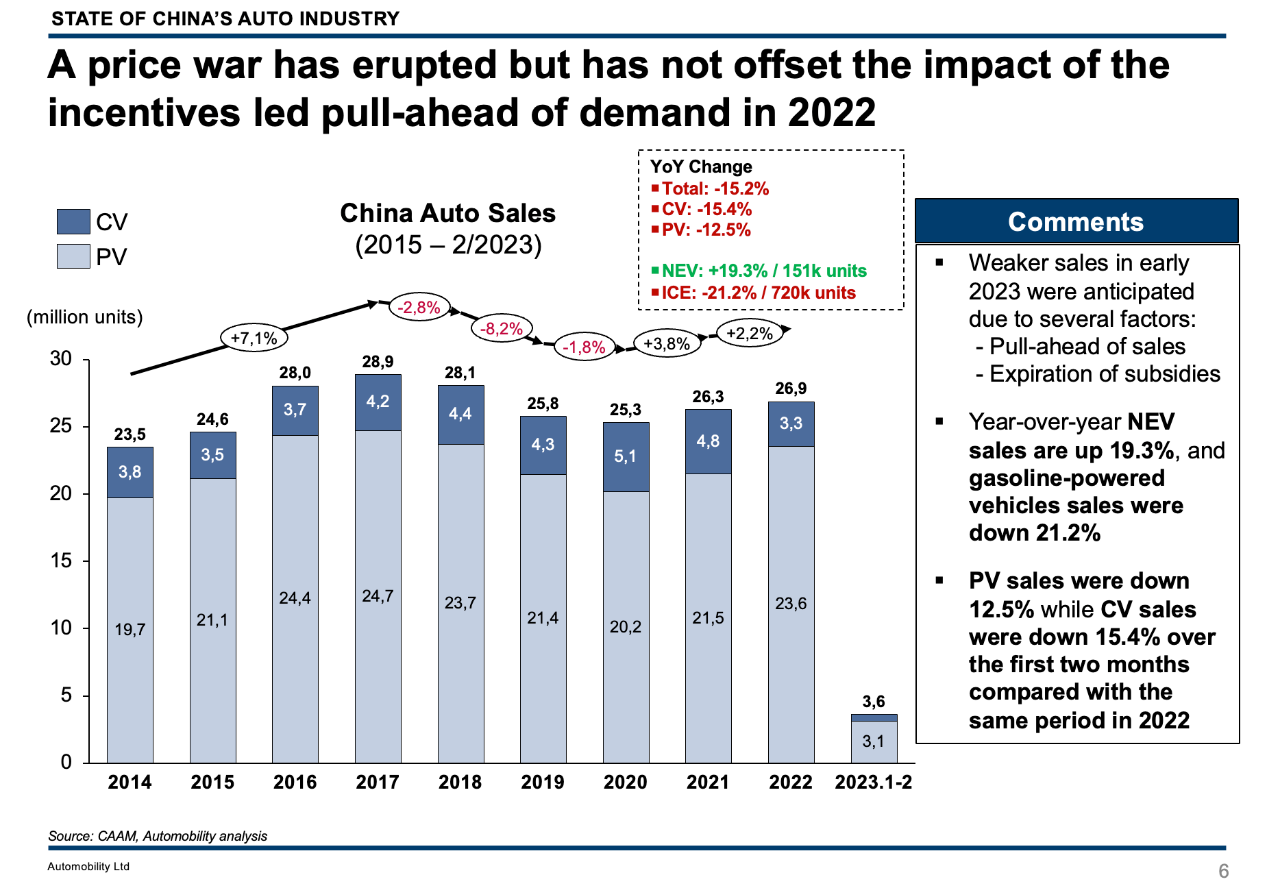 As a result, NEV share of sales for the first two months of 2023 reached 25.7%, a 7.4% increase from 2022. Again, this was propped up with a price war.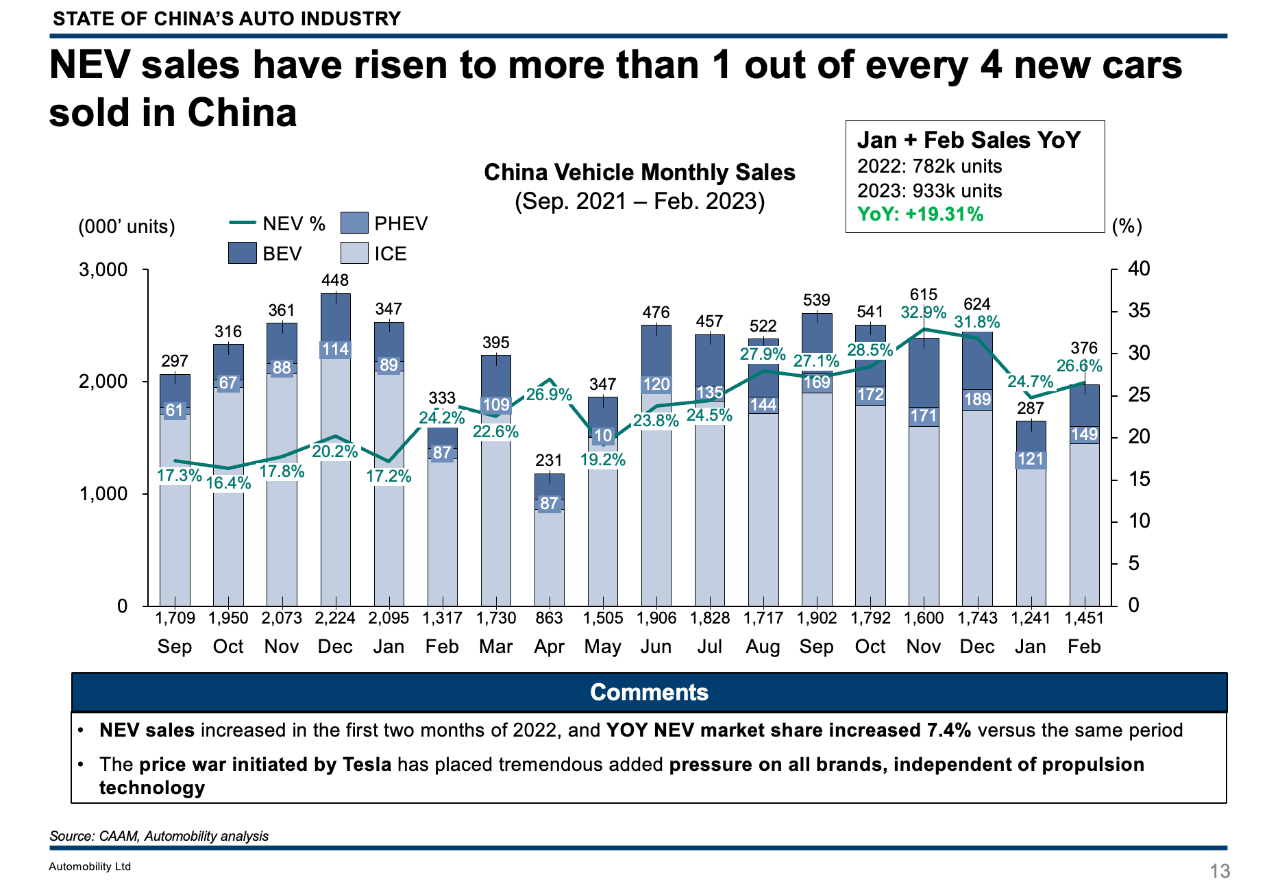 Tesla was the brand that sparked the price war in early January, with average selling price discounts ranging from 20-48k RMB. Since that time an increasing number of both NEV and ICE brands have been engulfed by the price war in China.
The chart below illustrates the spike in inventory in early 2023, which is a motivating factor in the decision to engage in the price war to squeeze out excess inventory.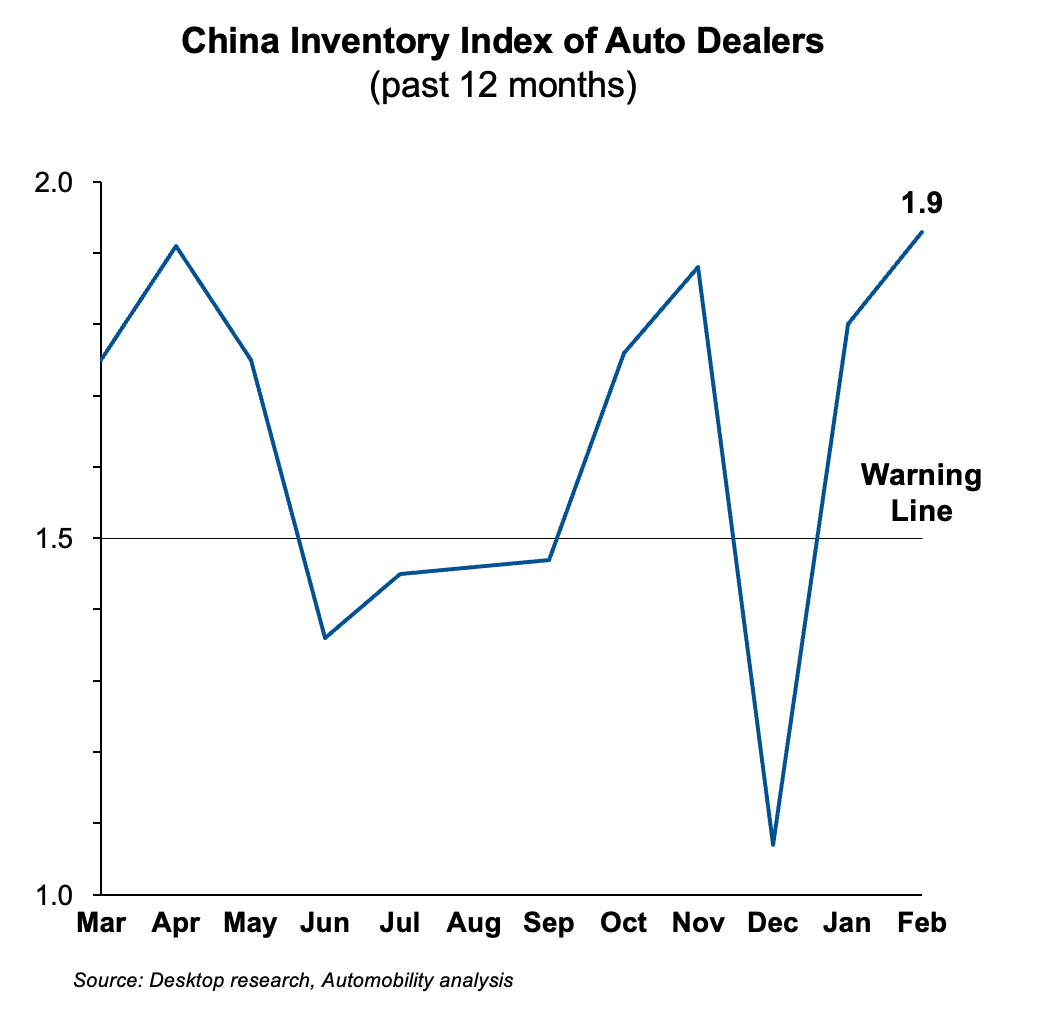 Note: The inventory index refers to the number of vehicles in inventory at the end of the month divided by the monthly sales number.
A Bounce in Commercial Vehicle and Used Car Sales
When total vehicle sales are viewed by segment, we can see that commercial vehicle sales in February had their best absolute sales performance since March 2022, perhaps an early sign of recovery in this segment.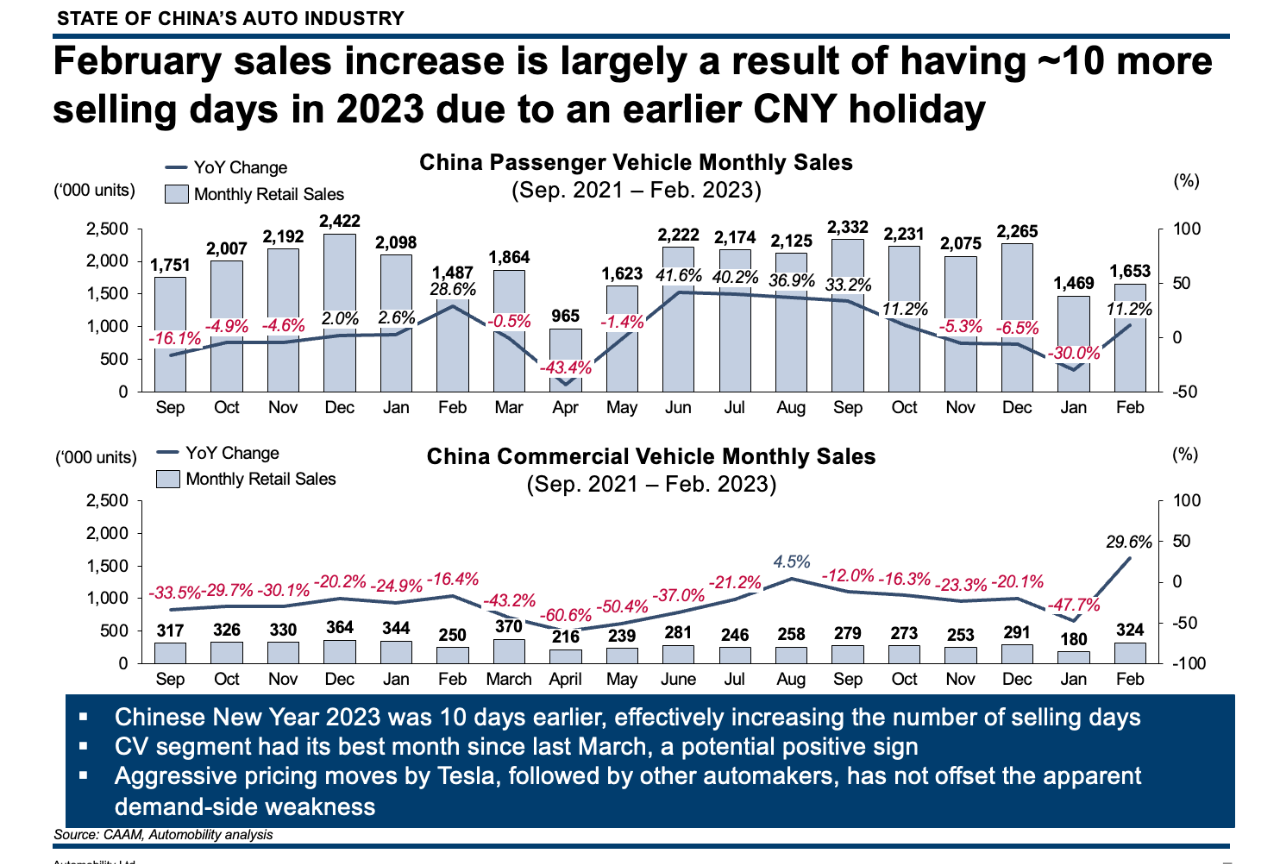 Sales of used vehicles also bounced up 35.5% in February which is primarily a result of the increase in selling days. This is also an indication that consumers are shopping for affordable transportation in a period of economic weakness.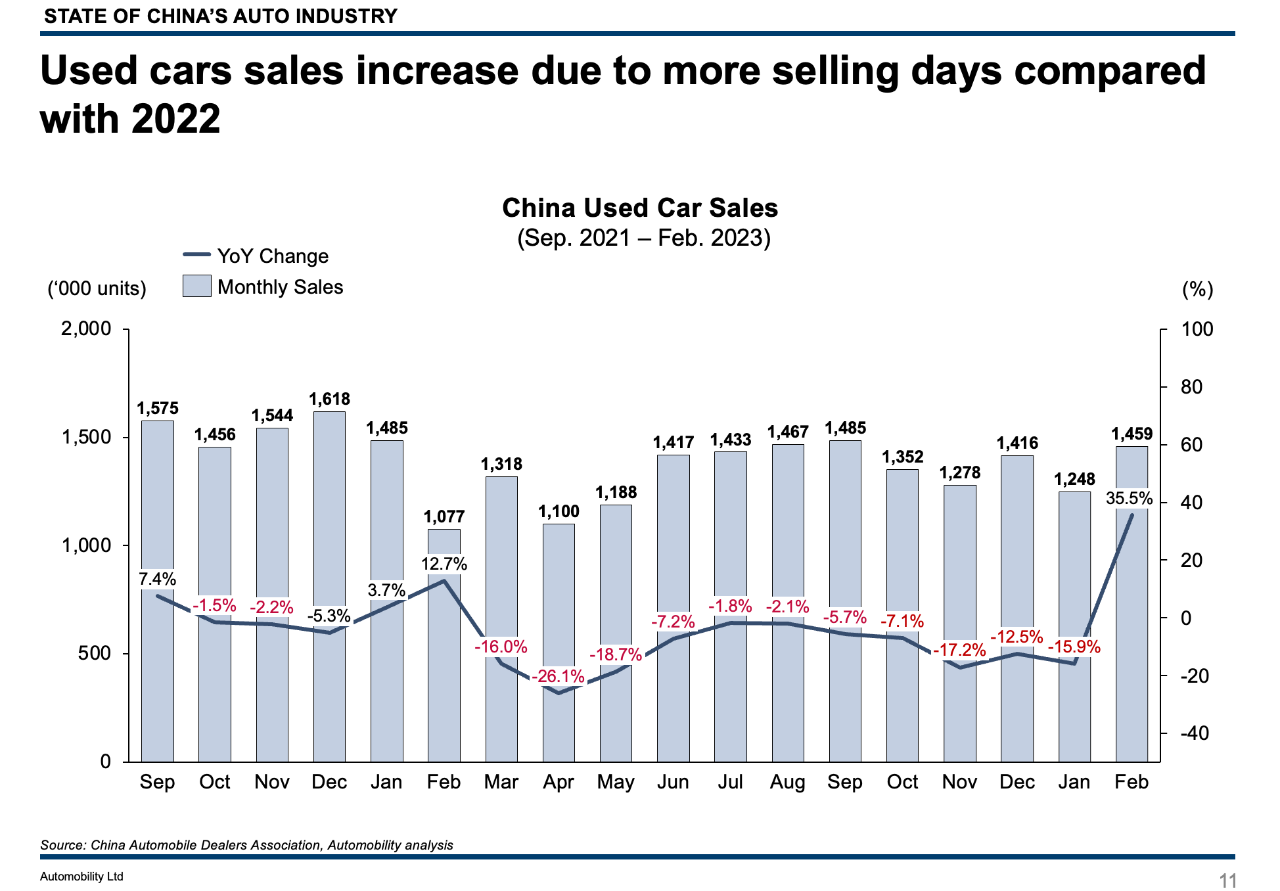 Multi-National Brands are Bleeding
There is no other way to describe what is happening other than a catastrophic decline in performance of multi-national ICE brands in China. As noted earlier, the overall market for January-February is down 15.2%. However, in this period, local Chinese brand sales are down just 0.7%.
With the exception of Tesla, sales of foreign branded cars have declined precipitously and now represent 48% share of the market. Foreign brands are clearly bleeding market share and we therefore expect 2023 to be the first full calendar year in which local brands outperform global brands in terms of PV sales volume.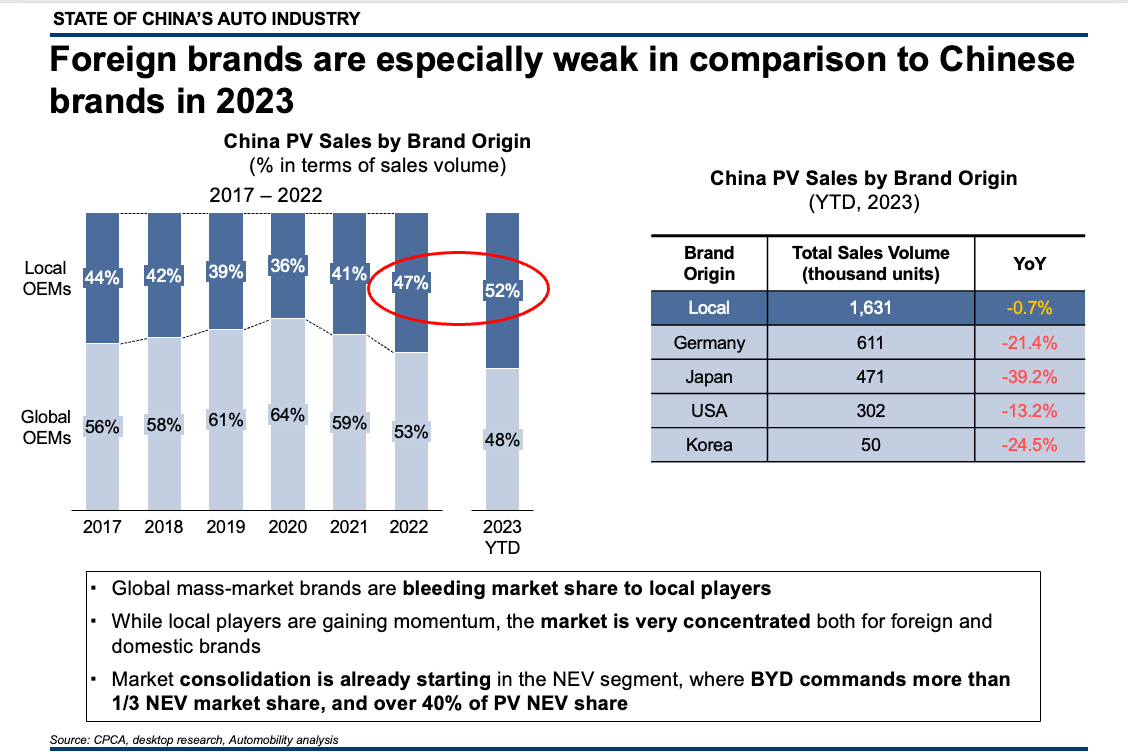 NEV Leaderboard
Even with aggressive pricing actions initiated by Tesla, BYD continues to dominate the NEV sales leaderboard. Remarkably, BYD's share has risen during this period to over 40%, while selling more than 5 times the number of units over Tesla in China so far in 2023.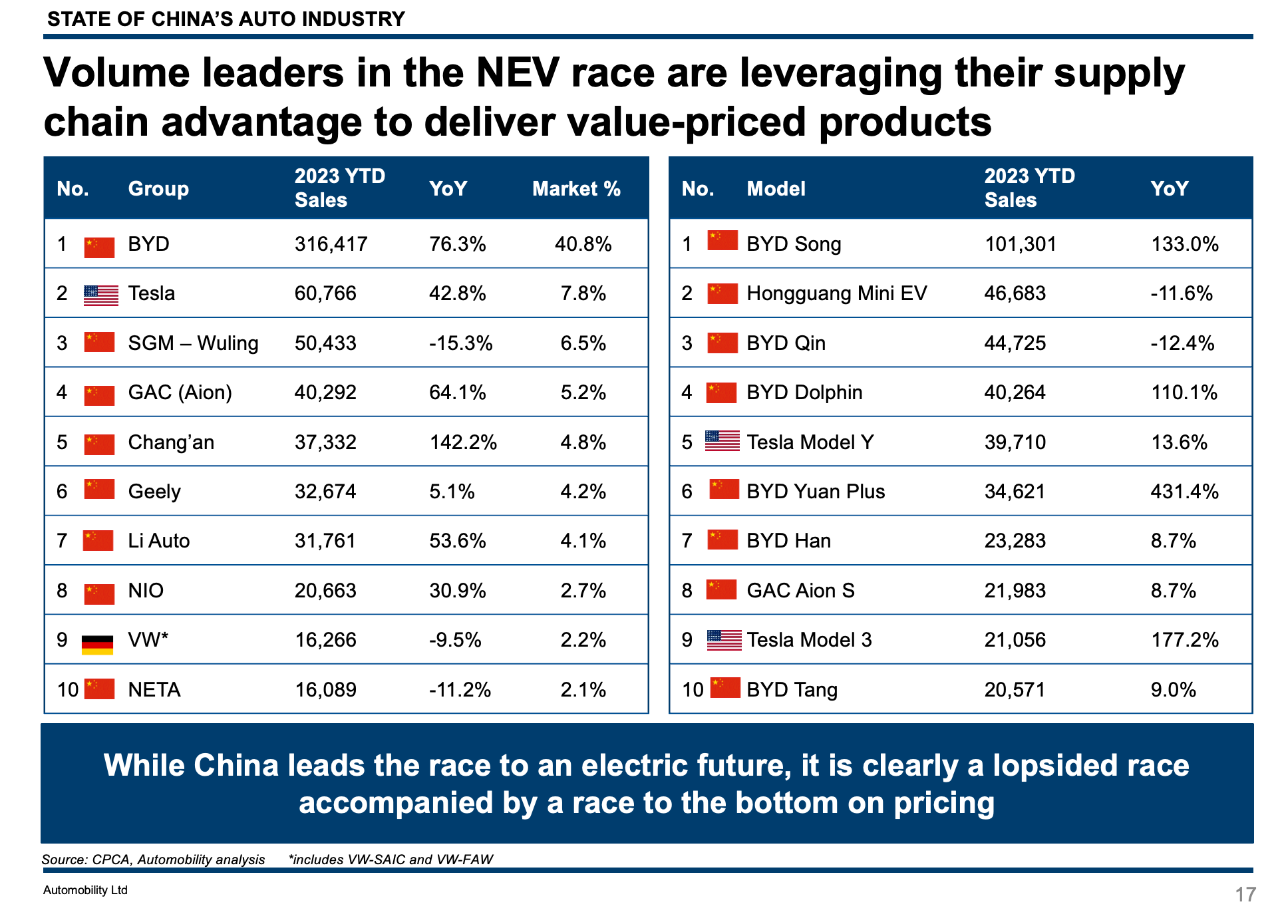 Other Chinese brands including Chang'an (142.2%), GAC (64.1%), Li Auto (53.6%), and NIO (30.9%) posted impressive sales gains from last year. This is primarily a result of new product introductions in 2022 and 2023 – and Tesla has not launched a new model in China since the Model Y in 2021.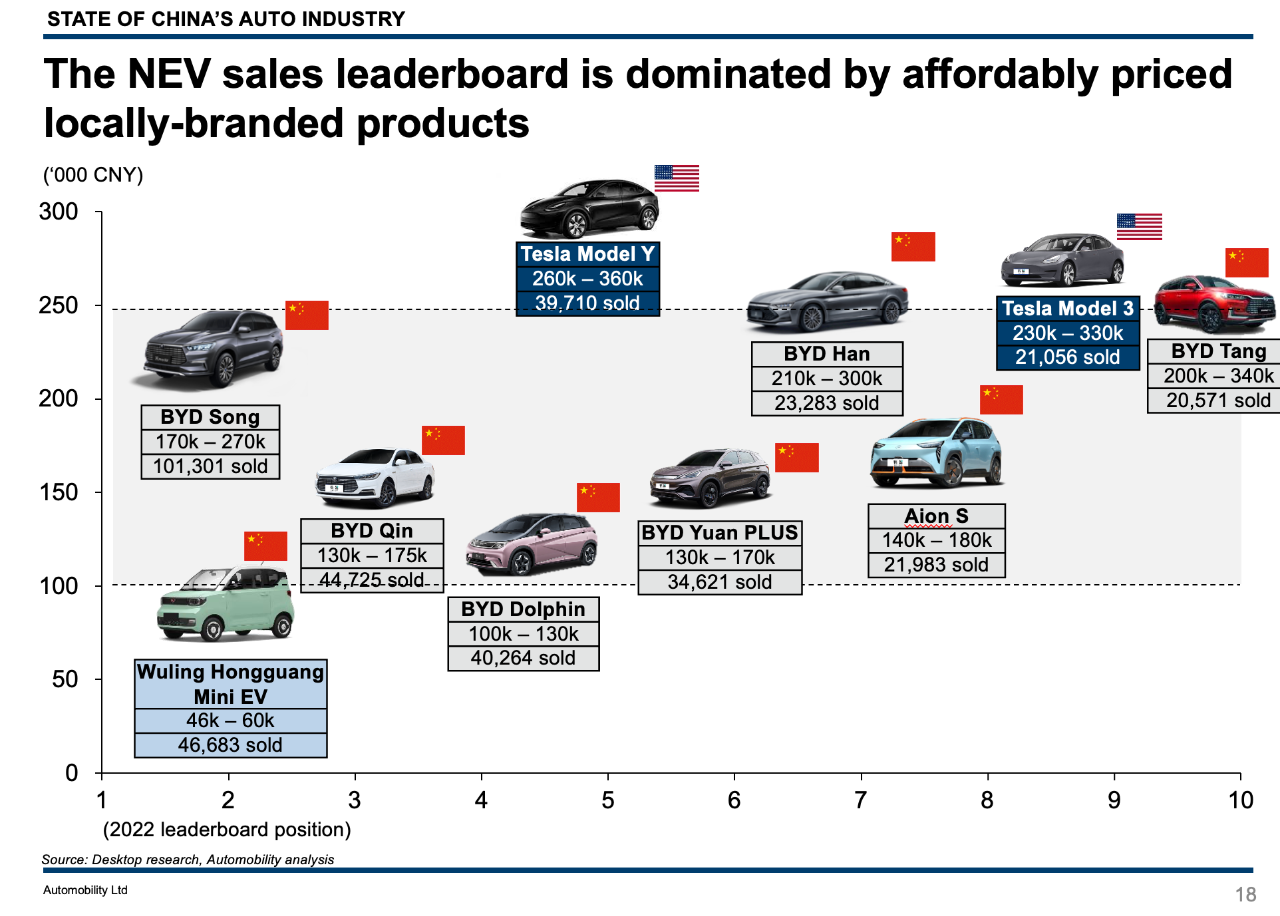 Competing in China's Hyper-competitive NEV Market
Tesla apparently believes that they have a margin/cost advantage over the competition and has taken the "nuclear option" in launching a price war in an attempt to claw back market share in China. This is having a major impact on the competitive mix and margin structure of the entire industry – with potentially catastrophic impact on the ICE market as well.
---
Staying relevant in China's NEV market requires:
–  Efficient supply chain management, especially around batteries and semiconductors
–  A steady new product launch cadence
–  A clearly understood brand value proposition
If any of the above are weak, the company will ultimately resort to price discounts as a way of selling down excess capacity. Unfortunately, all of this signals structural weakness in the market which will challenge ALL NEV and ICE brands to remain profitable in China's hyper-competitive market.
---
China Becomes Second Largest Automotive Export Nation
Vehicle sales in China peaked in 2017 at 28.9 million units. Since then, the market has flattened. China is very clearly no longer a growth market, and the mix of products sold is rapidly shifting away from traditional ICE brands. A growing structural weakness of overcapacity exists where capacities outstrip demand for both traditional ICE brands and the numerous EV brands that have overpromised and underdelivered on sales.
---
How does China's overcapacity condition get corrected?
–  Expect aggressive price discounting in the near-term to stimulate demand and sell-down growing inventories
–  The China government will eventually put some form of incentives back in the market to protect against factory closings and job losses
–  Companies that are underperforming in China will seek to export abroad.
–  Weaker ICE and EV brands will ultimately capitulate and either exit the market or be acquired
---
As a consequence, export volumes from China have tripled in two years, with China surpassing Germany as the second largest automotive export country in the world. EVs represent 21.8% of these exports, and this is expected to rise. In 2023, we expect China to surpass Japan and become the largest automotive export nation in the world.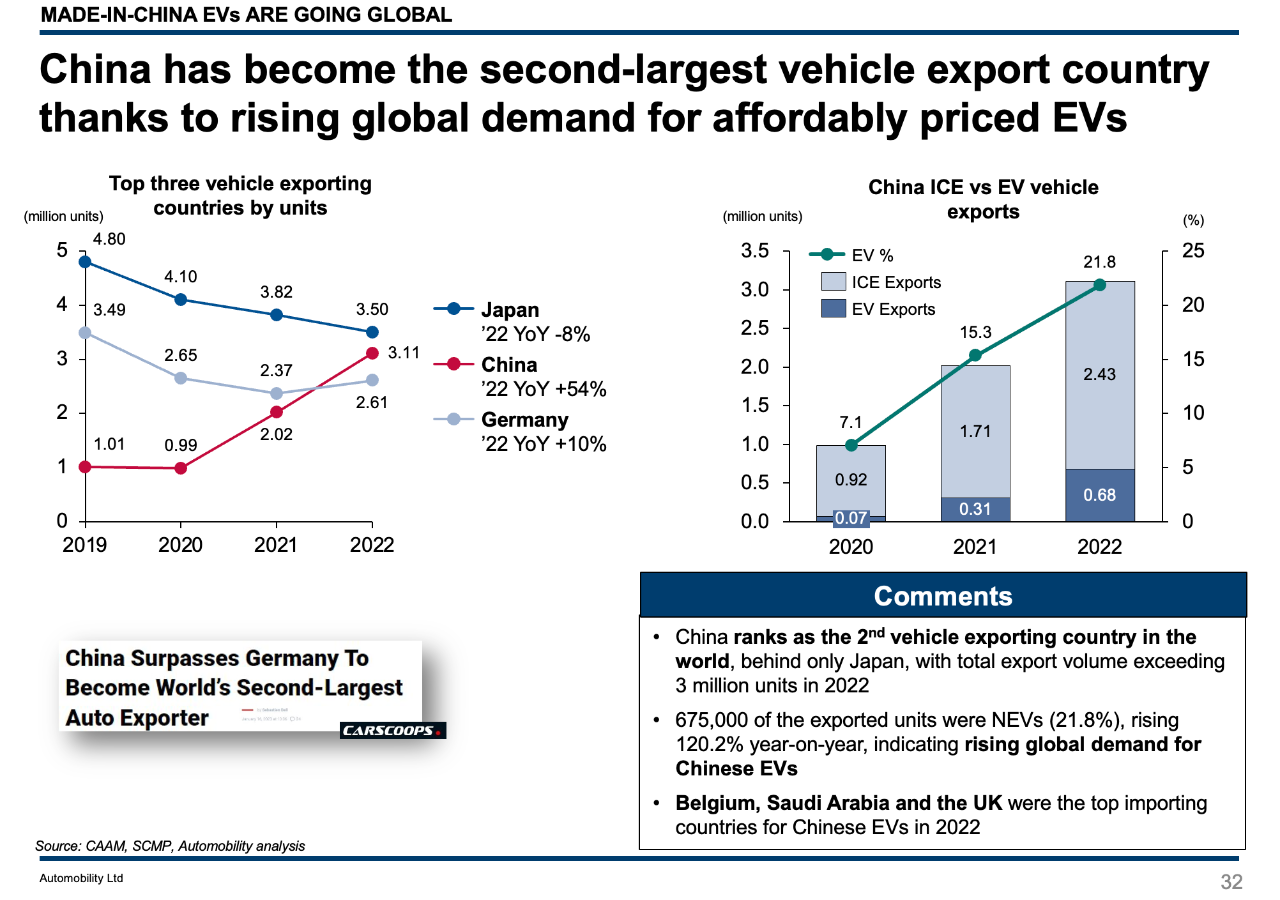 Several questions to consider:
–  Tesla launched a price war to stimulate demand for older models, avoid over-supply, and claw back market share.  Yet, their market share so far in 2023 is below their historic performance from 2020-2022.  What can be done to recover the lost market share?
–  Will the price war accelerate consolidation of weaker EV and ICE brands?
–  Will the price war accelerate the decline of ICE brands, and which ones are most likely to follow Stellantis and Acura to the exits?
–  The NEV market is far more concentrated than ICE. Will this continue to be the case?
In his role as AmCham Shanghai's Automotive Committee chairman, Bill Russo will host the State of China Auto Market webinar on Tuesday, March 21.
If you wish to join the next monthly AmCham Automotive Committee webinar on the State of China's Auto Industry, you can register here:
Webinar | State of China Auto Market Monthly Briefing (Mar)
March 21, 2023 Tuesday
9:00 AM – 9:45 AM (GMT+8)
---
About Bill Russo
Bill Russo

 

is the Founder and CEO of Automobility Limited, and is currently serving as the Chairman of the Automotive Committee at the American Chamber of Commerce in Shanghai. His 40 years of experience includes 15 years as an automotive executive with Chrysler, including 19 years of experience in China and Asia. He has also worked nearly 12 years in the electronics and information technology industries with IBM and Harman. He has worked as an advisor and consultant for numerous multinational and local Chinese firms in the formulation and implementation of their global market and product strategies.
---
About Automobility
Automobility Limited is global Strategy & Investment Advisory firm based in Shanghai that is focused on helping its clients to Build and Profit from the Future of Mobility.  We help our clients address and solve their toughest business and management issues that arise in midst of fast changing, complicated and ambiguous operating environment.  We commit to helping our clients to not only "design" the solutions but also raise or deploy capital and we can assist in implementation, often together with our clients.  We put our clients' interest first and foremost.  We are objective and don't view our client engagements as "projects"; rather as long-term relationships.
Our partners are former senior executives at large corporations and/or senior consultants at leading management consulting firms. We believe clients would benefit the most from a combination of consultants with substantive experience in consulting and in line management.
Therefore, we organize ourselves into a core team augmented by an extensive "extended team members" with a large variety of skills and expertise.
Contact us by email at info@automobility.io