23 Sep

State of China's Auto Market – September 2022
NEV sales through August surpass the full 2021 calendar year
Stimulus measures spark weak recovery in ICE sales, which are down nearly 2 million units so far in 2022
Comments from Bill Russo, Founder & CEO of Automobility Ltd.
It appears to be the right time to revise upward NEV sales targets in 2025 and beyond. Less than 2 years ago, the China government issued the "Energy Saving and New Energy Roadmap 2.0", which set a target for NEV sales to reach 20% by 2025. NEV share of sales in 2022 has reached 22.9% and appear to be on the steep slope of an S-curve.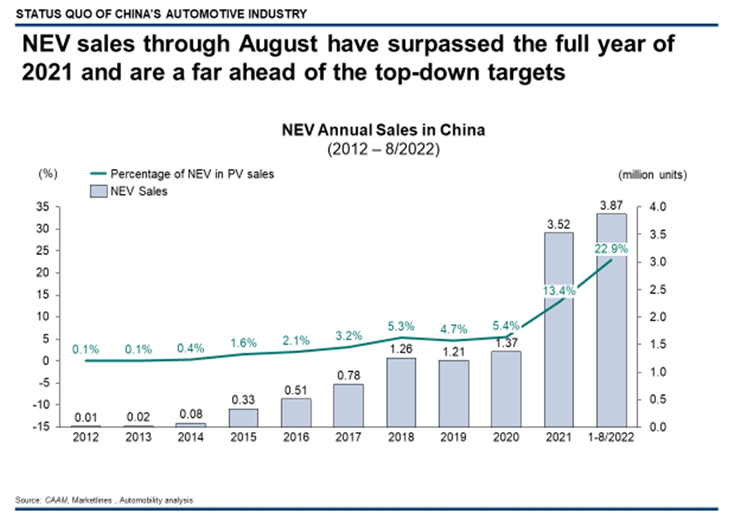 Fueled by record-setting NEV sales and post-lockdown stimulus measures that favor gasoline powered vehicles, the overall auto market recorded a 1.7% year-to-date unit sales increase through August. Electric vehicle sales are the principal growth engine, while CV sales are on pace for their worst year in a decade. Sales of internal combustion engine (ICE) vehicles are in a secular decline, down 12% year-over-year, a drop of 1.9 million units. NEV sales have more than compensated by rising 114%, an increase of 2.1 million units.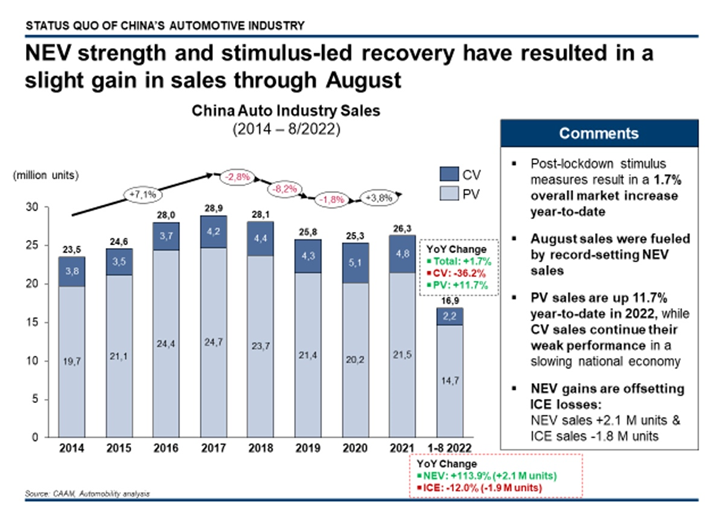 Overall vehicle sales in August declined slightly from July, which is a disappointing performance signaling that post-lockdown stimulus measures have not sparked a sustainable market recovery. The momentum in the market is almost entirely driven by the secular shift in consumer preference for electric vehicles.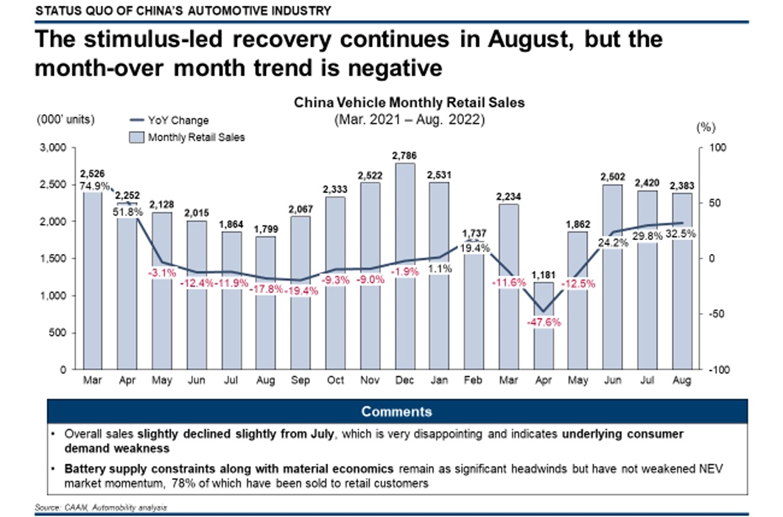 A further indication of demand-side weakness can be seen in the weak used car sales performance in 2022,which is down nearly 8% year-on-year through August. Used cars are not affected by supply chain constraints, which means decreasing sales are primarily a result of weak consumer demand, with owners holding on to their cars longer.  While this may help boost sales of aftermarket parts and services for an aging car fleet, the lack of turnover is not a positive sign for original equipment manufacturers and suppliers.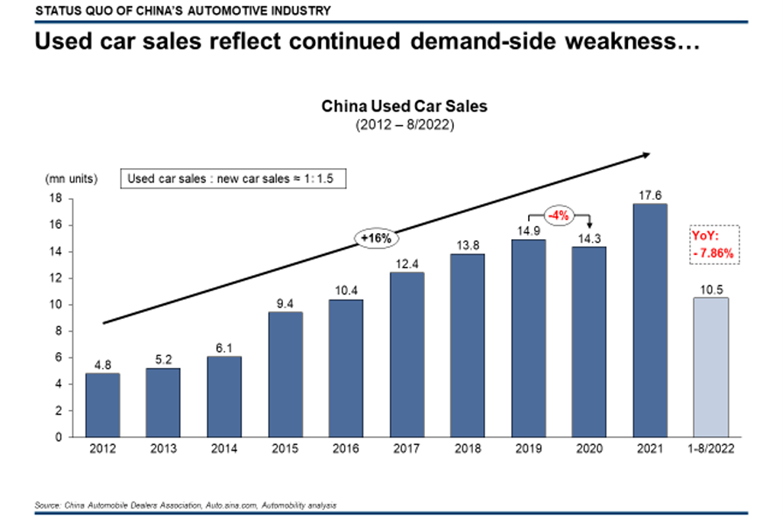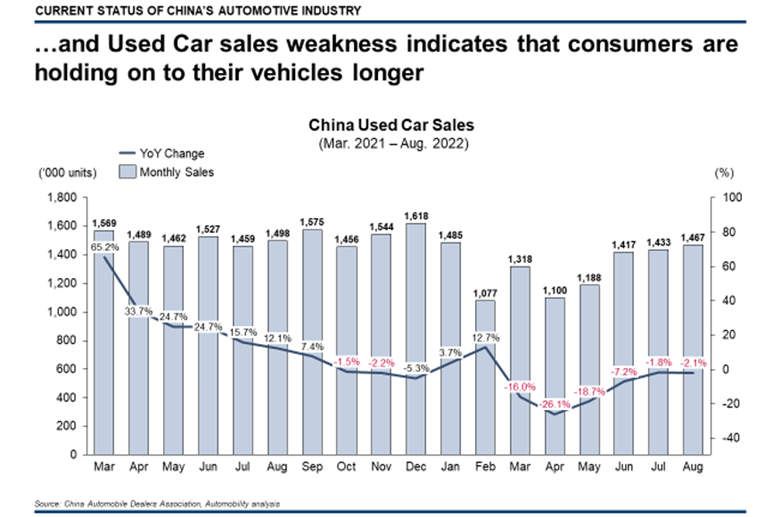 On the bright side, NEV sales have more than doubled from last August, reaching a record monthly sales of 666k units, surpassing the previous record (from June 2022) by 70k units. It is worth noting that 78% of NEVs are sold to retail consumers, further underscoring the secular shift in consumer buying preference.
The secular shift in favor of electric vehicles becomes starkly evident when looking back over the past 20 months, where the compound annual growth rate of NEV sales of ~119% is contrasted with a ~20% compound annual decline in ICE vehicle sales over the same period.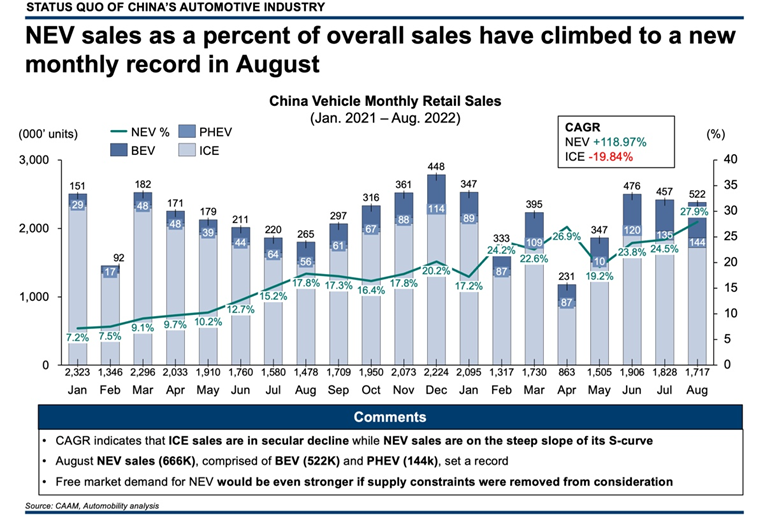 BYD widened its lead in August, selling nearly one-third of all NEVs in China, while making additional moves to leverage their supply-chain dominance with partnerships to supply LFP batteries to global carmakers, including Tesla and Ford. BYD is also expanding into global markets with recently declared partnerships in Australia, expanding production in South East Asia and exports to the EU and North America.
It should also be noted that Geely has risen to number 3 on the group company leader board, with EV sales rising 384% in 2022. Tesla and Volkswagen remain as the only foreign brands on the leader board.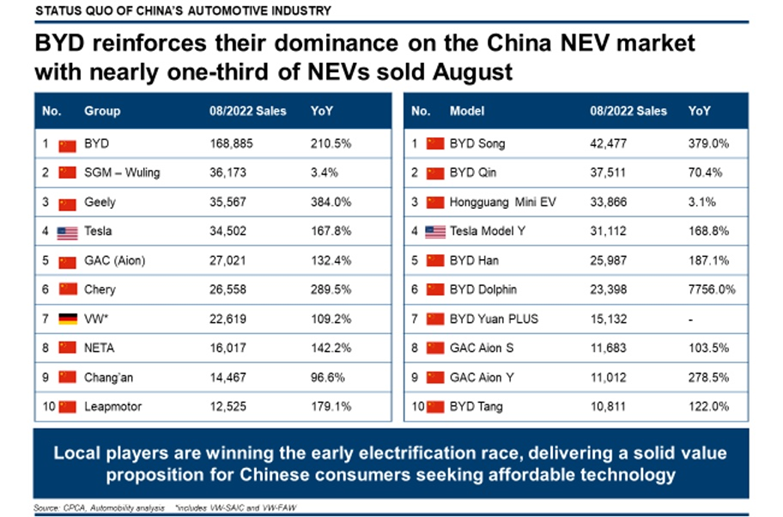 BYD boasts six of the top 10 best selling electric vehicles on the leader board. BYD is leveraging its ability to deliver EV technology at affordable prices to create a compelling value proposition for Chinese consumers. The only foreign nameplate on the leader board in August is the Tesla Model Y, which is also the only vehicle priced over 300,000 RMB on the top 10 list.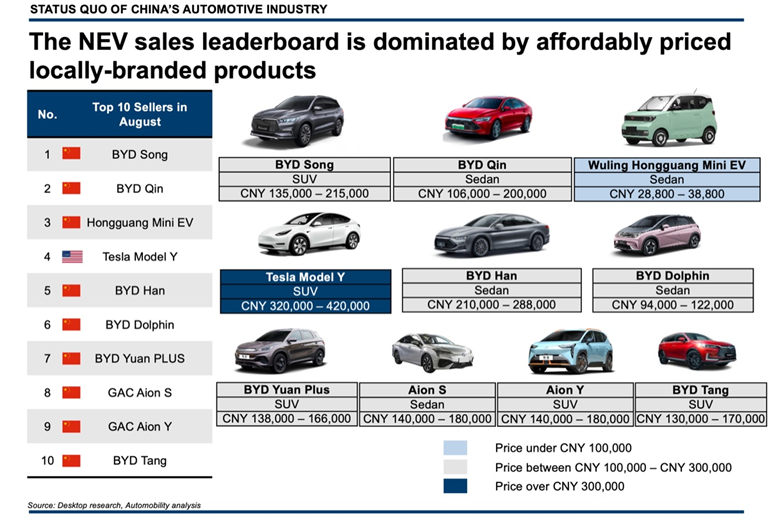 BYD's dominance of the EV segment can be seen by comparing it with the "top 5 EV peer group". For 6 of the 8 months of 2022, BYD has outsold the combined sales of the top 5 EV competitors.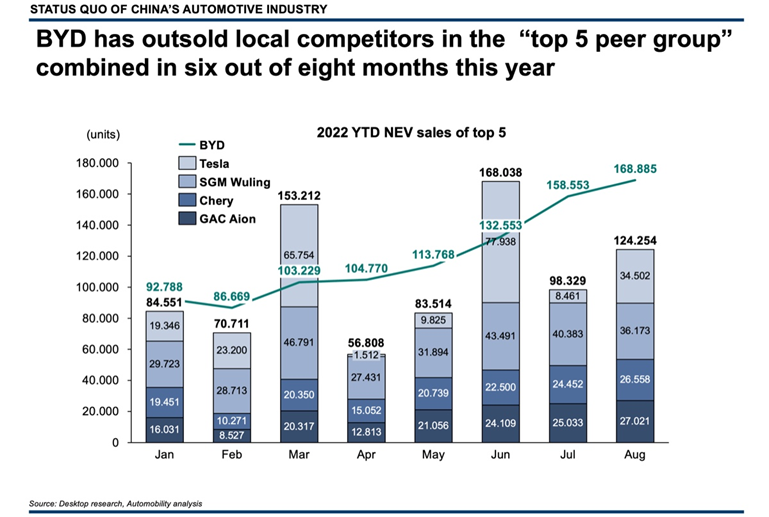 Tesla has overcome recent production bottlenecks caused by supply constraints and COVID-lockdowns, selling 34,502 units in China while exporting 42,463 units to other markets. The company continues its pattern of increasing its China sales volumes in the latter months of each quarter, so we expect a blowout sales month for Tesla in September.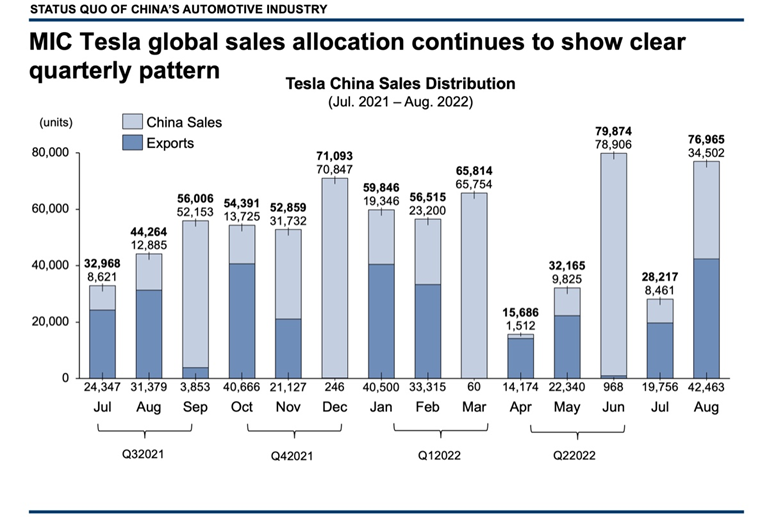 Finally, China's "Smart EV" brands struggled in August. Tesla's China sales were once again higher than the combined sales of NIO, XPENG and Li Auto. Of the 3 Chinese Smart EV brands, only NIO grew its sales in August, while XPENG and LI Auto sales were weaker – with Li Auto apparently fumbling the transition to newly released but not yet launched L8 and L9 models.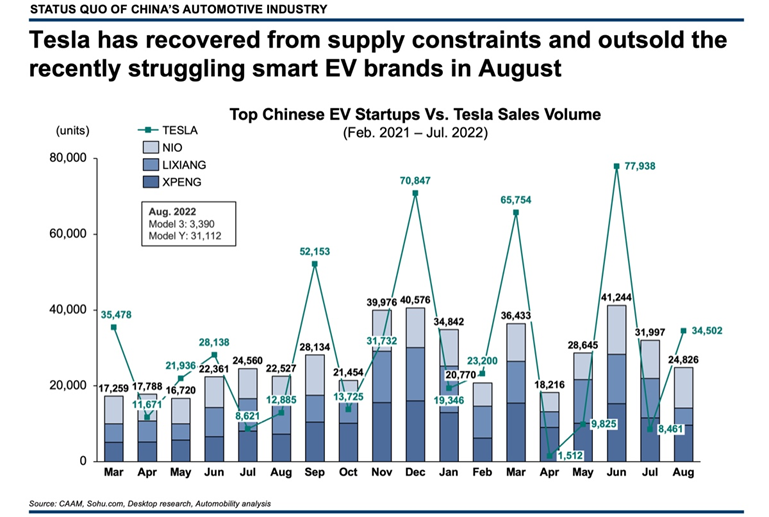 Several questions to consider:
–  How sustainable is the post-lockdown recovery?
–  Will stimulus measures starve the market of consumers in 2023, as has happened with the recent collapse of Commercial Vehicle sales?
–  What can foreign brands do to get in the EV game in China? What will happen if they can't?
–  While EV is expanding, there are way too many sub-scale EV companies – what will become of them?
–  Where will be be in 2025 and 2030?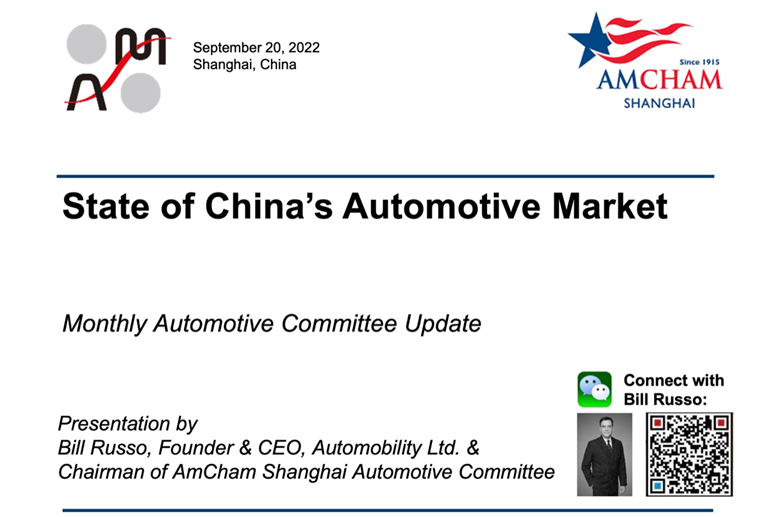 If you wish to join our next monthly AmCham Automotive Committee webinar on the State of China's Auto Industry, you can register here:
Webinar | State of China Auto Market Monthly Briefing (September)
September 20, 2022 Tuesday
9:00 AM – 9:45 AM (GMT+8)
---
About Bill Russo
Bill Russo is the Founder and CEO of Automobility Limited, and is currently serving as the Chairman of the Automotive Committee at the American Chamber of Commerce in Shanghai. His 40 years of experience includes 15 years as an automotive executive with Chrysler, including 18 years of experience in China and Asia. He has also worked nearly 12 years in the electronics and information technology industries with IBM and Harman. He has worked as an advisor and consultant for numerous multinational and local Chinese firms in the formulation and implementation of their global market and product strategies.
About Automobility
Automobility Limited is global Strategy & Investment Advisory firm based in Shanghai that is focused on helping its clients to Build and Profit from the Future of Mobility.  We help our clients address and solve their toughest business and management issues that arise in midst of fast changing, complicated and ambiguous operating environment.  We commit to helping our clients to not only "design" the solutions but also raise or deploy capital and we can assist in implementation, often together with our clients.  We put our clients' interest first and foremost.  We are objective and don't view our client engagements as "projects"; rather as long-term relationships.
Our partners are former senior executives at large corporations and/or senior consultants at leading management consulting firms. We believe clients would benefit the most from a combination of consultants with substantive experience in consulting and in line management.
Therefore, we organize ourselves into a core team augmented by an extensive "extended team members" with a large variety of skills and expertise.
Contact us by email at info@automobility.io