14 May

State of China's Auto Market – May 2022
China lockdowns force a market contraction
Already facing numerous headwinds, the auto market collapses in April under the weight of severe COVID lockdowns
Comments from Bill Russo, Founder & CEO of Automobility Ltd.
Covid related lockdowns in China's auto hubs Shanghai and Jilin province have led to critical supply-side constraints, leading to disastrous April sales numbers. The pullback was felt throughout the industry, but was relatively more severe for the personal and commercial vehicle segments powered by traditional internal combustion engines. Overall car sales year-to date through April are down 12% despite the  growth trajectory in the NEV segment, which is up 115% versus last year, now with 20% of the overall market so far in 2022.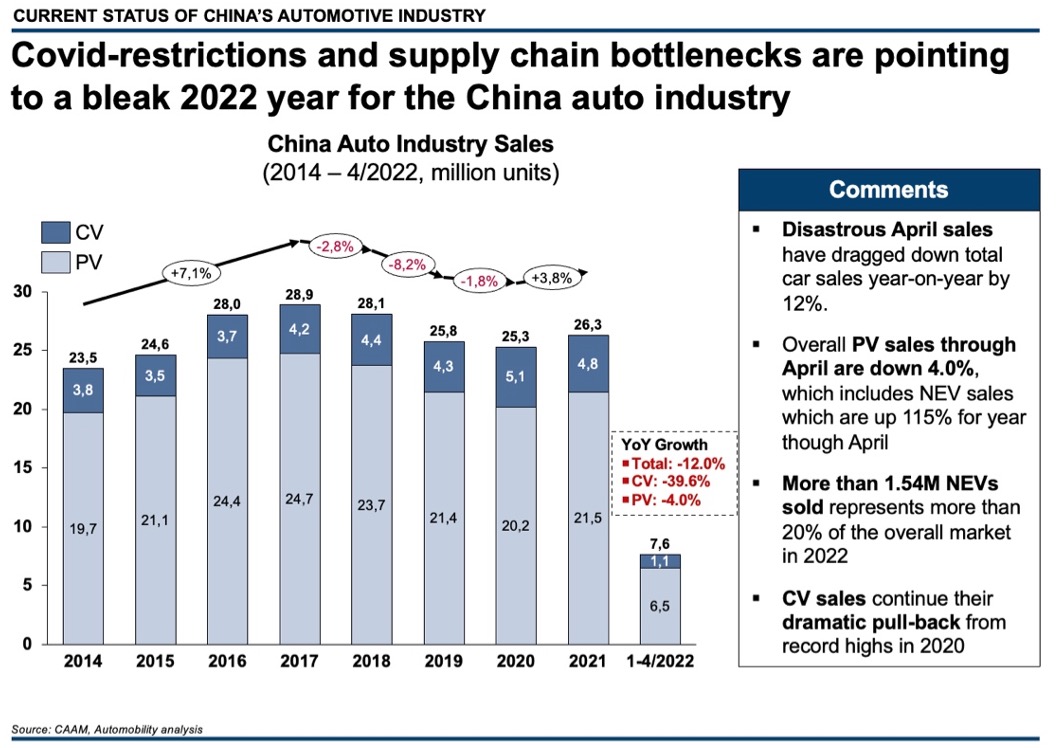 Even if lockdowns are lifted and economic activity is restored, it will take some time to recover from the disastrous impact of events of the past six weeks.
Additional commentary can be found in my May 12 interview with Forbes magazine:
"Gigantic" Impact From China Lockdowns To Hit Auto Industry Globally: Automobility's Bill Russo
As seen in the chart below, April vehicle sales pulled back 47.6% compared with last year, and 47.1% from the previous month.  This clearly underscores that supply-side constraints along with the closure of factories have impacted the industry's ability to maintain stable production volumes. The severe impact of COVID lockdowns comes on top of the headwinds already facing the industry, which includes ongoing semiconductor supply constraints and the impact of the Ukraine war.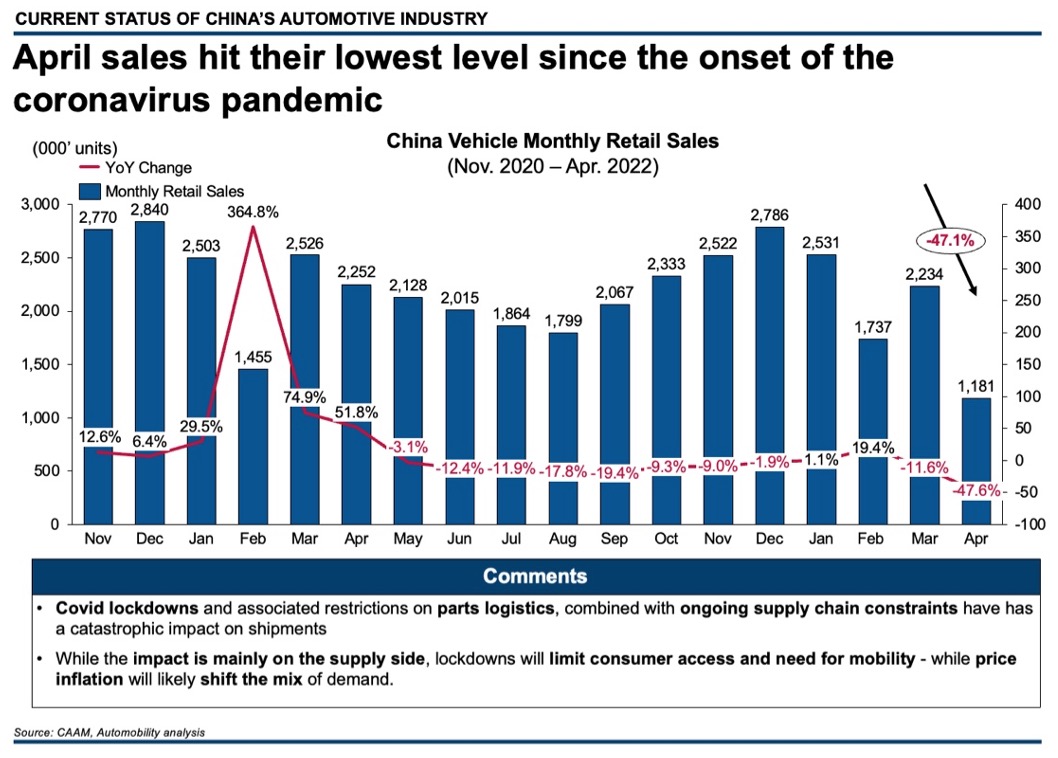 While sales of commercial vehicles have been weak for 12 consecutive months, it is now apparent that the market contraction is across the board, with both PV and CV sales at their weakest levels since the COVID outbreak in the 1st quarter of 2020.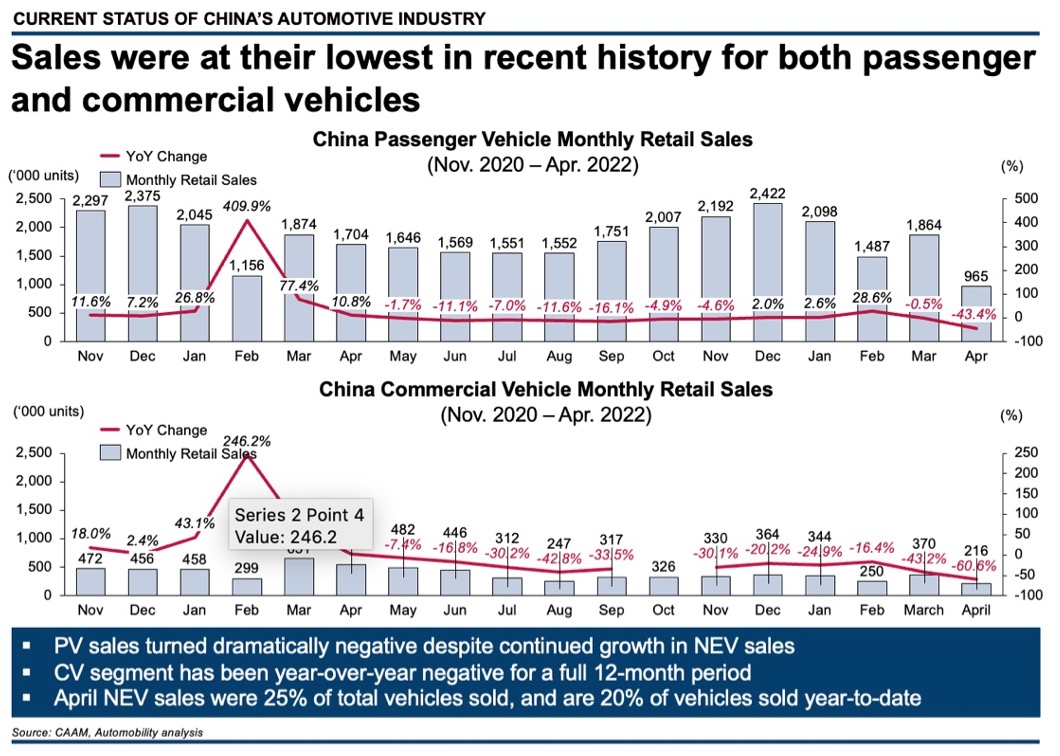 Most of the sales weakness is linked to supply-side contraints.  This is apparent when we look at used car demand, which is not as severely impacted by lockdown-related supply and production disruptions.  Used cars sales are less susceptible to supply-side shocks as their availability is only contrained by an existing owner's willingness to sell their vehicle. With a relatively mild month-to-month pullback of just 16.5%, this indicates that the market contraction in April is mainly a supply-side problem, as as underlying consumer demand for personally-owned mobility is less severly impacted.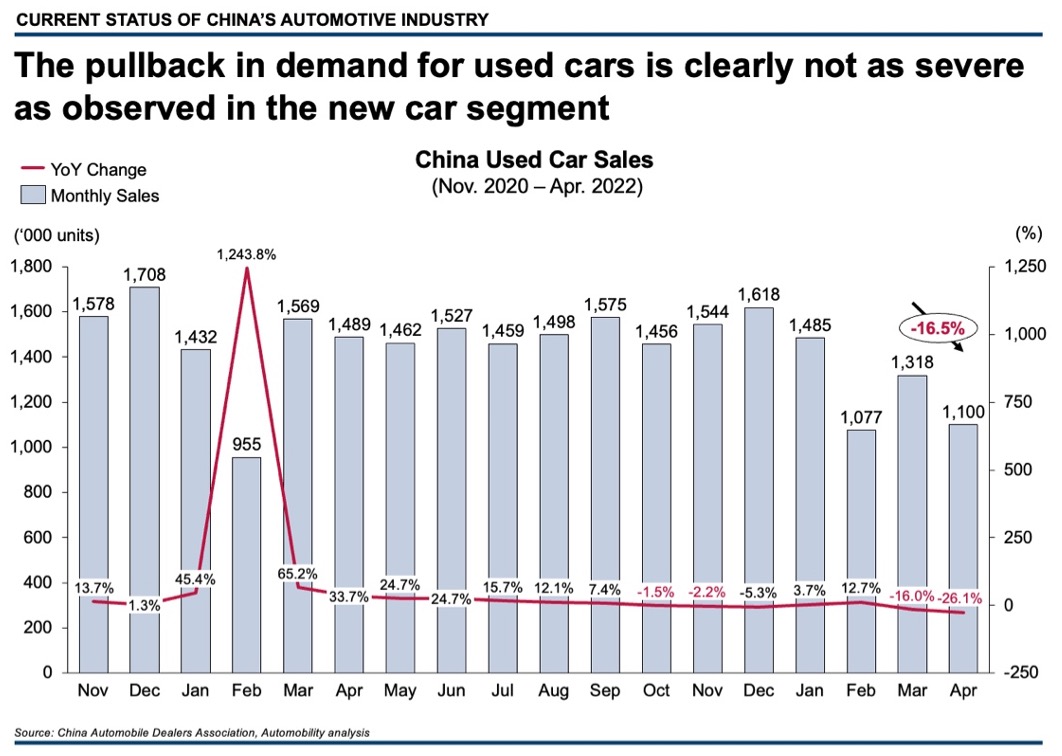 Remarkably, these relative movements have resulted in a situation where used car share of overall vehicle transactions reached an all-time high of 48.2%, as consumers gravitated to affordable alternatives during this turbulent period.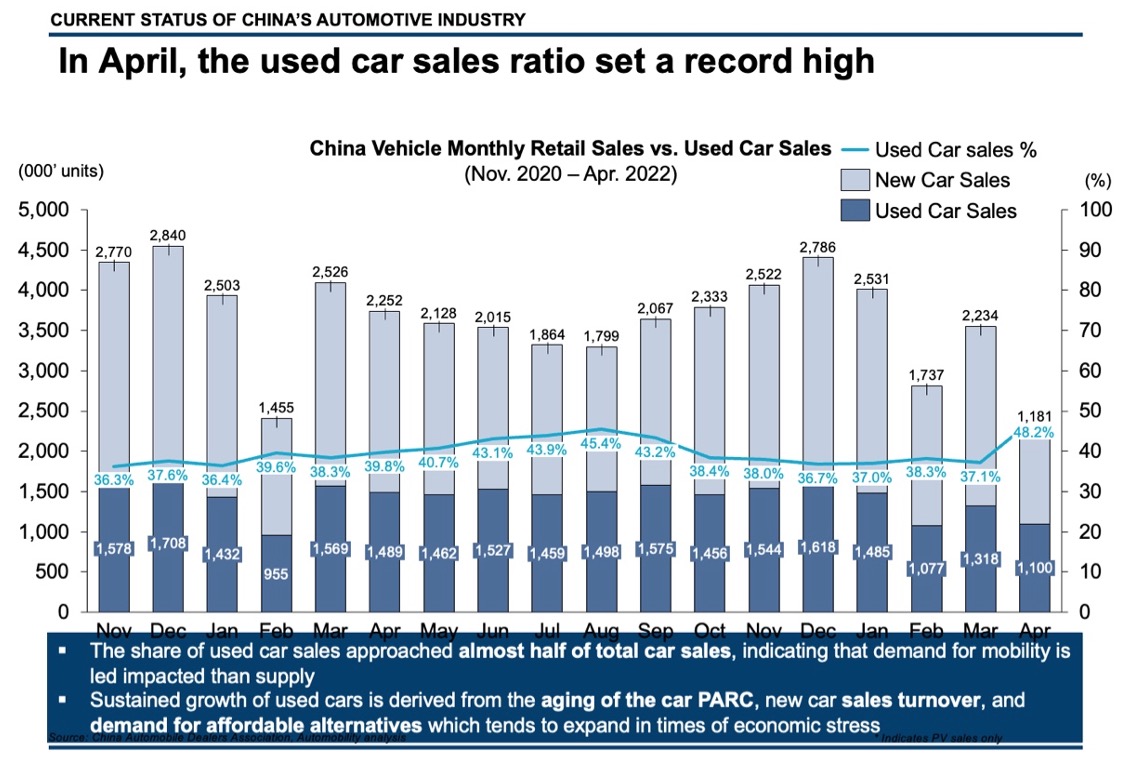 Sales of new energy vehicles (NEVs) pulled back in April, albeit less severely than for gasoline powered vehicles. 299,000 NEVs were sold in April, representing over 25% of the overall market, and BYD accounted for 35% of the NEV market, clearly distancing themselves from the electric vehicle competition.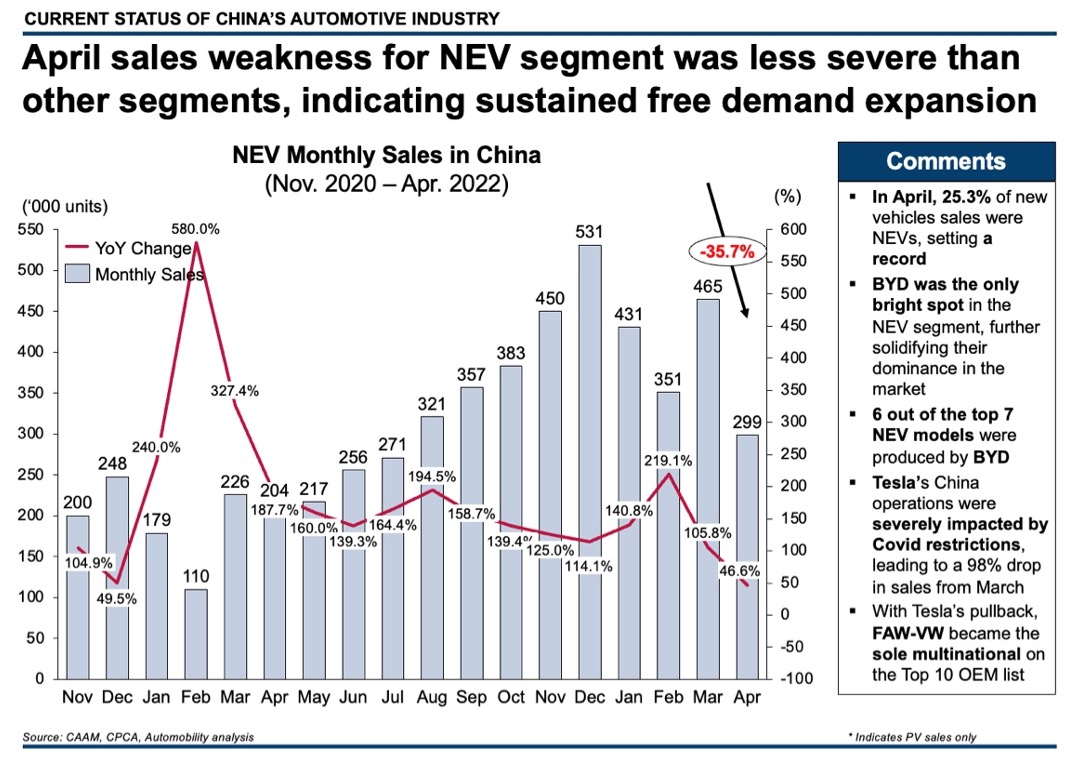 BYD's April EV dominance is impressively reflected on the sales leaderboard shown below. BYD's overall April sales of 104,770 units surpassed the next 8 OEMs on the list combined, and 6 out of the top 7 nameplates belong to the Shenzhen-based carmaker. BYD is clearly demonstrating that their vertically integrated supply chain safeguards their business from recent supply chain disruptions.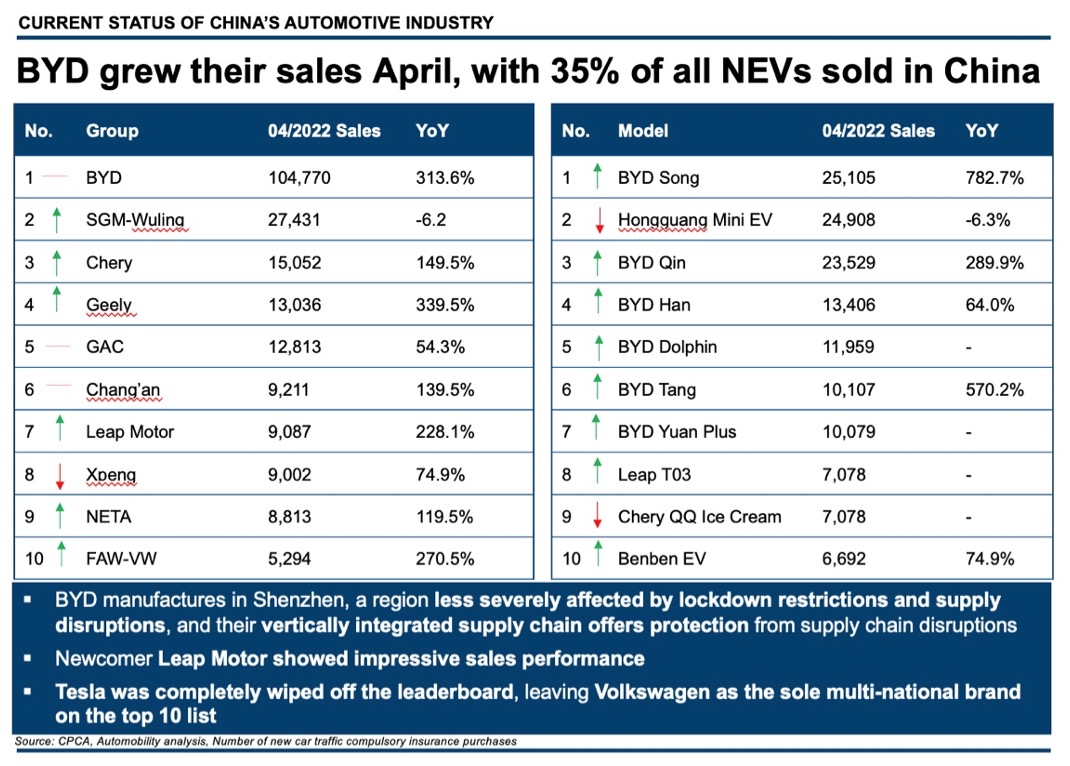 On the other hand, Tesla was directly in the eye of the Covid lockdown storm. Its operations were completely shut down for three weeks and is facing a prolonged supply-related shutdown since its Shanghai Gigafactory reopened on 19 April. The American carmaker only sold 1,512 vehicles in April, down 98% from March.  As a result, Tesla was completely wiped off the China EV leaderboard, leaving Volkswagen as the only multi-national brand on the list. This was VW's first appearance on the list with only 5,294 units sold in April.
Also notably absent from the leaderboard are the Chinese EV startups NIO and Li Auto. Among the local carmakers, Leap Motor and GAC also showed resiliency with impressive expansion in the month of April. Clearly, companies outside the Shanghai region have avoided the catastrophic impact of recent lockdowns.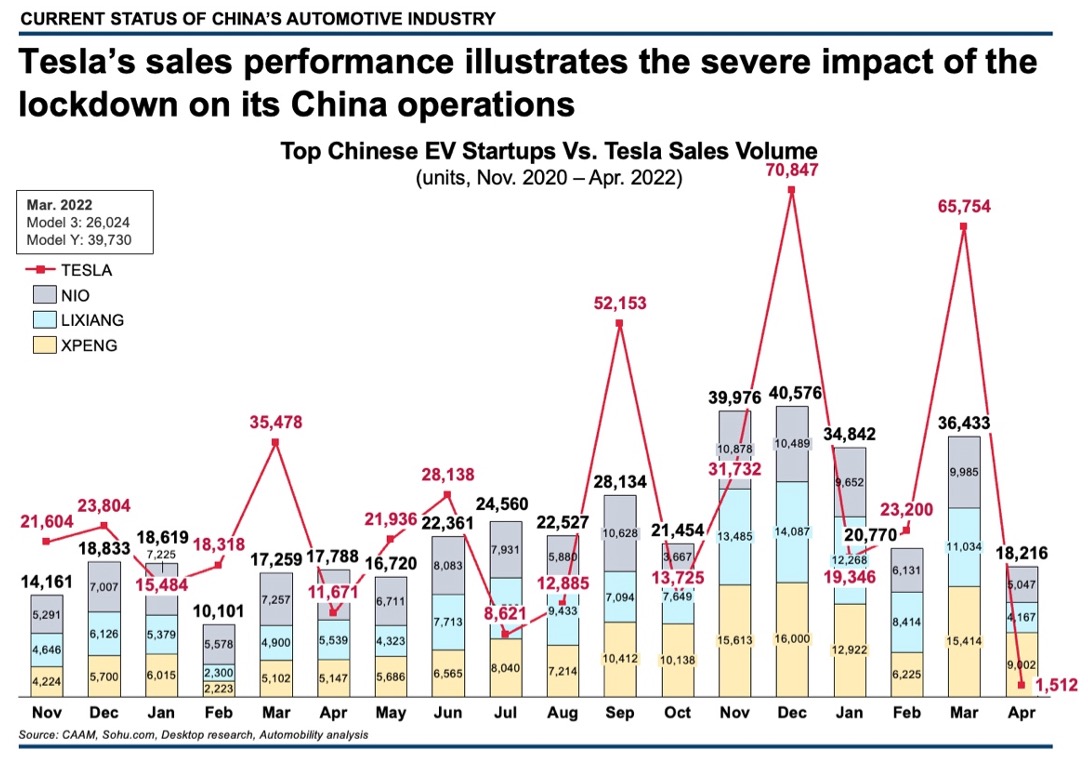 Several questions to consider:
What are the long-term effects of China's strict zero-Covid-policy?
What are the implications for car manufacturers outside of China that are dependent on Chinese supplies?
How will OEMs react to the increased risk of a China-centric supply chain? Will companies move to suppliers in other regions?
If you wish to join our next monthly AmCham Automotive Committee webinar on the State of China's Auto Industry, you can register here:
Webinar | State of China Auto Market Monthly Briefing (May)
May 17, 2022 Tuesday
9:00 AM – 9:40 AM (GMT+8)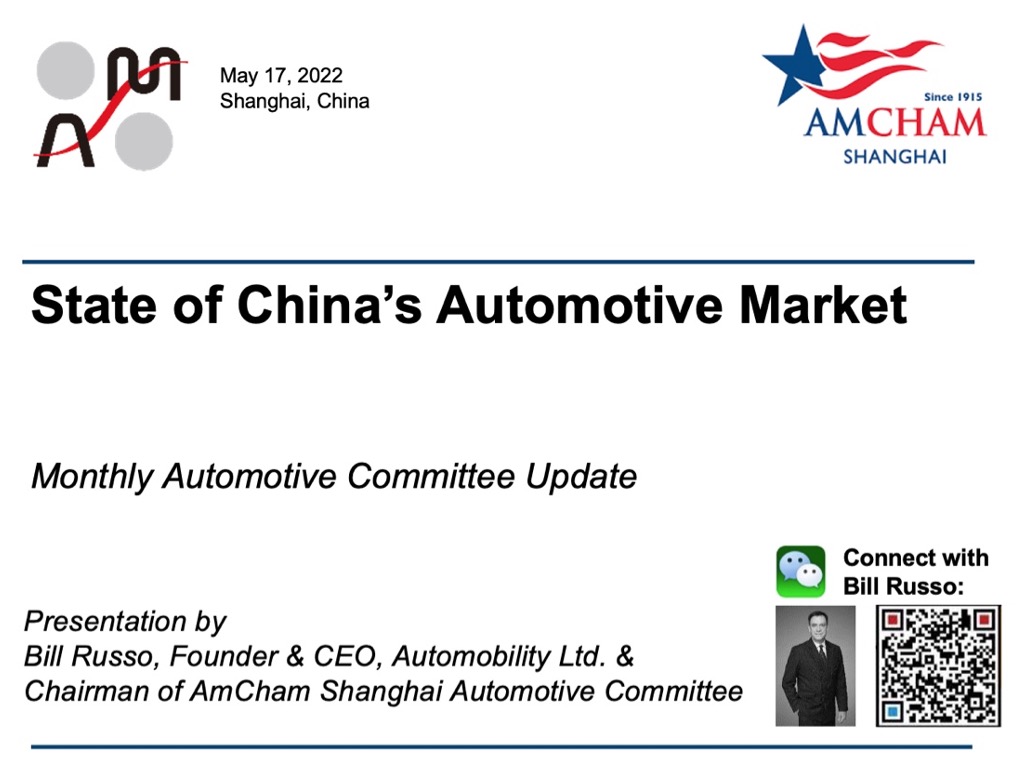 ---
About Bill Russo
Bill Russo is the Founder and CEO of Automobility Limited, and is currently serving as the Chairman of the Automotive Committee at the American Chamber of Commerce in Shanghai. His 40 years of experience includes 15 years as an automotive executive with Chrysler, including 18 years of experience in China and Asia. He has also worked nearly 12 years in the electronics and information technology industries with IBM and Harman. He has worked as an advisor and consultant for numerous multinational and local Chinese firms in the formulation and implementation of their global market and product strategies.
---
About Automobility
Automobility Limited is global Strategy & Investment Advisory firm based in Shanghai that is focused on helping its clients to Build and Profit from the Future of Mobility.  We help our clients address and solve their toughest business and management issues that arise in midst of fast changing, complicated and ambiguous operating environment.  We commit to helping our clients to not only "design" the solutions but also raise or deploy capital and we can assist in implementation, often together with our clients.  We put our clients' interest first and foremost.  We are objective and don't view our client engagements as "projects"; rather as long-term relationships.
Our partners are former senior executives at large corporations and/or senior consultants at leading management consulting firms.  We believe clients would benefit the most from a combination of consultants with substantive experience in consulting and in line management.
Therefore, we organize ourselves into a core team augmented by an extensive "extended team members" with a large variety of skills and expertise.
Contact us by email at info@automobility.io