20 May

Nikkei : China economy hit in April as zero-COVID slams brakes on growth

Media Source : NIKKEI

Widespread lockdowns dent consumer spending; vehicle sales plunge

16 MAY 2022

by CK TAN, Nikkei staff writer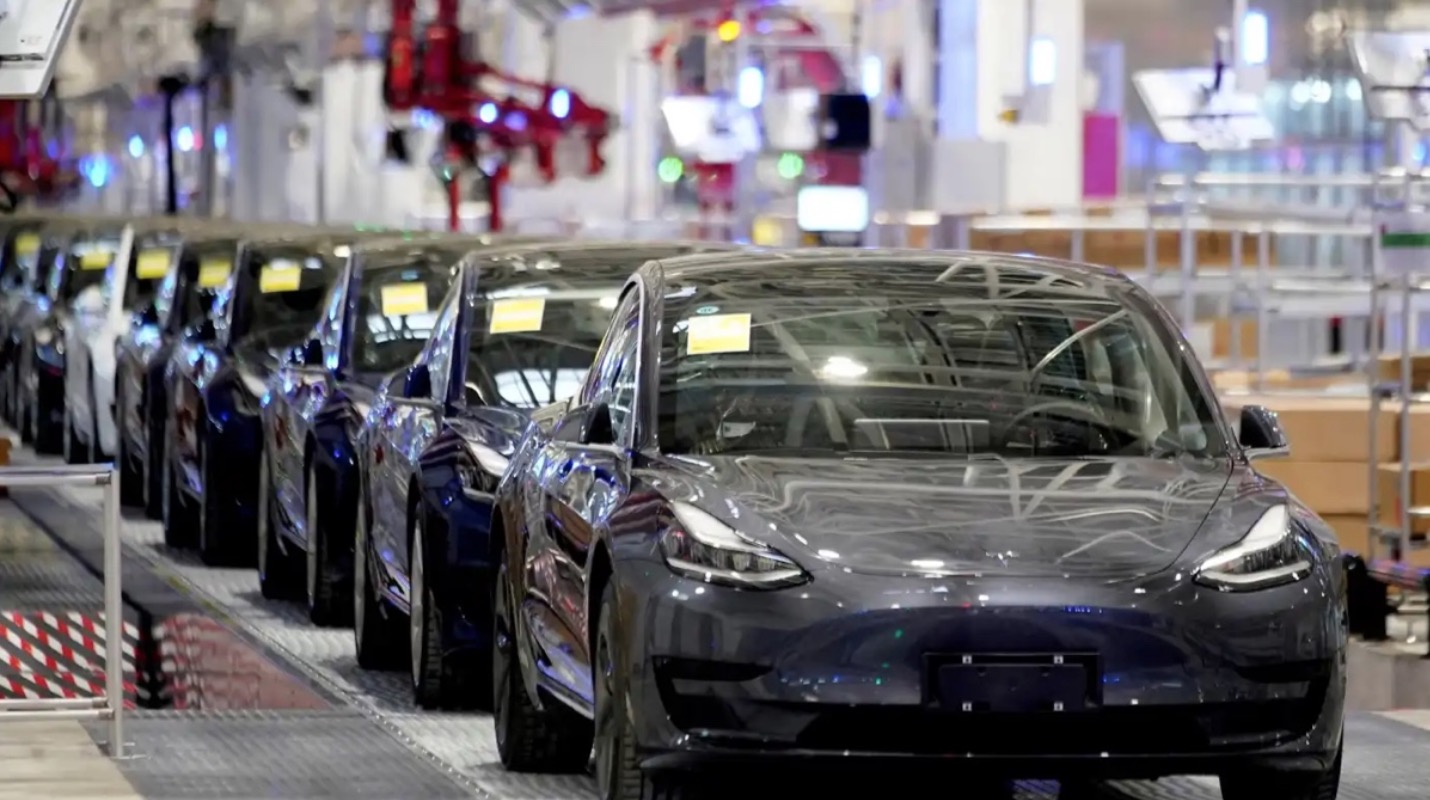 Tesla's factory in Shanghai temporarily shut most production amid citywide lockdowns. © Reuters
SHANGHAI–China's key economic data tumbled in April as virus lockdowns, including in the financial capital Shanghai, choked business activity, and unstable global commodity markets raised fears about growth.
Full or partial shutdowns in dozens of cities dented consumer buying as millions were confined to their homes, while industrial production also took a hit as many factories were shuttered and supply chains were snarled.
Retail sales fell 11.1% in April from a year before, deteriorating further from a 3.5% contraction in March, with demand for food and vehicles among the hardest hit, according to a release by the National Bureau of Statistics on Monday.
Vehicle sales for the month marked their lowest level since the COVID-19 pandemic began, plunging by 47.6% to 1.18 million units sold, as production was cut and showrooms were empty.
Industrial production also contracted by 2.9%, reversing a 5% expansion in March. Activity at Shanghaiarea factories operated by Tesla and Volkswagen's local unit came to a near halt in the midst of the lockdown.
---
"This clearly underscores that supply-side constraints along with closure of factories have impacted the industry's ability to maintain stable production volumes," said Bill Russo, CEO of Shanghai-based advisory Automobility.
---
The squeeze of lockdowns and dampened demand also showed up in employment figures, with China's jobless rate rising to 6.1% in April from 5.8%, the highest level since early 2020.
"Household consumption was hit even harder due to mobility restrictions and weak sentiment, and the labor market weakness compounded the problem," said Tommy Wu, Lead China Economist at Oxford Economics in Hong Kong. "The disruption to economic activity could well extend into June."
Capital spending also suffered in April, reflected by a contraction in fixed assets investment, which fell by 0.82% on a monthly basis.
Investment in the key real estate sector, which accounts for about a quarter of the economy, dropped by 2.7% year-on-year in the first four months of the year, highlighting pressure on a sector in which some of the biggest developers have defaulted on debt payments in a weak market.
Mortgage rate cuts have done little to boost enthusiasm for home buying, with April's property sales tumbling 39% year-on-year by volume and 47% by value, respectively, due to the lockdown and damp demand stoked by economic uncertainty, according analyst Stephen Cheung at Jefferies Research in Hong Kong.
Most of Shanghai's 25 million residents have been in some form of lockdown since late March, while Beijing is ramping up testing of millions to avoid a similar fate.
China is battling its biggest COVID-19 outbreak since the virus was first reported in the city of Wuhan more than two years ago.
Since then, it has implemented a strict zero-COVID strategy that uses mass testing and lockdowns in a bid to quash outbreaks. But economists have warned that the policy, in contrast to many countries moving toward living with the respiratory illness, would take a bite out of the world's second-biggest economy.
Foreign chambers of commerce have warned that their members are smarting from the lockdowns and some are considering moving operations out of China unless it loosens its strict virus rules.
"The uncertainty is sky high," Jorg Wuttke, president of the EU Chamber of Commerce in China, said Monday. "I don't see anything resembling Wuhan 2.0, meaning a comeback of sorts or a very sharp positive bounce back."
There are, however, signs that Shanghai was moving in a positive direction. The city said Monday that there were plans to reopen and return to normal activity from the start of June, after declaring that 15 of 16 districts had eliminated virus cases outside quarantine areas.
"Outbreaks elsewhere in the country have eased too. Assuming this proves durable, it paves the way for an economic rebound starting this month," Julian Evans-Pritchard, Senior China Economist at Capital Economics, said in a note. "That said, this recovery is likely to be more tepid than the rebound from the initial outbreak in 2020."
SOURCE: https://asia.nikkei.com/Economy/China-economy-hit-in-April-as-zero-COVID-slams-brakes-ongrowth