01 May

Net-Zero Inves-ng in Auto | Mobility Tech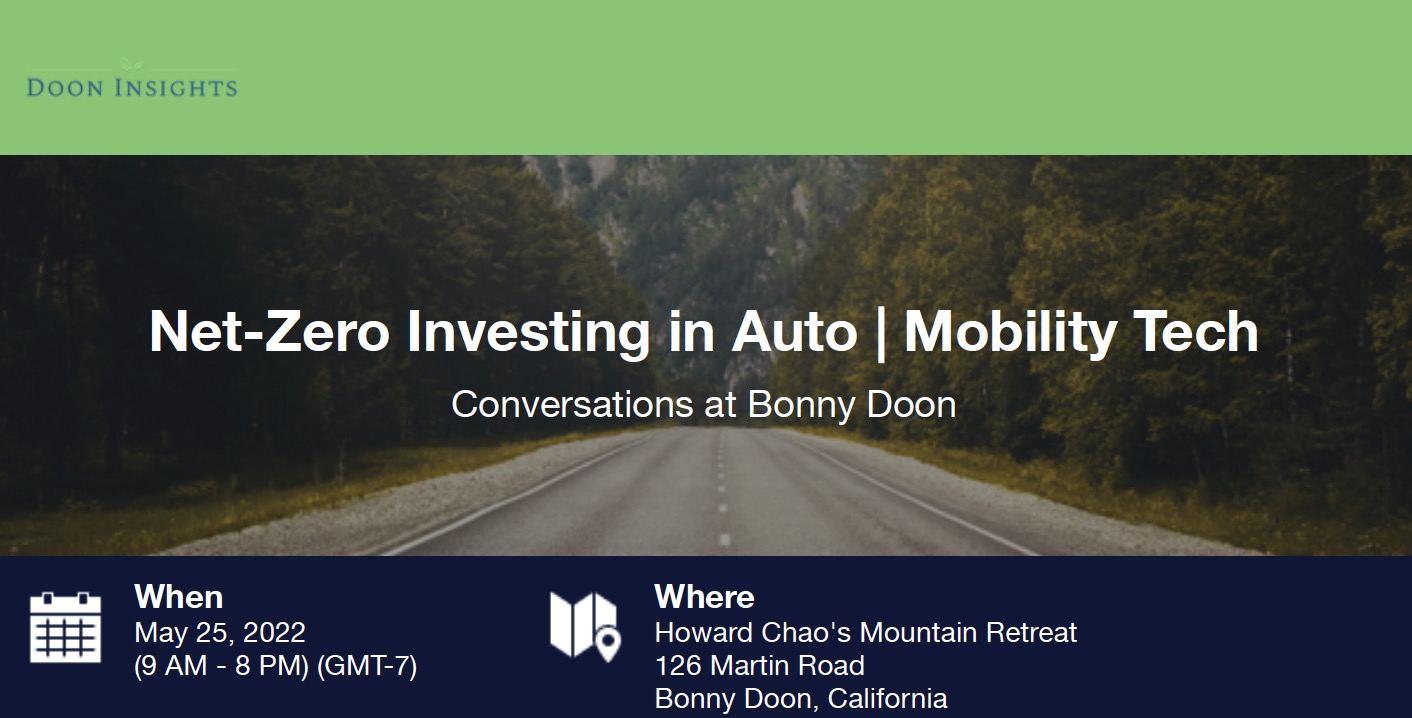 By Howard Chao | Doon Insights
We have made a lot of progress on the program for our Net- Zero Investing in Auto|Mobility Tech salon, and we now recruited a lineup of compelling Discussion Leaders. Here is a summary of the program:
Distributed Flexible Manufacturing
Traditional manufacturing has emphasized the efficiencies and control that go with scale, centralization, and comparative advantage. With the advent of the Ukraine war, geopolitical tensions with China, Covid, and related supply chain difficulties, the pendulum has swung back towards more localized and decentralized production facilities. The growth of AI, precision micro-factories, 3D printing, and similar technologies facilitates this trend towards "manufacturing at the edge". These new manufacturing technologies can have a lower carbon footprint, since transportation costs may be dramatically reduced and local clean energy sources for manufacturing can be utilized.
Discussion leaders:
Jason Wortendyke, Citi (moderator)
Bruce Graham, Cellink Technologies
Lou Rassey, Fast Radius
---
Advanced Net-Zero Materials
Steel, like many other traditional materials in the auto/mobility industry is great at what it does – easy to shape when hot and incredibly strong (plus, easy to find in the world). But the carbon dioxide created from steel (1.8 tons for every ton of steel) and other materials has led vehicle manufacturers to search for more environmentally-friendly options. Several obstacles stand in the way to find suitable replacements for materials such as steel, plastic and aluminum – one of which is the stringent safety requirements for a car's exterior. What are manufacturers doing to innovate in materials? Are they betting on more efficient processes that reduce waste and potentially use recycled carbon from waste streams, or are they looking towards completely new materials? How are advanced materials and new processes competing on performance, price and accessibility?
Discussion leaders:
Andrew Harper, Sidley (moderator)
Phillip Taynton, Mallinda
World Steel Association (invited)
---
Green Fuels
Technological developments and the growing availability of alternative power sources now make possible the production of multiple green fuels, both for propulsion and energy storage. What are these new technologies and green fuels and what use cases are they best suited for? How do these developments affect the development of electric vehicles and related industries?
Discussion leaders:
Raymond Zheng, Honda Innovations (moderator)
Ricky Sakai, Mitsubishi Heavy Industries
Robert Schuetzle, Infinium
[Speaker on Hydrogen to come]
---
The Future of Green Public Transportation after Covid
As cities begin to fully reopen after the 2+ year pandemic, public transit systems will be faced with a new set of challenges. Even before COVID, public transportation ridership was static or declining in many parts of the US; the pandemic has seen drastic declines in the use of public transportation, creating another hurdle to move people away from polluting options. What is the road to sustainable public transportation in a post-COVID world? As people continue to urbanize (estimates predict up to 70% global urbanization by 2050), creating public transportation options that are green, safe and affordable will be one of the largest challenges that cities face in the coming decades. How quickly will decarbonization of public transportation vehicles occur? What are the fueling/infrastructure needs to achieve green transportation, and how will regulatory bodies create opportunities for innovation to help? Post-COVID, what does success look like?
Discussion leaders:
Doug Davenport, Prospect Silicon Valley (moderator)
Yvonne Lutsch, Robert Bosch Venture Capital
[More to come]
---
Russia, China and the Impact of Geopolitics on Progress towards Net-Zero in the Auto/Mobility Industry
The move towards EVs, batteries, green fuels, and net-zero operations was already accelerating, and now we have a war in Europe and great volatility in energy prices. This will of course affect short and long term energy and technology strategies across the industry. Access to several key metals products from Russia and the Ukraine will largely be cut off. China's sympathy for Russia threatens to worsen its relations with the West, and at the same time, China's reaction to increasing domestic outbreaks of Covid has been to shut down large areas of the country. This does not bode well for China's role as a critical link in global supply chains and a key driver of global demand. Further, China's mobility market is the largest in the world, China is the global leader for EVs and batteries, and China is the world's largest carbon emitter. How will all of these volatile geopolitical and market factors affect the global industry's march toward net-zero?
Discussion leaders:
Doon Insights (moderator)
Steven Fries, University of Oxford and Peterson Institute
Bill Russo, Automobility Ltd.
---
This will be a highly interactive event. The Discussion Leaders will introduce each subject and then lead the group in a roundtable discussion in which everyone is invited to contribute. Attendees will be OEMs, suppliers, specialized investors, technology providers and other experts from the sector.
The day will be very convivial and social. There will be plenty of breaks so that everyone can meet everyone, and everyone will be worth meeting. The venue is my mountain everyone will be worth meeting. The venue is my mountain retreat in Bonny Doon, in the Santa Cruz Mountains, a beautiful compound sitting in a clearing in the redwood forest, with gardens and orchards, and overlooking my pond. During breaks guests will be free to walk around the pond and pick fruit from the orchard. At the end of the day we will enjoy a fine wine/beer reception, live music, and a hearty dinner together.
Attendance will be limited to 35 persons, first come first serve, so please sign up soon to reserve your slot! Check out the details and register by clicking on the image above. (Username is "friend" and PW is "1818").

SPONSORS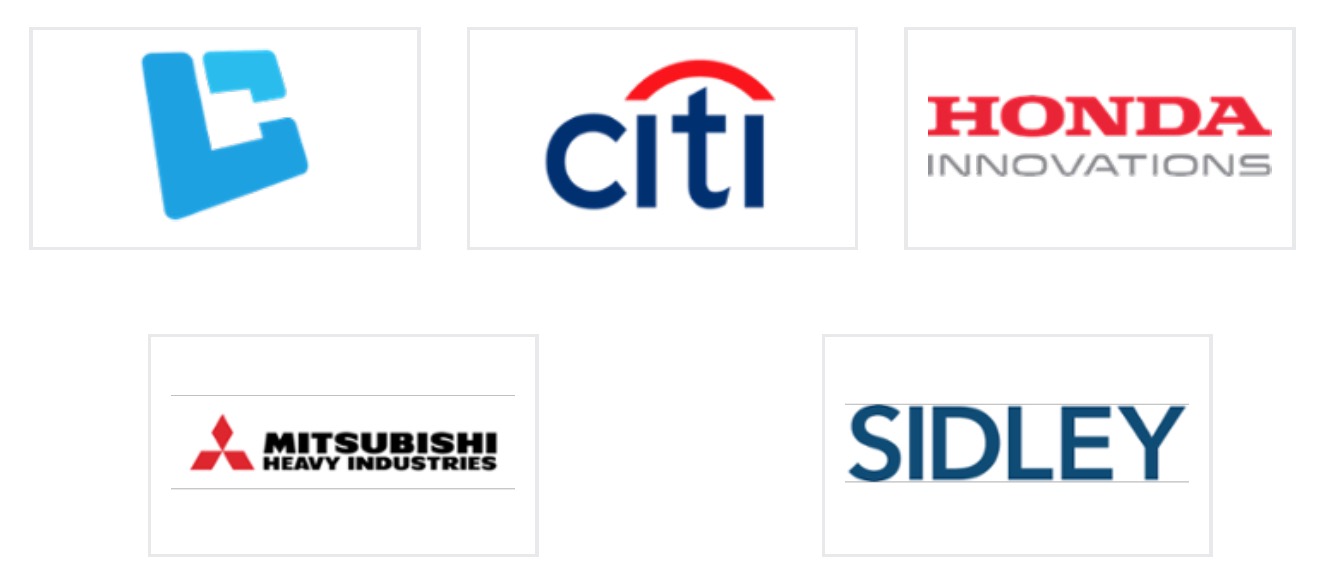 ORGANIZER