28 Feb

State of China's Auto Market – February 2022
Chinese companies are leading the commercialization of electric and autonomous vehicle technology
Comments from Bill Russo, Founder & CEO of Automobility Ltd.
Overall automotive sales in January were up 0.9% in China, leading to the first positive year-over-year month since April 2021. It is noteworthy that production volumes remain constrained due to semiconductor supply chain issues. Further, this year's Chinese New Year holiday fell on the first of February, and an earlier (than last year) holiday would negatively impact sales as car shopping typically ramps down prior to the holiday.  In light of those constraining factors, the January sales numbers are actually very encouraging and are an indication of positive momentum going into 2022.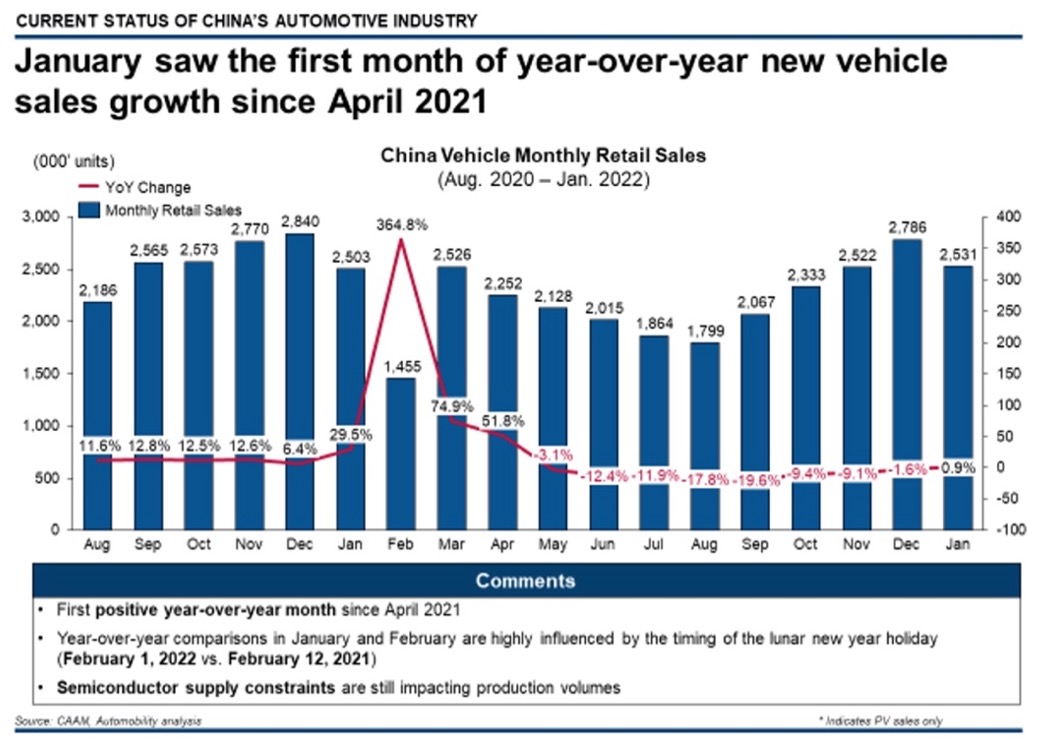 Overall growth of the China auto market continues to be bolstered by the continued expansion of retail consumer interest in electric vehicles. Despite a month-over-month pullback, sales of 431,000 units make it the 3rd best recorded month ever, and increase of 140.8% versus last January.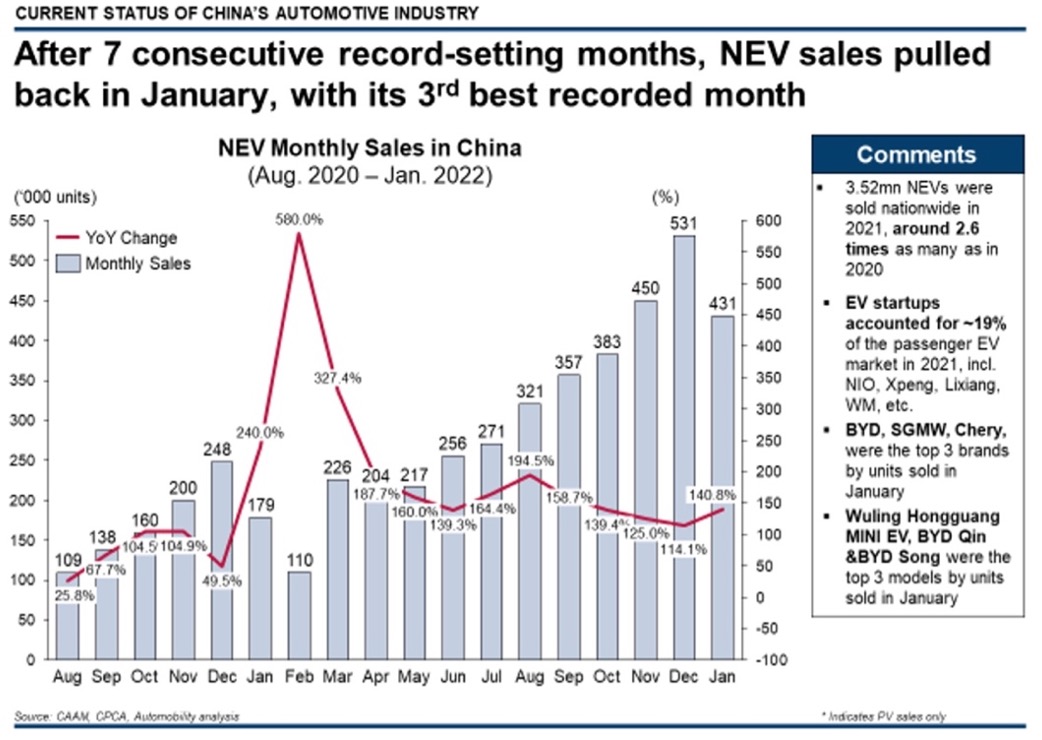 A closer look at the NEV sales leaderboard reveals a clear competitive edge for local brands. Among the top 10 NEV brands in January, only Tesla makes the Top 10 list among foreign brands. Tesla's Model Y is the only foreign branded product on the list of the  top 10 EV models. Among Chinese players, the sales numbers of EV startups (such as Xpeng, Li Auto and NIO) were slightly down from their recent peak sales months, while legacy brands such as Chery and BYD have gained momentum. BYD boasts 5 of the top 10 best selling electric vehicles in China.  This development shows that fast-follower and legacy car brands can gain significant share of the EV market, and that the market is getting hyper-competitive.  Early movers are therefore vulnerable to attack from aggressive followers that can quickly gain market share with new product entries.  The sector will be challenged with pricing pressure to defend share and protect scale, resulting in lower profit per unit as the sector fights commoditization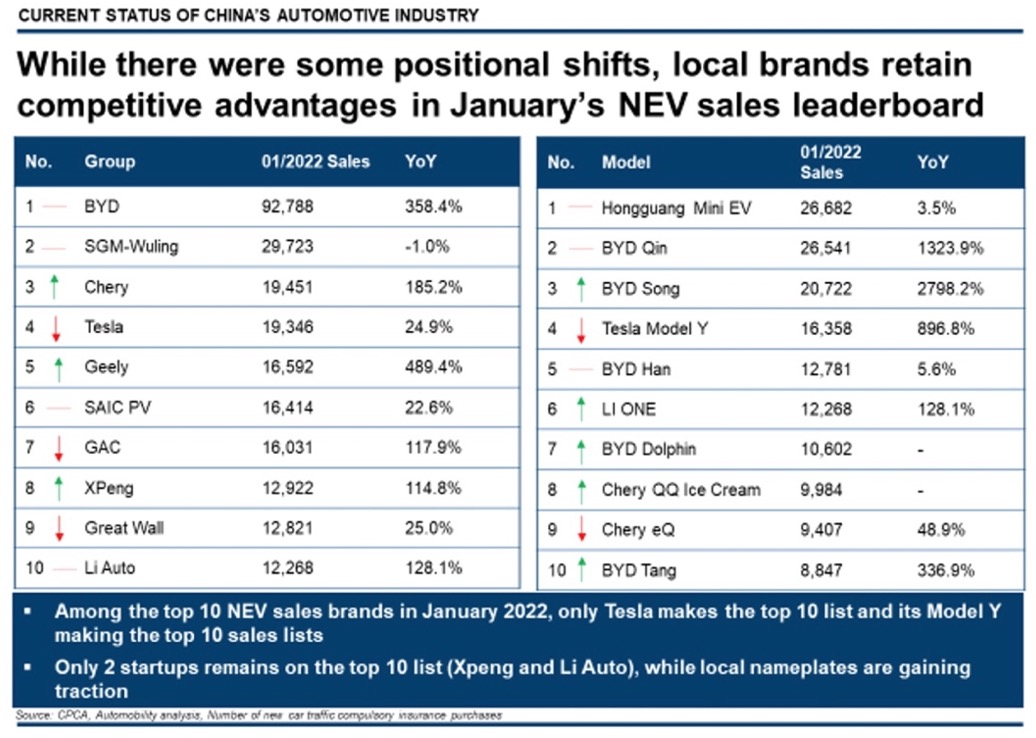 How are global OEMs besides Tesla faring in the China EV race?  The direct answer is badly. Case in point: Volkswagen. While still retaining its lead in overall auto sales in 2021, VW's success is nearly entirely built on its historical strength in traditional internal combustion engine vehicle technology. However, this is a shrinking lane. The company's EV market share in 2021 was under 4%, failing to reach their annual sales target in China. Their ID.4 models are ranked in the mid-20s on the January sales leaderboard.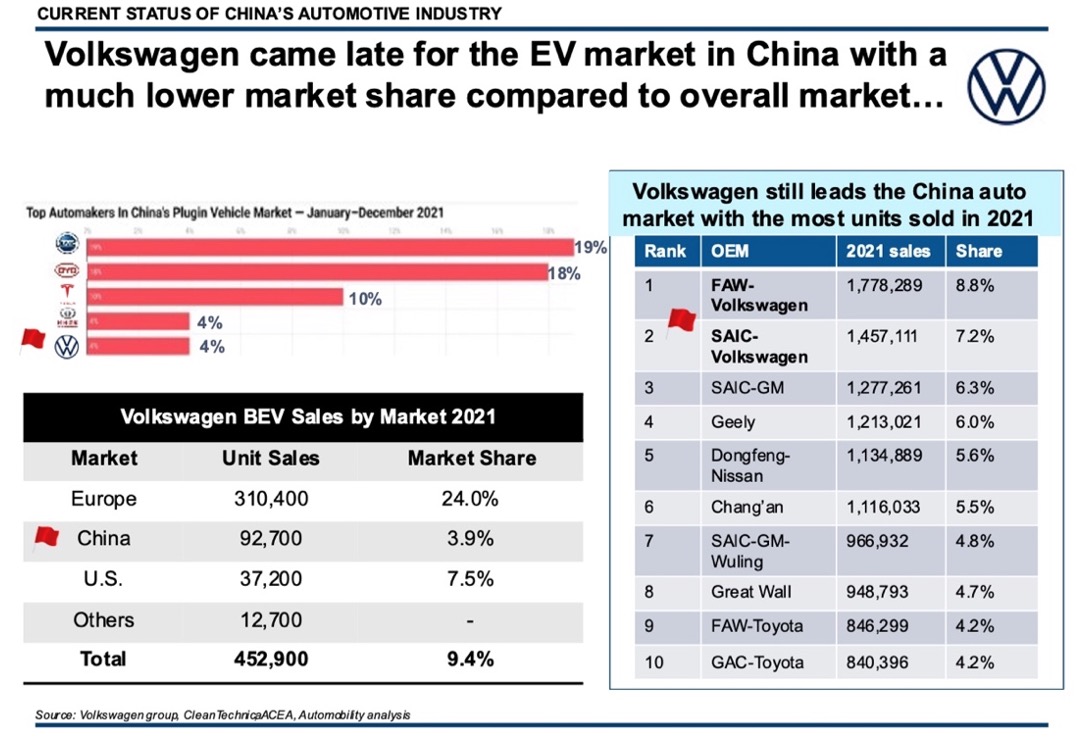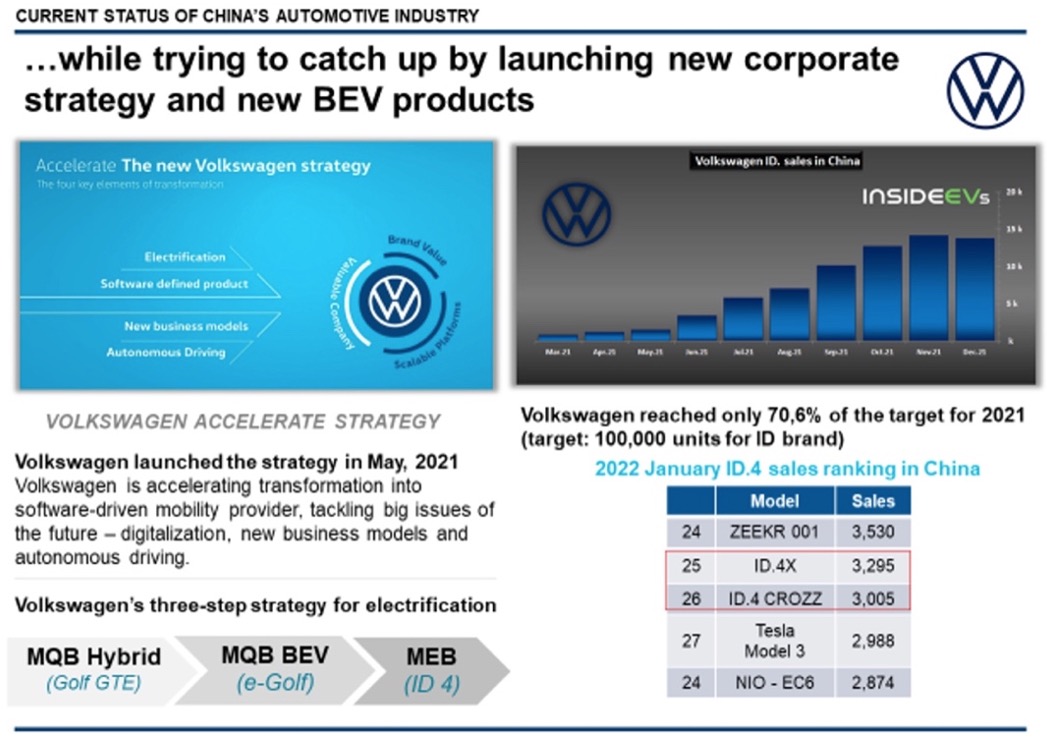 While these numbers should be alarming for all global OEMs in China, they are not entirely surprising. Legacy internal combustion engine brands are simply less appealing to a new generation of Chinese car buyers that do not assign equivalent value to these brands as the previous generation of buyers do. Fun and affordable electric vehicles are appealing to a large number of Chinese buyers, as is evident from the performance of Wuling's Hongguang Mini EV and newcomers Chery QQ Ice Cream and BYD Dolphin.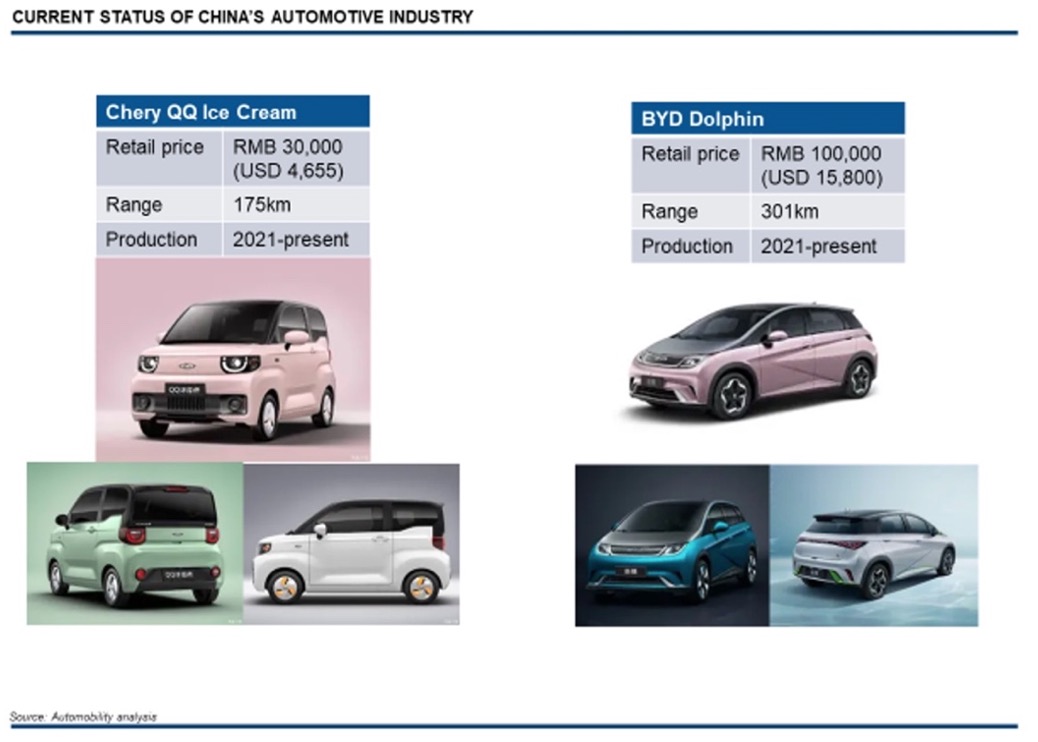 Global OEMs certainly won't simply concede in the China EV race, but instead will try to claw back market share in the mid-market and premium segments. In this context, it will make sense for them to pivot and focus their attention on the development of new technology features to regain their competitive advantage, in such areas as ADAS or AV technology.  But can they lead this race, or even enter this race, in China?  On top of this, Chinese companies may already be winning this race as well.
The latest California miles per "disengagement" data paints an interesting picture. Five of the top 10 AV players on that leaderboard are in fact Chinese companies. To underscore: half of the ten most active autonomous driving companies on US soil are Chinese.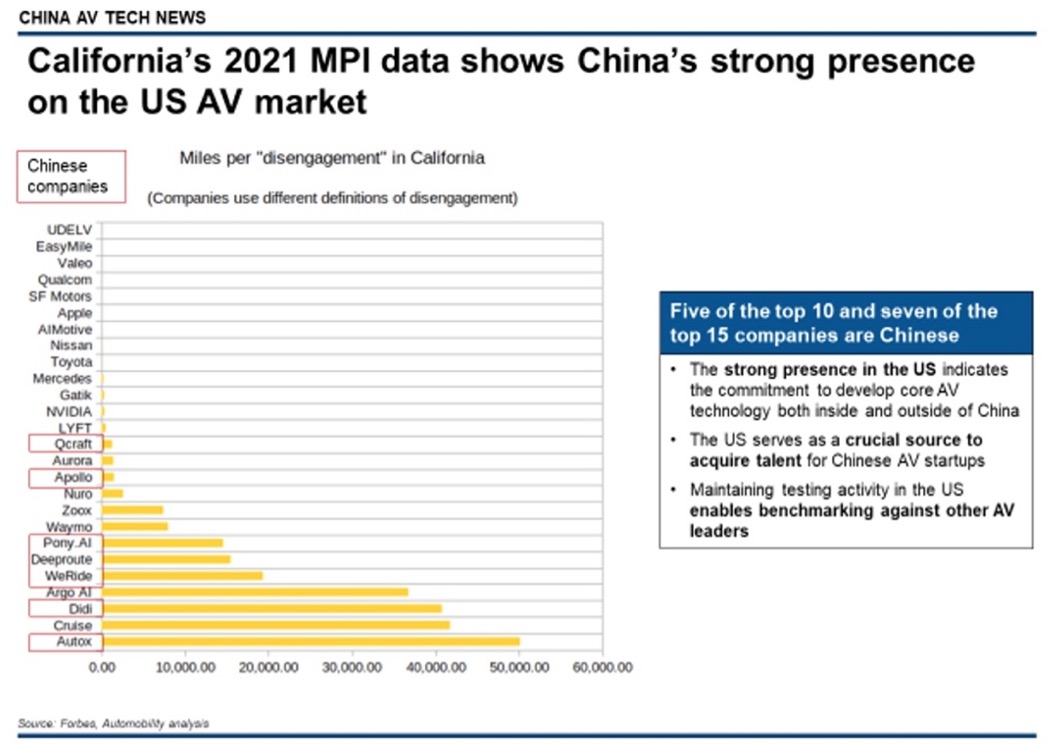 Miles per "disengagement" is certainly a controversial metric as it is often based on self-reported, non-standardized data. Nonetheless, it is a benchmark indicator for R&D activity and it shows that Chinese companies are willing to develop their core autonomous driving technology both inside and outside of China, in order to access global talent and benchmark themselves against Western industry leaders.
Several questions to consider::
Have Chinese brands reversed the tables and gained a sustainable advantage over foreign brands in the EV race? Can global OEMs catch up?
What does the emergence of affordable and 'cute' EV models say about the Chinese EV consumer and market?
What does the strong presence of Chinese companies in the US autonomous driving space indicate about the race to AV? Can foreign brands compete in the AV race in China?
Please click here for a video of our Status of China's Automotive Market briefing at the AmCham Shanghai Automotive Committee Event on February 22, 2022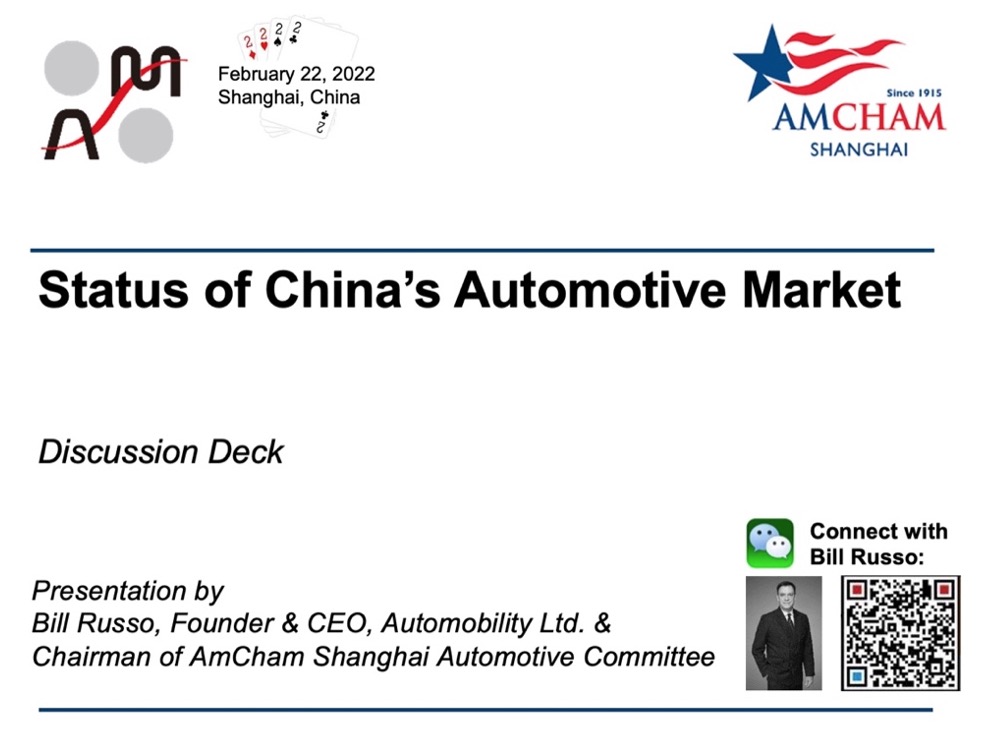 ---
About Bill Russo
Bill Russo is the Founder and CEO of Automobility Limited, and is currently serving as the Chairman of the Automotive Committee at the American Chamber of Commerce in Shanghai. His 40 years of experience includes 15 years as an automotive executive with Chrysler, including 18 years of experience in China and Asia. He has also worked nearly 12 years in the electronics and information technology industries with IBM and Harman. He has worked as an advisor and consultant for numerous multinational and local Chinese firms in the formulation and implementation of their global market and product strategies.
---
About Automobility
Automobility Limited is global Strategy & Investment Advisory firm based in Shanghai that is focused on helping its clients to Build and Profit from the Future of Mobility.  We help our clients address and solve their toughest business and management issues that arise in midst of fast changing, complicated and ambiguous operating environment.  We commit to helping our clients to not only "design" the solutions but also raise or deploy capital and we can assist in implementation, often together with our clients.  We put our clients' interest first and foremost.  We are objective and don't view our client engagements as "projects"; rather as long-term relationships.
Our partners are former senior executives at large corporations and/or senior consultants at leading management consulting firms.  We believe clients would benefit the most from a combination of consultants with substantive experience in consulting and in line management.
Therefore, we organize ourselves into a core team augmented by an extensive "extended team members" with a large variety of skills and expertise.
Contact us by email at info@automobility.io
---