21 Jan

Look Back, Look Ahead: Automotive Industry 2021 Review and 2022 Outlook

Look Back, Look Ahead: Automotive Industry 2021 Review and 2022 Outlook

The AmCham Shanghai Automotive Committee hosted its 2022 kick-off event, Look Back, Look Ahead on January 19. The session provided a review of of 2021 sales results and discussed the new technologies and policies shaping the future of the automotive industry.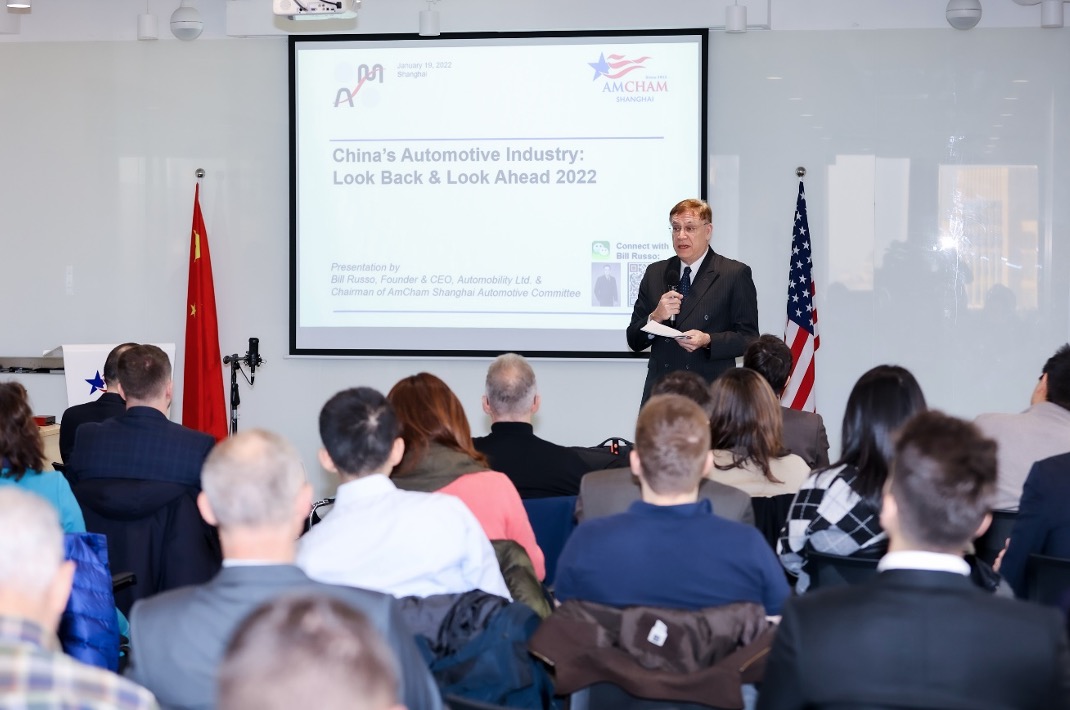 2021: Sales recovery and competitive local landscape
Bill Russo, Founder & CEO of Automobility Limited and AmCham Shanghai Automotive Committee Chair, started the event with an overview of last year's sector performance. Overall sales volumes in China improved to near pre-2019 levels last year, boosted by the rise of new energy vehicles. The country is now leading the global automobile industry's rebound from the Covid-19 pandemic. At the same time, used car sales experienced a record-breaking year in 2021, rising 13.4% and outpacing new car sales growth.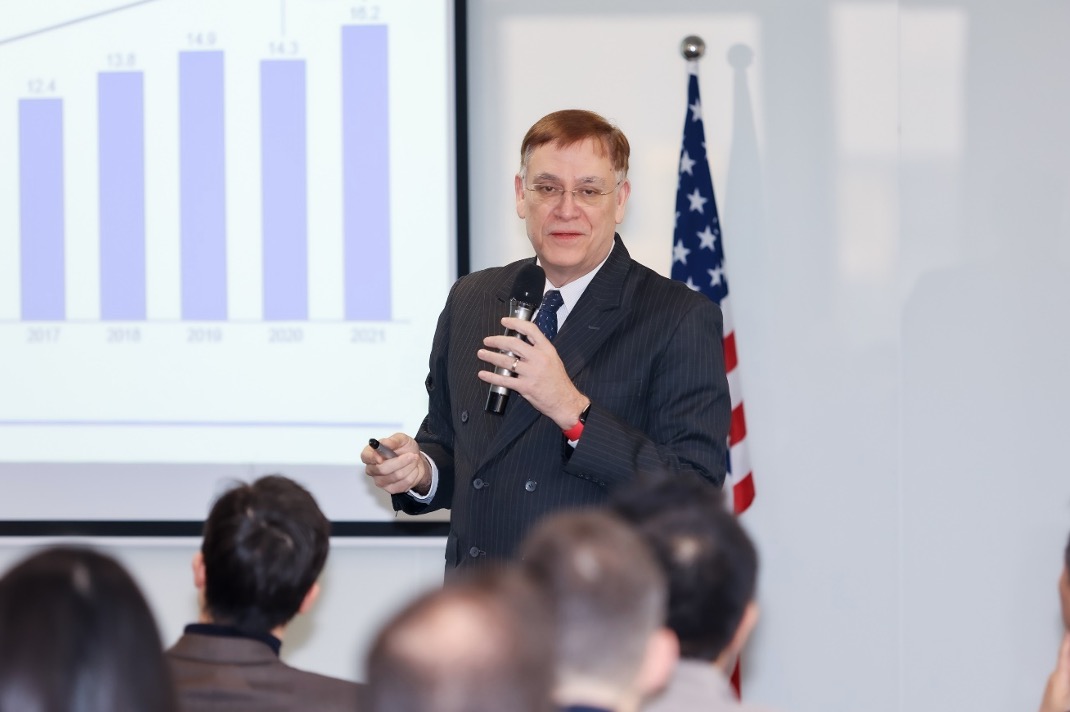 Noticeably, local brands show competitive advantages in China's NEV sales landscape. Among the top 10 NEV sales brands in 2021, nine are Chinese brands. The domestic automotive landscape looks increasingly competitive. Apart from a new class of Smart EV OEMs (NIO, XPENG, Li Auto) that are rising rapidly with "digital DNA," smart device makers (Xiaomi, Huawei, Apple) are entering the smart EV sector. A new class of tier 0.5 suppliers are restructuring the traditional automotive supply chain as vehicles become smart devices.
Zhang Yu, Managing Director of AutoForesight, shared a breakdown of 2021 sales data. Passenger car net incremental sales volume reached 1,300,539 units, 6.6% growth. NEV sales reached 3,500,269 units, increasing by 157.9% year-on-year. In the China PV NEV OEM Ranking, China local brands still took the lead; however, Tesla, FAW-VW and Brillance BMW entered the top 15. The competitive landscape will keep changing dramatically in the foreseeable future.
Regarding major regulations and policy trends, Zhang noted the change in NEV subsidy policy as well as the change in free car plate, and how these will impact the industry in the near future.
CES 2022 highlights
Lei Xing, co-host of the China EVs & More Podcast, currently based in the US, shared some trends he observed at CES 2022, including computing power's dominance as hardware and software democratizes; immersive experiences; extension from IoT to MoT (Mobility of Things); evolution from ADAS to AD; more autonomy; and collaborations between digital tech companies and automakers.
Lei Xing said he noticed that the world is waking up to China's leading position in EV, AV and mobility. Some of the statements made at CES are actually already happening in the China market. Chinese automakers especially the Chinese smart EV startups are influencing the US and EU markets in many aspects beyond selling cars.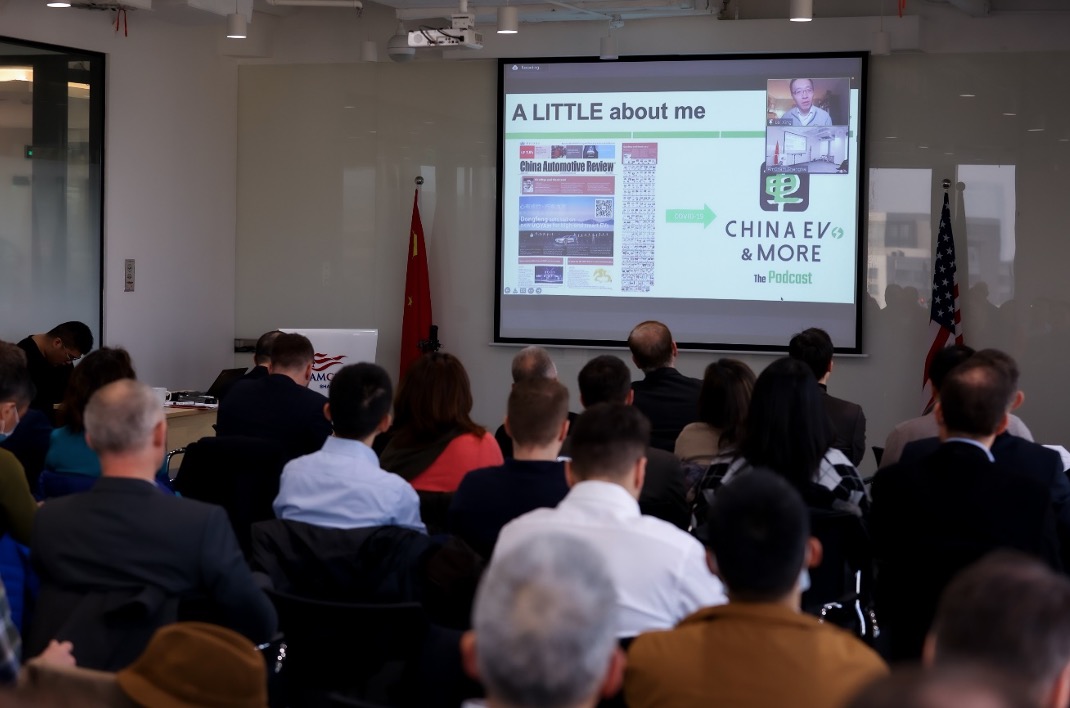 Bill Russo echoed this sentiment by pointing out two of the most compelling technology megatrends of the future: intelligent automation and the evolution of the metaverse. To compete in the "new game," Bill stressed that a different mindset is required, including a user centric approach, a shift in the market battleground from a physical to a digital sphere and the use of collaborative ecosystems to build full stack IoM solutions.
2022: Sales Outlook & Tech Trends
Moving forward, Bill highlighted some key challenges across the entire value chain, including supply chain disruption, the significance of becoming a smart EV/ICV company and the transformation of automotive retail.
For the China mid to long-term market outlook, Zhang Yu forecasted that it will grow to 22 million units in 2022, and restore to around 25 million passenger vehicles by 2025. The actual demand is expected to exceed 9 million NEVs, or 30% of total auto units by 2025; In 2030, NEVs could reach 40% of forecasted 35 million auto units, or about 14 million NEVs. He also shared that traditional local brands share will account for 30% of the market and local EV startups & tech companies will account for 40% of market share in 2030.