09 Oct

The Rise of Smart Electric Vehicles and the Digital Internet of Mobility

By Bill Russo, Bevin Jacob, Twyla Zhang and Benjamin Fan

We stand at the inflection point of a secular shift and exponential rise of connected, electric and autonomous mobility technology.  A new "Internet of Mobility" (IoM) business model has emerged in the 21st Century which is highly embedded in a distributed cloud-based architecture linked to the Intelligent Connected Vehicle (ICV). The IoM model accelerates tech commercialization by leveraging the huge addressable market size of the mobile internet.  A software-defined, networked, and cloud-enabled ICV architecture will capture these growth opportunities.

The Evolution of Transportation

Throughout human history, mobility innovations have been key milestones in the advancement of civilization and have catalyzed economic development.

Prior to the 18th century, people and goods movements were primarily limited to short distances. Longer distance movement would involve use of animals (over land) or wind power (over water). Human activity and settlements were clustered in cities where longer distance transportation was via waterways, and canals were built to extend economic development inland (see Figure 1).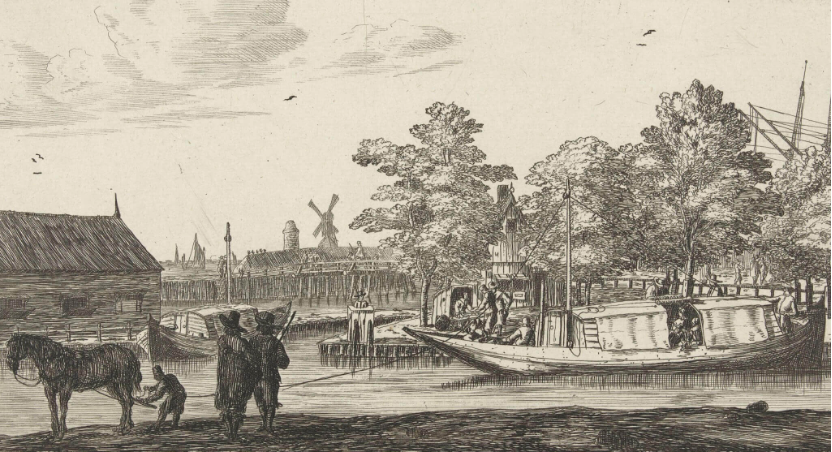 Figure 1 | Tow barge to Haarlem, Reinier Nooms, 1652-1654. Collection Rijksmuseum, Amsterdam
The 19th century Industrial Revolution brought accelerated mobility technology innovation, as people harnessed the power of steam and carbon-based energy resources to power sea and rail transportation (see Figure 2). The invention of the internal combustion engine (Carl Benz, 1885) eventually replaced the horse with an automated mobility device (the "automobile"), and 136 years after its invention we still nostalgically rate its performance in "horsepower".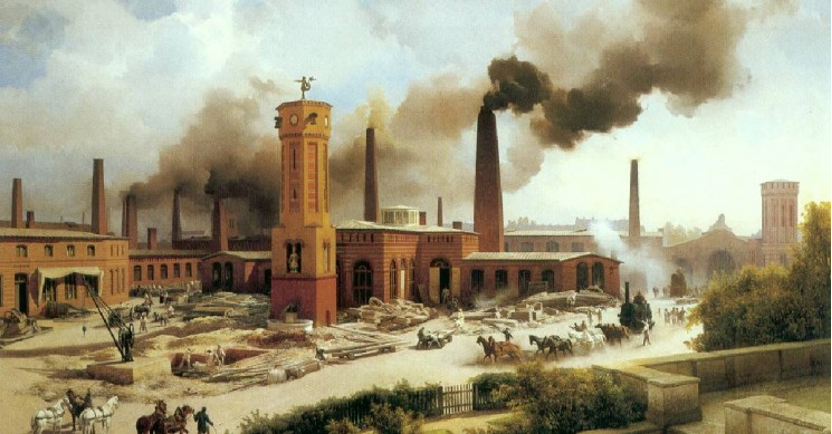 Figure 2 | Borsig's Maschinenbau-Anstalt zu Berlin in der Chausseestraße, Karl Eduard Biermann, 1803 – 1892
The 20th century brought a stunning period of mobility innovation, when transportation extended vertically into air and outer space. Mass produced automobiles, abundant energy supply, and an expanding road and rail infrastructure also sharply accelerated economic development.  Commercialization of air transportation vastly extended our range, and high-speed rail saw its initial deployment.
Entering the 21st century, we stand at the threshold of a new era of mobility innovation, where advancements in energy density and performance will usher in the era of electric propulsion. Advancements in information technology, artificial intelligence and robotics will soon usher in an era of autonomous mobility, and these robotic movements on land and in the air will once again vastly expand economic activity.
Smart Devices and Form Factor Innovation
The information technology revolution of the late 20th century provided an accelerating force for mobility innovation. The creation and commercialization of the consumer-oriented internet has transformed devices we interact with daily into service-oriented, software-defined platforms.
We live in an era where big data is used to provide personalized services that are often accessed through a smart device, powered by the mobile internet. These smart device technologies are now being embedded into the devices that transport people and goods, which will revolutionize the business of how these devices are monetized.  Transportation innovation has sparked economic advancement throughout human history, and we are about to see history repeat itself as the internet economy enters the game of smart mobility.
Mobility is a basic human need and mobility-related services provide access to daily life needs and conveniences. Mobility can be viewed (metaphorically) as the "central nervous system" of the cities where we live. Mobility enables other city services, linking us between the places we live, work and play.
Mobility is the most visible element and the most frequent touch points of the city service ecosystems. Multi-modal traffic systems, parking infrastructure, charging stations, public safety services are just some of the most visible elements. Such services are made available through public and private partnerships (PPP) at the local level, including health care, public safety, energy and more.
Unlike other everyday service-oriented devices such as phones and computers, cars and trucks have somehow been impervious to a change in their form factor. Phones have evolved from fixed-position devices proving basic telecommunication services to software-defined smart devices which provide access to services. The form factor of the phone has been altered from a wall-mounted wired device to a wireless internet-powered compute platform. Portable internet-powered smart devices now have the storage and compute power of water-cooled mainframe computers that filled entire rooms in the late 20th century.
However, automobiles look pretty much the same as they did more than half-a-century ago. Despite their having a significant amount of embedded electronics, automobiles are still designed for drivers with only a slightly modified form factor (see Figure 3). In the future, we expect dramatic changes in the design of the smart mobility device, which was covered in our paper Reshaping the Future of Mobility.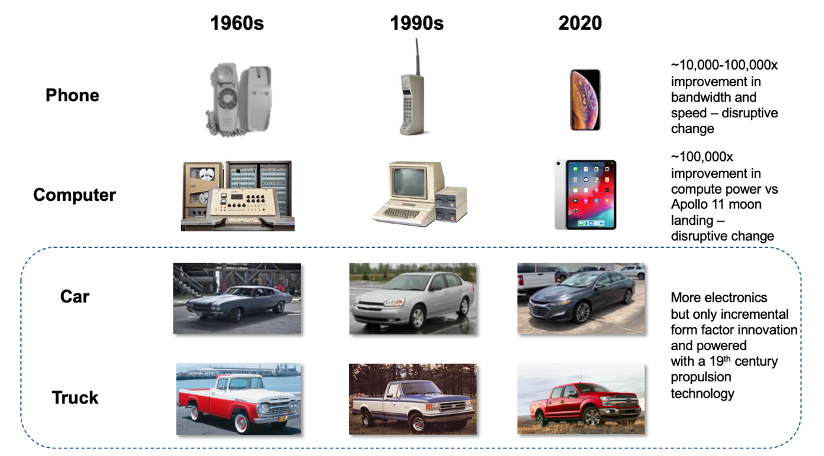 Figure 3 | Form Factor Innovation
While automotive form factors have only changed superficially, electronics and software sophistication have risen steadily as more intelligent connectivity and smart device technologies are installed in vehicles. In the next few years, when electric and self-driving technologies become standard features of vehicles, automobiles will evolve into more personalized, user-centric form factors that are linked to a service-based mobility infrastructure – just like all the other smart devices we interact with every day.
China and the "Internet of Mobility"
The internet population in China reached nearly a billion users by the end of 2020, providing a huge market for services-oriented demand aggregation. As the market with the largest population of people, virtually all of which are served by mobile internet platforms, we are at the early stage of mobility innovation that is ushered in by entrance of internet and communications technology (ICT) players into the mobility sector.
In China, the population of internet users that are served with mobility-oriented services far exceeds the population of individuals who buy and operate their own cars every day. The internet economy has made services available to a billion mobile internet users, often involving mobility to bring services to people or bring people to offline service locations.  Such internet service providers now view the automobile as the next device to be upgraded, thereby unlocking new revenue-generating services.
As a smart device, the car will follow the "Open Structure Information" (OSI) internet model to become a software-defined, app-enabled device. This framework was first introduced in our paper Competing in the Digital Internet of Mobility. This seven-layer OSI model can be conceptualized in the automotive context as a digital internet of mobility "stack" that unlocks mobility and other app-based services (see Figure 4).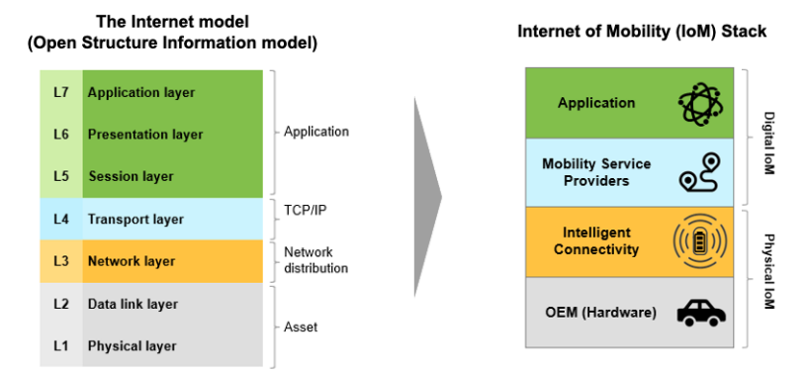 Figure 4 | Internet of Mobility Stack
China's digital economy is setting the pace for an entirely new "automobility" business model where "new game" commercial opportunities are created. This "new game" is highly embedded in the digital ecosystem and will change the car from a device monetized primarily when sold to a device monetized in multiple ways over its entire productive life cycle (see Figure 5).  New Game players often emerge from other ICT or digital ecosystems and have experience monetizing other software-defined smart devices, and are highly efficient aggregators of services that are accessed through smart devices.
Traditional "old game" players often define themselves as "original equipment manufacturers", with a business model that is optimized around mass production and supply chain aggregation.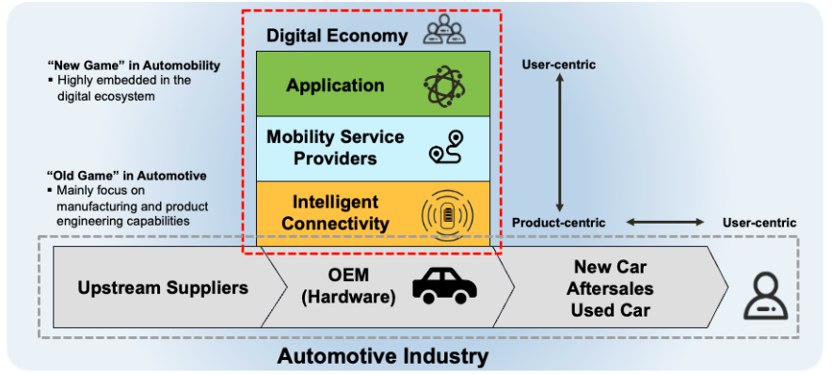 Figure 5 | "New Game" in Automobility
This transformation to the new game is happening in successive waves, as depicted in Figure 6.  The first wave began a decade ago with the introduction of app-based mobility services.  While this did not change the basic design of a car, it vastly expanded access to personal mobility by making mobility available to anyone who has an app-enabled smart device. It also brought user-centric internet services platforms into the automotive value chain, and it is these new game players that are investing in the next waves of disruption.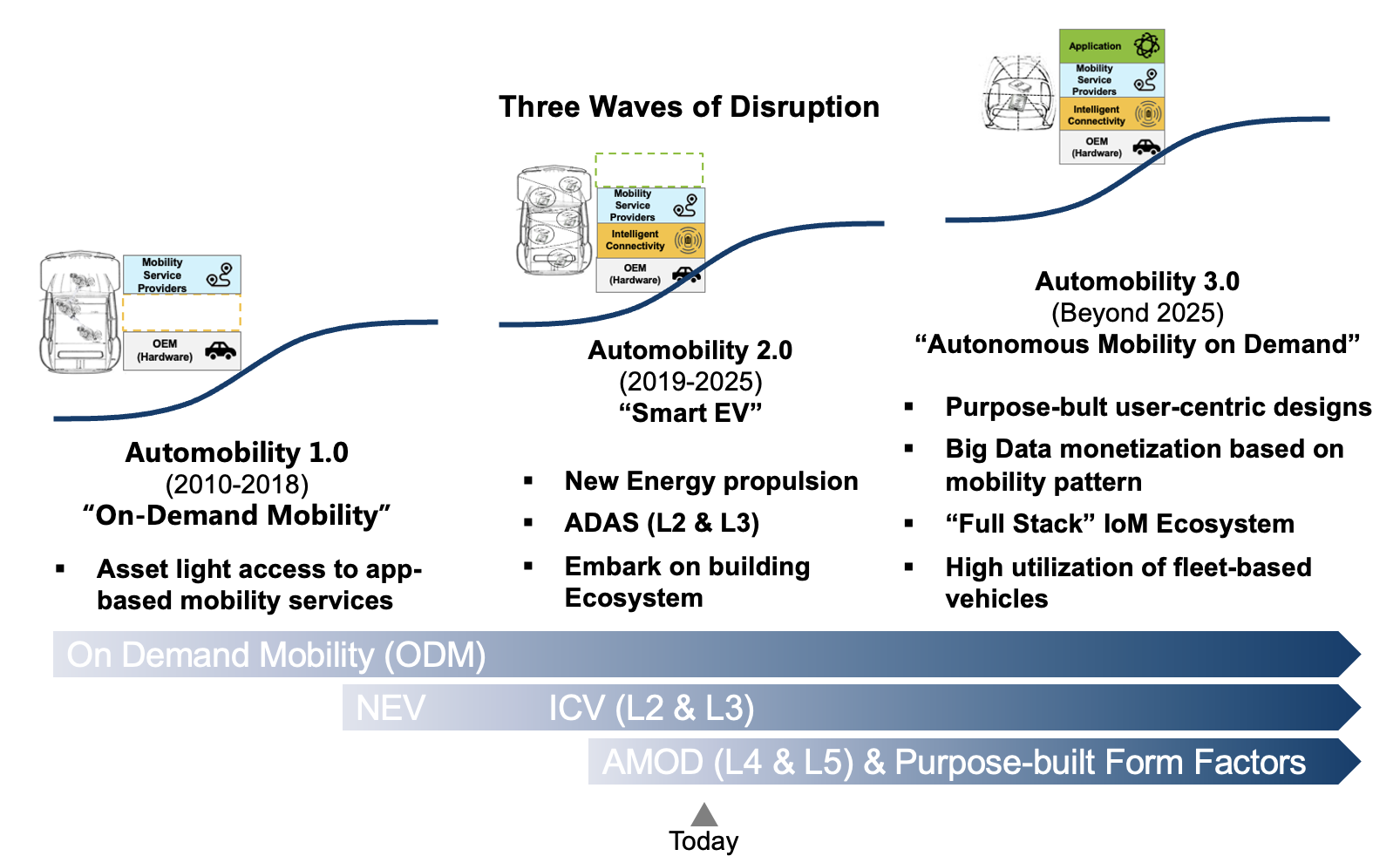 Figure 6 | Three Waves of Disruption
In 2021. we stand at the inflection point of the second wave, where the car is transitioning into a "Smart EV" or "Intelligent Connected Vehicle (ICV)". The second wave of disruption will see a rapid acceleration of the commercialization of new energy vehicle (NEV) propulsion technology and the advent of advanced driver assistance systems (ADAS), making mobility less of a manual task that will partially free the driver from the mundane task of actuating the vehicle movements.
The third wave will occur when autonomous mobility on demand (AMOD) is commercialized, for both people (robo-taxi) and goods (robo-delivery) movements. Of course, driver-actuated mobility will co-exist with such devices for some time, but we believe the overall economic advantages of smart, autonomous vehicles will spark large-scale commercial deployment.
In the world of smart mobility, big data monetization becomes possible. Data gathered from the physical movements of the device, along with the consumption and mobility pattern of its users, can be monetized in multiple ways beyond just payment for transportation.
In this Internet of Mobility (IoM) business model, profits are no longer relegated to how many vehicles are sold, or how many parts get replaced.  Rather, the IoM model expands the focus to include user-centric services (see Figure 7), offering a wide range of opportunities to monetize the smart mobility device. The IoM business model is disruptive to the traditional industry precisely because of this ability to monetize user-centric services, made available through the digital ecosystems that power the smart device.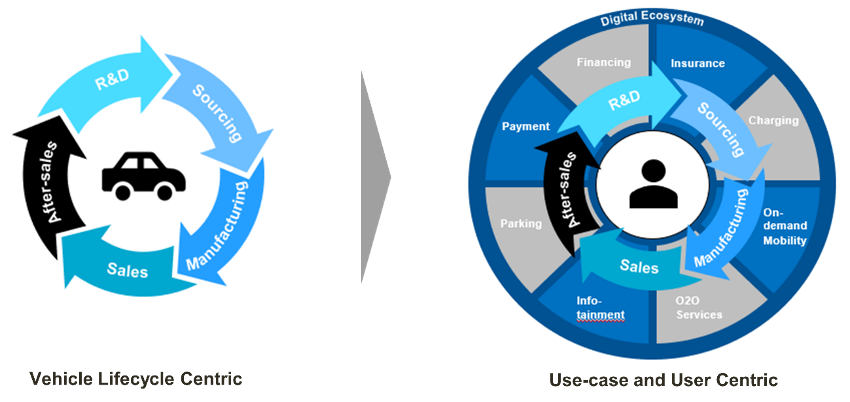 Figure 7 | The User-Centric Internet of Mobility Business Model
Looking forward, competing in the new game requires an expanded focus from the physical IoM (hardware/manufacturing) to the digital IoM (software/services) layers, as depicted in Figure 8. Capturing device manufacturing (P) and vehicle-centric services (S1) revenues will remain an opportunity, but this wil only be attractive business if such devices are produced at massive scale and serve segments that offer sufficient volume and pricing to be profitable. We believe the bulk of the growth opportunity for the industry will be in the monetization of user-centric services (S2), made available through the digital ecosystem.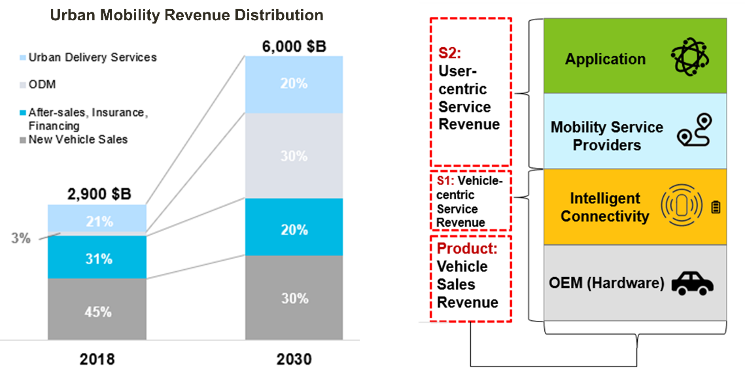 Figure 8 | Revenue Distribution in the Internet of Mobility
When the vehicle is conceptualized as a smart device, it collects information on the users, the vehicle, and its surroundings. All the data generated from the vehicle and users can be uploaded to the cloud for analytics to better provide data-enabled services to users in vehicles (see Figure 9).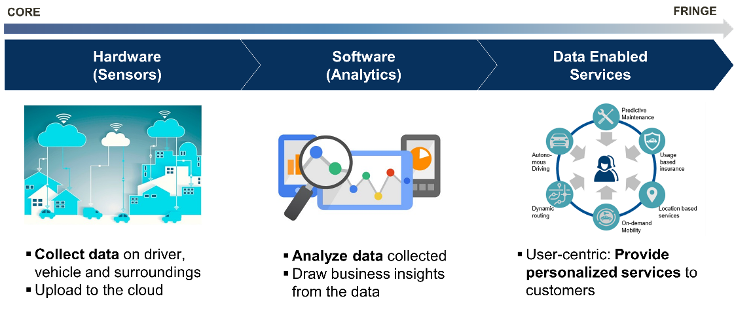 Figure 9 | Internet of Mobility Data Monetization
"In, Around and Beyond" IoM Architecture 
With the rise of smart EVs and the digital IoM, we must consider that intelligence extends beyond the smart vehicle. The future Internet of Mobility (IoM) ecosystem exists in, around, and beyond the vehicle and is embedded in the larger smart city & smart transportation ecosystem.
The future smart transportation ecosystem will be built with this three-legged "in, around and beyond" IoM architecture (see Figure 10). The in-vehicle IoM stack is embedded in the purpose-built autonomous smart mobility device that provides the user-centric human-machine interface.  External links to the around-vehicle IoM stack provide access to the additional sensing and orchestration functions of the smart transportation network. A beyond-vehicle IoM stack will link the smart devices in the smart transportation network to cloud-based links to app-enabled smart city services.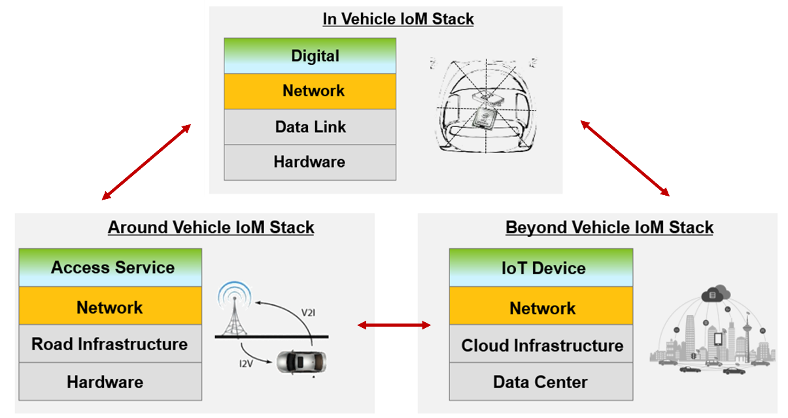 Figure 10 | In/Around/Beyond IoM Architecture
This "in, around and beyond" smart solutions architecture generates recurring revenue from multiple sources, including mobility, energy, and digital services, offering exponential growth.
__________________________________________________________________________
About the Authors
Bill Russo is the Founder and CEO of Automobility Limited. His over 35 years of experience includes 15 years as an automotive executive with Chrysler, including 17 years of experience in China and Asia. He has also worked nearly 12 years in the electronics and information technology industries with IBM and Harman. He has worked as an advisor and consultant for numerous multinational and local Chinese firms in the formulation and implementation of their global market and product strategies. Bill is also currently serving as the Chair of the Automotive Committee at the American Chamber of Commerce in Shanghai.
Contact Bill by email at bill.russo@automobility.io
Bevin Jacob is a Partner & Co-Founder of Automobility Limited. He has over 20 years of experience in Investment Advisory, Business Development, Product Management, Mobility Startup Incubation & Engineering of Autonomous Transportation Systems and On-Demand Mobility Services for Shared Mobility, E-Retail, Automotive Infotainment and Telematics. He has also worked nearly two decades in the electronics and information technology industries with Continental, LG Electronics and Start-ups in Greater China, USA, South Korea & India.
Contact Bevin by email at bevin.jacob@automobility.io
Twyla Zhang is a Senior Consultant at Automobility Limited. She has communications, marketing, and consulting experiences in cross-industry sectors, including energy, automotive, FMCG, finance and healthcare. She led several projects in market entry, market insights, marketing communications, and new product development. Twyla holds a Bachelor's degree in Marketing from Michigan State University and an MBA from CEIBS.
Contact Twyla by email at twyla.zhang@automobility.io
Benjamin Fan is a Senior Consultant at Automobility Limited. He has more than 8 years of experience in Market Research, Market Entry, Marketing & Branding Strategy and Organizational Development. He is passionate about the future of the automotive industry, and brings insights from both Consumer Goods and Healthcare industry to help shape the future of mobility with his clients.
Contact Benjamin by email at benjamin.fan@automobility.io