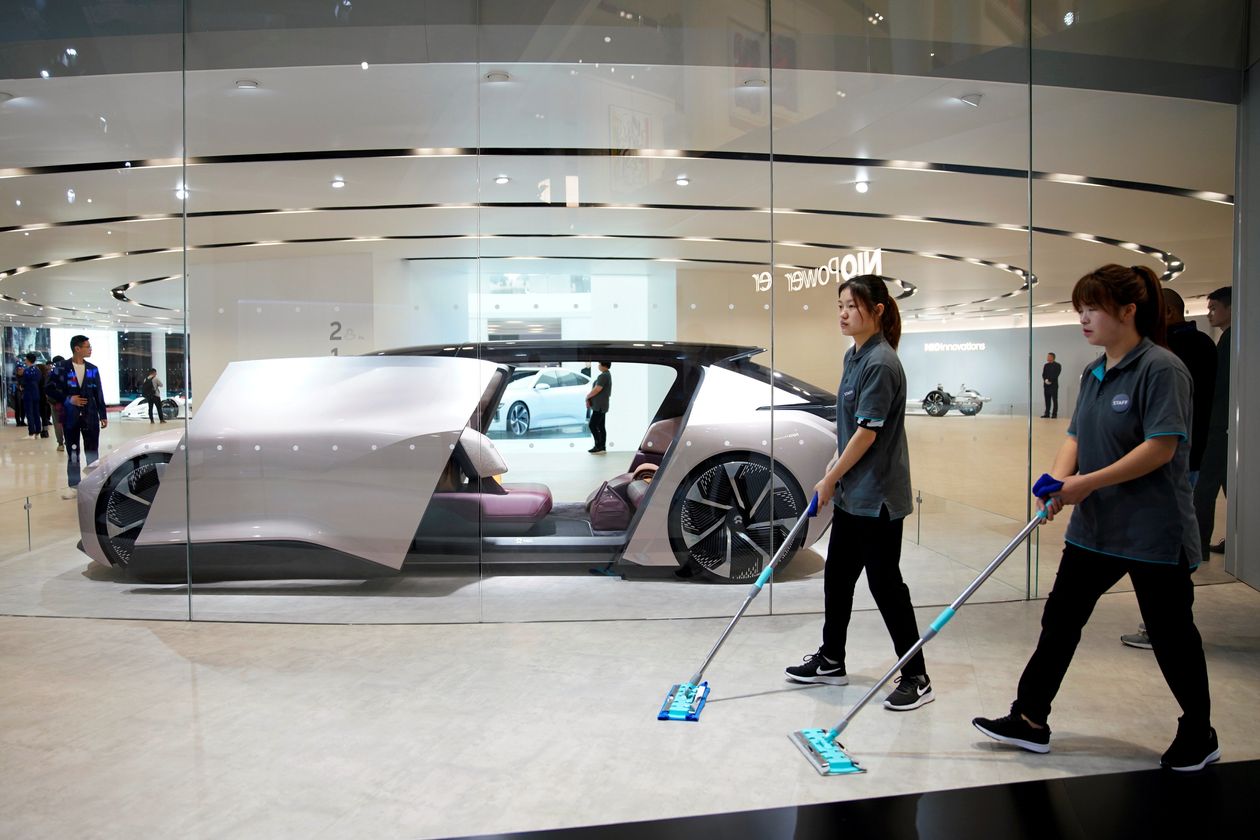 04 May

China's Tesla Rival NIO Turns to State for Financial Lifeline

The Wall Street Journal, April 29, 2020
Roughly $1 billion investment entitles state-owned entities to 24.1% stake in electric-vehicle maker's China unit
By Trefor Moss
SHANGHAI— NIO Inc., the embattled electric-vehicle startup once feted as China's answer to Tesla Inc., has secured a financial lifeline from state investors in return for agreeing to base its operations partly in a provincial city 300 miles west of Shanghai.
The 7 billion yuan, or roughly $1 billion, investment by state-owned entities from Hefei, the capital of Anhui province, "is not a state bailout", said William Li, NIO's chief executive, announcing the deal on Wednesday.
The investors were acquiring a 24.1% stake in NIO's recently established China unit at fair-market rates, Mr. Li said, in return for which NIO China would establish a Hefei headquarters and support the region's development as an EV production base. Ownership of NIO Inc., the New York-listed parent, isn't affected, he said.
"It's a vital strategic arrangement for the company," Mr. Li said.
The deal marks the latest example of a cash-strapped Chinese EV company turning to the state as the investor of last resort, with private investors having largely abandoned a sector that so far offered them scant returns.
While safeguarding NIO's immediate future, the move threatens to relegate the company—which styles itself as an innovative global startup—to China's auto-making minor leagues, where scores of local manufacturers exist more to support the industrial policy of local governments than to produce cars that consumers actually want. A small state-run auto maker based in Hefei already builds NIO's vehicles under contract, an arrangement that now looks set to become permanent.
Mr. Li told reporters that the agreement with Hefei expands NIO's options, as it makes it easier for the company to raise funds in China, as well as in the U.S.
Only a handful of Chinese EV startups were able to secure funding last year and the coronavirus pandemic has made their situation tougher than ever, said Bill Russo, founder of Shanghai-based consulting firm Automobility.
"This will force companies that wish to survive to accept funds from whatever sources they can, including government agencies that have a vested interest in the success of the company," Mr. Russo said.
The investors include Hefei City Construction and Investment Holding (Group) Co., CMG-SDIC Capital Co. and Anhui Provincial Emerging Industry Investment Co., NIO said in a statement.
Chinese EV startups proliferated from around 2014, the year NIO was founded, encouraged by Beijing's generous subsidies and other EV-friendly policies. By early 2019 there were 635 of them, according to official data.
NIO blazed the trail, its slick branding helping it to secure billions of dollars from investors including Baidu Inc. and Tencent Holdings, and enabling it to set up a network of global offices.
But none of the country's EV startups including NIO have come close to breaking even, let alone dethroning Tesla as the pacesetter in the global shift from gasoline to electric cars.
By the end of 2019, NIO had sold nearly 32,000 vehicles but had lost $4.2 billion in the process, according to its own financial statements—equivalent to $131,000 per car. Within a year of listing on the New York Stock Exchange in September 2018, NIO's shares lost 85% of their value as its promise dimmed in the eyes of investors. Last year it laid off thousands of workers to stem mounting losses.
At last year's rate of cash burn, the new $1 billion investment would last NIO around seven months, and that is not counting the $600 million that NIO has promised to commit to the Hefei venture as part of the deal.
"We have some funds," Mr. Li said when asked where he would get the money. NIO held $151.7 million in cash at the end of 2019, and issued $435 million in convertible notes in February and March to meet its operating expenses.
Another challenge for NIO and its startup peers is the prolonged downturn in China's auto market, with 2019 EV sales declining 4% to 1.21 million vehicles from the previous year. The coronavirus pandemic further hammered Chinese auto makers in the early part of this year, with overall sales down 43% in the first quarter.
The start of production at Tesla's Shanghai plant in December, combined with a ramping-up of EV launches by established auto makers, has made the task facing China's army of startups more daunting than ever.
Tesla sold 17,466 vehicles in China in the first quarter, according to data company LMC Automotive, outselling all the Chinese EV startups combined. NIO sold 4,185 cars during the period.
—Raffaele Huang contributed to this article.
Click here to read this article at WSJ.com