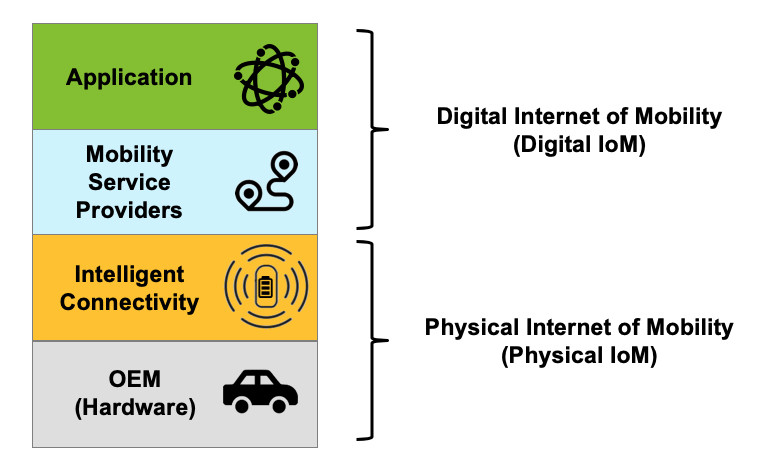 17 Dec

Competing in the Digital Internet of Mobility
LinkedIn Pulse, December 2018
by Bill Russo, Bevin Jacob and Edward Tse
In the past several years, mobility services have exploded in China, providing affordable and convenient transportation solutions to address the needs of an increasingly urbanized society. In a population where most mobility users are passengers, this presents a new challenge to the traditional automotive industry value chain, which creates a major disruption to a very deeply rooted business model.  
The automotive industry business model originated in what are now mature markets where mobility is primarily served to a population of product owners. In China and other developing markets, mobility needs are increasingly being addressed through mobility services, with profound implications not only for traditional players within the value chain, but also for non-traditional players – as they enter and compete to deliver such services.  
Since 1980, large-scale urbanization and the accompanying rise of the urban middle class population were forces that have propelled the economy forward. However, densely populated urban centers make owning and operating a vehicle inconvenient for daily usage. In addition, China's mobile internet user population now exceeds 750 Million people, and a commercially aggressive internet economy is geared to deliver convenient everyday services, including mobility, through their platforms. Most of these services are consumed through applications and offer convenient mobile payment without cash or credit cards.
The automotive value chain is being fundamentally transformed by new technology, and disruptive new entrants are utilizing big data to draw insights about customers in order to address their "pain points" and offer new solutions for their mobility needs. Mobility needs are increasingly being fulfilled through shared mobility services, which expands the addressable market for personal mobility solutions beyond individual car ownership. Unlike Uber and Lyft which are stand-alone mobility businesses, China's mobility disruptors are often emerging from and/or collaborating with digital ecosystems of Alibaba, Tencent and Baidu. 
It is a disruptive, paradigm-changing development requiring a complete rethinking of the way to deliver value to the market. Traditional automakers must expand their focus from the product (the "automobile"), to the utility that is derived from the product ("automobility") and create a business model and digital ecosystem optimized to provide digitally-enabled solutions for both car owners and users.
The New Game and The Internet of Mobility "Stack"
The automotive industry is experiencing digital disruption driven by internet services, the shared economy, and technologies such as connected, autonomous and electric vehicles. China is at the forefront of this "automobility revolution" with its wide user base and willingness to embrace digital solutions. The "automobility" business model is highly embedded in an expanding digital ecosystem, capable of touching virtually all aspects of our connected lifestyle. In contrast with the traditional vehicle lifecycle-focused business model, the automobility business model is focused on connected mobility at the core of a user-centric digital ecosystem. 
In the traditional value chain of the automobile industry, competitive advantages are linked to manufacturing and product engineering capabilities (hardware), with Original Equipment Manufacturers (OEMs) having the strongest power. The new automobility value chain, pictured in Figure 1 below, is multi-dimensional and involves what we call the "Internet of Mobility" (IoM) digital stack architecture. 
Figure 1: Internet of Mobility (IoM) Stack
The new IoM stack shifts focus from hardware-centric to user-centric, and it opens up a breadth of opportunities for suppliers to capture value: in today's B2B business, the OEM customers are in the gray layer; whereas the new value chain introduces new users to the automobility ecosystem through the top of the stack. Traditional OEMs and suppliers are very familiar with the "Old Game" of the gray layer, which is mainly focused on selling branded hardware and is focused on manufacturing and engineering capabilities as the core of their branded value propositions. However, a "New Game" is being created that is highly embedded in the digital ecosystems of the internet economy, a place where Chinese digital players have absolute competitive advantage at serving their vast population of internet services users. 
As illustrated in Figure 2 below, we further segment the IoM Stack into two components: the Physical Internet of Mobility and the Digital Internet of Mobility. Each layer of the IoM Stack includes a set of players in both the Old Game and the New Game. 
Figure 2: Definition of the Internet of Mobility (IoM) Stack
Physical IoM players:
Gray layer:  Component Suppliers, OEMs, Dealers,  
Orange layer:  Intelligent Connected Vehicle (ICV) and Autonomous Vehicle (AV) technology suppliers, Fleet Management Companies
Digital IoM players:
Blue layer:  Mobility Service Providers (MSP)
Green layer:  Internet and Communications Technology (ICT) Providers and their ecosystem partners
The New Game has a much larger addressable market in China, owning to a much larger target group of nearly a billion mobility users rather than tens of millions of prospective car buyers. Playing the New Game engages more frequent and direct daily interactions with users, to which tailored services beyond mobility can be offered, typically derived from analysis of the big data generated from the user's digital consumption and mobility patterns. 
In addition, the New Game unlocks new revenue streams through new features which can be embedded in the connected mobility platform, expanding the market from car sales and aftermarket services to pay-per-use and third-party services. Hence the New Game opens the scope for collaborative partnerships, including a variety of non-traditional and cross-industry players, while most traditional companies typically limit their relationships to traditional suppliers and dealers.
The automobile industry is experiencing digital disruption driven by internet services, shared economy, and technologies such as connected, autonomous and electric vehicles. Hence the "orange layer" of Intelligent Connectivity is the critical part of the stack which opens the possibility to participate in the New Game and its big data relationship with the user.  This will include "vehicle to anything" (V2X) connectivity beyond just the car itself and the users within the car, but also the other vehicles (V2V) and transportation infrastructure (V2I) to achieve the benefits of autonomous transportation.
Data and software are the key enablers to capture potential opportunities in future personalized mobility, which is developed around data from both mobility owners and users, as shown in Figure 3 below.
Figure 3:  Leveraging Intelligent Connectivity to Capture Opportunities 
Playing the New Game 
Traditional players focus on Old Game B2B relationships but are now faced with a fast-moving and hyper-competitive environment with an expanding group of New Game players emerging from the Digital IoM top of the stack. For such companies, playing the New Game requires a shift from traditional B2B development based on existing business unit strategies, to collaborative development in the new automobility ecosystem. This will likely require an expansion of the business scope to address the demand for mobility through deployment of fleets of shared, connected, electric and autonomous vehicles capable of personalizing to the requirements of individual users of mobility services.  
An expanded understanding of mobility use cases and tailoring of the mobility hardware "form factor" to the particular mobility need will be a way to create a value proposition that is rooted in the unique riding experience. In the user-centric world where users are passengers, the focus shifts from traditional driver-centric design to a user-centric productivity space.  Instead of traveling in the cockpit, we will move in business class or economy class, depending on our preferences and budget.  
For traditional carmakers, Intelligent Connected Vehicle (ICV) technologies are focused on telematics, infotainment, and driver assistance technology. However, a user-centric New Game player would expand focus to deliver features that would enable personalization of the mobility experience, such as universal identity recognition to unlock cloud-based services and the ability to present a human-machine interface (HMI) to access data and productivity tools while in transit.
There are multiple pathways to entering the New Game, and all require some capability to engineer a transportation hardware device. Essentially, the gray layer of manufacturing is not going away. However, this will no longer be the most profitable position in the value chain. We are at a fork in the road as it pertains to deriving the maximum value capture of the IoM stack.  
Traditional "gray layer" suppliers, OEMs and dealers who do not understand the New Game will become commoditized and marginalized. Those who understand would most likely strive to transform through technology upgrading, which is relatively slow and capital intensive. Premium carmakers may be able to survive on this path for some time.  
On the contrary, disruptive new entrants typically choose a shared mobility path by leveraging "blue layer" mobility service providers (MSPs) such as Didi Chuxing to enroll new users in their digital ecosystems. In China, the Internet and Communications Technology (ICT) "green layer" companies including Baidu, Alibaba and Tencent are increasingly using this route to expand their user base, while simultaneously investing to create new ICV, EV and AV technology with startup automakers like NIO, XPENG and Weltmeister. This path is fast to capture the users, while leveraging their high valuations to bring new, purpose-built, hardware eventually into the market. These companies aim to achieve intimacy with end users through digital platforms and monetize customer value through both mobility services and offerings for digitally connected lifestyles.
Traditional carmakers have generally been slow in embracing the Internet of Mobility. Many even fail to recognize the opportunities and threats coming from the shared economy. This is due to the fact that they lack the digital DNA necessary for monetizing relationships with users of connected mobility services. Innovation linked to the digital economy and deepening relationships with end users will be key to survival in the increasingly technology-enabled New Game in China. 
An IoM Ecosystem should be built from the current core hardware business (see Figure 4). It is important for traditional players to understand their core business from the lens of the New Game and develop a clear value proposition based on the target design of their future full stack IoM Ecosystem. The three layers around the core business introduce extended capabilities for traditional players to compete in the IoM Stack, which are necessary unlock to revenue and profit growth, and capture new value in the big data relationship with the mobility users. 
Figure 4: Building the IoM Ecosystem from the Core Hardware Layer
These capabilities should be built on a trust-based IoM platform where the consumers of mobility can regain the right to secure and monetize the data generated from their connected mobility transactions. The extended capabilities provide a pathway to entering the Automobility value chain, and this will require investments in new types of JVs and partnerships in all layers of the IoM stack.
Traditional carmakers need to figure out a way to engage in this new game. Moving into software or services and becoming part of the digital ecosystem will be necessary, but it will likely be very difficult for companies who have long focused on the branded relationship with vehicle owners.
Carmakers should pivot to where growth is heading. The traditional sources of competitive advantage for carmakers no longer guarantee success. Instead, they must build a new set of capabilities derived from digital ecosystems and mobility services partnerships.
_________________________________________________________________________
About Automobility
Automobility Limited (www.automobility.io) is a strategy and investment advisory firm helping its clients to create the future of mobility. Mobility needs, previously satisfied through product "ownership", are increasingly being served through mobility services "usership" with profound implications not only for traditional businesses within the value chain, but also for new entrants – as they compete to deliver services. Connected mobility, which we define as "technology-enabled on-demand mobility services for moving people and goods from point A to B", has become a disruptive, paradigm-changing development in the automotive industry. It requires a complete rethinking of the way to deliver value to the market. To succeed, companies must expand their focus from the product (the automobile) to the utility derived from the product ("automobility"), and create a business model and digital ecosystem optimized to provide digitally enabled solutions for both car owners and mobility services users.
About Gao Feng Advisory
Gao Feng Advisory Company (www.gaofengadv.com) is a professional strategy and management consulting firm with roots in China coupled with global vision, capabilities, and a broad resources network. We help our clients address and solve their toughest business and management issues — issues that arise in the current fast-changing, complicated and ambiguous operating environment. We commit to putting our clients' interest first and foremost. We are objective and we view our client engagements as long-term relationships rather than one-off projects. We not only help our clients "formulate" the solutions but also assist in implementation, often hand-in-hand. We believe in teaming and working together to add value and contribute to problem solving for our clients, from the most junior to the most senior.
_________________________________________________________________________
About the Authors
Bill Russo is the Founder and CEO of Automobility Limited. His over 35 years of experience includes 15 years as an automotive executive with Chrysler, including 14 years of experience in China and Asia. He has also worked nearly 12 years in the electronics and information technology industries with IBM and Harman. He has worked as an advisor and consultant for numerous multinational and local Chinese firms in the formulation and implementation of their global market and product strategies. Bill is also currently serving as the Chair of the Automotive Committee at the American Chamber of Commerce in Shanghai.
Contact Bill by email at bill.russo@automobility.io
Bevin Jacobis a Partner & Co-Founder of Automobility Limited. He has 18 years of experience in Investment Advisory, Business Development, Product Management, Mobility Startup Incubation & Engineering of Autonomous Transportation Systems and On-Demand Mobility Services for Shared Mobility, E-Retail, Automotive Infotainment and Telematics. He has also worked nearly two decades in the electronics and information technology industries with Continental, LG Electronics and Start-ups in Greater China, USA, South Korea & India.
Contact Bevin by email at bevin.jacob@automobility.io
Dr. Edward Tse is founder and CEO of Gao Feng Advisory Company. A pioneer in China's management consulting industry, he built and ran the Greater China operations of two leading international management consulting firms for a period of 20 years. He has consulted to hundreds of companies – both headquartered in and outside of China – on all critical aspects of business in China and China for the world. He also consulted to the Chinese government on strategies, state-owned enterprise reform and Chinese companies going overseas. He is the author of over 200 ar,cles and four books including both award-winning The China Strategy (2010) and China's Disruptors (2015) (Chinese version «创业家精神»).
Contact Ed by email at edward.tse@gaofengadv.com