08 Nov

Growth Engine for the World's Carmakers Is Becoming a Liability

Bloomberg News, October 25, 2018

The chief engine of growth for the world's carmakers is turning into their biggest headache.

In the past 48 hours, auto giants from Volkswagen AG and Ford Motor Co. to Renault SA and PSA Group have pinned flagging profits and weakening sales outlooks on a slowdown in the world's largest auto market. The companies spent billions of dollars over the past two decades setting up production and sales channels in China, as rapid growth saw millions buy first — and second — cars, only to see demand fizzle as the economy wavers.

The trade war with the U.S. and a sliding stock market are damping prospects for the $12 trillion economy and hitting consumer demand. Shoppers are staying away from car showrooms, with monthly sales sliding for four straight months, on track for their first annual contraction in at least two decades. Few of the major car manufacturers that rushed into China wanting to cater to its 1.4 billion people have been spared.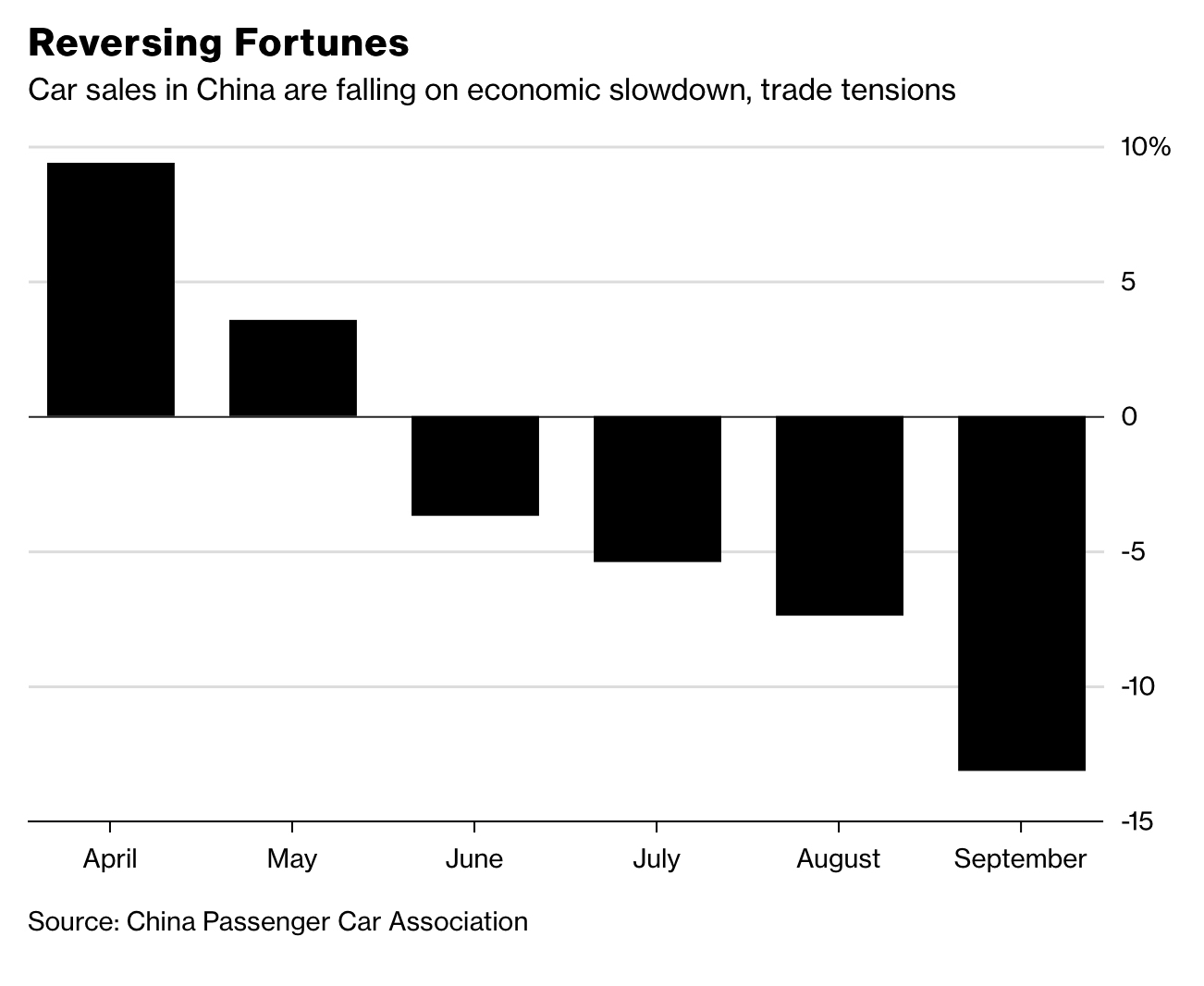 The trend also forebodes a massive shift in consumer preferences toward ride-hailing and car-sharing services, which are undermining the need for individuals to own a car, said Bill Russo, a former Chrysler executive who now heads auto consultancy Automobility Ltd.
"Mobility demand is increasing as China continues to urbanize," Russo said. "However, traditional carmakers are not positioned to capture this demand growth."
Shared autos used by popular ride services such as Didi Chuxing will account for 30 percent of China's passenger vehicles and majority of miles traveled by 2025, Russo predicts. They currently account for 13 percent of passenger vehicles. The increased usage of such cars will reduce the unit sales of new vehicles, Russo said.
Forecasts Slashed
Volkswagen warned that trade tensions are dragging down the Chinese market, prompting the German manufacturer to cut its sales forecast. The company had forecast industrywide growth of 4 percent this year in China, but recent data show the market to be flat or even lower for the year, the company said. China is the carmaker's most important market, accounting for just under 40 percent of its vehicle sales.
The trade war had already prompted luxury-car makers BMW AG and Daimler AG to warn about lower profits, while slowing China demand forced Jaguar Land Rover to shut a factory temporarily. Mercedes-Benz maker Daimler on Thursday said it still expected "good growth rates" in its most important market, Chief Financial Officer Bodo Uebber told reporters a quarterly earnings call. China accounted for 29 percent of deliveries through September, rising 13 percent.
As part of the economic standoff with the U.S., China increased the levy on vehicles imported from America to 40 percent. The country almost simultaneously lowered the duty on other imported cars to 15 percent, leaving consumers confused about pricing and potentially lowering demand, an industry group said.
Read More: Luxury Carmakers Are Taking a Hit as Demand in China Plummets
Ford continued to post losses in China in its latest quarter, saying demand was hurt by the country removing purchase incentives. A rebate on purchase tax that was in place through last year was phased out, and other hurdles such as rising property prices are also weighing on auto demand, a Chinese industry group said this month.
"We definitely see a weaker market," Jim Farley, Ford's president of global markets, said on an earnings call Wednesday. The removal of incentives led to a hangover in the first quarter, and demand hasn't recovered to year-earlier levels since, he said.
French contenders Renault and PSA, the maker of Peugeot and Citroen cars, earlier downgraded their growth forecasts for China this week. Last week, tire maker Michelin warned of falling sales in the country.
Increased Bets
Carmakers still have belief in China's long-term potential, and are taking steps to expand in new transport services and electrified vehicles. BMW this month revealed a $4.1 billion deal to secure control of its Chinese joint venture, becoming first automaker to take advantage of China's policy to let foreign companies own a majority holding of their local partnerships.
Hyundai Motor Co., whose sales in China fell 3.7 percent during the third quarter, said would "put all efforts" into boosting sales in China, with a plan to speed up timelines on China-focused models to woo customers, Vice President Koo Zayong said on a call.
The German luxury-car maker is also among Western brands boosting manufacturing capacity in China and expand local production of models including electric cars. Tesla Inc. is pushing ahead with plans to set up production in China to gain a bigger slice of the world's largest electric-car market.
Daimler this week agreed to start ride-hailing and car-sharing services in China with its largest shareholder, using vehicles such as Mercedes-Benz S-class and E-class as well as the ultra-luxury Maybach.
"It is critical that carmakers place China at the core of their global mobility-services strategy as it is the world's largest and most disruptive market, with far more riders than drivers," Russo said. "They should not scale back but pivot to where the growth is heading."
— With assistance by Ying Tian, Lena Lee, Keith Naughton, Sohee Kim, and Christoph Rauwald