26 Jun

Steel Your Future Excerpt: From Personal Transportation to Service

WorldAutoSteel, May 2018

An excerpt from WorldAutoSteel's "Steel Your Future" Article.  To read the full article click here
From personal transportation to service
For over 100 years, the automobile has been a personal possession to most commuters in the world. Either you owned one or you didn't. With the rise of mobility services such as Uber, Didi and a host of others, ownership is fast becoming an option. In a very short time, especially in urban areas such as China's mega-cities, you may find yourself subscribing to a monthly ride share service to transport you and your family to the office, school and after-hours events. Future mobility services will be autonomous and in continuous use during the day. They will be scheduled for the needs of multiple users instead of spending hours parked.
These changes are driving other changes, such as how manufacturers are designing vehicles. For most of the past 100 years, driver experience was the key focus. "We're now beginning to see a shift to the passenger," Bill Russo, CEO of China-based Automobility, said in a February 2017 article entitled, A Perspective on the Future of Mobility and Autonomous Driving. "Beyond mobility, a fully autonomous vehicle's key benefit will be the experience it gives to the user, and the primary benefit which comes from delegating the task of driving to the car is PRODUCTIVE TIME. As such, while the purpose of the car as a transportation device has not changed, the very concept of how to treat and offer convenience-oriented features to the occupant is different: the autonomous vehicle is built with a 'user-centric' mindset, as opposed to a 'driver-centric' mindset."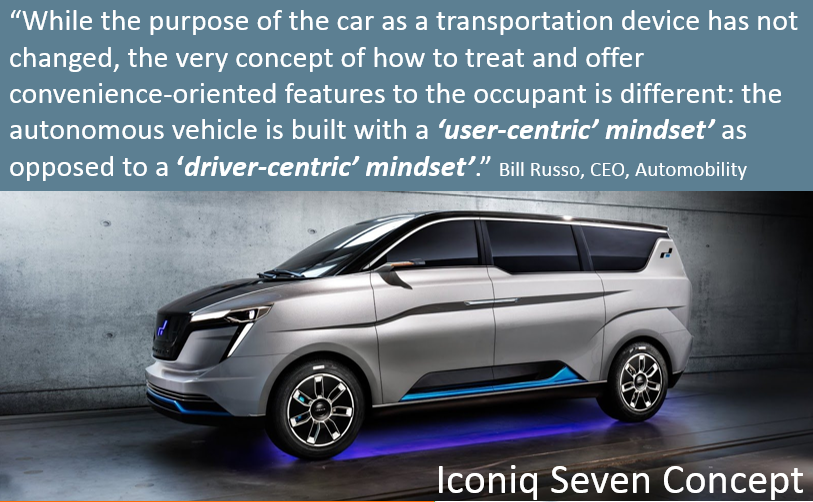 Like prophecy fulfilled, at the 2018 Geneva Motor Show, W Motors and Chinese Iconiq launched their autonomous ride share MPV concept, Iconiq Model 7, which was quickly labeled the first vehicle focused on the passenger experience. Large touch screens, facial recognition, Microsoft Azure Cloud technology, and fully reclining business class-like rear seats are all focused on the passenger. Iconiq Motors CEO Bruno Lambert said the vehicle will recognize its passengers by picking up their smartphone signals as the car approaches. Mobility providers will compete by using unique service features like these to differentiate them from other mobility providers. Mobility will become like other electronic technology, always upgrading to new features and functionality to lure customers. Imagine that you will be craving your friend's new autonomous ride subscription, just like you envy her shiny new iPhone now.