24 Jan

Bill Russo Briefs Global Investors on China's E-Mobility Disruptions

January 19, 2018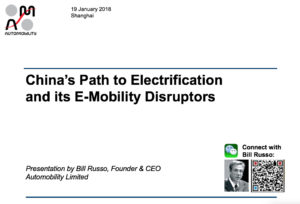 China has emerged as the world's largest automotive market since 2009 and remains the growth engine of the global automotive industry.
Following a decade of rapid growth that culminated in a stimulus-driven surge in demand in 2009-2010, the China auto market sharply decelerated, with growth slipping to 2.5% in 2011 and 4.3% in 2012.  This brief slowdown was followed by 14% growth in 2013, 7% in 2014, 4.6% in 2015, and 14% growth in 2016, reaching overall sales of 28M units.
The world has entered a new era since 2008, with over half of the world population now living in cities, and this increasingly urbanized world challenges the established set of paradigms for personal and commercial transportation, especially in the densely populated urban centers in China.
The unique context of China's urban transportation challenge, the high rate of adoption of mobile device connectivity, combined with the rapid and aggressive introduction of alternative mobility and ownership concepts will compress the time needed to commercialize connected and electric car technology and related services.
Topics discussed include:
The NEV policy  
The targets for credits and how they translate into unit sales, energy density targets,
Overview of the credit trading scheme and the fines
Strategies of the major players towards NEV – local and international – including known product plans
Which domestic and foreign OEMs are best placed
Enablers of mass electrification
Likely investment required by the OEMs and suppliers to meet NEV targets
Investment in charging infrastructure – what have the Chinese gov't committed to and is this sufficient?
Lifting of 50/50 JV restrictions
Chinese consumer perception of EVs – a way to access mobility cheaply/number plates?
Foreign brands Vs domestic in an EV world
Raw material availability
Please contact us if you would like to schedule an investor briefing at info@automobility.io