23 Dec

E-mobility alters auto industry dynamics

China Daily, December 18, 2017

Competing is no longer just about physical hardware, but also the capability to build a digital ecosystem relationship with consumers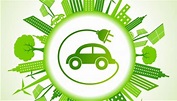 The electric vehicle market is growing rapidly in China and is now outpacing its Western counterparts. Already the largest auto market in the world, China is now also the largest electric vehicle market. It is also the largest car market for many global automakers, including Volkswagen, BMW, General Motors and Mercedes-Benz. As a result, it is becoming essential for these companies to follow China's mandate to electrify transportation.
China's EV policy is largely an outgrowth of the nation's desire to secure the energy resources needed to power China's economic development, along with a desire to level the competitive playing field with global automakers who have long dominated the auto industry with the intellectual property related to conventional fossil-fuel-based propulsion technologies. China's electrification plans are designed to build a globally competitive domestic set of capabilities that help establish China as the leading supplier of the raw materials and products needed to repower transportation.
Electrification will also permit China to alter its energy mix and expand its use of renewable energy sources. In addition, electrification provides China with an opportunity to establish leadership in segments where foreign companies do not have a deeply rooted technological advantage. China has selected new energy vehicles, which include battery electric vehicles and plug-in hybrid electric vehicles, for its electrification push, since they offer Chinese companies a chance to leverage China's favorable EV policies and large market scale to secure a place of strength as these enterprises strive to become global electric carmakers.
For these reasons, the Chinese government is using a variety of incentives to promote and support development of the EV industry. These include purchase subsidies as well as tax and license plate exemptions. In September, China announced its intention to ban the sale of fossil-fuel-powered vehicles, and regulators are working on an implementation timetable. There is also a strong correlation between license plate restrictions and EV penetration for cities that have implemented such measures. By simply making it easier and cheaper to get a license plate, China has significantly expanded the electric car population in these cities. A carbon trading program will be phased in starting in 2019, and this will push automakers to add more EVs to their product mix in order to avoid a tax penalty.
Facing these dynamic changes, local and foreign original equipment makers are accelerating their investments in EV product development. Emerging disruptors (Nio, Byton), hardware innovators (Tesla, BYD) and traditional experimenters (VW, Ford) are now seeking a place in China's EV competitive landscape. They are competing with, as well as collaborating with, each other, as the original competitive advantages of traditional carmakers can no longer guarantee success in the new "e-mobility" business model.
Competing in this new business model is no longer just about the engineering of physical hardware, but also includes the capability of building a digital ecosystem relationship with consumers, especially in a market like China where companies like Baidu, Alibaba and Tencent are actively investing in future mobility technologies around connected, electric and autonomous cars.
NIO, a Chinese EV startup backed by Tencent, has raised more than $1 billion (849 million euros; £746 million) and will release its first mass-production EV, the ES8, early next year. Tesla, a global pioneer in the electrification of transportation, is planning to build a wholly owned factory in Shanghai's Pilot Free Trade Zone. Tencent, which now owns 5 percent of Tesla, is also investing in NIO and Byton in the race to dominate the future of mobility.
Tencent is a co-founder (with Alibaba) of Didi Chuxing, China's top mobility service provider, and is also the lead investor in Mobike, a leading bike-sharing mobility platform. The internet companies believe that connected, electric and shared mobility is an integral part of Chinese consumers' connected lifestyle. By leveraging its vast insight and big data relationship with its users, Tencent aims to provide more-tailored mobility solutions to the market. E-mobility is not just about the vehicle hardware, but also about the broader digital ecosystem relationship with the everyday users of the mobility services platform.
There is already a strong indication that the rise of connected, on-demand mobility is accelerating EV adoption in mobility services fleets. In a sustainable energy summit sponsored by the United Nations and the Global Energy Interconnection Development and Cooperation Organization, Didi CEO Cheng Wei said the future of transportation "is new energy vehicles, and ride sharing will be a key link in promoting new energy on the road." He aims to have 1 million EVs on Didi's platform by the end of the decade, which will account for around 20 percent of the total number of EVs in China by 2020. Didi has also partnered with NEVS, a Sino-Swedish venture that will manufacture electric vehicles in Tianjin for the ride-hailing giant.
EV technology developments are paving the way for large-scale electrification of transportation. Anticipating this, Chinese enterprises are deploying a massive number of charging facilities, with a government target of a 1:1 EV-to-EV charger ratio by 2020. Improvements in battery chemistry and other potential disruptive technologies like wireless charging are also anticipated, which will further accelerate the transition.
For more than 30 years, China's auto policy has required foreign original equipment manufacturers to establish joint ventures with local partners in order to access the market. However, in the age of e-mobility, industry dynamics are being fundamentally altered. Increasingly, Chinese companies are creating product and digital service brands that shift the focus from the hardware to the ecosystem of services that are derived from the hardware. In this new digitally enabled business model, Chinese companies are no longer following, but rather leading, the auto mobility revolution.
This article was originally published in China Daily
Edward Tse is founder and CEO and Bill Russo is managing director of Gao Feng Advisory, a global strategy and management consulting company with roots in China. The views do not necessarily reflect those of China Daily.