05 Dec

Bill Russo Speaks and Moderates Panel at Automotive Aftermarket Summit

Shanghai, China, November 30 2017

Topic:  "How the Chinese Aftermarket is Transforming and Emerging Opportunities"


AASA Announces Automotive Aftermarket Summit 2017 In Shanghai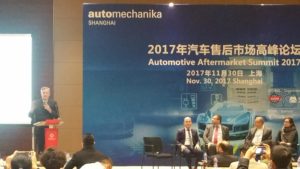 Background: 
China's automotive market is relatively young when compared with mature markets. The average car age in U.S is 11 years, and in E.U. 10 years. By 2018, China is estimated to have 127 million PVs, equaling to 60% of car PARC aged 5 years or more. China's aftersales market will expand rapidly with the aging car population.
Meanwhile, there are three key areas of overarching disruptions emerging in China's automotive industry:
First is the rapid rise of connected, on-demand mobility (ODM) and the digital mobility ecosystem. There is an expanding demand for mobility in the increasingly urbanized world. Connected, on-demand mobility services challenge the traditional ownership model. Sticky digital ecosystems disintermediate traditional B2C relationships. The automobility world will be highly embedded in the exponential digital ecosystem.
Second is the link between hardware innovation and the economics of the digital ecosystem. China is more ready for electrification than mature markets, driven by government policy, market forces, and a favorable production environment. Accelerated commercialization of new technologies including NEV and autonomous vehicles is driven by the economics of ODM. Furthermore, autonomous Mobility On-demand (A-MOD) will open up new opportunities for disruption.
Third, and the focus of today's panel discussion is the explosive growth of aftermarket services with rapid emergence of IAM and O2O platforms.  As China becomes a mature market, there will be an explosive growth opportunity in the "downstream" business, i.e. used car sales, finance & insurance, aftermarket service etc. Within the "downstream" businesses, aftermarket service demonstrates greatest potential. The market will develop fast towards independent aftermarket (IAM), driven by an aging car population, government push, and consumer preferences. Challenges suppliers and other value chain players are facing including 1) emerging service companies are disrupting the aftermarket value chain with their strong C2B relationships and channel management capability. 2)The aftermarket distribution channel is fragmented and complex. 3) IAM workshop landscape is very fragmented with various service levels and standards. Supply chain management and technician training are key constraints for workshops to scale up
We will discuss about i) suppliers and value chain players' strategies for China's aftermarket, ii) their best practices iii) how they view the potential disruptions and build their ecosystem to continue delivering value to customers.
 Mr. Philippe Thegner, General Manager of Hella Trading (Shanghai) Co Ltd
Mr. Frank Nieuwenhuys, Vice President Automotive Aftermarket, Asia Pacific of Gates
Ms. Hongmei Chen, General Manager, Aftermarket of Mahle Trading (Shanghai) Ltd
Mr. Matthias Moritz, Managing Director Asia of TecAlliance China
Mr. Wenzhe Tan, Managing Director, Aftermarket Intelligence Consulting
 Moderated by:
Mr. Bill Russo, Founder and CEO of Automobility