19 Oct

Bill Russo Briefs European Investors on China's Automobility Revolution

October 9-13, 2017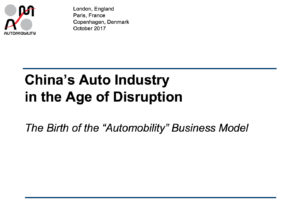 Places:  London, Paris, Copenhagen
Topic:
China's Auto Industry in the Age of Disruption:  The Birth of the Automobility Business Model
Description:
For global automakers and their suppliers, China represents the greatest opportunity for growth in the 21st Century. Since 2009, China has been the world's largest market by volume, and surpassed 28 million units in annual car sales in 2016. Over the coming decades, we believe that China will remain the key battleground for dominance of the global auto industry. However, this battle will not be waged using the conventional automotive technologies which have been refined over the past century. We believe several driving forces, which are particularly evident in China, have the potential to disrupt the status quo of the automotive industry.
The unique context of China's urban transportation challenge, the high penetration rate of mobile internet, combined with the rapid and aggressive introduction of alternative mobility and ownership concepts, are compressing the time needed to commercialise smart, connected car technology and related services.
The automotive value chain is being disrupted by non-traditional players as they enter and compete to deliver mobility solutions. Disruptive new entrants are utilising big data to draw insights about customers' mobility patterns in order to address their "pain points" and offer new solutions for their mobility needs. Such mobility needs are increasingly being met through on-demand and shared services versus individual ownership.
The confluence of these forces, along with rapid innovation to address "pain points" associated with mobility in the China context, is positioning China as the catalyst to drive the transformation of the business model and technological underpinnings of the global auto industry. In this course, we highlight the major disruptions that lie in the path to success in China's automotive industry, including:
The rapid rise of on-demand mobility and the digital mobility ecosystem.
The link between hardware innovation and the economics of the digital ecosystem.
The explosive growth of aftermarket services and the emergence of the independent aftermarket (IAM) and online-to-offline (O2O) channel.
Note:  The Automobility Ltd team would be very pleased to tailor a briefing for  your business on the disruptive trends occurring in the Auto Industry