16 Sep

China is leading the 'automobility' revolution

China Daily, July 24, 2017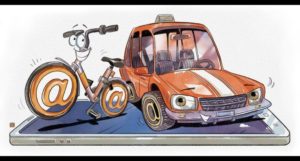 China's unique urban transportation challenges, high rate of adoption of mobile internet services, and rapid and aggressive introduction of alternative mobility solutions have combined to make the country a fertile ground for mobility innovation. The automotive industry's business model is experiencing disruption. Mobility needs, previously satisfied through product "ownership", are increasingly being served through mobility services "usership" with profound implications not only for traditional businesses within the value chain, but also for new entrants – as they compete to deliver services.
Connected mobility, which we define as "technology-enabled on-demand mobility services for moving people and goods from point A to B", has become a disruptive, paradigm-changing development in the automotive industry. It requires a complete rethinking of the way to deliver value to the market. Traditional automakers must widen their focus from the product (the automobile) to the utility derived from the product ("automobility"), and create a business model and digital ecosystem optimized to provide digitally enabled solutions for both car owners and mobility services users.
China has far greater potential to lead the "automobility" revolution compared with other markets for several reasons. First, China's rapid urbanization has led to significant mobility challenges, as the increasingly urbanized population creates an explosive demand for personal mobility. Second, China has the world's largest internet population and most Chinese netizens use smartphones to access internet services. Third, the Chinese government plays a key role in encouraging innovation in the internet economy with a focus on digital transformation, new energy vehicles and smart cities.
As a result, we are witnessing the onset of what we believe to be a three-phased "automobility revolution" in China (see illustration), which will rapidly transform the competitive landscape. This landscape can be divided into four quadrants along two axes – "ownership versus usership" along the horizontal axis and "technology" along the vertical axis. The domain of the traditional automotive industry powered by the internal combustion engine includes traditional competitors such as First Automobile Works, Shanghai Automotive Industry Corporation and Beijing Automotive Industry Holding Co. In the second quadrant, on-demand mobility players, including Didi Chuxing and Yidao Yongche, are providing mobility services on a pay-per-use basis. The third and fourth quadrants are where electric and/or autonomous vehicle technologies are incorporated for both individual car owners and autonomous mobility on-demand users.
In China, the "automobility 1.0 phase" (from 2012 to 2016) connected traditional cars (driven by humans and powered by an internal combustion engine) to riders using mobile technology. Pay-per-use ride hailing services, including Didi Dache, Kuaidi Dache, Yidao Yongche, Shenzhou Zhuanche and Uber were formed and grew rapidly. Stronger players such as Didi Chuxing (a merger between Didi Dache and Kuaidi Dache), backed by technology companies such as Alibaba and Tencent, have become dominant. Other forms of connected mobility services, including bike sharing (Mobike, Ofo and many others) have also emerged and grown rapidly.
China recently entered the "automobility 2.0 phase", when we will see cars built specifically for connected mobility services. The defining characteristics of cars used in this manner include high utilization rates and rider-centric features that enable connectivity. We expect such cars to be powered by electricity due to their lower operating cost (especially fuel and maintenance) and include features tailored for riders (more screens, connectivity and content services).
In addition, new business models and upgraded/differentiated on-demand mobility services will emerge to address mobility pain points observed in the "automobility 1.0 phase", including increased congestion, surging prices, service inconsistency, safety and security concerns, the lack of personalization and charging infrastructure, and inconvenient parking lots.
After 2020, we will enter the "automobility 3.0 phase", when autonomous driving technologies are expected to become commercially viable. An accelerated pull from China's "Internet+Auto" and Smart City investments will result in the initial deployment of professionally managed autonomous mobility service fleets. The future "automobility" business model can be described by a combination of the terms – "personalized, electric, shared and autonomous mobility on-demand". Mass deployment of autonomous mobility on-demand will occur beyond 2025. And "automobility 3.0" will likely be a far more efficient system where instead of owning an under-utilized depreciating asset, people would pay for the utility that is derived from the asset.
Transportation innovation has throughout history helped improve human experiences, and China's "automobility" revolution is a disruptive force that will transform the mobility experience not only within China but also in the rest of the world.